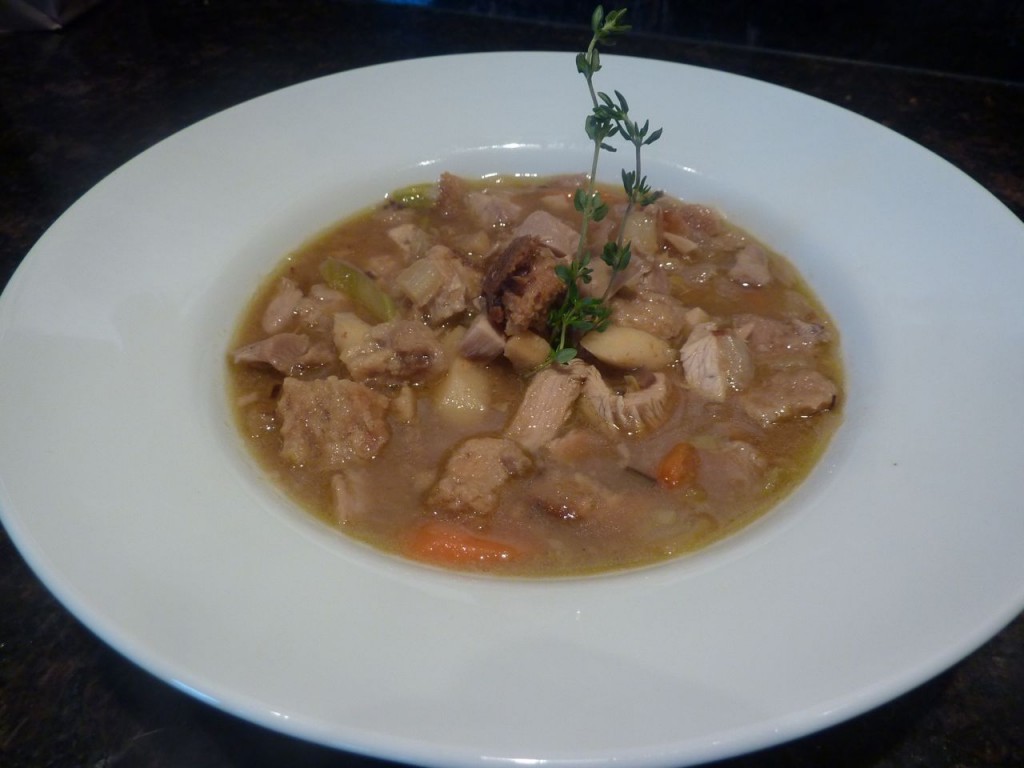 This year I purchased a 25 pound organic turkey from my local farm stand for our Thanksgiving feast. As always, my objective is to utilize the ENTIRE bird. This is a very European sentiment that we see all across Italy as we tour on our bikes. The local cured pork products, the cuisine that uses many different cuts of meat, all born out of the necessity of using every single part of the animal. Here's some ideas about how to put the entire turkey to use in your kitchen.
Upon getting the turkey home, I removed the neck, heart, gizzard and livers. The neck, heart and gizzard go into my stock, either immediately or into the bag I keep in my freezer for use in my next batch (see my post last week on Crock Pot Stock.) I don't use the liver in stock – it makes it cloudy – but I whip up a quick liver pate which I use as an appetizer on Thanksgiving. The recipe for this is pretty basic, and included below.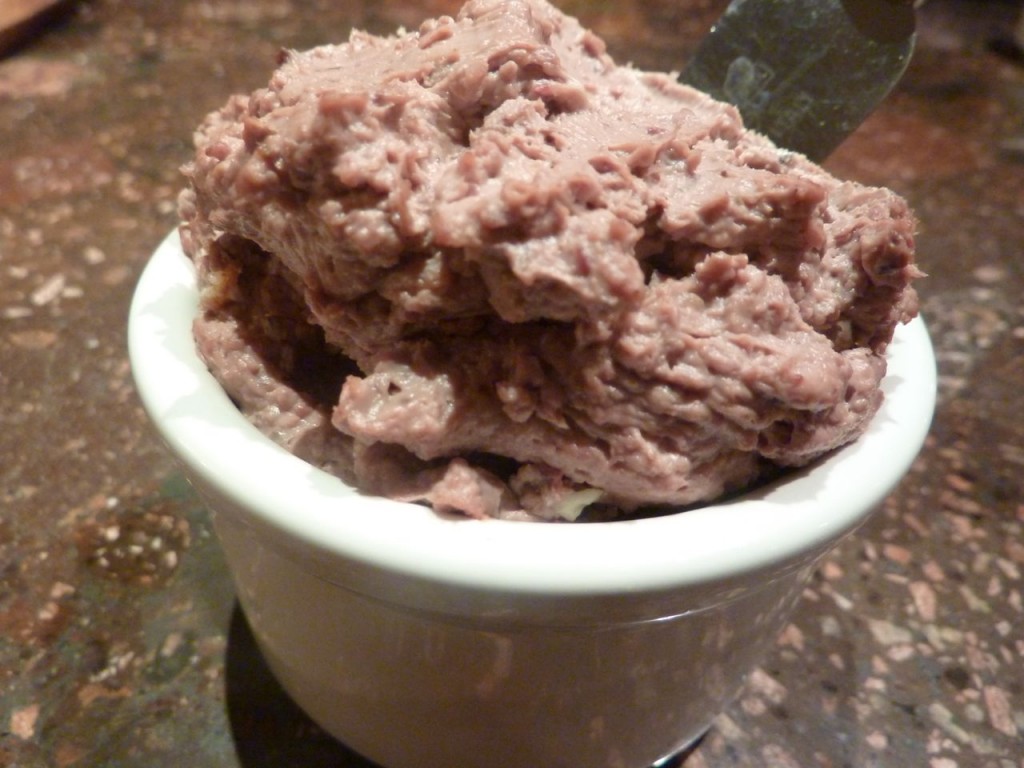 On Thanksgiving itself, we cook the bird. We always brine regardless of whether we roast, smoke, or deep fry. It is the best way of insuring a moist turkey, and can be a great way to add flavor if you spike your brine with herbs, brown sugar, maple syrup, even tea – many options here! My friend Steve Dunn, OuiChef, is waiting for my description on the deep fry process, so here it goes:
Invite a bunch of friends over for Thanksgiving dinner. Deep frying is of course done outside, and only takes 3-4 minutes per pound. So our guests have arrived before we've even started cooking the bird. It has been removed from the brine an hour or so before cooking and is hanging in our garage to air-dry. You don't want to lower a wet bird into a pot of bubbling oil.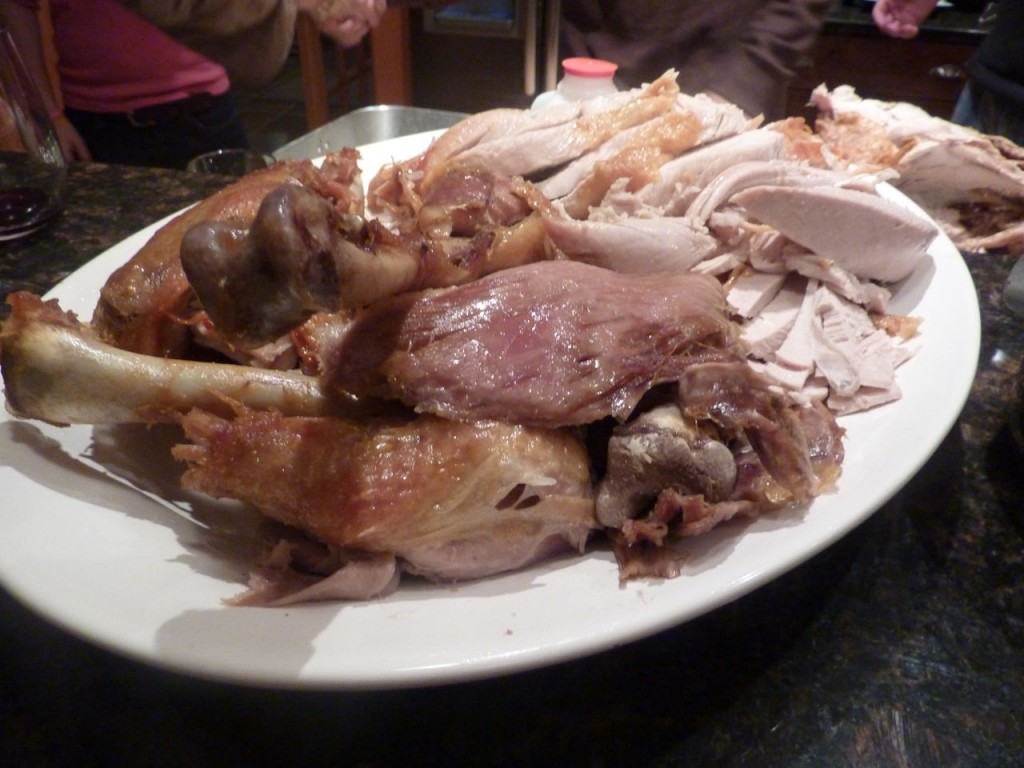 At this point, the prosecco has been opened and I am finishing off the 8 sides dishes I've planned, chatting with the girls, and catching up with the crowd of teenagers that have just shown up and will now be joining us for dinner. So all I can say is that the turkey disappears into the back yard with the men and beer and comes back an hour and a half later ready to go. I'll have to devote another post (and another turkey) to the process to do it any justice.
The carcass and any other random spare parts go into a couple of plastic bags that I store in the freezer, destined for turkey stock.
In spite of our best efforts on Thanksgiving and a lunch of turkey sandwiches the following day, we still have leftover turkey meat to deal with. Or we did, until I put the last of the turkey to good use in a great, hearty soup. The recipe here is meant to be flexible and use what you have. Leftover turkey, stuffing and gravy all go in, the proportions are really not that important. Have a lot of roasted vegetables leftover? Throw them in too. This is one of my favorite soups and I wish I could figure out how to have it more often without having to cook an entire turkey dinner to get it. It was a great lunch on Saturday, after my first ski day of the year.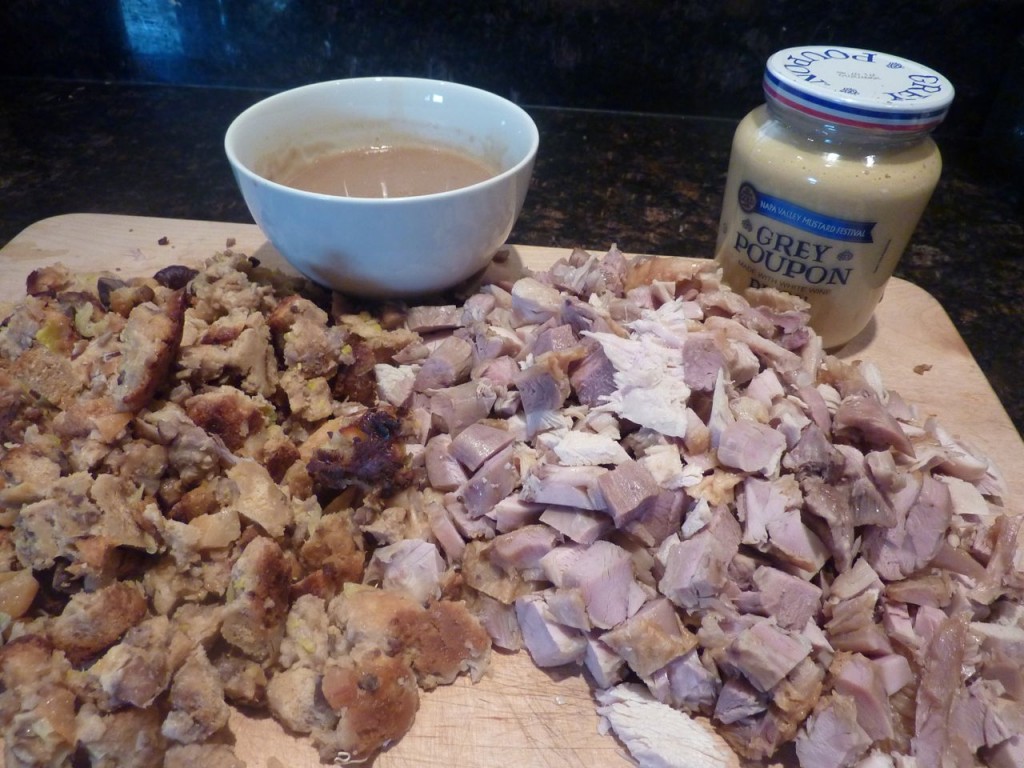 A nice change this year was the addition of the dijon mustard. I found a recipe in the "Silver Spoon" Italian cookbook for a turkey stew with mustard which provided a nice little zing to the soup, and a new flavor element to counteract turkey fatigue. It is common in both Italy and France to serve dijon mustard along with turkey.
Turkey Liver Pate
Makes about 1/2 cup of pate (depending upon the size and number of livers)
1 tablespoon butter
1 tablespoon minced shallot
1 turkey liver, rinsed and cleaned (remove the lighter, stringy fibers)
A chunk of butter, about 3/4 the size of the liver, softened
A few fresh thyme sprigs
A splash of your favorite liquor – grappa, cognac, bourbon
kosher salt and freshly ground pepper
Melt the butter in a small saucepan. Add the minced shallots and saute until softened, about 3 minutes. Add the turkey liver and saute until cooked through. Remove from heat.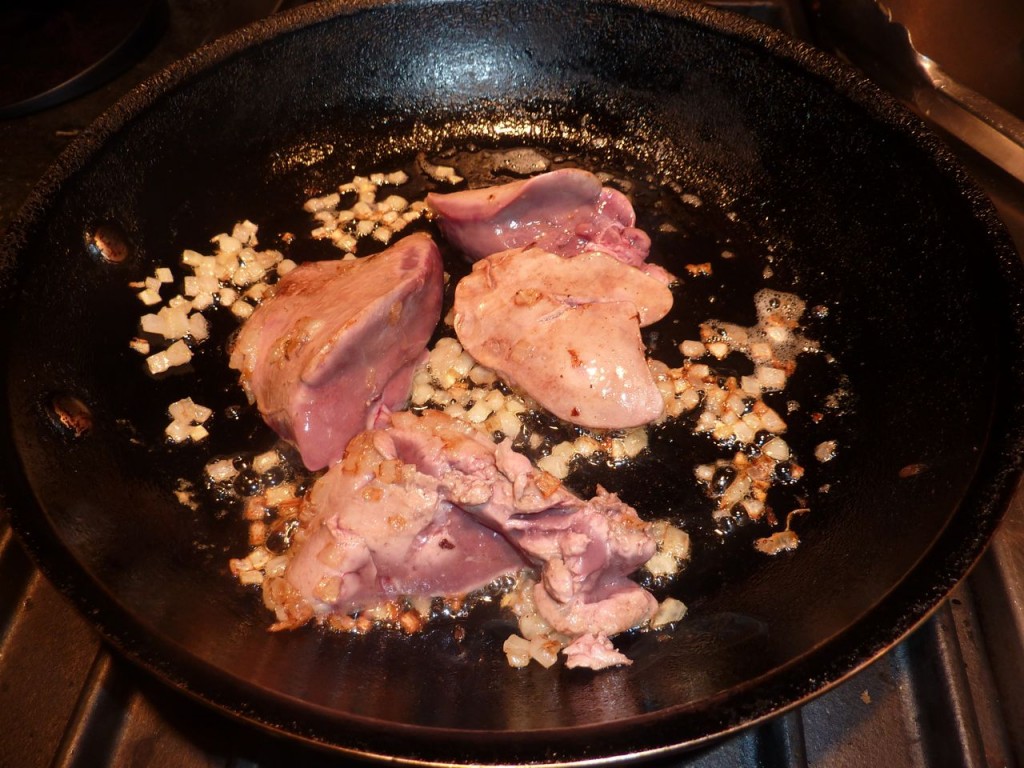 Place the contents of the saucepan in a food processor. Add the butter, thyme and liquor and pulse until combined. Season with salt, pepper, and a bit more liquor if desired. Place in a small ramekin, and serve with crackers as a Thanksgiving appetizer.
The Best Leftover Turkey Soup
In culinary school, we learned the formal definitions of the various types of soups. One specific type is a panade, which incorporates bread crumbs as a thickening agent. This term is also used to refer to the use of bread crumbs as a binding agent in general, for anything from quenelles to meatballs. The well-known soup from Tuscany, Pappa al Pomodoro, is an example of a panade.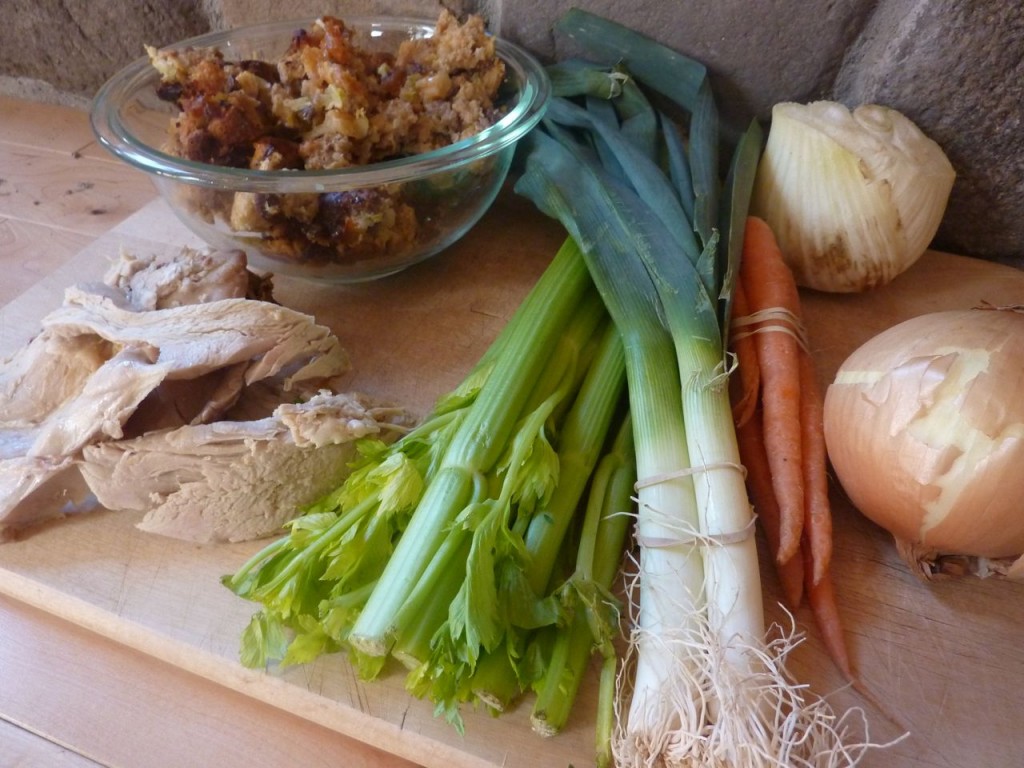 With a refrigerator full of Thanksgiving leftovers, what better way to put all of them to use than to combine them in a soup. A few years ago I threw in the stuffing as well, and I've been making this 'panade' soup every year since. Even my kids enjoy it, all the while they are insisting they are tired of turkey!
Serves 6
2 tablespoons extra virgin olive oil
2 stalks celery, peeled and sliced
2 carrots, peeled and sliced
1 onion, chopped into 1/4 inch dice
1 leek, white part only, cut in half lengthwise and thinly sliced, rinsed in a large bowl to remove grit
1 bulb fennel, tough outer parts removed, chopped into 1/4 inch dice
Kosher salt and freshly ground pepper
6 cups turkey stock, bring to a boil before using
2-3 cups turkey meat, coarsely chopped
2-3 cups stuffing
Any leftover roasted vegetables, cut into bite sized pieces
1/2 – 1  cup gravy
1/4 cup dijon mustard
Heat the olive oil in a large stock pot over medium-high heat. Add the celery, carrots, onion, leek and fennel. Saute until softened and beginning to brown, about 5 minutes. Season with salt and pepper.
Add the hot turkey stock, and simmer until the vegetables are cooked through, about 5 minutes.
Add the turkey meat, stuffing, roasted vegetables, gravy and dijon mustard. Simmer until heated through, adjust seasonings, and serve.