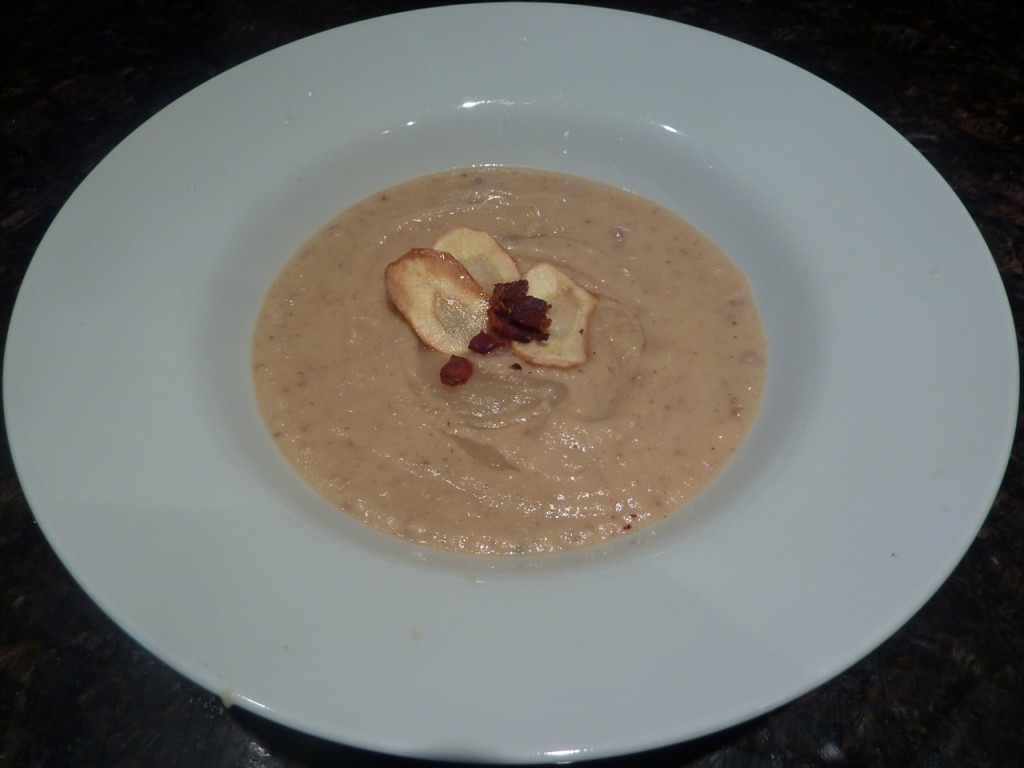 Parsnips are a great root vegetable, white and similar in shape to a carrot, long and tapered. It is a relative of celery root, parsley root, and carrot, and the taste is a combination of the sweetness of a carrot, with the herbal flavors of the celery and parsley roots. It was cultivated in ancient times in Italy; Emperor Tiberius brought them to Rome from France and Germany. However, today parsnips are rarely found on Italian tables. They do need a cold spell to develop their sweetness, and only in Northern Italy does the weather cooperate.
They are cultivated in Emilia Romagna, but rather than playing a role in the local cuisine, they are used as fodder for the pigs in Parma. In this way, this overlooked vegetable contributes to the great flavor of the renowned Prosciutto di Parma of the region.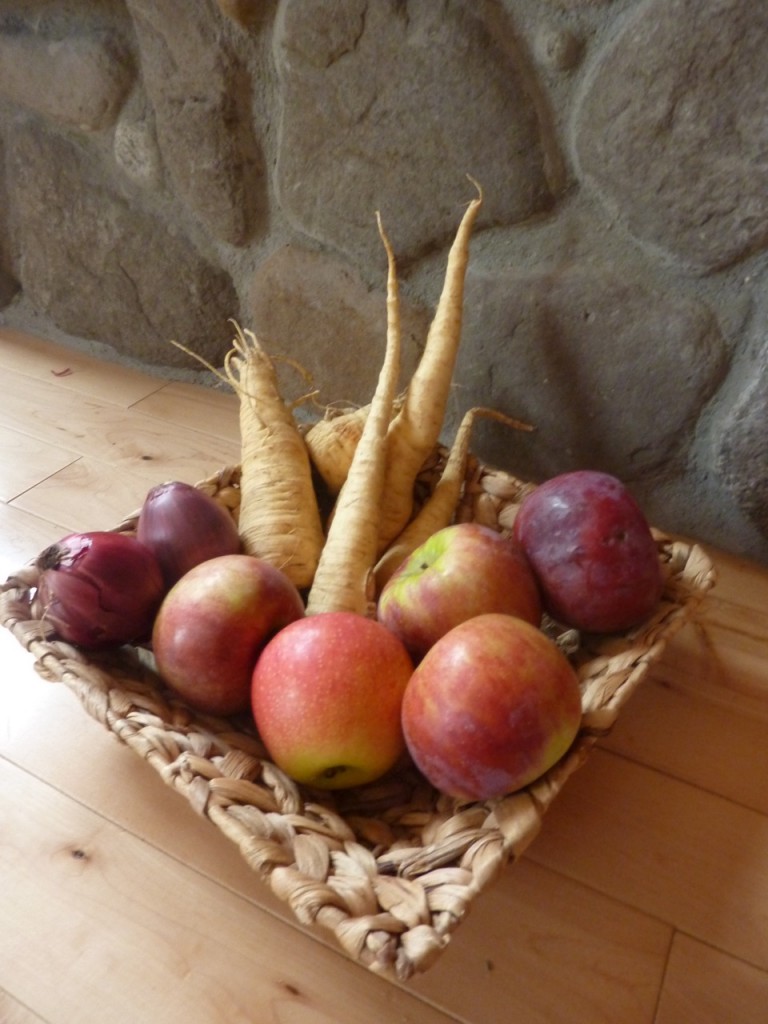 The Trentino region of Northern Italy, home to the Dolomites and a great area Italiaoutdoors explores either by bike or by visiting the many amazing ski resorts, produces 1 out of every 5 apples eaten in Italy. The apples from the Val di Non have been awarded their own DOP status, an Italian award recognizing the quality assurance process followed by the producers of this product. In this recipe, a large spoonful apple puree (applesauce to most of us American home cooks) is swirled in the soup to add a nice fruity sweetness that pairs well with the vegetal flavors of the soup.
This soup could be made with a variety of different root vegetables, so when you are in Italy and have a hard time finding parsnips, you could substitute carrots, winter squash, celery root, or even a combination. If you are using parsnips, look for small to medium one that are firm, not rubbery. Larger parsnips may have a woody center.
Parsnip Soup with Apple Puree
Serves 4
For the soup:
1 tablespoon extra virgin olive oil
2 slices bacon
1 small onion, chopped into 1/4 inch dice
5 medium parsnips, peeled and sliced into 1/2 inch slices (or 5-6 large carrots, 2 celery roots, 1 large butternut squash, or a combination)
6 cups chicken stock
1/2 cup heavy cream
kosher salt and freshly ground pepper
For the apple puree:
5 apples, peeled, cored and quartered
For optional parsnip chip garnish:
1 parsnip, peeled and sliced very thin
1 cup vegetable oil
Heat the olive oil in a medium stock pot and over medium high heat. Add the bacon and saute until just starting to crisp, about 4 minutes. Remove a spoonful or so from the pan and set aside for a garnish.
Add the onion and saute until softened, about 4 minutes. Add the parsnips and the chicken stock. Bring to a boil, reduce heat, and simmer until the parsnips are tender, about 15 minutes. Remove from heat.
To puree the soup, you can transfer the contents of the pot to a blender in batches and puree. Alternatively, if you have an immersion blender, you can use this to puree the soup in the stock pot it has been cooking in. Add the heavy cream.
At this point, you can adjust the soup to your desired consistency. If it is too thick, add a little water. If too thin, reduce over medium high heat until it is the consistency you prefer. Season with salt and pepper.
For the puree:
Place the apples in a large saucepan and cover with water. Bring to a boil over high heat, reduce to a simmer and cook until the apples are falling apart, about 20 minutes.
Puree the apples, either by scooping them out and placing them in a blender, or with an immersion blender directly in the saucepan. If you have pureed them in a blender, put the puree back in a saucepan. Continue to cook the puree over medium to low heat to eliminate as much of the water as possible, being careful to stir fairly frequently to prevent it from scorching on the bottom of the pan.
If making the parsnip chip garnish, place the vegetable oil in a medium saucepan and heat to 325° over medium high heat. Fry the parsnip slices in the oil until golden brown. Remove to a paper towel, and season with a bit of kosher salt.
Pour the parsnip soup into four warmed soup bowls. Place a large spoonful of the puree in the middle of the soup and swirl it a bit with a table knife. You will have leftover puree, a nice applesauce side to your next pork dish! Top with parsnip chips and a sprinkle of bacon.