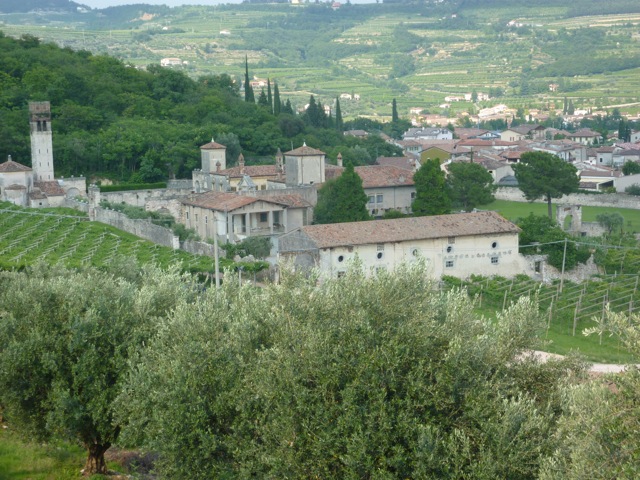 My blog is entitled "Northern Italian Food and Wine", but I have to admit I've been negligent in the wine department. I'll begin here to rectify that. The Veneto region is one of the most productive wine regions Italy, both in terms of quantity and quality of wines. You will find internationally known wines such as Amarone and Prosecco, as well as several equally good but less renowned wine districts such as Colli Euganei and Colli Berici. Today I'll talk a bit about the Valpolicella wines, a wine that most of us in the US can find in our local shops, but many of us are unfamiliar with it and pass it by in favor of a Tuscan Chianti.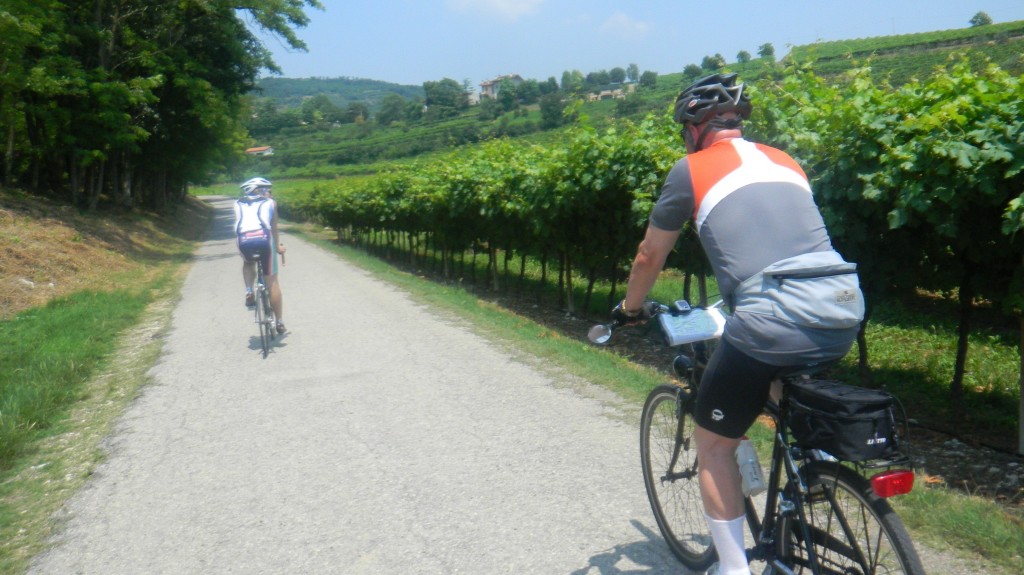 The Valpolicella wine zone is located in the province of Verona, east of Lake Garda, and north of the Adige River. The hills in this region are used for agriculture (predominately grapes, of course) as well as marble quarrying. The volcanic hills and alluvial valleys along the rivers here in this region provided a variety of terroir for the cultivation of wine grapes. My day job, Italiaoutdoors, is introducing a week long bike tour through the wine regions of the Veneto next season, and Valpolicella is a must-see (and must-taste) along the way.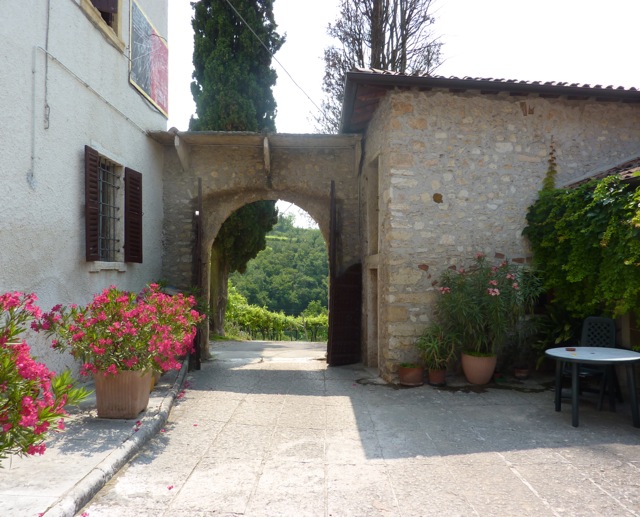 Winemaking in Valpolicella dates back to at least the times of the ancient Greeks. The Valpolicella and Amarone tradition of using dried grapes, in which ripened grapes are dried to concentrate the sugars (initially on the vine, but today in well-ventilated rooms),  was known as the "Greek style" of wine production. Roman writers such as Cassiodorus refer to wines from this region, and during the Venetian trading period with the Byzantine Empire, one of the products regularly transported were wines from Valpolicella. The name itself, Valpolicella, comes from Latin and Greek, and means "valley of many cellars".
Winemaking in Italy in the late 1800s experienced a series of challenges – phylloxera and other blights devastated many grape harvests, and various political upheavals related to Risorgimento (the unification of the many disjointed regions that produced Italy as we know it today) and later, World War I. Valpolicella emerged from all of this in better shape than many other wine regions in Italy. In the 1950's, the dried grape Amarone tradition was reintroduced to the area, and in 1968 Valpolicella received its own DOC (Denominazione di Origine Controllata) official quality recognition.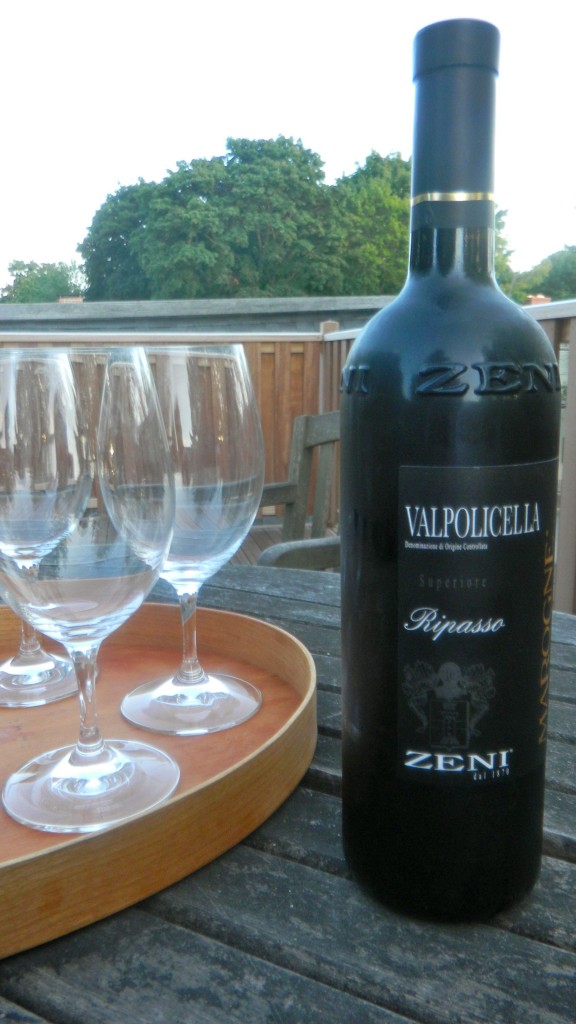 The DOC designation did have its downside, as it was accompanied by a large expansion of the vineyards that were to be included in the DOC region. Many of these areas were down on the flat, more fertile plains. Good grapes need to work a bit to survive, and although the yield increased in the plains, the quality of the grapes decreased. Also, the DOC allowed the use of lower quality blending grapes such as Rondinella and Molinara. The costs of growing grapes in the original hillside fields became more expensive, and many of these were abandoned. The result of these trends was a lower quality wine, and the price and sales of Valpolicella decreased accordingly.
This trend was reversed in the 80s and 90s due to the wine industry's rediscovery of Amarone. The demand for this wine increased significantly, and the grapes used for its production began to command premium pricing. Now, it became profitable again to return to cultivate these high altitude locations, even with their lower yields. The region began to attract new winemakers, who brought with them advanced techniques and improvements in viticulture. These innovations found their way into the production of Valpolicella. Also, in 2003 the DOC elected to do away with the mandatory requirements for blending, so the use of poorer quality blending grapes is no longer necessary.
In December of 2009, the original Valpolicella hillside production zone received the highest quality wine designation available in Italy, the DOCG (Denominazione di Origine Controllata e Garantita.) Today, this DOC ranks second in Italy in total production, behind Chianti.
The predominant grape in Valpolicella wine is the Corvina grape, optionally blended with the following: Rondinella, Molinara, Corvinone, Rossignola, Negrara, Barbera, Sangiovese, even the indigenous grape Oseleta. There are several different styles of Valpolicella wines, ranging from light to full-bodied, dry to sweet to sparkling.
Valpolicella DOC: a lighter bodied wine, similar in style to a Beaujolais, and served young. A tart, sour cherry type flavor, with a lower alcohol level of around 11%.
Valpolicella Classico DOC: a Valpolicella from the 'classic', or original hillside vineyards.
Valpolicella Classico Superiore DOC: To earn the Superiore designation, the wine must be aged at least 12 month in wood, and reach an alcohol level of 12%.
Recioto della Valpolicella DOC: The name 'recioto' comes from 'recie', meaning ears in the local dialect. The 'ears' of the grape bunch are those lobes on the top, which receive the most sunlight, and are therefore riper and drier, with more concentrated sugars. These are separated from the remainder of the bunch, and are used to produce this sweet dessert wine. Today, this process is a bit more efficient, as the entire bunch is picked and the grapes are air dried in a room to concentrate the sugars.
Ripasso della Valpolicella DOC: Another new innovation in wine production, introduced by Masi in the early 1980's. Here, the leftover grape skins and seeds from the Recioto and Amarone fermentation process are added to Valpolicella, and the mixture is allowed to macerate for an extended period of time. Ripasso della Valpolicella wines are fuller-bodied, with a higher alcohol content. Today, most Amarone producers produce a Ripasso wine as well, and the Ripasso wine was also awarded its own DOC status in 2009.
Valpolicella pairs well with cured meats such as prosciutto and sopressa as well as firm cheese like pecorino and grana. It complements pork and veal dishes, as well as pizzas with meat toppings and pastas, polentas and risottos with meat ragus. It also goes well with berries and cherries.
This meat ragu recipe we made during a recent cooking class to top homemade potato gnocchi. It also goes well over any sort of pasta. Open a nice bottle of Valpolicella and enjoy!
Classic Italian Meat Ragu
This is a classic italian meat sauce, which you will see all over the country. Each region will have a slightly different version of it; for example, the Bolognese sauce (from Bologna, of course) uses white wine, and adds cream and milk. I use whatever meat I can find, and believe the more types of meat, the better it tastes. I'll often cut up leftover steak, or pork, or even chicken and turkey and add it to the mix. It becomes a great way to use up leftover meat.
Serves 4
2 tablespoons extra virgin olive oil
3 ounces pancetta or bacon, diced
1 onion, cut into 1/4 inch dice
1 celery stalk, peeled and cut into 1/4 inch dice
1 carrot, peeled and cut into 1/4 inch dice
1/2 pound ground pork
1/2 pound ground beef
1 cup dry red wine
2 cups beef broth
1 teaspoon tomato paste
1 cup diced canned plum tomatoes
Kosher salt and freshly ground pepper
Heat the oil in a saucepan over medium heat. Add the pancetta, onion, celery, and carrot and cook until softened, about 7 minutes.
Raise the heat to medium high, and add the pork and beef and brown. Add 1/2 cup of the wine, and let it cook down, scraping the bottom of the saucepan to loosen the browned bits as it cooks off. Add 1/2 cup of the beef broth. Allow this to cook off, then add the remaining wine, tomato paste, and another 1/2 cup of the broth. Cook until the liquid is almost gone.
Add the tomatoes and the remaining broth, and simmer for 1 hour. The ragu should be quite thick. Season with salt and pepper and serve over cooked pasta or gnocchi.