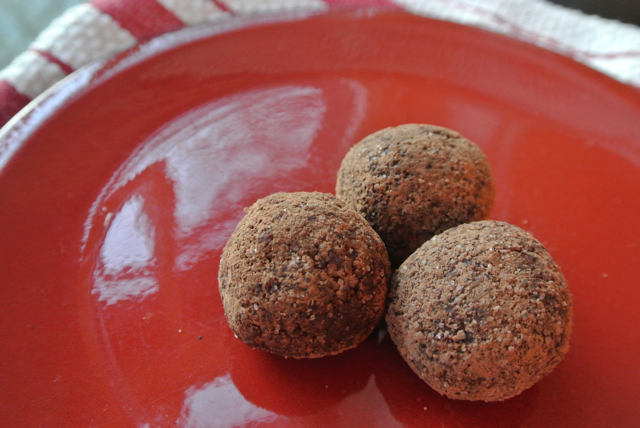 During the rest of the year, I have a pretty standard cookie repertoire; chocolate chip, molasses, the two my boys enjoy most. But during the Christmas season I become a bit more experimental. I used to get together with girl friends every Christmas season and spend an enjoyable afternoon making all varieties of cookies, and those became our holiday thank-yous to teachers, neighbors, and so on. Life has taken us separate ways, but I still enjoy treating friends and family to cookies during the holidays.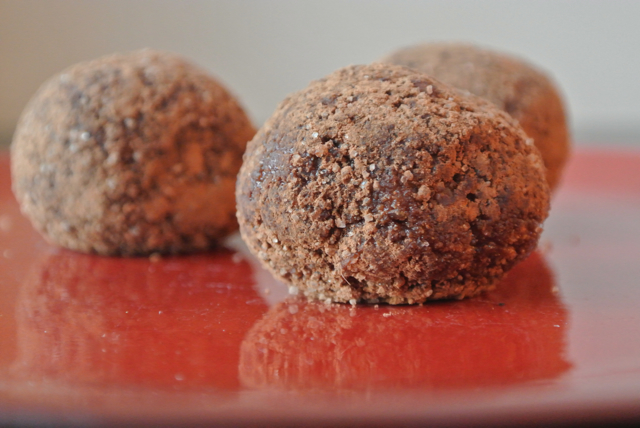 One staple in my holiday cookie recipe box is Brandy Balls or Rum Balls. There are many recipes for this no-bake cookie, but all include crushed cookies like vanilla wafers, combined with sugar and some sort of liquor – brandy, cognac, rum. These are simple – you just combine ingredients, roll into one inch balls, then roll the balls in sugar. They last for weeks, improving with age. They were the favorites among my cookie baking friends; the ones we 'saved' for ourselves as we made up our packages to give away.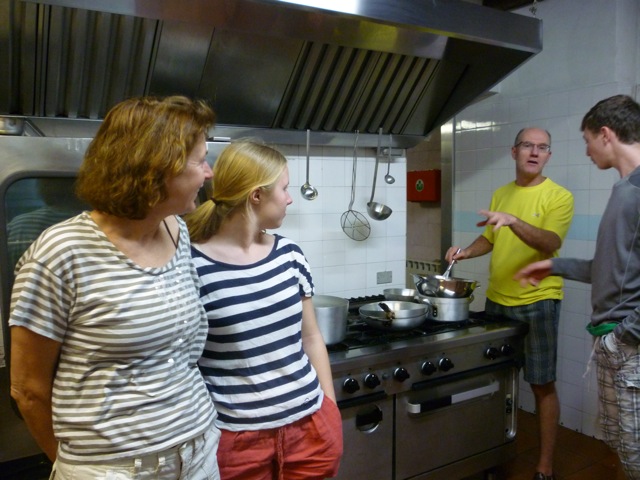 Our Italiaoutdoors Food and Wine culinary bike trips include cooking classes where we have made the classic Italian dessert, Tiramisu. Tiramisu is a layered dessert of relatively recent origin. There are various stories; some claim it originated in Treviso, at restaurant Le Beccherie, and was named after the maiden name of a daughter-in-law of a famous confectioner. Other stories place its origin in Siena, where it was created to celebrate the visit of Cosmo III. One anecdote places its origin at a brothel, where its' purpose was to provide a bit of a boost to weary clientele. This may be more legend than fact, but it is certainly the most memorable.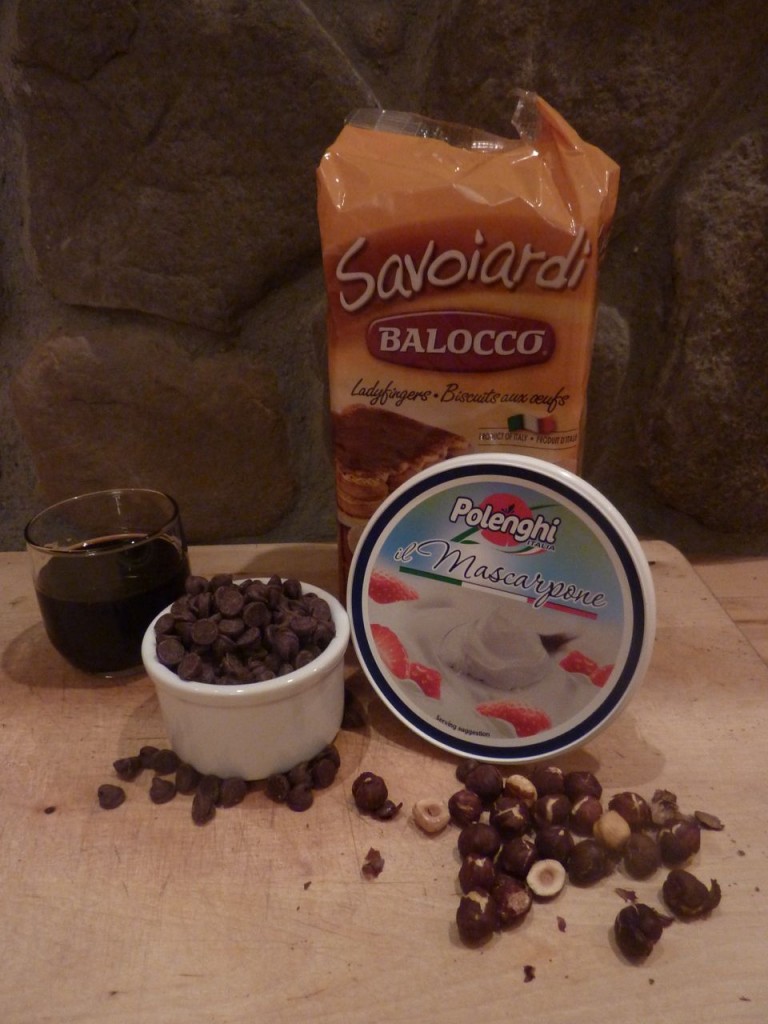 I thought it would be interesting to apply the wonderful flavors found in tiramisu – espresso, coffee liquor, marsala, chocolate, ladyfingers, and mascarpone – to a Brandy Ball type cookie. Coffee, sugar, booze, and chocolate. Not much to go wrong there. I replaced the ground cookies in Brandy Balls with crushed savoiardi (ladyfingers); the brandy with kahlua and marsala and espresso; dusted with cocoa and sugar; and included hazelnuts as the nut.
The only thing that was stumping me was how to bring in the mascarpone. Adding it into the mix would require the cookies be refrigerated. I ended up making a light mascarpone icing to top the cookies.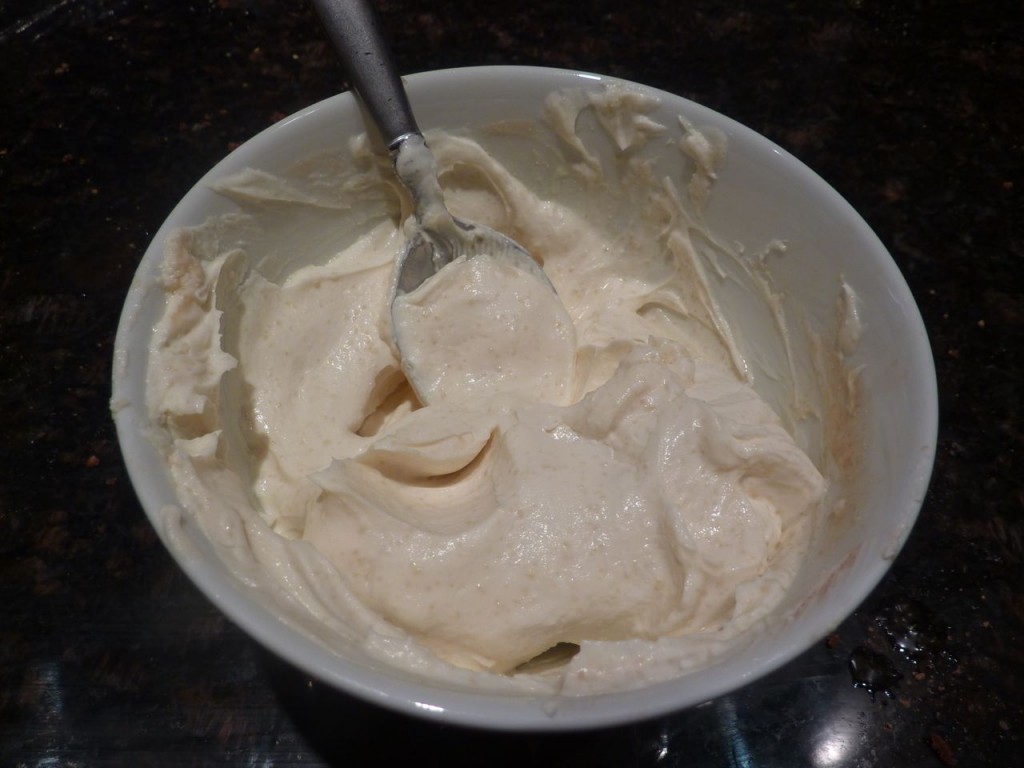 These cookies should keep and actually improve with age, as long as they are not topped with the icing until you are ready to serve them. I don't have actual proof of this, however, as the batch I made last night is gone. My 15 year old son, who is usually a bit skeptical of my culinary experimentation ate a few too many last night and began bouncing off the walls. Some claim the name ("pull me up" in Italian) refers to the stimulating effect of the combination of coffee, sugar and chocolate, and I now have first hand experience with this. The remaining cookies quickly disappeared after I put them out in the locker room after ski lessons this morning – my ski instructors colleagues seemed to enjoy them as much as my son.
Tiramisu  Cookies
Makes approximately 4 dozen cookies
6 ounces semisweet chocolate chips
1/2 cup plus 2 tablespoons sugar
1/4 cup light corn syrup
1/4 cup kahlua
2 tablespoons dry marsala
1/4 cup espresso or strong coffee
2 1/2 cups finely ground ladyfingers (saiovardi)
1 cup finely chopped, toasted hazelnuts
2 tablespoons cocoa
Optional mascarpone topping: don't make this until you are ready to serve the cookies.
8 ounces mascarpone cheese
1 tablespoon sugar
1 tablespoon marsala
Place the chocolate in a small non-metal bowl, and microwave in 20 second increments until melted, stirring between each. Stir in 1/2 cup sugar, corn syrup, kahlua, 2 tablespoons marsala and the espresso.
Combine the ladyfinger crumbs and hazelnuts in a large bowl. Add in the chocolate mixture and stir to combine.
In a shallow bowl, mix together the remaining 2 tablespoons sugar and the cocoa.
Roll the dough into 1-inch balls. Roll each ball in the cocoa/sugar mixture. If you are planning on topping them with the mascarpone icing, press down on each ball with your thumb to create an indentation and flatten the bottom. Store in an airtight container. Allow to sit for a few days before serving.
For the mascarpone icing:
In a small bowl, combine the mascarpone, marsala, and sugar. Top each cookie with a small dollop of mascarpone icing and serve.