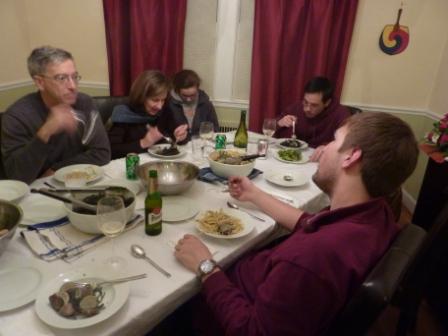 I continue to research the history behind the Feast of the Seven Fishes, even though Christmas has come and gone. I emailed my Italiaoutdoors partner, who has been living in Vicenza, Italy for the past 19 or so years, asking him what he does for his Feast. Never even heard of it. I pull out my copy of Waverley Root's "The Food of Italy", THE tried and true reference to regional Italian foods, although a bit dated as it was published in 1971. No mention of it.
Root describes various regional Christmas Eve foods, including various fish dishes – roasted eel in Rome and Naples, a squid preserved in olive oil and marjoram from Capri, cabbage with codfish fritters from La Spezia. In the Northern mountain regions where we visit during our ski trips, and not much fish to be had, there is an interesting lasagna that starts off Christmas Eve in Belluno and incorporates nuts, apples, raisins, and poppy seeds. Celery soup is traditional in Friuli. The Catholic no-meat influence is everywhere, but the Seven Fishes appears to be very regional, and yet another example of how varied and diverse the cuisine of Italy can be!
Here are the last four recipes from my probably non-traditional, but fun and delicious, Feast of Seven Fishes. We had two Soave whites to enjoy with these: a Ca' Foscari 2008, which was floral, and just slightly sweet, and a Pra Soave Classico, which we preferred – it had a bit more acidity which gave it a better balance.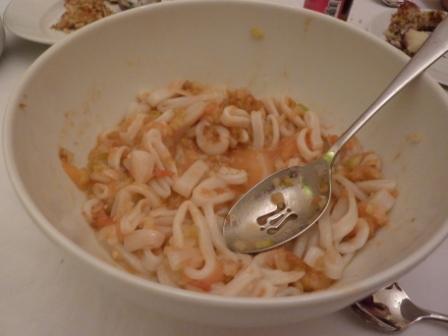 Flash Cooked Squid with Tomatoes
This recipe is a variation of a Venetian Squid recipe from our Italiaoutdoors Chefs on Bikes tours in the Veneto this year, created by Jody Adams of Rialto restaurant in Cambridge, MA.
Makes 12 appetizer servings
5 large tomatoes ¼ cup extra virgin olive oil 1/2 cup onion, diced ¼ inch ½ cup celery, peeled and diced ¼ inch Kosher salt and freshly ground pepper 1 tablespoon finely chopped garlic ½ teaspoon hot red pepper flakes 1 1/2 pounds squid, cut into ¼ inch rings
Fill a medium saucepan with water and bring to a boil over high heat. With a sharp knife, score an "X" on the bottom of each tomato. Place the tomatoes in the boiling water for 30-45 seconds, then remove and place on a plate. When cool enough to handle, peel away the skin, cut out the core, and cut each tomato into quarters. Using your fingers, pull the seeds out of the tomato quarters – you may need to poke through the flesh into the cavities to get at them. Discard the seeds, then chop the tomatoes into ¼ inch dice.
Heat the olive oil in a large sauté pan over medium high heat. Add the onion and celery and cook 5 minutes. Season with salt and pepper. Add the garlic and pepper flakes and cook 3 minutes. Add the tomatoes, cook 4 minutes. Add the squid and remove from heat, tossing well. The squid will continue to cook off the heat.  Taste and adjust seasonings.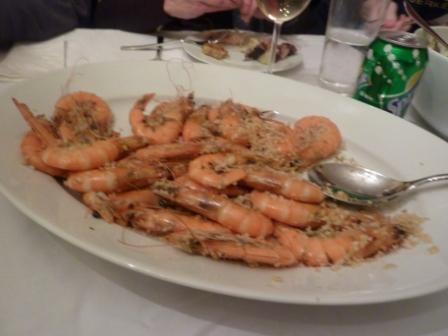 Broiled Shrimp with Bread Crumbs
This recipe is a slight variation of Grilled Shrimp, Cannocchie Style, from Marcella Hazan's Essentials of Classic Italian Cooking. The cannocchie is a crustacean similar to shrimp, but found only on the Adriatic coast. Marcella describes a recipe which her local fishermen use to prepare the cannocchie, in which the shrimp are split down the back, marinated in olive oil, bread crumbs, and a lot of black pepper, then grilled. You eat them with your fingers, spreading the shell open with your lips and sucking the meat out, col bacio, with a kiss.
Makes 12-15 appetizer servings
2 pounds medium to larger shrimp (12-15 count), unshelled, deveined 1 cup panko ½ cup extra virgin olive oil 1 ½ tablespoons minced garlic Kosher salt and freshly ground black pepper
Wash the shrimp thoroughly in cold water, then pat dry.
Put the shrimp into a large bowl, and add the remaining ingredients. Mix well to coat the shrimp. Refrigerate, allowing to marinate for at least 30 minutes, but not longer than 2 hours.
Preheat broiler.
Place shrimp on a sheet pan, broil just until cooked through and bread crumbs slightly brown. Serve. Alternatively, you can grill them, either on a grill pan or outside on your grill.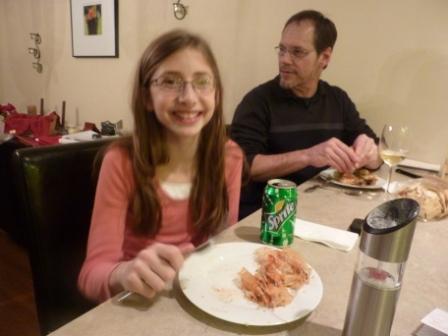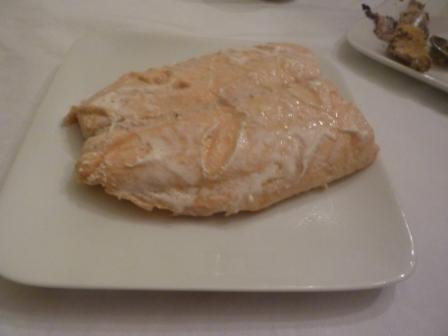 Simple Oven Poached Salmon
This is an incredibly simple salmon recipe, which I included for the members of our group who were not the most adventurous fish eaters. I like to have this dressed up with a bit of pesto, or a fruit salsa. The leftovers made a nice topping for my Christmas morning bagel.
Makes 8 2-oz. appetizer servings
1 pound wild salmon 1 tablespoon extra virgin olive oil Kosher salt and freshly ground pepper
Preheat the oven to 375°.
Place a large sheet of aluminum foil (one that is large enough to package the entire piece of salmon) on a sheet pan, and place the salmon on it, skin side down. Brush the fish with the olive oil, and season with salt and pepper.
Place in the oven, and bake until just cooked through, about 12 minutes depending on the thickness of the salmon. Serve.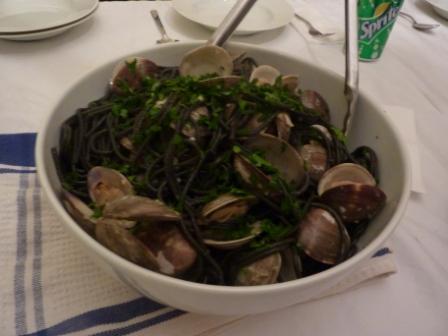 Pasta with White Clam Sauce
Your basic clams steamed with garlic and white wine, served over pasta. We served two versions, one with regular pasta, the other with black squid ink pasta.
Serves 8
50 littleneck or other small, hardshell clams, scrubbed 1/4 cup extra virgin olive oil 1 tablespoon garlic, minced 1/3 cup white wine Kosher salt 2 pounds dried pasta, linguini or vermicelli 1 tablespoon fresh flat-leaf parsley, finely chopped
Discard any clams with broken shells.
Fill a large pot with water, and bring to a boil over high heat. Season water with salt; it should taste salty.
In a large sauté pan, heat the olive oil over medium high heat. Add the garlic and white wine, then the clams. Cover and steam until the clams are open, about 10 minutes. Discard any clams that do not open.
While the clams are cooking, add the pasta to the boiling water. Cook until al dente. Drain the pasta.
Pour the pasta into a large warm bowl. Pour the clams and their juices over the pasta, and toss with tongs. Garnish with parsley and serve.