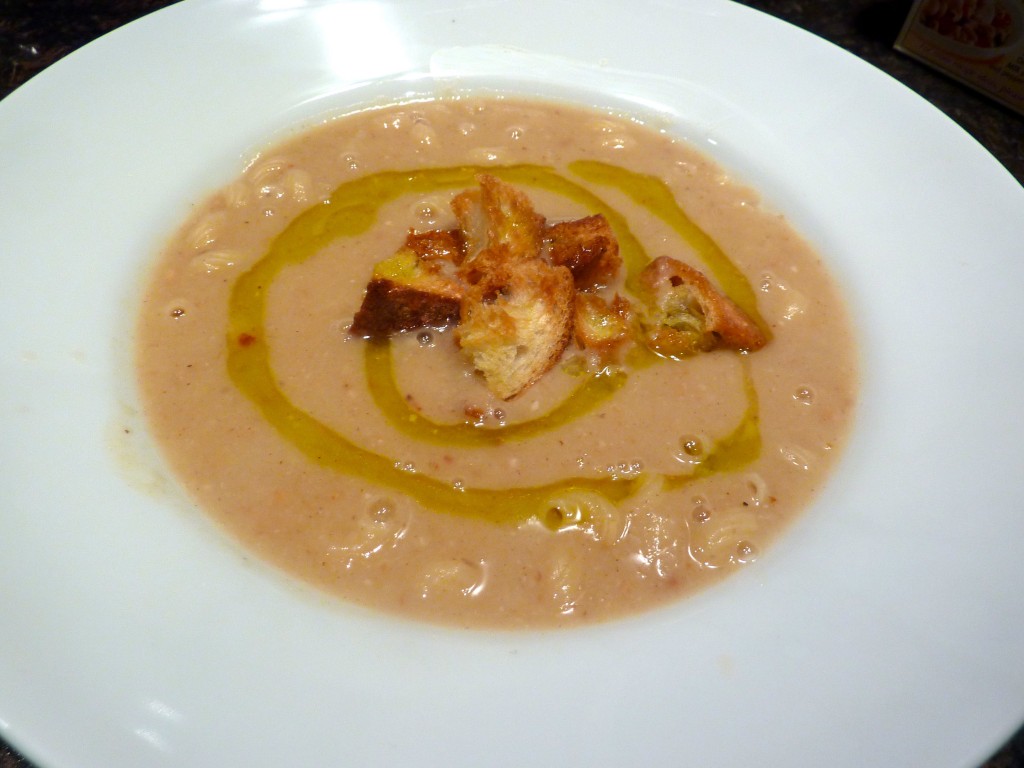 Pasta does not play as predominant a role in the cuisine of Northern Italy as it does elsewhere in the country. One pasta dish that the Veneto is famous for, however, is pasta e fagioli (or pasta e fasioi in Venetian dialect.) This is a soup with white beans and pasta, but the lead role is played by the beans, rather than the pasta.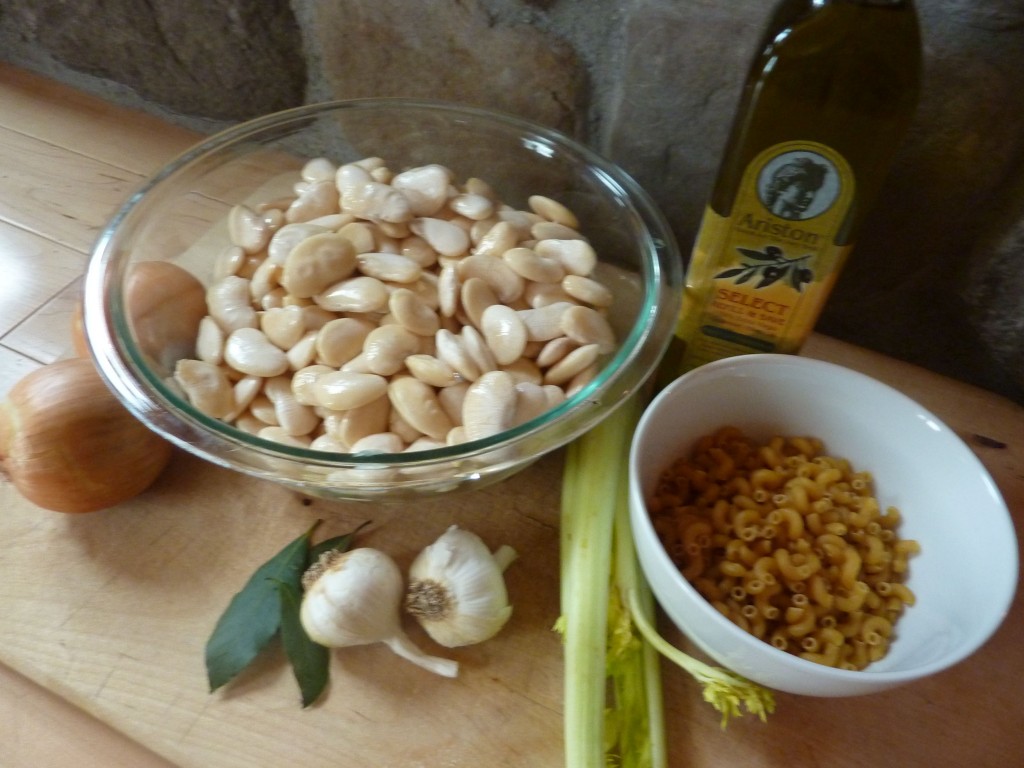 Here in the US, this soup is often referred to as pasta fazool, where fazool is derived from the Sicilian or Neapolitan dialect for beans. According to Wikipedia, the American slang usage of "fazool" was popularized via a 1927 song by Van and Schenck, which featured the rhyme "Don't be a fool, eat pasta fazool." So, let's take their advice!
This soup is seemingly very straightforward but does require a bit of cooking time, especially if you are using your own homemade stock. Either fresh or dried beans can be used, but most recipes I've found recommend dried borlotti (cranberry) or cannellini beans. In the Veneto, the preferred dried bean is the bean of Lamon, from Belluno. Here in Maine, I use whatever dried white bean I can find. The dried beans are soaked in water overnight, then cooked either in water or in a stock – meat, chicken, or vegetable. My Italiaoutdoors partner and longtime Veneto resident Vernon first makes a chicken stock with vegetables and a chicken, when the stock is finished he simply pulls out the chicken and adds the beans.
When quite soft, the beans are removed from the heat and drained, reserving the cooking liquid. Depending upon the recipe, none, all, or a portion of the cooked beans are pureed to act as a thickener. Vernon doesn't puree them at all, and claims most of the local places he frequents do not puree them either. The only absolute no-no is to use flour (gasp!) instead of pureed beans to thicken. Various vegetables (onion, celery, leeks) and sometimes, especially in the winter months, pancetta or prosciutto,  are sauteed in a large pot. The beans, both pureed and whole, are added to the pot with a combination of fresh stock and/or reserved bean cooking liquid to reach the right consistency – which is whatever you prefer.
Here's where the whole bean version shines – you can now just add the dried pasta, cook until al dente, and serve. Very efficient, everything in one pot, the version my dishwasher prefers. You just need to keep an eye on the amount of liquid in the pot throughout the process, as both the beans and the pasta will absorb it as they cook, and some will boil off during the long cooking time. The result is a delicious easy soup with whole beans and pasta in a broth.
With a pureed bean version, you cook the pasta in a separate pot and add it to the soup just before serving. In spite of the extra step, I like this version when I know I'll have leftovers – I usually make a big batch and bring it for my lunch. In between ski clinics my main objectives are to get something to eat and get warm; a nice bowl of warm soup does both! When the pasta and soup are combined and stored, the pasta can get a little gummy. I keep the pasta separate from the rest of the soup, and only add some of it to the portion of soup I am preparing that day. Keeping the two separate prevents the pasta from over-absorbing liquid getting a little 'flabby.'
Both versions are wonderful, so whatever your choice – the easy, more rustic whole bean version or the slightly more elegant pureed version – you can't go wrong!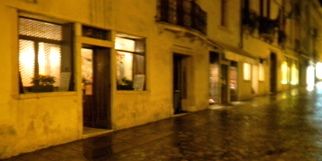 I enjoyed pasta e fagioli at two very different places during our last Italiaoutdoors Food and Wine bike trip in September. The first bowl was at acclaimed Villa Cipriani, a 4 star hotel and restaurant in the lovely town of Asolo. The second bowl I had a few nights later at a little seven table local spot in Bassano del Grappa, Osteria La Caneva, around the corner from Piazza Libertia. While both were delicious, I have to say the soup at the osteria was my favorite, both in terms of flavor as well as presentation.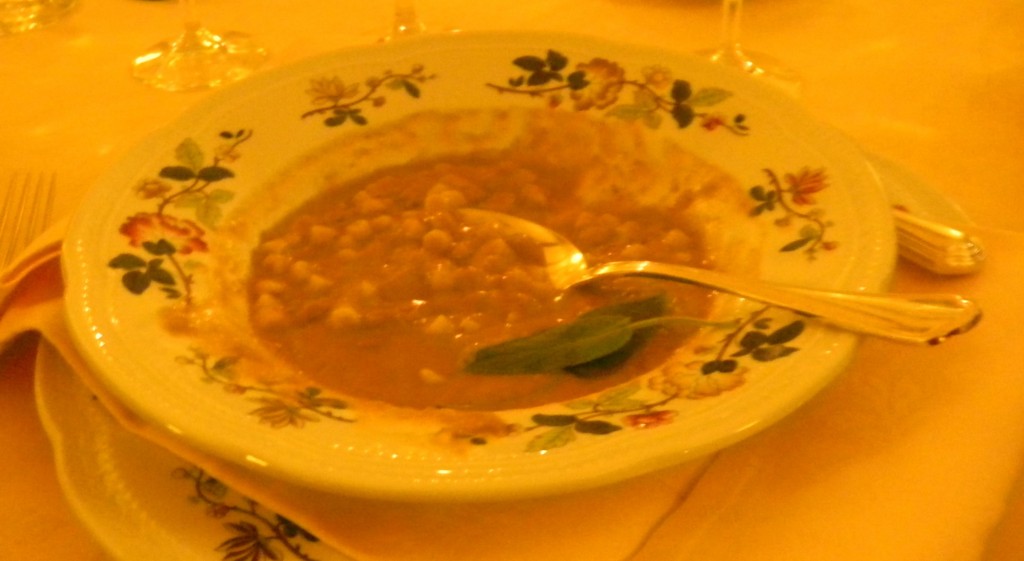 The bowl at Villa Cipriani was consisted of about half whole beans, half pureed. It was garnished with a simple sage leaf. The pasta was definitely there only in a supporting role. It was good, but not memorable. The picture does not do it justice –  I didn't remember to take the picture until I had already eaten half. Blame it on the prosecco aperitif…
The version at La Caneva, a small, rustic local spot, actually had the more elegant presentation. The beans were almost entirely pureed, with only a few whole beans and a small amount of inch long pieces of fettucine. A nice flavor with the noticeable presence of pancetta. The soup was garnished with some nicely toasted croutons and a drizzle of olive oil.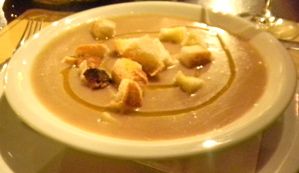 Here, I've attempted to recreate the version I loved at La Caneva. I substituted bacon (gasp again!) for pancetta, because I can't find the latter within a 40 mile radius. And although this substitution may offend the purists of Italian cuisine, I'd rather use bacon from locally grown pigs that is smoked right at the farm stand I frequent, rather than some grocery store pancetta from who knows where.
Pasta e Fagioli
Serves 4-6
1 pound dried white beans, such as borlotti (cranberry) or cannellini
3 bay leaves
2 sprigs fresh thyme
1 head garlic, cloves separated and peeled
kosher salt and freshly ground black pepper
1 tablespoon extra virgin olive oil, plus more for drizzling
1 large onion, diced into 1/4" dice
2 stalks celery, 1/4" dice
3 slices bacon or 3 ounces pancetta or prosciutto, diced
6 cups chicken, beef or vegetable broth
1 cup small pasta, such as dilatini or small elbow macaroni
1 1/2 cups toasted croutons (bread cubes, drizzled with olive oil and toasted in oven)
Rinse the beans, place in a large bowl and add enough water to cover by a couple of inches. Allow to soak overnight. If in a hurry, you can place the beans in a pot, cover with water and bring to a boil. Remove from heat and allow to soak for 2 hours.
Drain the beans from the soaking liquid, and place in a large pot. Cover with water by 1 1/2 inches, and add the bay leaves, thyme, garlic cloves, and season with salt. Bring to a boil, reduce to a simmer and allow to cook until the beans are quite soft, at least 1 hour. The length of time will vary significantly, depending on the type, size and age of the bean. Some recipes recommend cooking the beans for 4 hours. If you are keeping some or all of the beans whole, you will want them to still be firm enough to hold together, so some firmness is desirable here.
Remove the beans from the heat and drain. Search through the beans for the bay leaves and thyme sprigs and remove. Puree the beans using an immersion blender.
Heat the tablespoon of olive oil in a large pot. Add the onions, celery and bacon or pancetta, and saute until the vegetables are softened and the onion is translucent, about 7 minutes. Add the pureed beans and the stock. Bring to a simmer.
Meanwhile, bring a large pot of water to a rapid boil over high heat. Add salt to the water. Add the dried pasta, and cook until al dente. Drain.
Adjust the soup to your desired consistency. If it is too thick, add a little water. If too thin, reduce over medium high heat until it is the consistency you prefer. Season with salt and pepper.
Transfer to a smaller pot the soup you will be serving immediately. Add some pasta – roughly estimate the percentage, if you are serving half of the soup, add half of the pasta. Warm and serve in warmed bowls. Top with a few croutons and a drizzle of olive oil, and serve.
Save the remaining bean soup base and pasta in two separate containers. Combine and heat through just before serving.