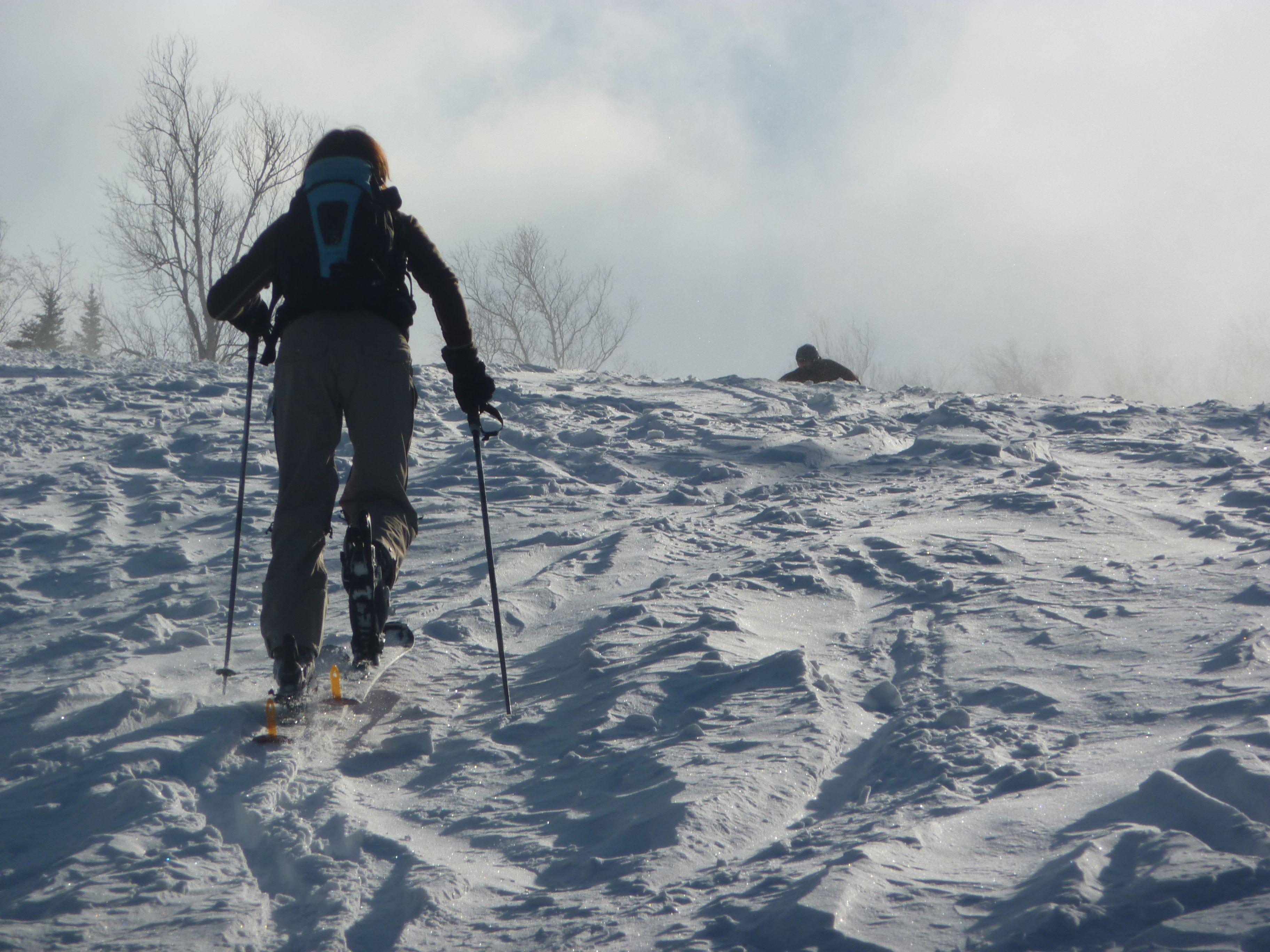 My blog to this point has focused on my culinary activities. But my passions are divided between the kitchen and the great outdoors! So a perfect day for me is one in which I get to indulge in both. Today brought lots of sunshine, but some cold temperatures. With a holiday weekend crowd, it was not a day to spend waiting in lift lines. But a little snowfall this weekend provided enough coverage for a randonnee ascent of West Mountain at Sugarloaf. For those of you unfamiliar with this, it is also called ski touring, or hiking for turns. Instead of taking a lift up the mountain, you climb up. You need skis with binding that allow the skiers heel to lift, and 'skins' to attach to the bottom of the ski that prevent the ski from sliding backwards as you climb. These 'skins' are now made of nylon, but originally were actual seal skins. Here are a few pictures of my tour, working up an appetite for the braised rabbit I knew was awaiting  me upon my return home!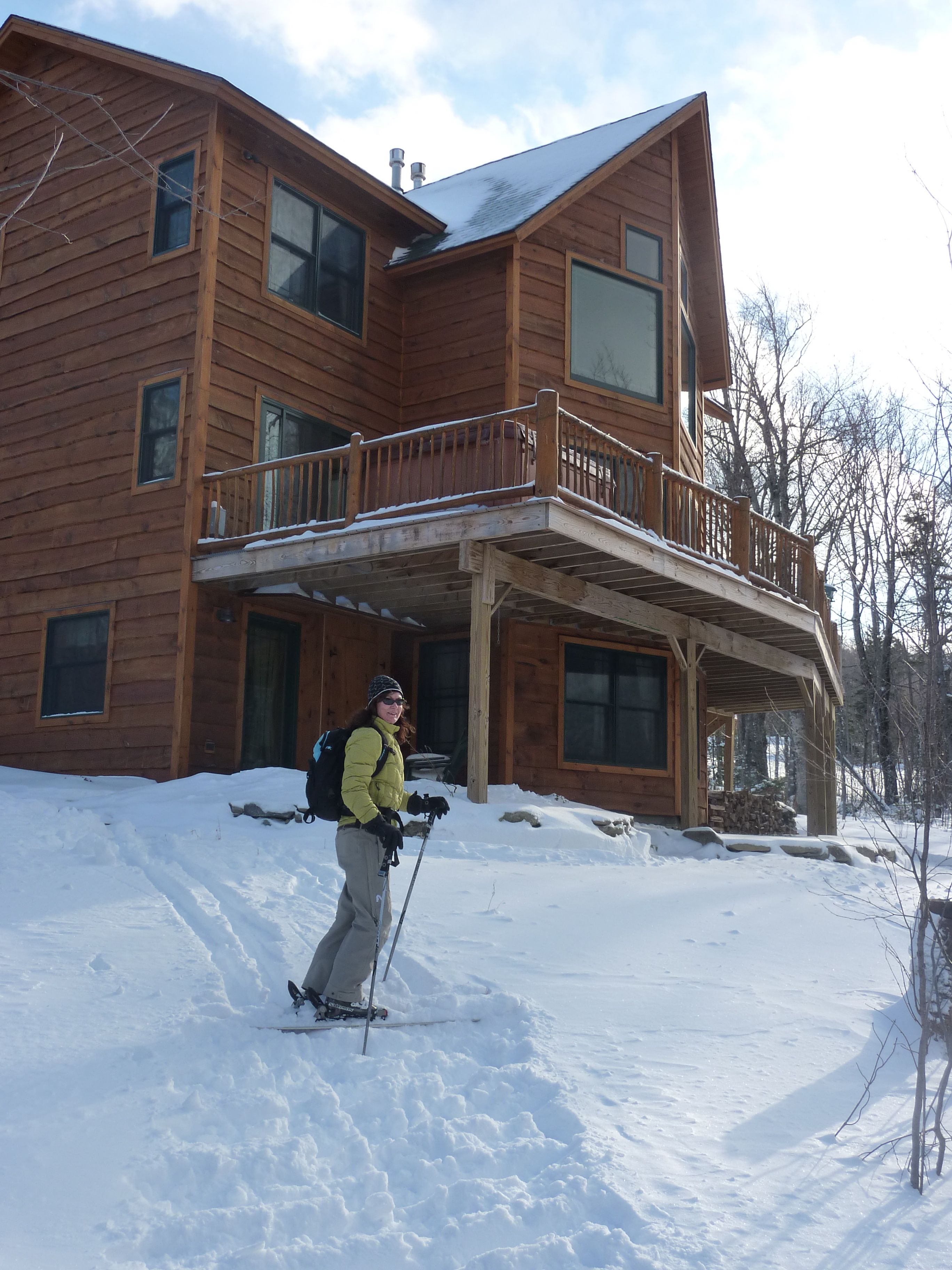 More pictures of my tour are on the Italiaoutdoors facebook page.
This recipe is loosely based on a recipe from "The Silver Spoon", a classic Italian cookbook for over 50 years. I've added some pictures and instructions for cutting up a rabbit, for those of you who may not have a lot of experience with this particular item. If rabbit is not at hand, this would work great with chicken or turkey as well. I would braise the dark meat (legs) for the 45 minutes, then add the white pieces (breasts) and continue to cook just until done. Since chicken or turkey breasts are much larger than rabbit loins, I would keep a bit of additional stock at hand to replenish the braising liquid should it reduce too much while the breasts are cooking.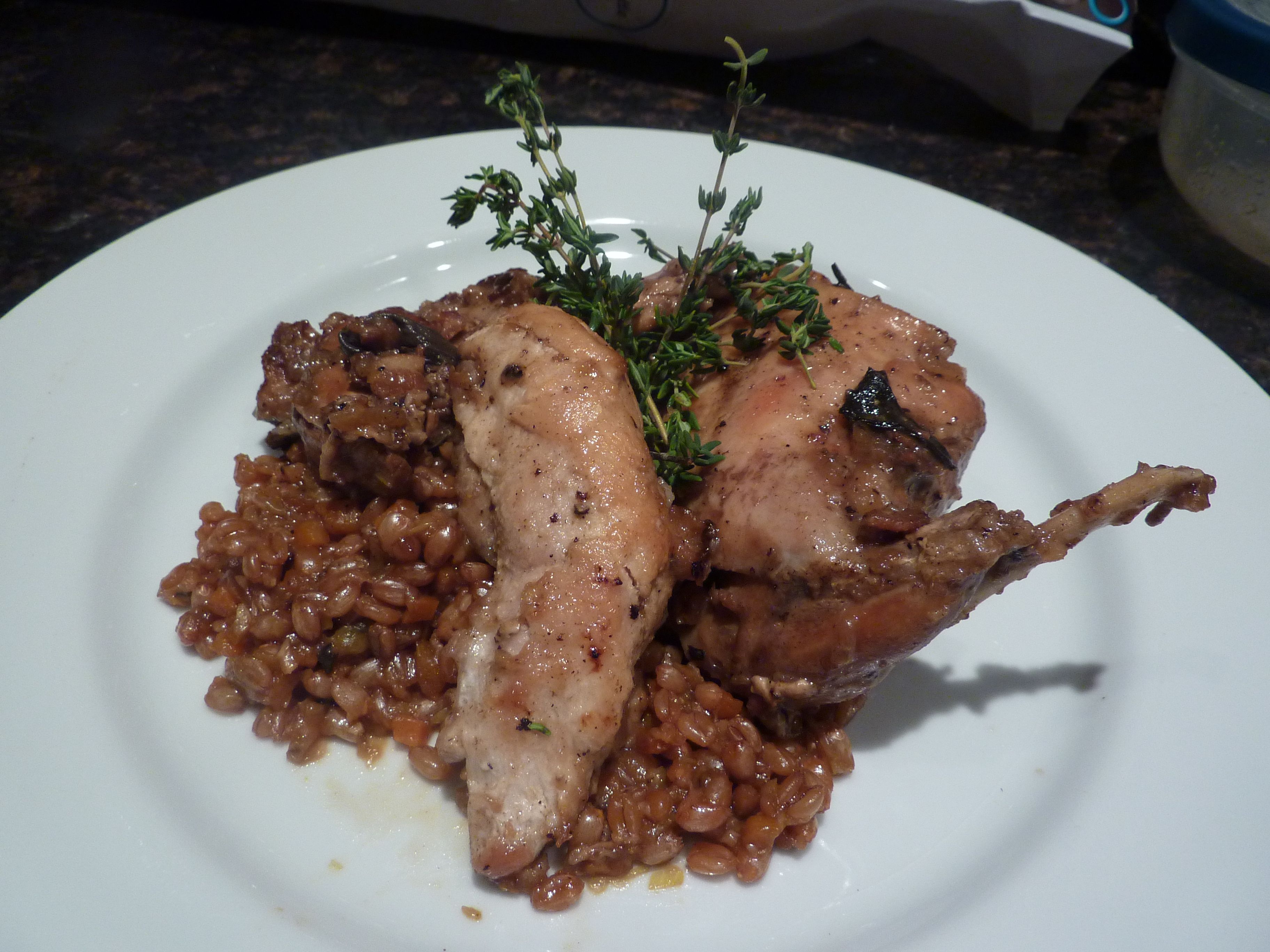 I used an intriguing and delicious pear cider that was available at our local gourmet store. And I scored some great black trumpet mushrooms for this – a find like this just makes my day! I don't find rabbit very often here in the US, so to be able to pair it with the pear cider and some fantastic mushrooms is a real treat. Serve with polenta, or some other whole grain side like a farro or barley.
Coniglio al Sidro (Rabbit with Cider)
Serves 4-6
2 rabbits
kosher salt and freshly ground pepper
2 tablespoons olive oil
2 onions, sliced
1/2 cup pancetta or bacon, diced
2 1/2 cups hard cider
3/4 cup rabbit stock
1 1/2 cups mushrooms
1 fresh thyme sprig
Strip of thinly paired lemon rind
Cut each rabbit into 6 pieces: 2 rear legs, 2 fore legs, and 2 loins. This may sound intimidating, but it is no more difficult than cutting up a chicken. I begin by removing the rear legs. I grab the leg and twist it a little to help me locate the hip joint. Using a large chef's knife, I then cut through the joint where the thigh bone meets the hip socket. The fore legs are next, and I remove them the same way.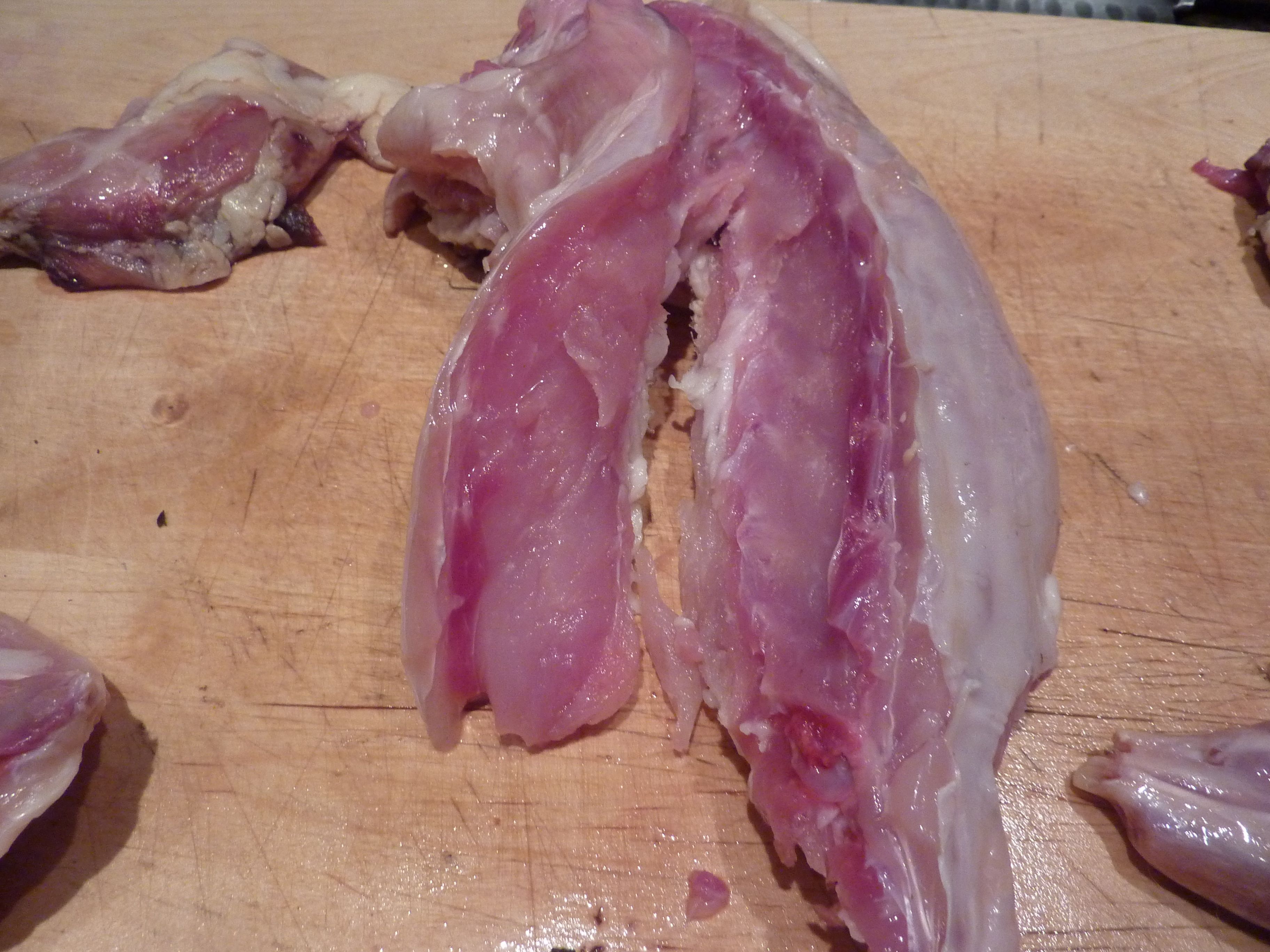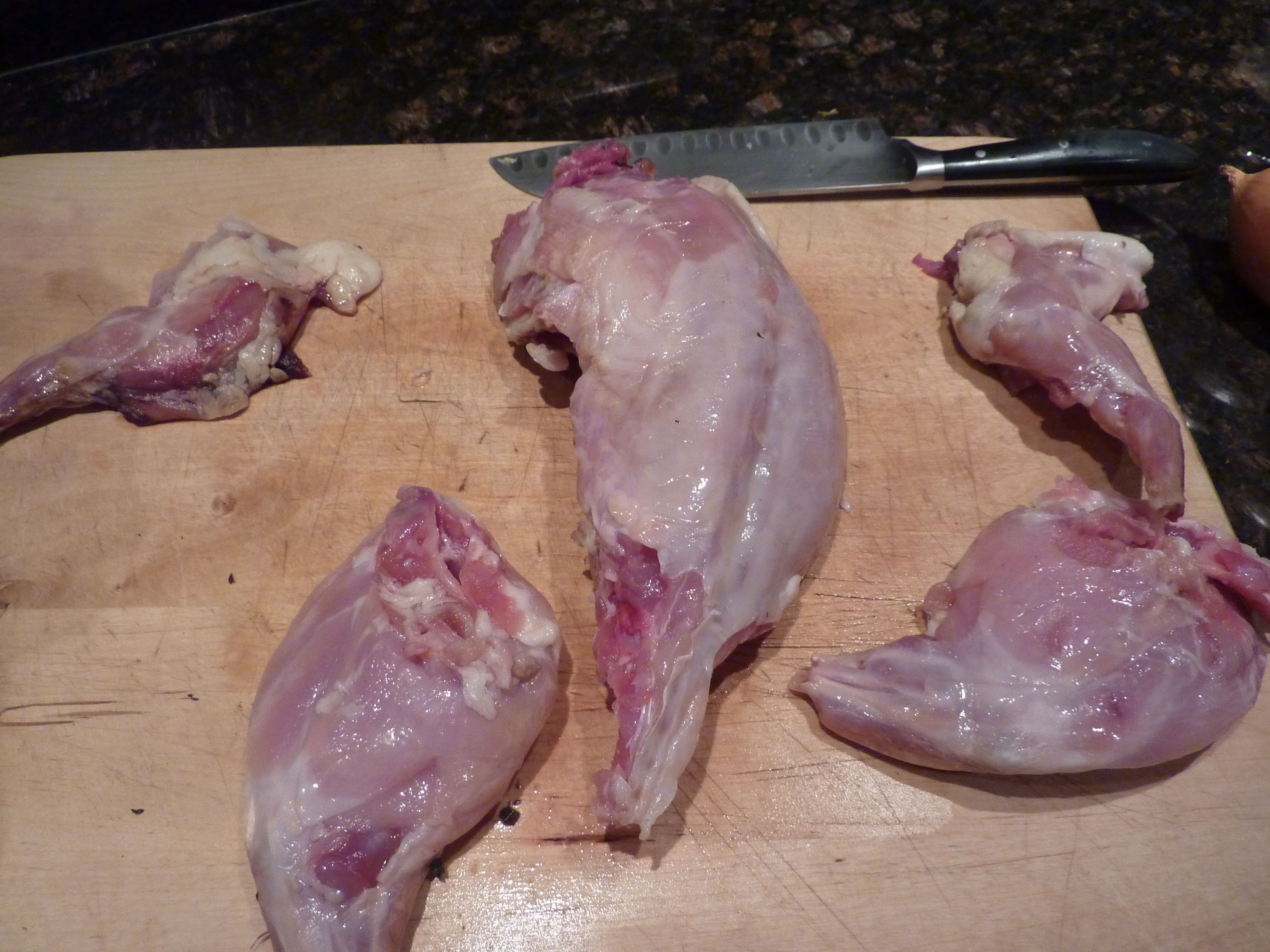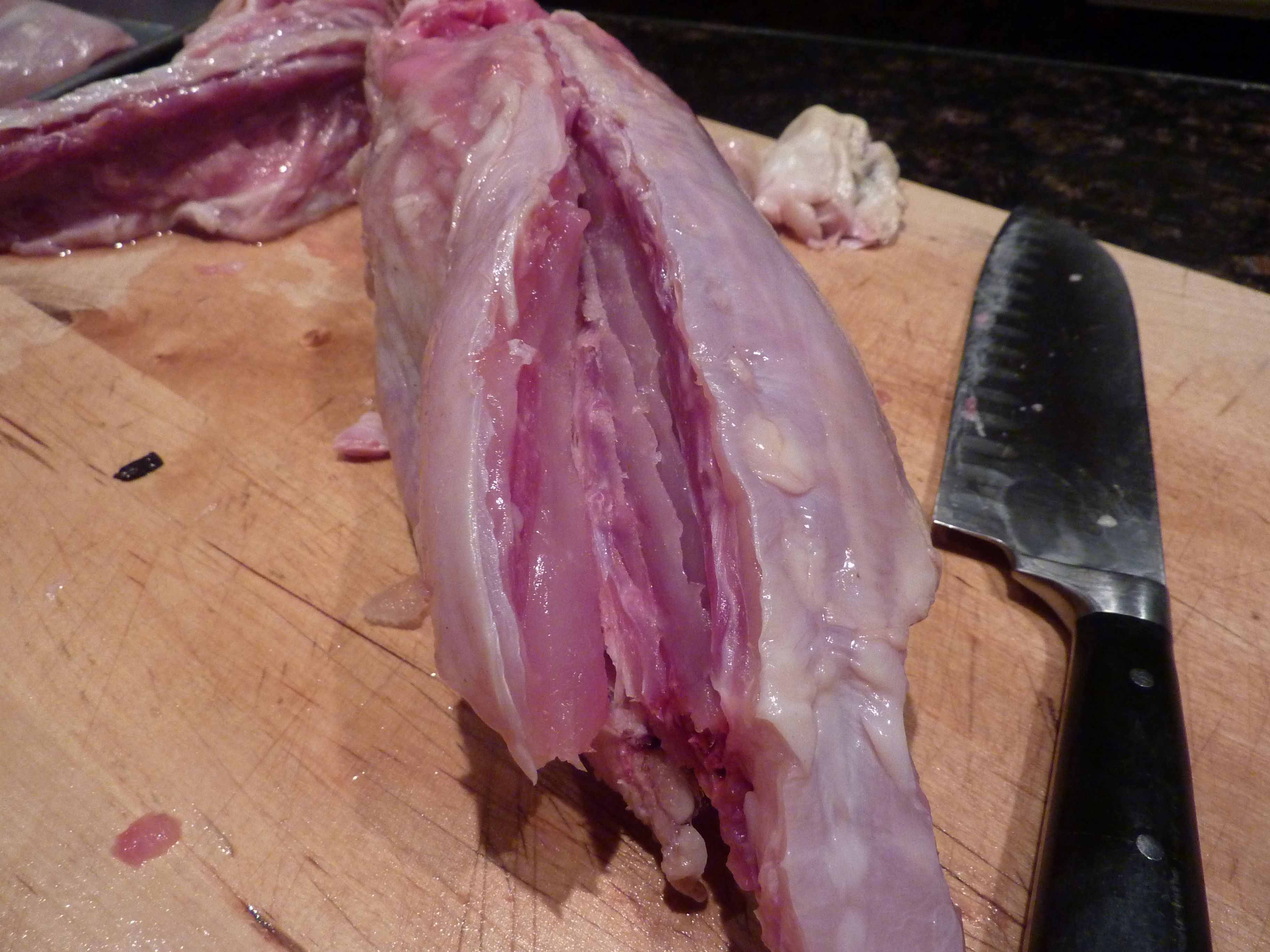 The carcass remains, with two loins located down the back on either side of the backbone. Using a boning knife, I cut down on one side of the back bone to loosen the loin, then I make a series of cuts along this same line, following the curve of the rib cage. The loin will easily separate out in one large piece. Repeat on the other side for the second loin.
I save the carcasses to make rabbit stock which I keep in the freezer for future rabbit dishes or soups.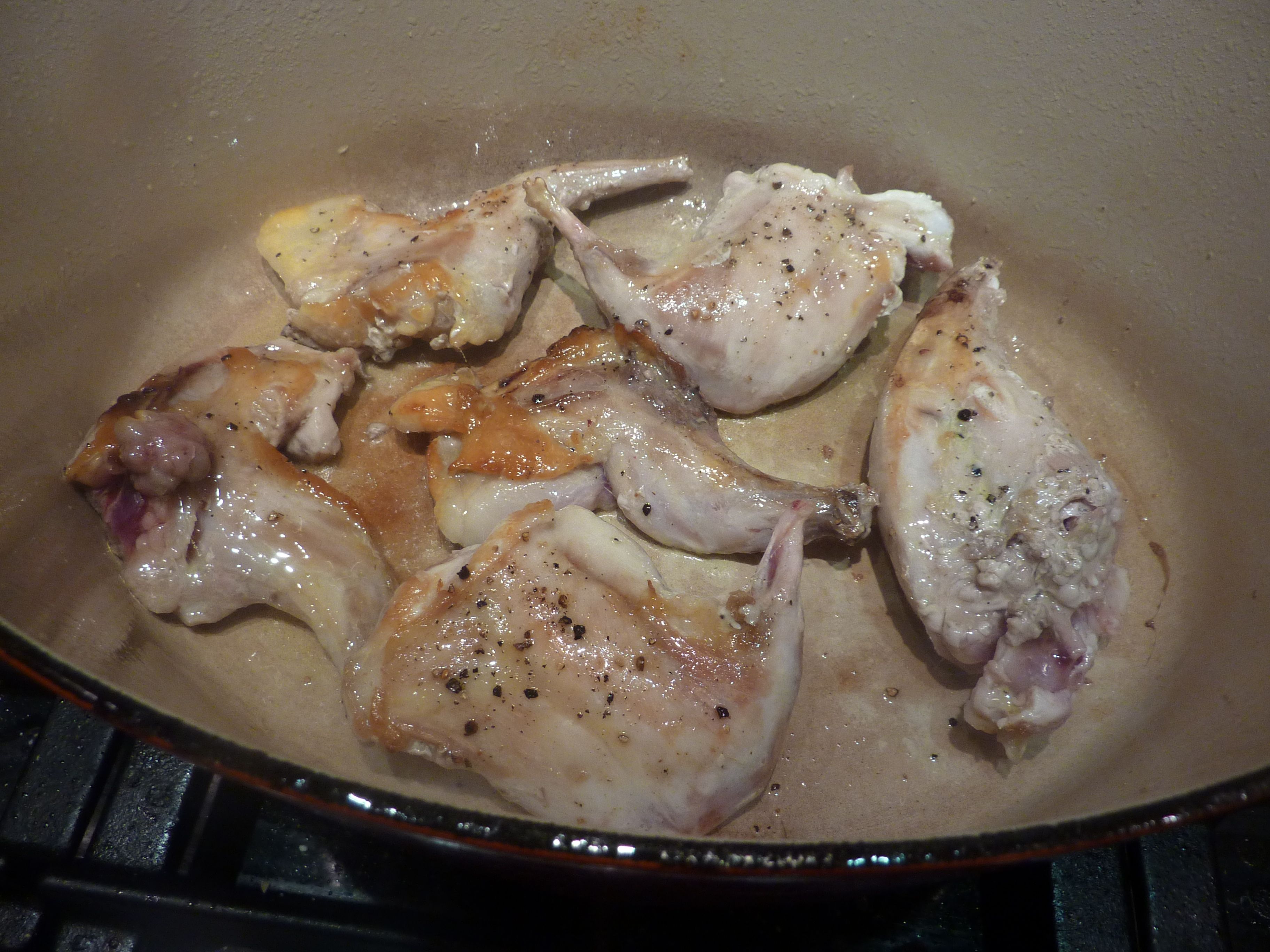 Season the rabbit pieces with salt and freshly ground pepper. Heat the olive oil in a large dutch oven or other braising pan over medium high heat, add the rabbit pieces and brown on all sides. You will have to do this in batches, as you do not want to crowd the rabbit pieces in the pan – they will steam, rather than brown nicely. Remove from the pan and set aside.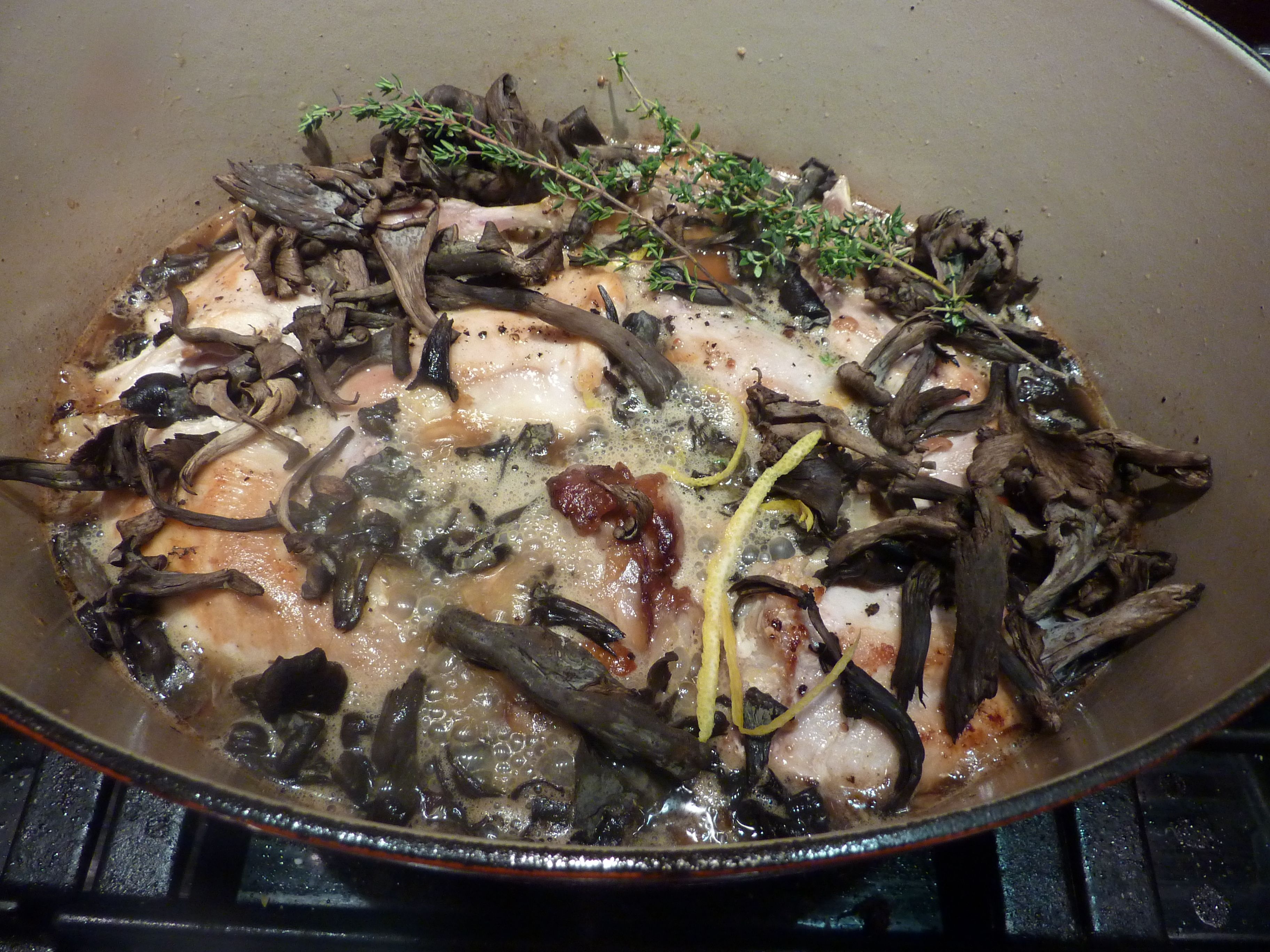 Add the onion and bacon to the pan and cook over low heat, stirring occasionally, until the onions are tender and the bacon is cooked but not too crisp, about 7 minutes. Add the cider and stock and bring to a boil. Add the mushrooms, thyme, lemon rind, and the rabbit rear and fore legs to the pan. Cover with parchment paper, and then aluminum foil, and reduce heat to a low simmer. Cover and cook over low heat for 45 minutes.
At this point, the braise can be saved for another day. Making it ahead of time allows the flavors to develop even further. I often make this one day and serve it the next; it is very quickly finished off and makes a great warm meal after nice ski tour! Remove it from the heat, and allow it to cool a bit. Place the entire pan in the refrigerator. If I am making it in advance, I don't sear the loins, I just save them in a separate container.
When ready to serve the braise, place the pan on the stove over medium heat and bring back to a low simmer. Heat the remaining tablespoon of olive oil in a medium saute pan over medium high heat. Sear the loins on all sides. Transfer the loins to the braising pan, and allow to simmer, uncovered, until the loins are cooked through to desired doneness.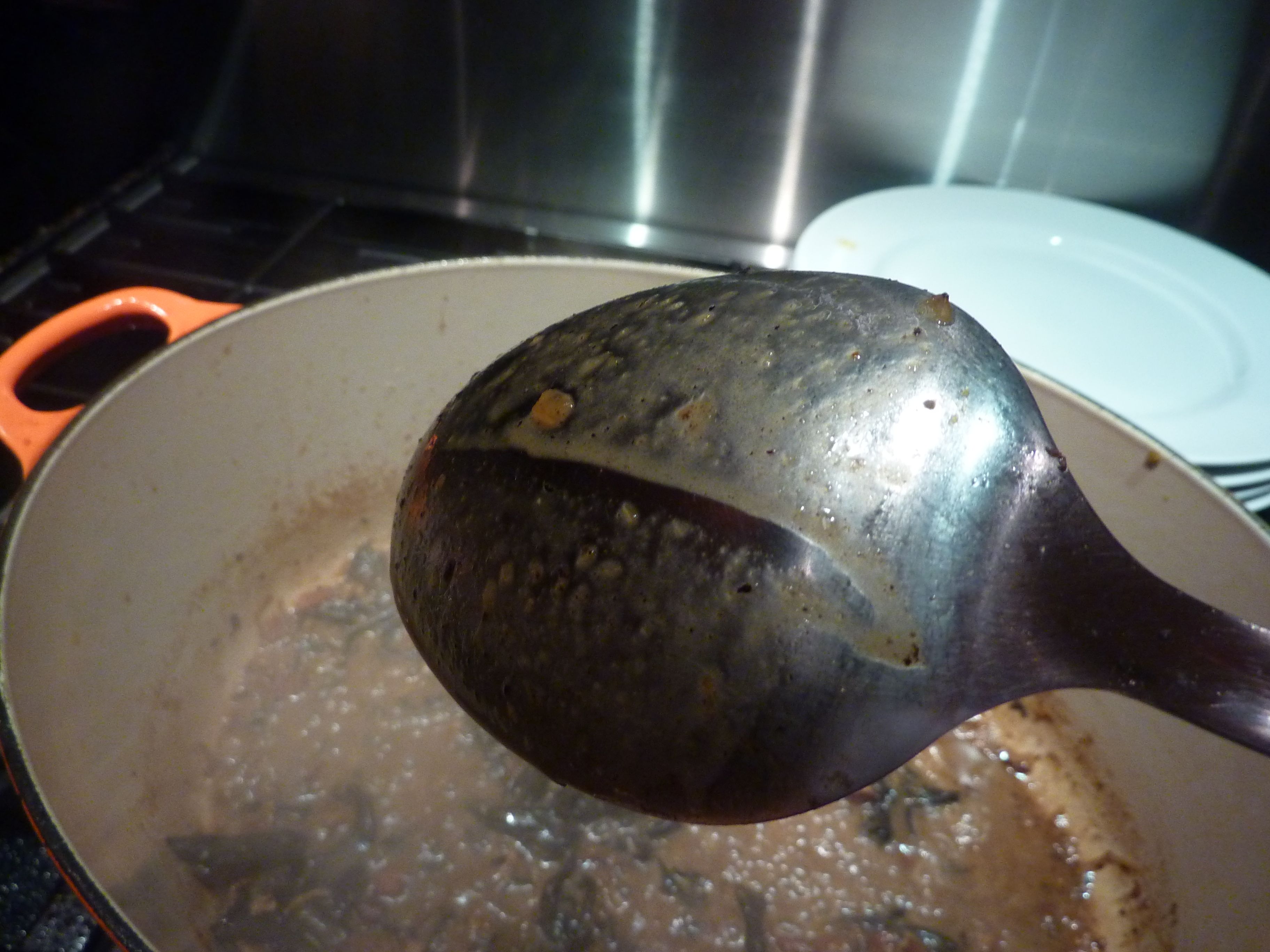 Remove the rabbit from the braising pan and set aside, keeping them warm. Continue to simmer the braising liquid, reducing the sauce to the desired consistency. In culinary school, I was trained to bring this to a 'nape' consistency, in which it will coat the back of a spoon and, if you draw your finger along the back of the spoon, the line that is left behind will remain clear. Taste sauce and correct seasoning with salt and pepper, if desired.
Place a rear leg, fore leg and loin on 4 warmed plates. Top with the sauce and mushrooms, and garnish with a fresh thyme sprig and a narrow strip of lemon peel.