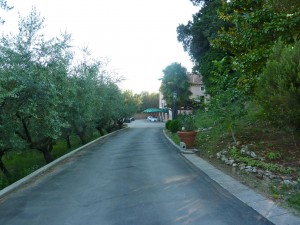 I picked up guests at the Venezia San Lucia station at 12:30, and after a short train ride and taxi, we were at our lovely locanda. We are staying at Locanda Degli Ulivi, located in the midst of an olive oil orchard in the Berici Hills, south of Vicenza. These hills are the center of the Colli Berici DOC wine zone, filled with small villages scattered between olive orchards and vineyards.
Our location is the peaceful Locanda degli Ulivi, surrounded by olive groves, about 300 meters up on the Berici Hills. We begin with a welcome aperitif, a Ca' di Rajo Brut Prosecco; an award winning producer of Raboso wines from the Treviso area, who makes wonderful refreshing prosecco there as well. It is a bit outside the traditional prosecco DOCG zone, but still produces a quality prosecco – and still allowed to use the prosecco name.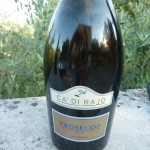 Vernon reviews safety and the flow of the week while we enjoy our prosecco. We follow with individual bike fittings, along with a nice snack to introduce a few of the local treats – cherries I picked up at a roadside stand, strawberries, and a fragrant melon. A selection of cured meats; a very local prosciutto, the Prosciutto Euganeo-Berico from the Berici and Euganie Hills that are our home for the next week. Another prosciutto, this one from Friuli, the Prosciutto di Sauris, which is smoked, but still called a prosciutto rather than a speck. Finally, a sopressata from the Valli di Pasubio, north of here in the pre-Alps. Two crostini featured some of the great products available here at this time of the year; zucchini and zucchini flower with strachiatella cheese, and sauteed chanterelles. Both were topped with a drizzle of the Locandas home produced olive oil.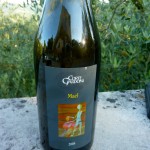 We enjoyed a Bianco di Custoza with this, from the DOC region located on the southern edge of Lago di Garda. It is a nice, light white wine, a blend of Gargenega, Trebbiano Toscano, Trebbianello (the local name for the varietal previously called Tocai Fruliano), and, in the case, Riesling. This wine was from the Corte Gardoni winery, their Mael wine.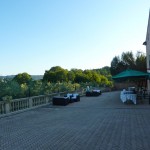 We relaxed, and then savored a nice dinner at the Locanda. Insalata with octopus, potatoes and olives, a salad with smoked salmon and pink peppercorns, large head-on shrimp wrapped in shredded phyllo, bigoli with chestnuts and truffles from the hills outside our door, and a porcini risotto. We tasted a couple of reds with our dinner; a Dal Maso cabernet, again from the Colli Berici, which was a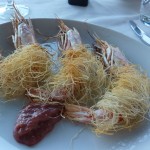 much lighter version of this wine that we usually see in the US.  In Italy, you see many wines produced to be enjoyed with food, and then more robust wines are meant to by enjoyed alone or 'a wine for meditation', as you will often see in the Italian description. A Macaulan Cabernet was our final red, moving toward the robust reds. A honey grappa rounded out the evening, then we all headed for bed, ready for our first day on the bikes tomorrow!