Fennel is a hardy, perennial herb that is indigenous to the shores of the Mediterranean, but today is found many parts of the world, especially on dry soils near the sea-coast and on riverbanks. Known as the Florence fennel, it has a bulb as its base, with stalks emerging from the soil, carrying yellow flowers and distinctive feathery leaves. It has a mild anise-like flavour, but is more aromatic and sweeter. The bulbs are eaten as a vegetable, both raw and cooked. In Italian, fennel is finocchio. In North American supermarkets, including my local Shaws, it is often mislabeled as "anise".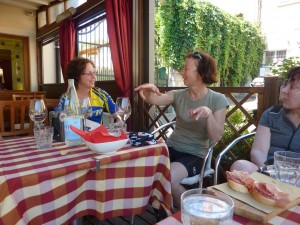 Fennel has become quite common along roadsides, in pastures, and in other open sites in many areas, including northern Europe, the United States, southern Canada and in much of Asia and Australia. It propagates well by seed, and is considered an invasive species and a weed in Australia and the United States. We can attest to its presence in Italy – we quite often find it growing by the side of the road during our Italiaoutdoors bike adventures.
Fennel features prominently in Italian cuisine, where bulbs and fronds are used, both raw and cooked, in side dishes, salads, pastas, vegetable dishes and risottos. Fennel seed is a common ingredient in Italian sausages and meatballs and northern European rye breads.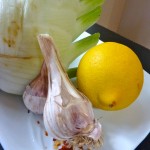 Fennel is yet another vegetable that people don't seem to know quite what to do with; it can be simply sliced and used raw as a salad ingredient. With tomatoes and feta, or with grapefruit, it makes a great addition.
Last month we hosted Master Chef Susan Regis on one of our Chefs on Bikes tours. Susan showed us how to braise fennel in oil, a fennel confit. A very easy recipe, with lots of ways to use the end product. The amount of oil used for the cooking was at first intimidating, but it can be reserved and used in so many different ways we quickly used it all up!
Confit Fennel
2 bulbs fennel
3 cloves garlic
Peel from one lemon
1/8 teaspoon red pepper flakes
1 cup extra virgin olive oil
Kosher salt and freshly ground pepper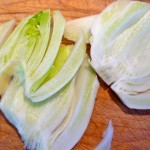 Trim the stem end of the fennel, cut off any stalks and leaves (reserve the fronds for garnish) and pull away discard any damaged or tough outer layers of fennel bulb. Slice fennel lengthwise 1/4″. Remove the tough solid inner triangular core that is at the base of the bulb,
Lay slices in a shallow roasting pan. Gently smash the garlic cloves and add to fennel. Sprinkle with red pepper flakes and several strips of the lemon peel, being careful not to get the white pith with the peel. If you do get some pith, cut it away with a small pairing knife.
Cover the fennel with olive oil – the amount of oil may vary slightly depending on the size/amount of fennel. Season with salt and a few grates of black pepper. Cover the pan with aluminum foil and roast slowly in a 325° degree oven for one hour or until tender.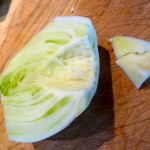 Allow fennel to cool in oil.
Susan's recommended uses:
Room temperature with fresh burrata or mozzarella cheese
Warmed with fish, poultry, or just about anything!
The fennel oil is great on salads, breads, grilled shrimp etc….
I used the fennel the room temperature fennel in a salad last night, topped with grilled chicken drizzled with the oil.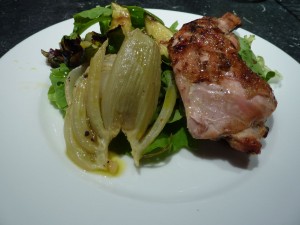 For lunch today, I had a pasta with leftover grilled zucchini, fennel, chicken – drizzled again with the oil.
Tonight for dinner, it will accompany some fresh local striper (Striped Bass), with beets and beet greens.