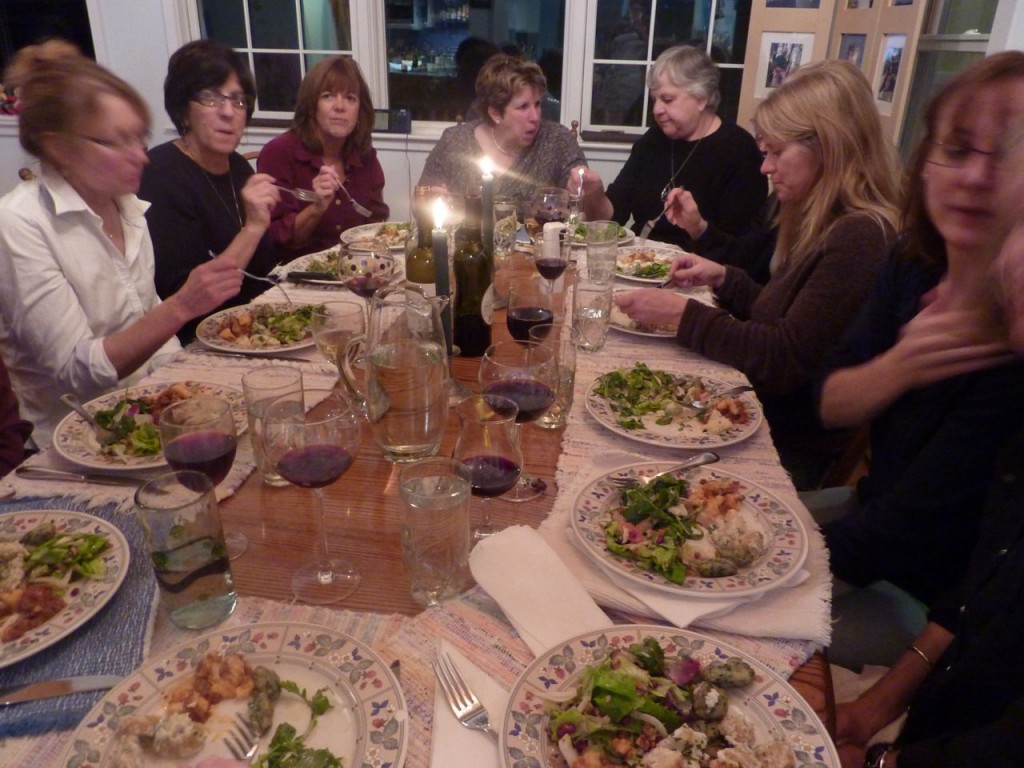 I ran a cooking class last night for a wonderful group of ladies who turned out to cook, laugh, drink wine, and support our local school. Most had not attended a cooking class before, and after we reviewed the recipes and finally got cooking at about 7pm, they were convinced that I was nuts and we were all not going to eat until midnight! But everyone got right down to business, and we were sitting down to a wonderful dinner a few minutes after 9.
On our last Italiaoutdoors culinary bike trips in Italy, our hosts at one of the villas we stayed at ran a cooking class and showed us how they make gnocchi. It's easy, fun, and most people haven't tried to make it themselves. Last night we made 4 gnocchi dishes, two with the traditional potato gnocchi, one with a butternut squash gnocchi, and the last with a bread gnocchi. I'm posting one of the two potato gnocchi recipes here. I'll address in later posts the non-traditional ones.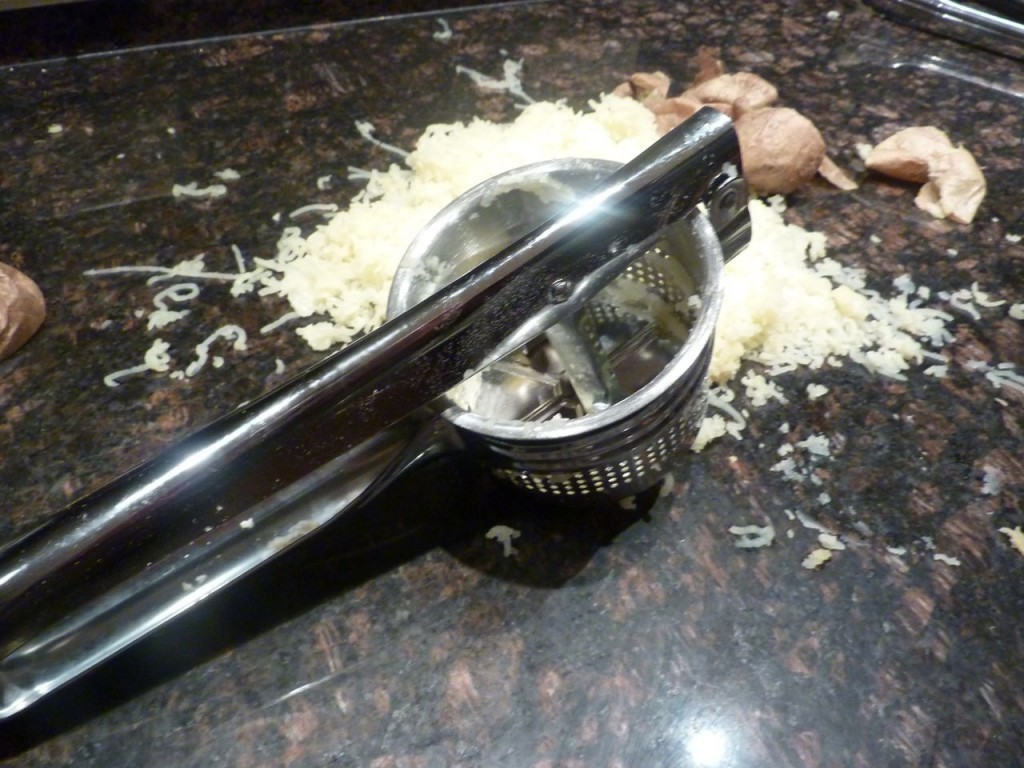 Gnocchi are basically poached dumplings, a dish made for years as a way of using up leftovers be they potatoes, squash, pumpkin, ricotta, or bread. There are couple of tips to making good gnocchi – gnocchi that are tender and light, not heavy and dense.
You begin by cooking the potatoes. It doesn't really matter whether you boil or bake them, I've seen recipes that do both. But, regardless of the cooking technique, it is important to rice them when they are warm as they otherwise they can become gummy. "Ricing" potatoes is the act of passing them through a potato ricer, which is basically a sieve with a handle attached that pushes the food through the holes. If you don't have a ricer, you can use the medium holes on a box grater, or I have even pushed it through strainer with a large spoon.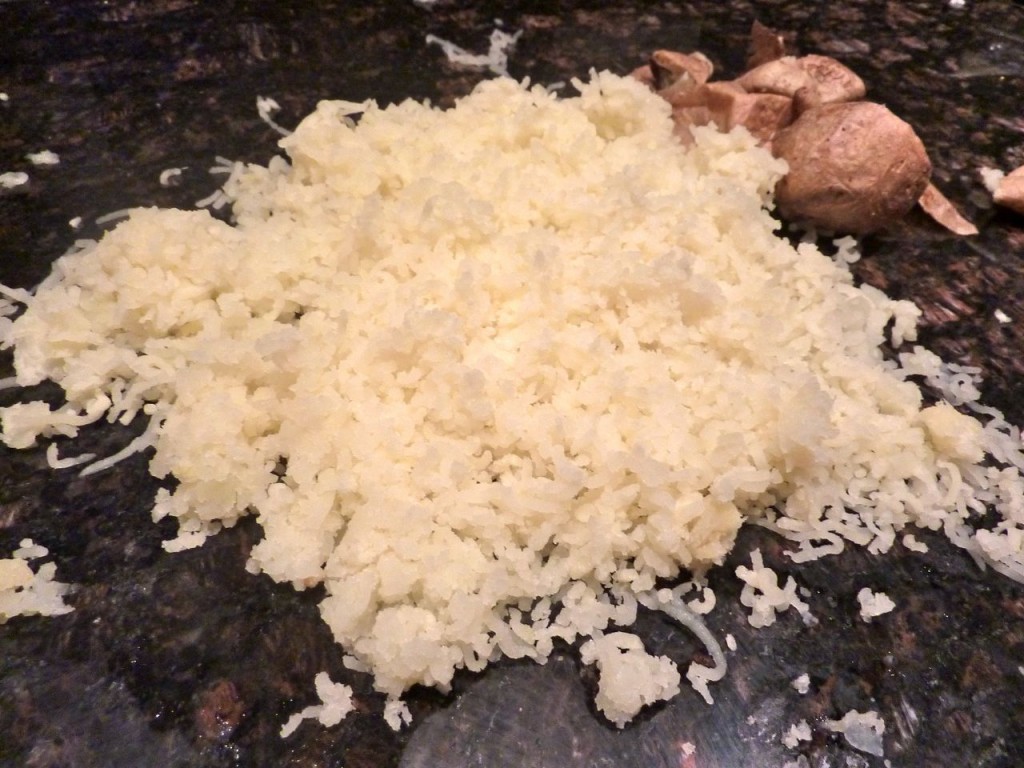 Second, allow the potatoes to cool before continuing. When warm, they continue to sweat a bit and you end up adding more flour to absorb this liquid. Which brings us to the third tip – use as little flour as possible in the production of the gnocchi. The less flour you use, the lighter they will be. I start with a little less than the recipe calls for and then add a bit at a time.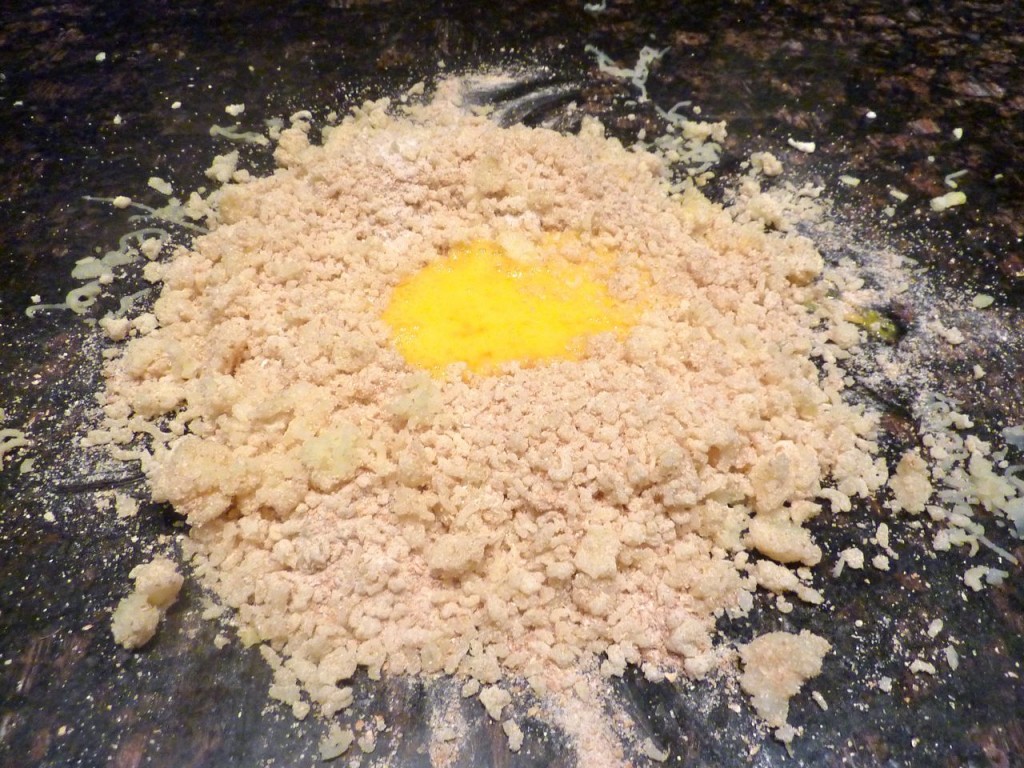 I rice the potatoes directly on a counter, then add the flour and salt and lightly mix everything together without compressing the riced potatoes. I then make a well in the center of the potato flour mixture and add the egg, and mix together very quickly. Once the dry ingredients hit the wet, you want to handle the dough as little as possible to get tender gnocchi (tip 4.) If you have not made much gnocchi before, you may want to make and cook a test one at this point to make sure that you have added enough flour to bind it together. Boil some water in a small pan, and drop in a grape-piece of dough. It will first sink, then eventually rise to the surface. If it breaks apart into several pieces, you will need to add more flour.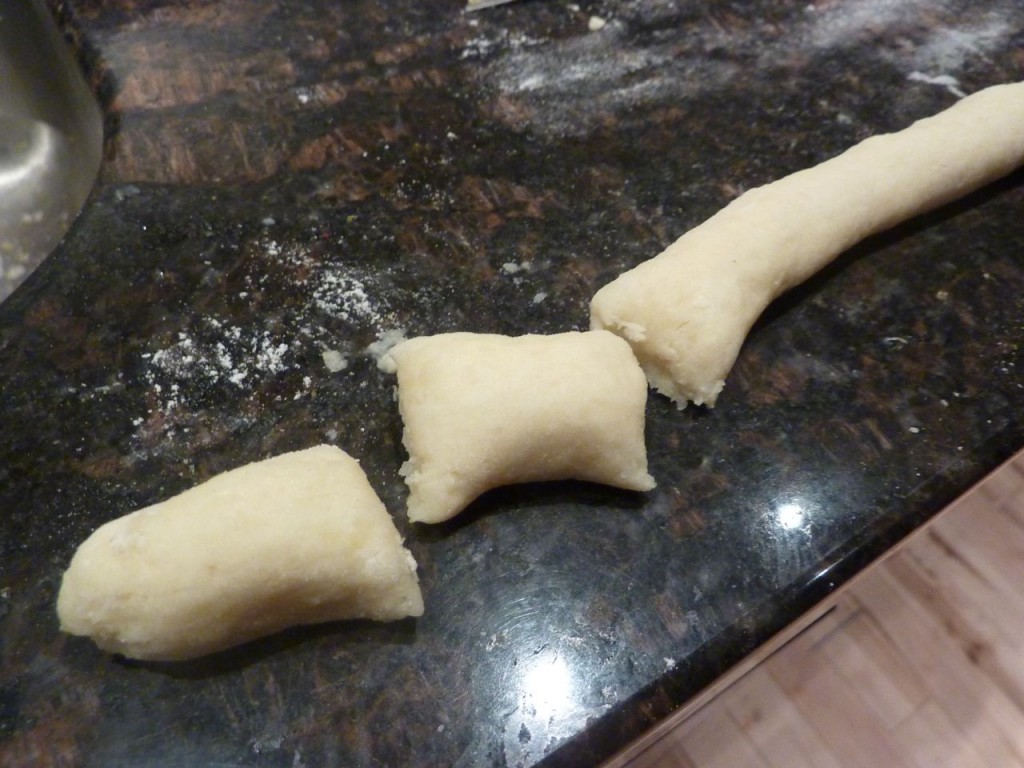 Once you have the gnocchi dough with the correct amount of flour, you will divide the dough into 6 pieces, and, taking one piece at a time and using the palms of the your hands, roll it out into a long thin log. The log should be the width of your thumb. Using a table knife, cut the log into 1 inch long pieces, and place the individual gnocchi on a floured sheet pan.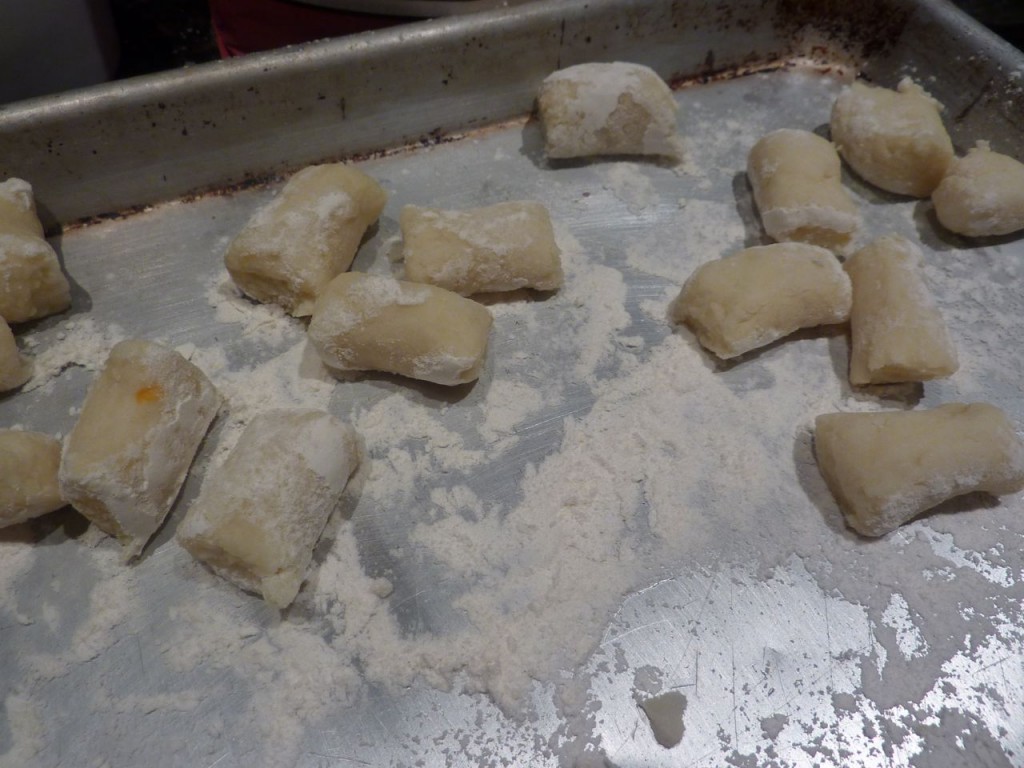 If you are not going to cook the gnocchi in the next day or so, you can freeze them at this point. Place the sheet pan with the gnocchi in the freezer. Once they are frozen, you can store them in a plastic bag. When ready to use them, do not thaw. Just cook the frozen gnocchi as below.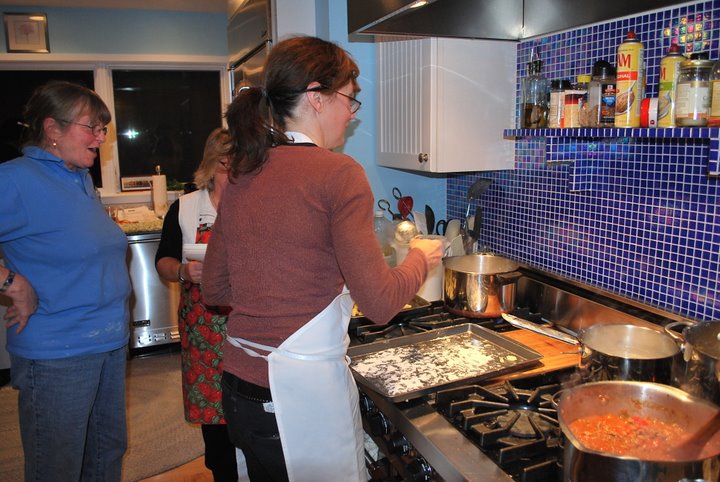 Bring a large pot of water to boil, and season with salt. Working in batches, drop about 1/4 or so of the gnocchi into the boiling water. Remove once they float to the surface and place on a clean sheet pan. They are now ready to be added to your favorite sauce, or included in a baked dish as I've done here, a cream and tomato gratin.
Potato Gnocchi
This recipe is based on Jody Adams gnocchi recipe from her book "In the Hands of A Chef".
Make 4 side dish serving (about 65-75 gnocchi)
2 lbs. baking potatoes, cleaned
1 cup all-purpose flour, plus additional for dusting
1 tablespoon kosher salt
1 large egg, beaten
Roast the potatoes for 40-50 minutes, or until done. Make sure they are quite tender, as they will not rice properly if they are still somewhat hard.
Let the potatoes cool for a few minutes. As soon as you can handle them cut each potato in half, scoop out the flesh and place it in a ricer. Rice directly onto the counter. Allow the potatoes to cool.
Add the flour and the salt and mix well. Add the egg, and quickly knead everything together into a sticky dough, working as quickly as possible. The secret to tender, light gnocchi is 1) add as little flour as possible and 2) knead as little as possible.
Fill a small pan with water and bring to a boil. You will use this to test the texture of your gnocchi. Take a small piece of dough, about the size of a grape, and drop it into the boiling water. It will cook for about a minute, and then should rise to the surface. Let it cook for one more minute, then remove it from the water. If, rather than sink and then rise, it breaks apart, add a bit more flour to the dough and knead again. Once you get a test one that sinks and then rises without blowing apart, you are ready to move on to the next step. You should have a test gnocchi that is cooked through, but still soft and light.
Dust the counter with flour. Divide the dough into 6 equally sized pieces. Take one of the pieces and place it on the floured counter top. Using the palms of your hands, roll the piece out into a 1/2 inch thick log, which will be about 12 inches long. Cut the log into 1-inch lengths, and place the individual gnocchi onto a sheet pan that has been dusted with flour. Repeat with the remaining pieces of dough.
Fill a large pot with water, bring to a boil and season with salt. Add the gnocchi to the boiling water in small batches. Once they have risen to the top, allow them to cook for one more minute, then scoop them out with a slotted spoon and lay them on a baking sheet to cool. At this point, they are ready to use in your favorite sauce or baked gnocchi dish.
Baked Cream and Tomato Gnocchi Gratin
This recipe is a basic gratin type recipe that here is used for gnocchi, but can be used with pretty much any pasta. Just precook the pasta and use instead of  the cooked gnocchi.
Make 4 side dish servings
1 tablespoon unsalted butter
1 recipe potato gnocchi (about 65-75 gnocchi) or 3/4 lb. cooked pasta
1 cup light cream
1 16 oz. can diced tomatoes
Kosher salt and freshly ground pepper
3/4 cup freshly grated parmigiano reggiano or grana cheese
1/2 cup panko or other bread crumbs
2 tablespoons fresh basil, thinly sliced
Preheat the broiler.
Grease a shallow baking dish with the butter. The baking dish needs to be large enough to accommodate the gnocchi or pasta in a single layer.
Heat the cream in a small saucepan over medium heat. When it just starts to simmer, season with salt and pepper and add the tomatoes and remove from the heat.
Arrange the gnocchi or pasta in the baking dish. Pour the cream mixture over the gnocchi or pasta. Sprinkle with the cheese and bread crumbs. Place under the broiler until the gnocchi or pasta are toasted, about 5 minutes.
Top with the basil and serve.