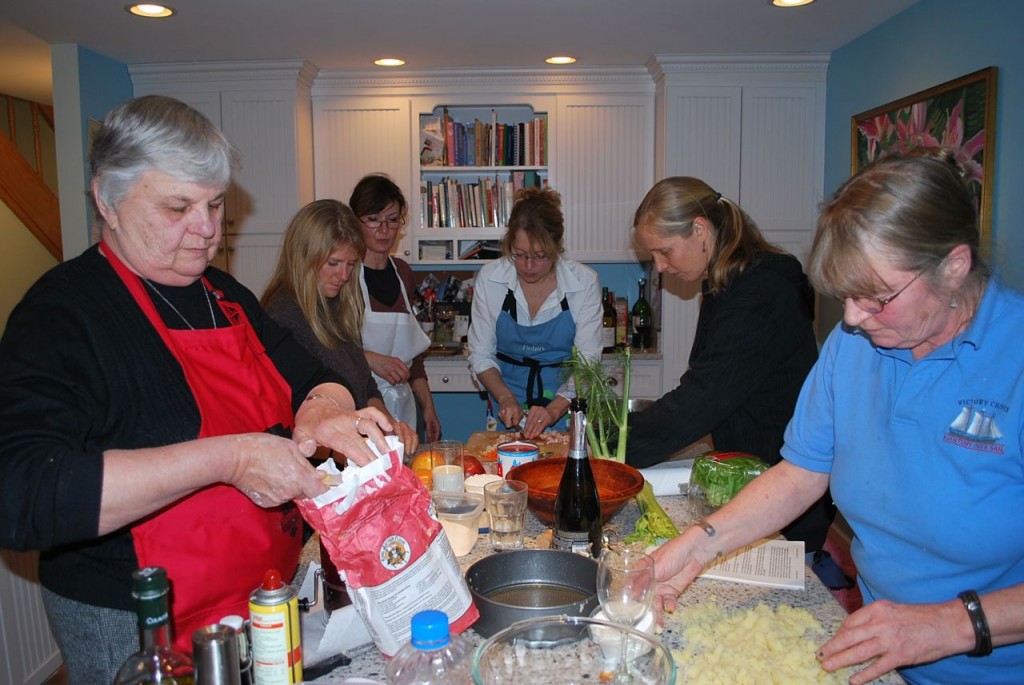 My last post covered the standard potato gnocchi we made at my last cooking class. This one will address one of the myriad of variations that you see in Italy, a pumpkin or squash gnocchi. Although the basic technique is the same, working with pumpkin or squash is much different than potato due to the higher water content. The objective here is still the same, however, to use as little flour as possible to get light and tender gnocchi.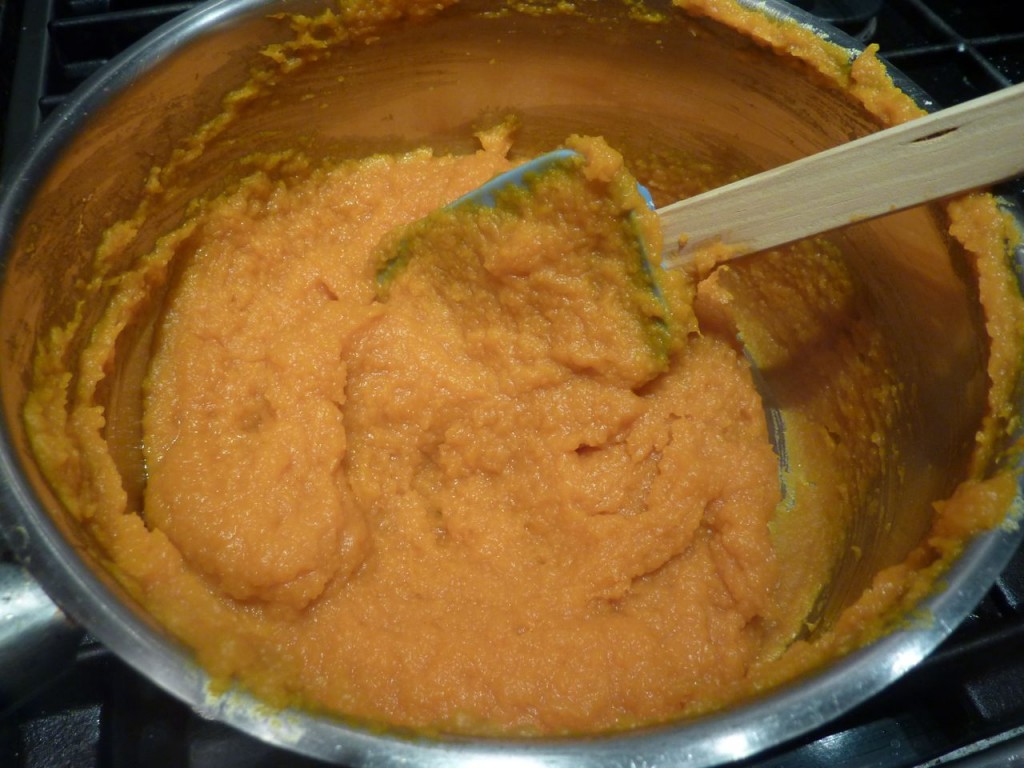 Winter squash were just starting to appear in the market during our last Italiaoutdoors bike tour of the season, and I arrived home to the US to find them in the local farmer's market and my CSA. I have a big box of them in my garage now, and I thought using butternut squash rather than pumpkin would be worth a try. The squash, however, is quite a bit wetter than pumpkin so I ended up drying it out in a saucepan over medium heat, keeping a close eye on it to make sure it didn't brown. This did take a bit of time.
At the class I review the recipes with everyone before we begin. I was asked whether you could 'cheat' and use canned pumpkin for the gnocchi rather than roasting the pumpkin or squash. You can, and I've supplied below two recipes for gnocchi, one with roasted butternut squash, the other with canned pumpkin. The squash took a bit of effort to dry it out enough to use it; the pumpkin I used straight out of the can. In the pumpkin recipe below, I replaced a bit of the all-purpose flour with buckwheat flour. Buckwheat is found fairly regularly in the northernmost regions of Italy, such as Trentino – we'll be exploring some of those areas during our ski tours this season. It gives this gnocchi a nice, nutty touch.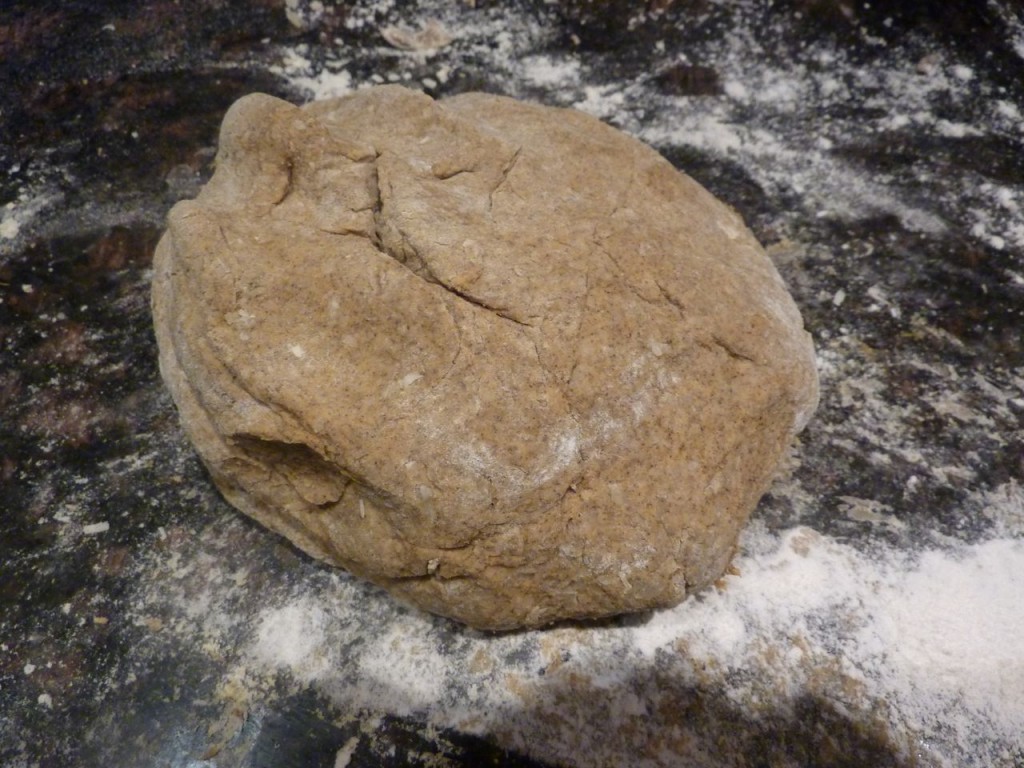 For both versions, you will end up with a very sticky dough. Don't be too intent on mixing in enough flour to make it easy to handle; remember the objective here is to add as little flour as possible as we want nice, light gnocchi. Be a little generous with using flour on the outside to allow you to handle the dough, but refrain from mixing it through. The interior should remain quite sticky, too sticky to handle easily. But I find that if I divide the dough into smaller pieces when I am rolling it into logs, and continue to use flour to coat the outside, I can form the gnocchi even though the interior is still quite moist.
Two recipes for gnocchi follow, as well as two ways of using them, one a mascarpone sauce, the other a baked gratin dish. A simple browned butter sauce with almonds would work as well. And both the mascarpone sauce and the baked gratin can be made with pasta rather than gnocchi.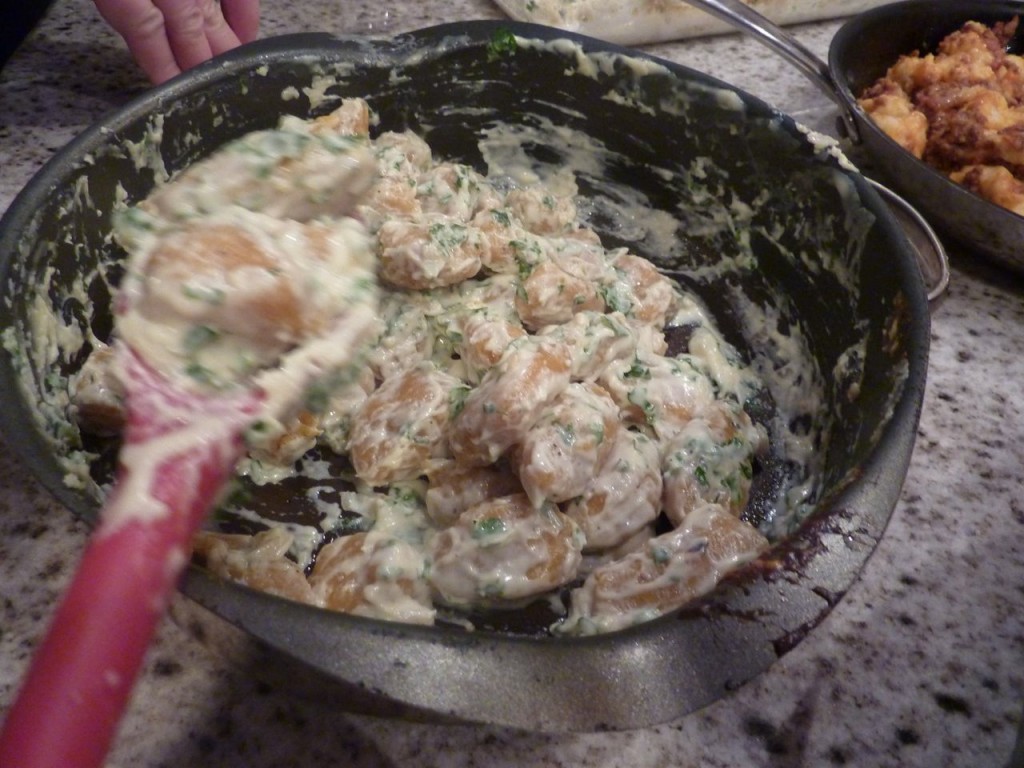 Butternut Squash Gnocchi with Mascarpone Sauce
Serves 6 as a side
For the gnocchi:
2 1/4 pounds pumpkin or butternut squash 3/4 cup unbleached all-purpose flour, plus extra for dusting 1/4 cup freshly grated Parmigiano Reggiano kosher salt 1/8 teaspoon freshly grated nutmeg
For the sauce:
2 shallots, minced 2 tablespoons unsalted butter 1/2 pound mascarpone 1/2 cup freshly grated Parmigiano Reggiano kosher salt and freshly grated pepper 1 tablespoon minced flat-leaved parsley
To make the gnocchi:
Preheat the oven to 400°. Bring a large pot of water to boil over high heat. Season with salt.
Cut the squash in half lengthwise and scrape out the seeds. Lay skin side up on a baking sheet and bake for 40 minutes, or until tender. As soon as you can handle them, remove the skin, cut into large pieces and pass through a ricer. If the squash is wet, cook it in a saute pan, stirring frequently, until it is thickened. It should be the consistency of canned pumpkin.
Pour onto a counter. Add the flour, Parmigiano, salt and nutmeg, mix quickly into a dough. It should be pretty sticky. but you should be able to handle it when it is dusted with flour. Take a piece the size of a large olive and drop it in the boiling water. It will fall to the bottom, then rise to the surface. If it breaks up, you will need to add a bit more flour to the dough. Knead it in quickly and test again. Once it holds together, you can form the gnocchi.
Divide the dough into 4 pieces. Roll each piece into 1/2 inch log. Cut into 1 inch long pieces and place on a floured sheet pan to keep them from sticking to each other. If they are not to be eaten immediately, you can freeze them at this point.
Drop the gnocchi into the boiling water in batches. As they rise to the surface, allow to cook a few more seconds, then remove with a slotted spoon. Place on a clean sheet pan.
To make the sauce:
Saute the shallots in the butter for 3 minutes. Fold in the mascarpone, parmigiano, salt and pepper. Add the gnocchi. Cook over high heat, stirring, for 1 minute. Garnish with the parsley and serve.
Pumpkin Buckwheat Gnocchi Gratin
Serves 4 as a side
For the gnocchi:
1 15 oz. can pumpkin
1/2 cup buckwheat flour
3/4 cup all-purpose flour, plus more for dusting
1/2 cup grated parmigiano reggiano
2 teaspoons kosher salt
1/2 teaspoon nutmeg
For the gratin:
1 tablespoon butter
1 1/2 cups light cream
2 cups arugula
Kosher salt and freshly ground pepper
1/2 cup grated parmigiano reggiano
1/2 cup panko or bread crumbs
1/4 cup almonds, coarsely chopped
Bring a large pot of water to a boil. Season with salt.
Preheat the broiler.
Place all of the ingredients in a bowl or directly on the counter and mix together. You will have a very sticky dough. Place the dough on the counter, and using flour to keep it from sticking, form it into a large ball. You want to use as little flour as possible to keep the gnocchi light and tender, so don't work the dough too much as it will continue to absorb flour. Coat it with just enough flour to allow you to handle it.
Take a grape-size piece of the dough and place it in the boiling water. It should sink, and then float to the surface. If it breaks apart, you will need to add more flour to the dough. If it sinks and then floats, you can form the gnocchi.
On a floured counter top, take about 1/4 cup of the dough and, using the palms of your hands, roll it out into a 1/2 inch (thumb size) log. The dough will be quite sticky, so you will need to coat your hands with flour. As this particular gnocchi dough is quite sticky, it is easier to do this if you do it in small amounts. Cut the log into 1 inch lengths and place the individual gnocchi on a floured sheet pan. Continue to shape all of the dough into individual gnocchi.
Working in batches so as to not overcrowd the pot, place the gnocchi in the boiling water. They will sink, and then rise to the surface when they are done; scoop them out with a slotted spoon and place on a clean sheet pan. At this point, they can be frozen if you are not using them immediately.
Coat the bottom and sides of a 13×9 baking dish. Place the gnocchi in the dish. Heat the cream in a medium saucepan until just simmering; add the arugula and cook just until wilted. Season with salt and pepper. Pour the cream mixture over the gnocchi, then top with the parmigiano reggiano and bread crumbs. Place under the broiler until the cheese and crumbs are golden brown. Top with chopped almonds and serve.