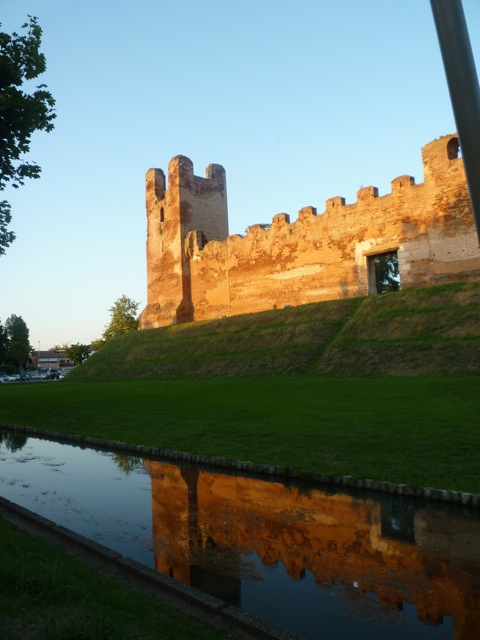 We are leading an Italiaoutdoors Food and Wine custom bike tour this week, and our first stop is perfect place to begin an exploration of the Veneto. Castelfranco Veneto (named as such to distinguish it from the other Castelfrancos in other regions of Italy), is a small lovely walled city about 40km inland from Venice. With the flatter plains of the Piave river basin to the west, and the hills of Prosecco to the north, we can explore several different wine regions from our home base as we enjoy warm up rides on some flatter routes, moving gradually into hillier terrain. The warm and welcoming Hotel alla Torre is the ideal accommodation for our groups. Spacious rooms, a nice bar, great breakfast buffet and wonderful staff make us immediately feel right at home.
Castelfranco Veneto also has a surprising number of wonderful dining options that belay its' small size. All' Antico Girone is just one of the superb ristorante in town, and located just around the corner from our hotel. Most of the ristorante here have only a few tables, so reservations are recommended. All' Antico Girone has a warm, elegant, yet friendly interior space, with a few outdoor tables for warmer evenings. The proprietor is welcoming and very knowledgeable. The wine list is very impressive, with a nice selection of local wines from the local regions – Prosecco, Colli Asolini e Montello, Breganze and Piave, as well as some of the star producers of Trentino and Fruili (Elena Walch, Foradori, Edi Keber). The list has been crafted with a nod to value as well as quality, you will find some lovely wines at a great price point.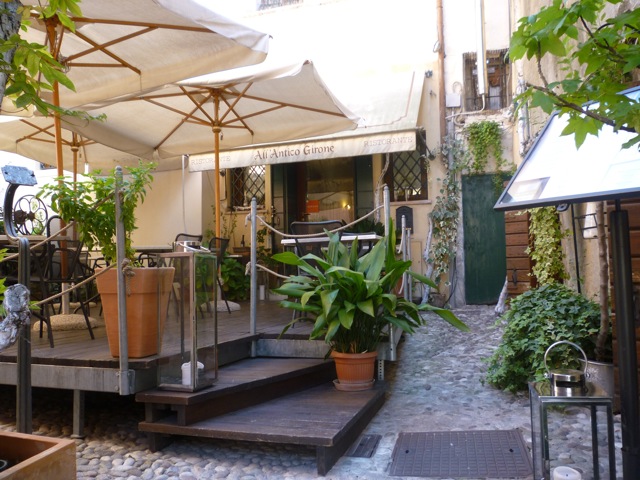 Their menu focuses on traditional local dishes, with a dash of creativity. When I dined here recently, options included the favorite pasta of the Veneto, bigoli, prepared with prawns, the classic soup pasta fagioli, updated with the addition of clams and truffle, and an apple risotto with branzino. Risotto dishes here in Northeastern Italy are almost always prepared to order, requiring a minimum of two people and an half hour to prepare. This dish is not difficult to make, but it is a difficult one to prepare part way and hold – risotto rice is exceptional in its ability to absorb liquid, and it is hard to get it to stop once it gets going. If you want to serve it 'al dente' with a fair amount of liquid (the preferred method here) it must be served immediately. So as a single diner, I don't often get to order it. However, the proprietor let me know that if I wanted the risotto, they could 'piggyback' my order on another. I immediately took advantage of this and soon was enjoying a dish of their apple risotto with branzino and cumin. I have made apple risotto before, but never thought of adding fish to this. It was quite tasty, and I cleaned the plate in no time, while savoring a glass of wine recommended with it, a crisp and dry Gewurztraminer from Elena Walch.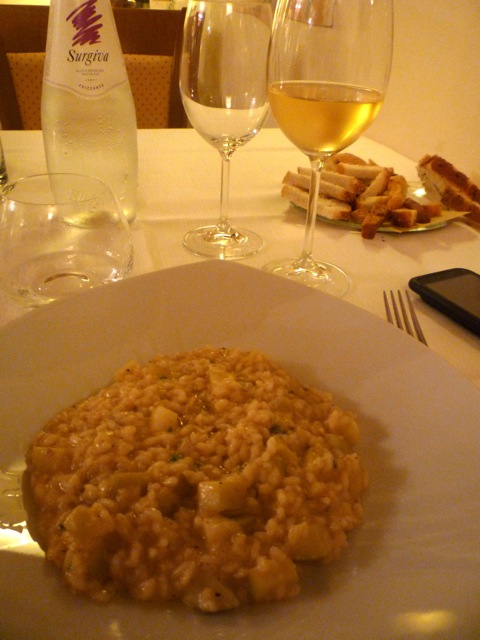 While relishing my risotto, my second wine arrived. All' Antico Girone offers a nice variety of half bottles. A red that caught my attention was the Capo di Stato from Loredan Gasparini, a producer from the Colli Asolani e Montello area. In the Colli Trevigiani, hills outside of Treviso, Gasparini has been producing quality wines from Cabernet Sauvignon, Merlot, Cabernet Franc and Malbec, where the microclimate is well-suited for the cultivation of these Bordeaux varieties. Capo di Stato is one of Gasparini's signature wine, produced in limited quantities. The name, Capo di Stato, Head of State, refers to the wine's well-deserved international reputation, as it was a favorite of French President Charles de Gaulle. It is a rich wine, deep garnet in color with intense dark berry nose with hints of spice. Full-bodied, well-balanced, nicely tannic with a persistent finish, this is a wine for those fans of 'big' reds.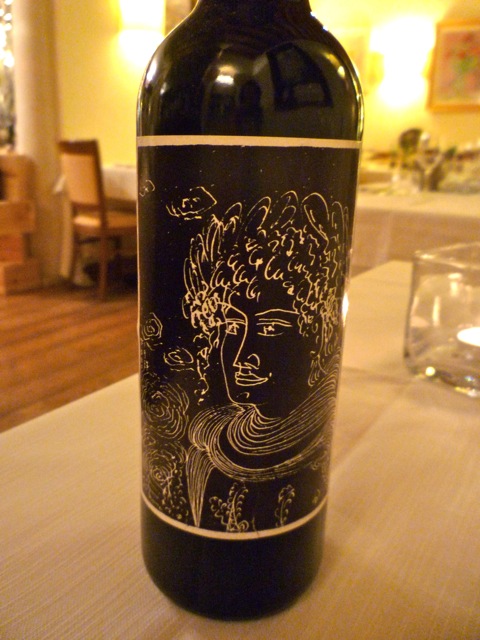 My secondi arrived shortly, rabbit with porcini and cabbage, accompanied by an eggplant caponata agrodolce. The rabbit 'involtini', basically rolls of rabbit meat surrounding a cabbage leaf stuffed with porcini, pancetta, and cabbage, and seasoned with fresh rosemary. Two generous slices were served, with a rabbit sauce and accompanied by the caponata – a combination of diced eggplant, tomatoes, peppers, and olives, with an agrodolce. Agrodolce, agro (sour) and dolce (sweet) is a flavor combination found in several regions of Italy, from Sicily to the Veneto. It is pine nuts, raisins, and slowly cooked onions, cooked with vinegar, sugar, and olive oil. A lovely presentation, with superb flavors to match.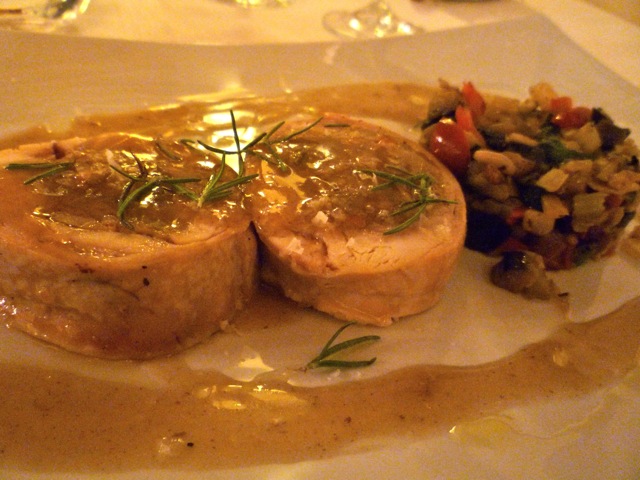 I am a simple dessert person, and All' Antico Girone has what is for me the ideal dessert after a multi-course meal – a digestif with chocolate fondant. I selected a nice grappa, which was served with several chunks of dark chocolate, and a single sliced strawberry. A perfect ending.