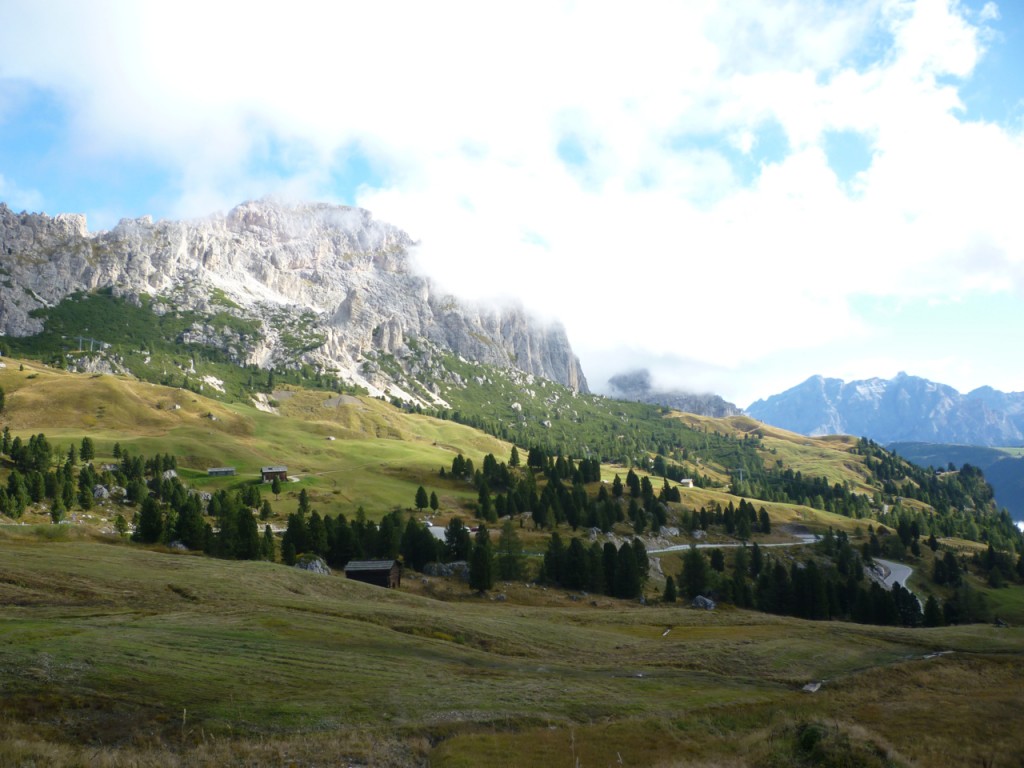 Located in Alto Adige, about 30 km east of the city of Bolzano, Selva de Val Gardena is a lovely town with plenty to attract the active tourist both winter and summer. Home to the Sella Ronda, a ski route that circumnavigates the Sella Massif, it is a very popular ski area. In the summer, hikers, mountain bikers, and road cyclists looking for a challenge all converge on the area to enjoy the beautiful vistas, serene hiking trails and steep mountain passes. So plenty of opportunities to visit here on our tours.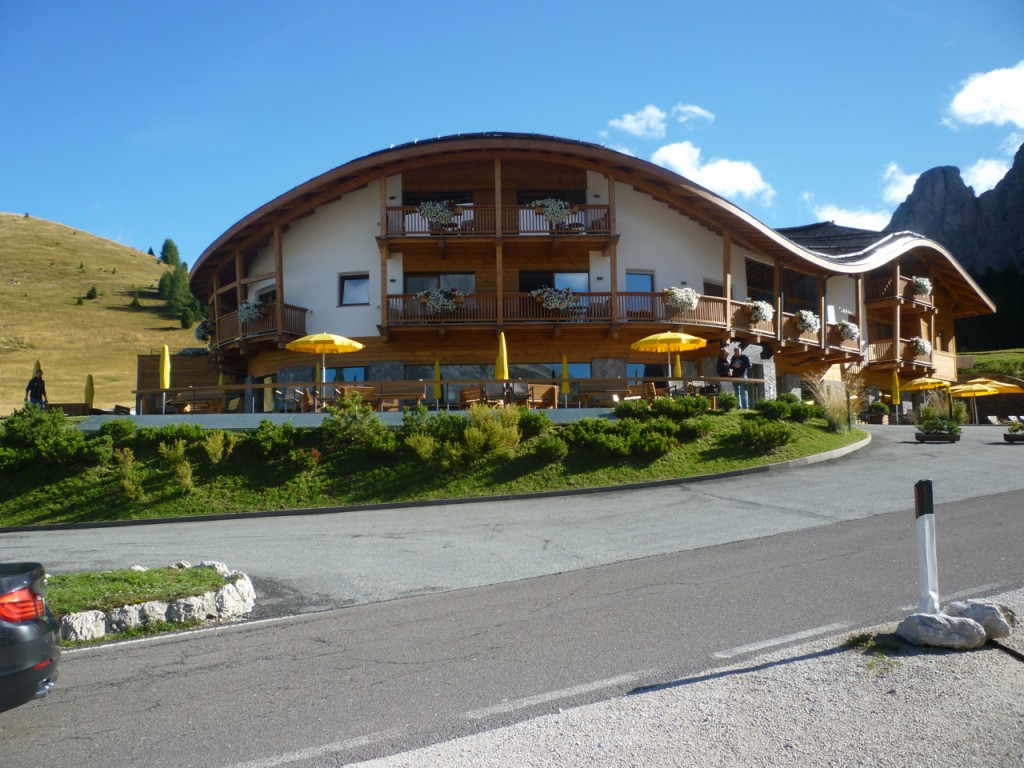 On a recent visit, I explored a couple of local restaurants. Gasthof Chalet Gerard receives some great reviews, both for its panoramic view and stellar location, as well as its elegant local cuisine. I headed out one rainy evening to check it out for myself.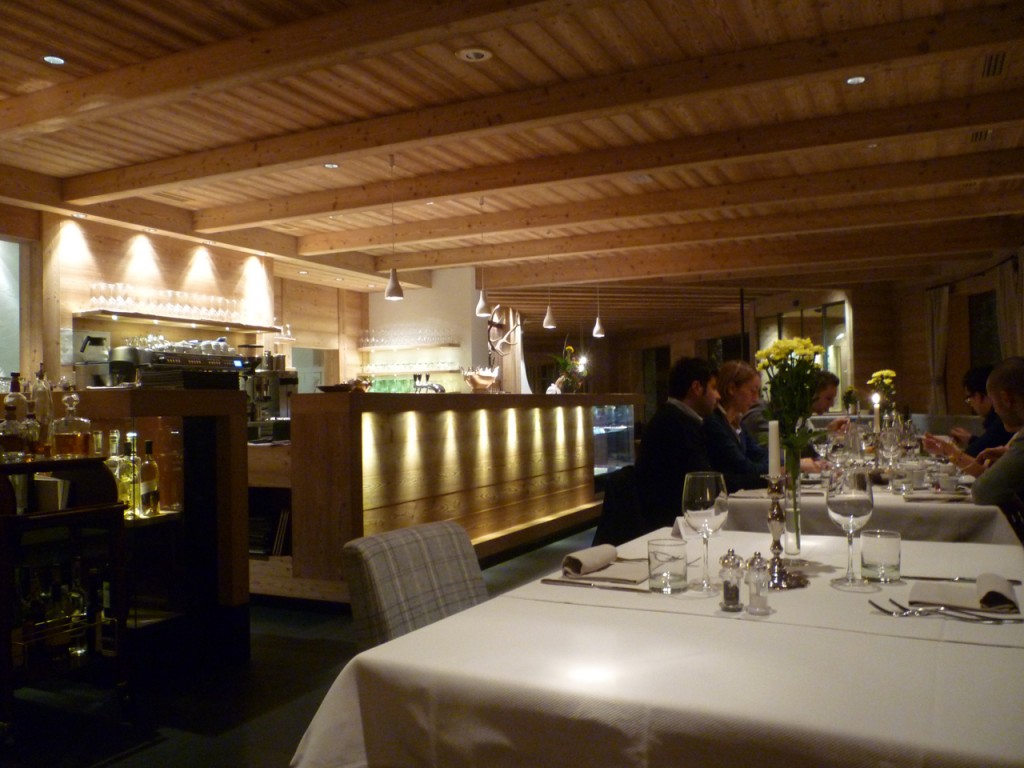 If choosing to dine here, be ready for a entertaining drive, or arrive on skis during the winter. If visiting from Val Gardena proper and intending to enjoy some wine, I'd recommend a driver. It was a fun trip along winding mountain roads with more than a few hairpins, and I'll confess to a couple of u-turns before finding the place – Google maps was a little confused on the location. But the destination is worth the trouble.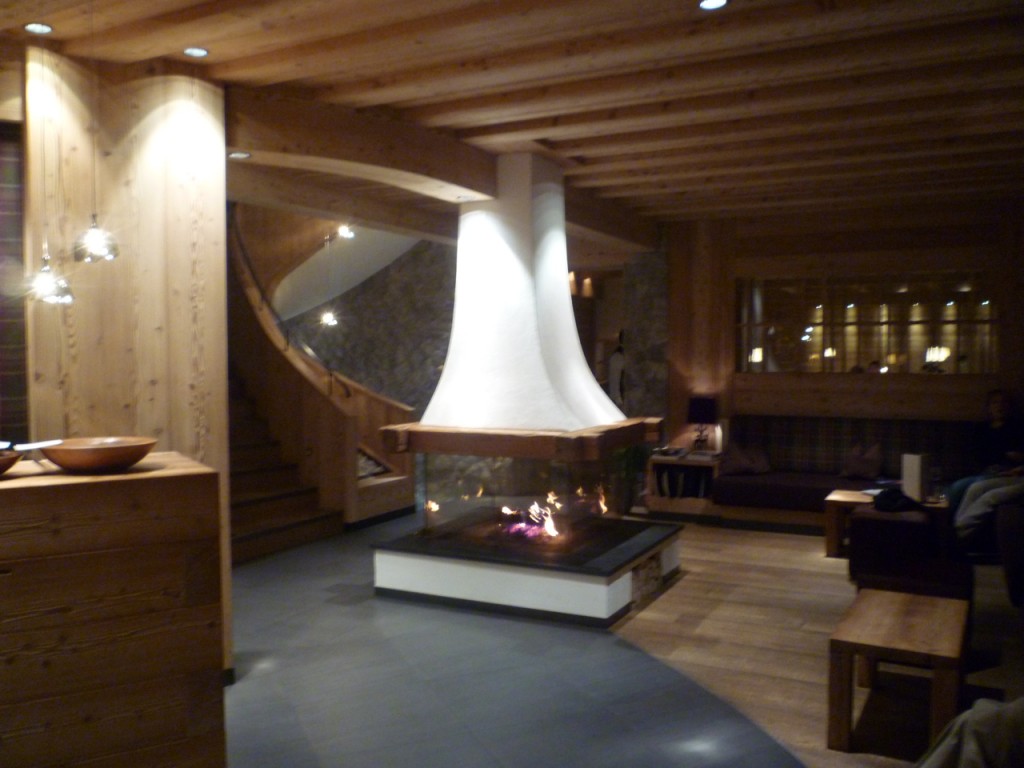 Recently remodeled, it has a modern, elegant  mountain decor, with a beautiful restaurant and bar where you can enjoy the scenic vista during daylight hours, as well as a relaxing lounge with a fireplace.
The menu features traditional local dishes, with an emphasis on polenta. You can order polenta as an accompaniment to many dishes, including melted cheese, porcini, canederli, beef goulash and venison goulash.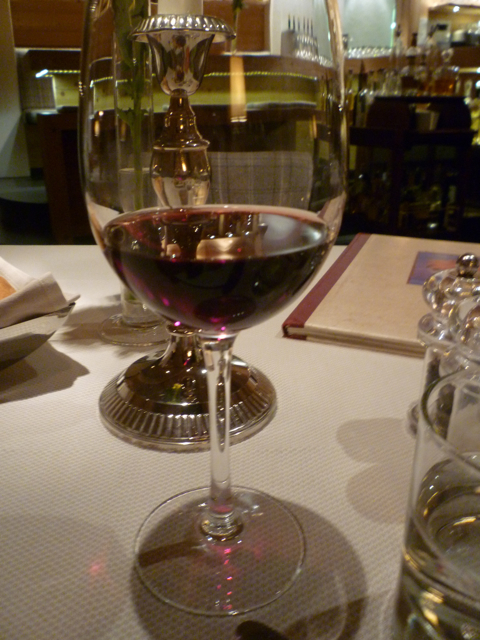 A nice wine list, with many of my regional favorites. There were many of these that I could purchase by the glass – they were not listed on the menu, but offered to me by the lovely woman who took my order. I sampled a nice award winning St. Magdalener from Pfannenstielhof that I had been looking to try. Not too much, given my ride home!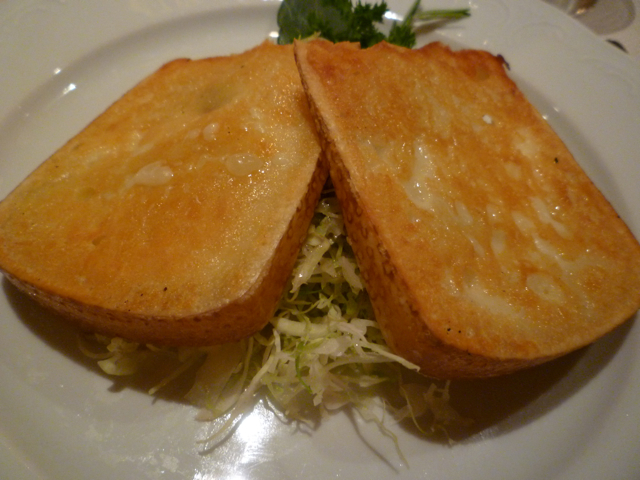 My antipasti was Formaggio Ortler alla griglia con insalata di cappuccio tiepido al balsamico, Ortler cheese, grilled, with a warm cabbage salad and balsamic drizzle. Ortler cheese is made in the highest mountain in the Sutirol Alps, Ortler. It is made exclusively from pure fresh cow's milk of the Upper Valle Venosta. It is usually aged for about 60 days, after which it forms an uneven brown rind, under which one finds a firm consistency with irregular eyes. It has a distinctive milky flavor and mild aroma. At Chalet Gerard, two generous slices are grilled, and served warm and softened on top of a tasty warm cabbage salad, dressed with a drizzle of fine balsamic. A great match with the St. Magdalener. A dish I'll try out in a future recipe post, when I find a great cheese to use.
My second course was a local standard, Goulash con porcini e canerdeli arrosto. The dish that arrived was much more elegant in presentation that other versions I've enjoyed, with canederli that had been formed as a large log and then sliced, and a deep rich sauce. A very nice, upscale version of a traditional dish.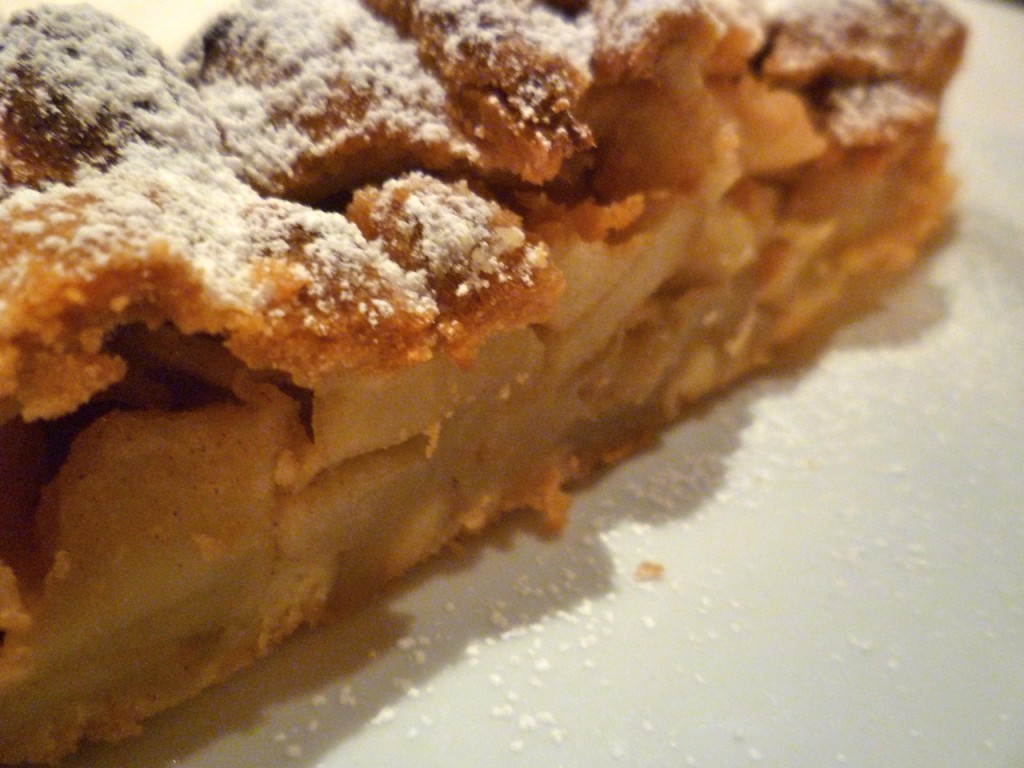 I finished off my meal with my usual dessert – I like to try the apple strudel wherever I can. It was hard to stick with my plan, as the Chalet offers quite a few tasty options, including crepes, bavarian cream, parfaits, several homemade ice creams, and affogato – a scoop of gelato, 'drowned' in espresso. The strudel was wonderful, not overly sweetened, with a light crust.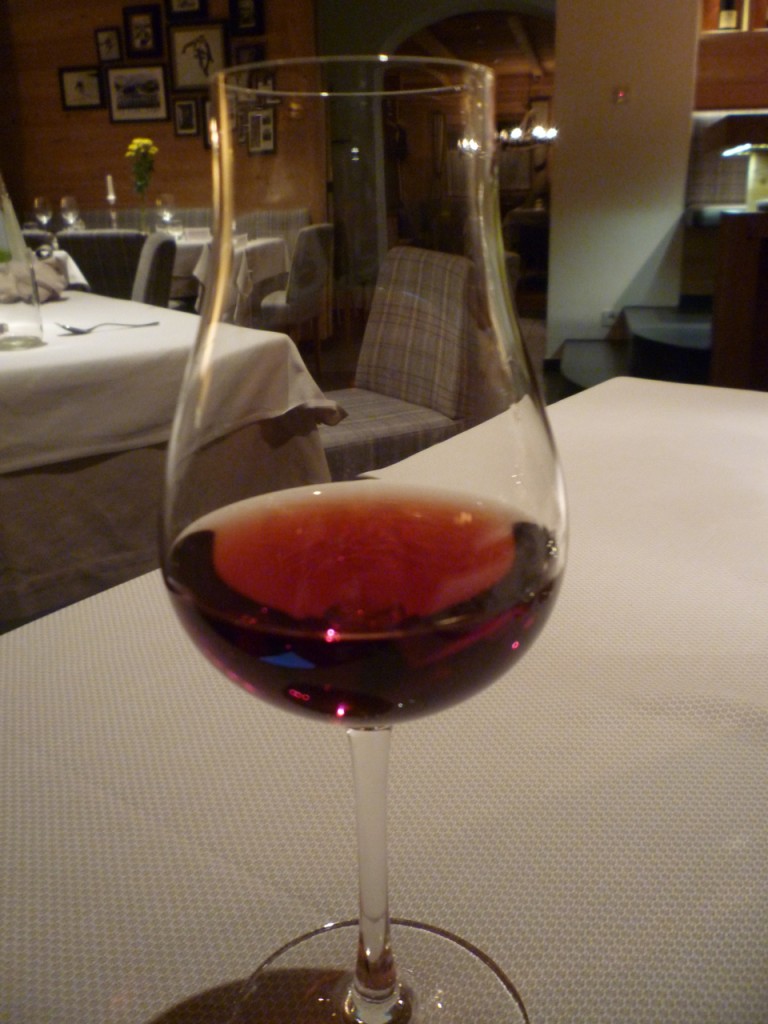 I enjoyed a few sips of an Alois Lageder dessert wine, the Rosenmuskateller Moscato Rosa. A brilliant ruby color, with notes of floral and berry, full-bodied and spicy. I headed home quite satisfied with my meal, and without having to resort to U-turns, the ride home went by quickly.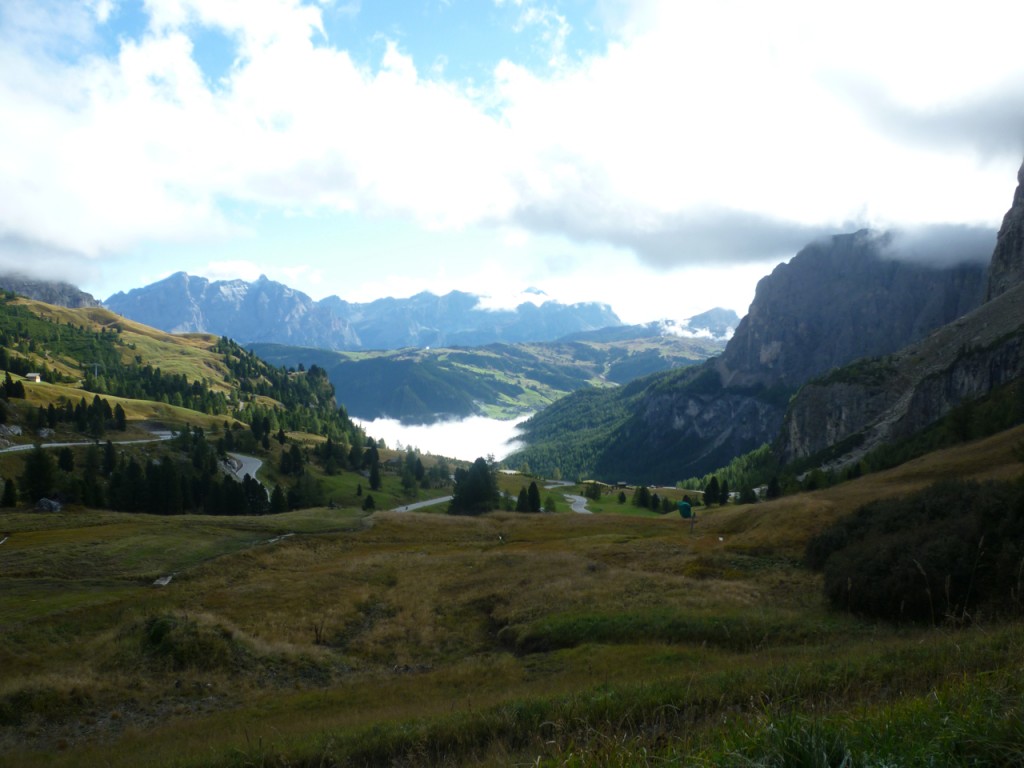 I returned the next day to check out the panoramic view before heading on to Val Gardena. The view is definitely worth a daylight visit – spectacular. Just picture yourself enjoying a glass of prosecco at the end of a ski day, or post bike ride, and gazing at this.