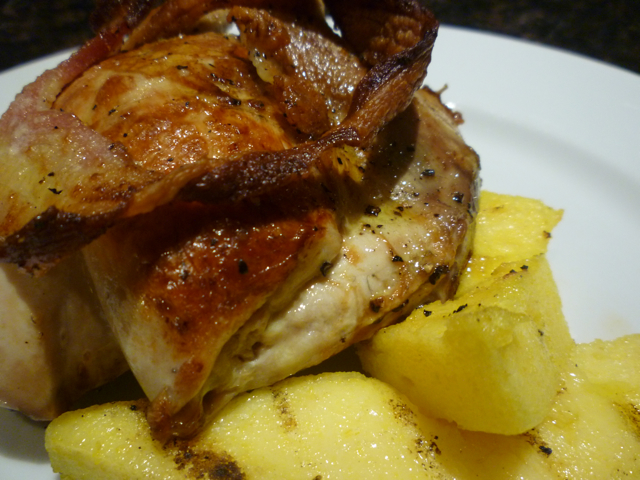 At my home in rural Sugarloaf, Maine, October brings the end of the magnificent foliage, and the start of bird hunting season. I am not a hunter myself, but I am quite happy to accept gifts of game birds from friends – in this case, my son's friend, Rollie Zagnoli – who arrived with two ruffled grouse. As always, I turn to my trips to Italy for inspiration as to how to prepare them.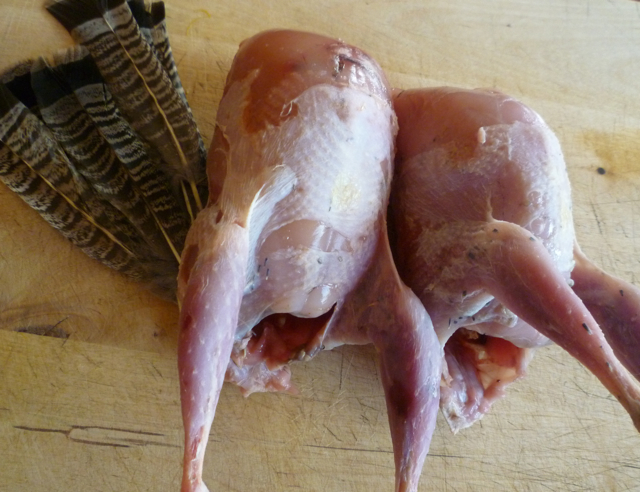 I've been rereading my Hemingway as on our bike and ski tours we explore firsthand his stomping grounds for his novels like Farewell to Arms or Across the River and Into the Trees. The latter story is told primarily as a flashback, as a Colonel Cantwell recalls his romance in Venice with a young woman, and his experiences during the war, as he spends a Sunday afternoon in a blind on a duckhunting trip to Trieste.
We think of fresh fish when we think of the cuisine of Venice. But all along the waterways leading to the Venetian lagoon, from Trieste to the Po and the Brenta, there was an enormous variety of water birds that traditionally were hunted and used for food. Each type of bird would be prepared in a particular way, designed to exhibit (or hide) its particular characteristics. There are even different preparations for the female – usually boiled, while the male would be roasted. Bigoli pasta with a duck ragu is a very common dish that appears on many restaurant menus. And you will see many forms of game birds on the menu as soon as you move inland from Venice itself – especially faraona, guinea fowl, and quaglie, quail.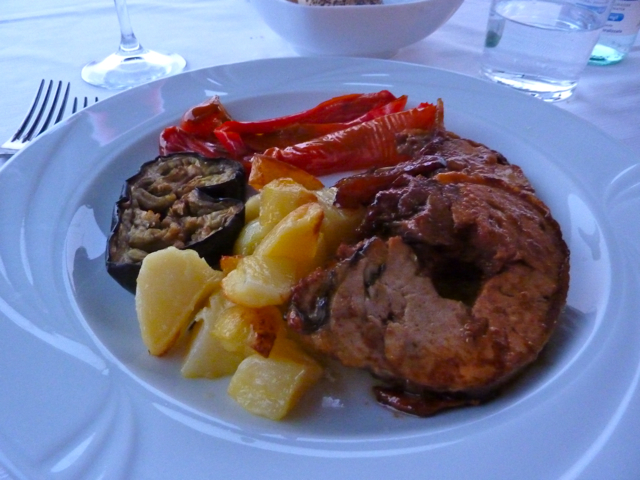 I adapted a quail recipe from La Cucina – The Regional Cooking of Italy for my grouse, Quaglie alla Scaligera. La Cucina translates this as Quail Veneto Style, but the name actually refers to the Scaligari family, who ruled the city of Verona for 125 years. This recipe is quite simple, uses one of my favorite techniques to cooking whole birds – 'spatchcocking', or cutting out the backbone – and uses some fat to prevent the bird from drying out during roasting. As recommended by La Cucina, I served this with some grilled polenta. A wine from Friuli, the region where Hemingway's Colonel Cantwell was duckhunting, would be a great match for this – a white Friulano, or for those of you who prefer a red, the spicy Schioppettino. Petrussa makes a wonderful version of each.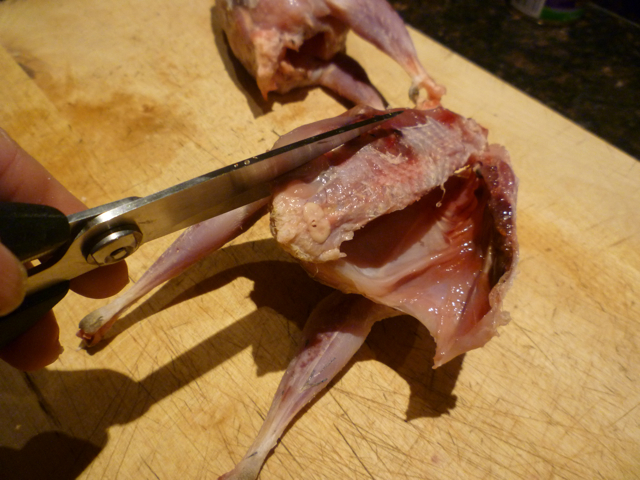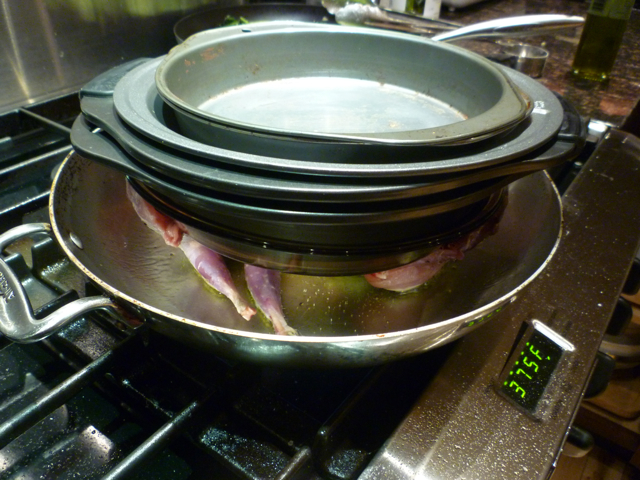 Gallo Cedrone alla Scaligera
Serves 4
4 grouse or other small game birds (cornish hen would work as well)
Kosher salt and freshly ground pepper
1/3 cup pure olive oil
2 tablespoons butter
4 thick slices pancetta, or 8 slices bacon
Preheat the oven to 375°.
Using a pair of kitchen shears, cut open the grouse along either side of the backbone, removing it from the birds. Spread open the grouse cut side down on a sheet pan. Season with salt and pepper.
Heat the olive oil and butter in a large oven-proof saute pan over medium high heat. Place the birds skin side down on the hot oil/butter, and weight with another pan to insure good surface contact with the hot pan. Cook for 7-10 minutes, until the skin is a nice golden brown.
Remove from heat, remove the top pan, and turn the birds so they are skin-side up. Top each bird with a slice of pancetta, or two slices of bacon. Place in the preheated oven and roast until a thermometer inserted into the thickest part of the bird reads 160°. This will take about 15 minutes or so, but will vary depending upon the type and size of the bird.
Remove from the oven, cut each bird in half along the center of the breast bone, and serve with grilled polenta. Drizzle a bit of good extra virgin olive oil.