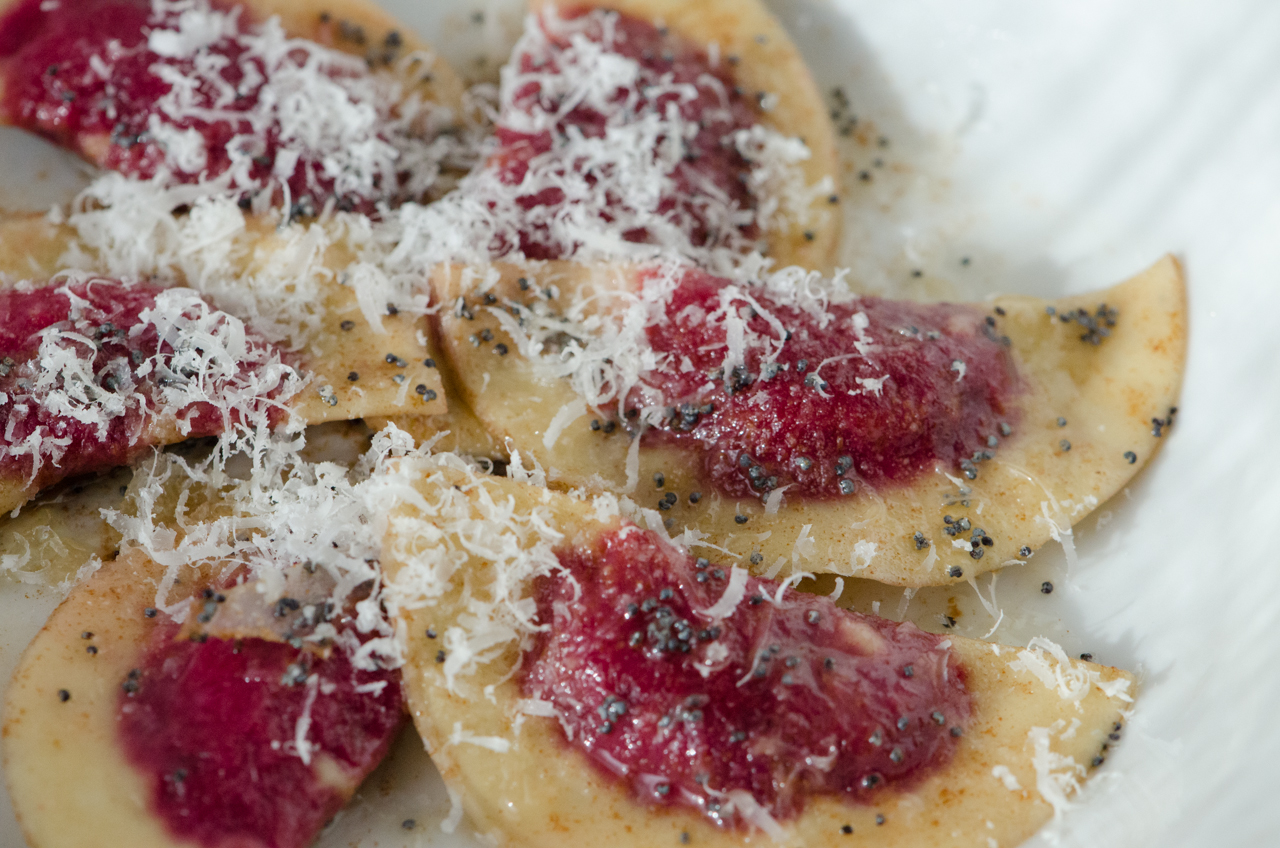 During our visits to the Dolomites, we enjoy some wonderful and distinctive local dishes, along with great skiing and cycling. One of the most unique, and striking, is casunziei ampezzani, a specialty of the ski town Cortina D'Ampezzo (Curtain of the Ampezzo Valley.) I enjoyed these on my last stop in Cortina itself, and I finally found the time to explore making these in my own kitchen.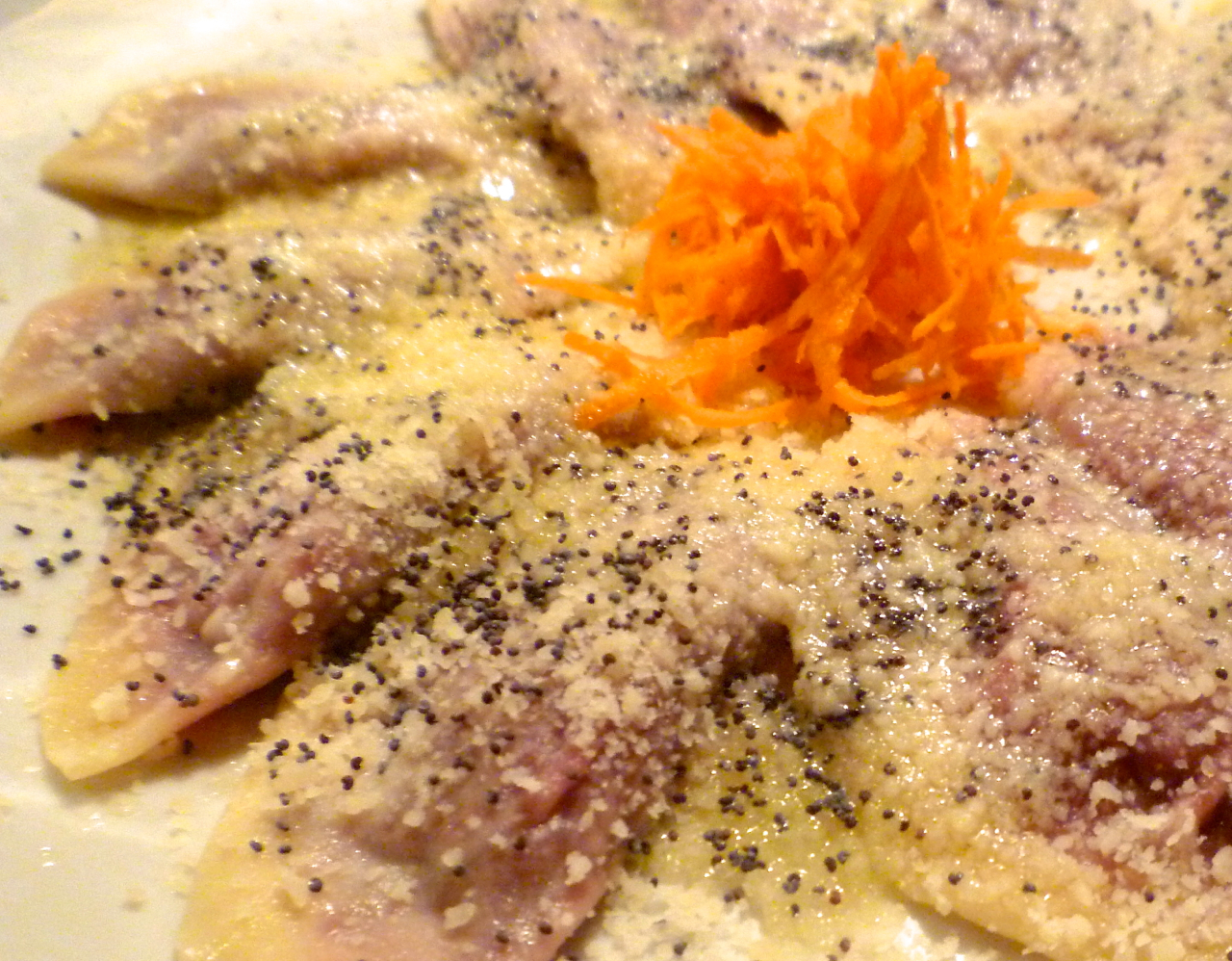 Casunziei (pronounced cah-ZOON-z'yay) is the dialect name for a fresh filled pasta found in the Dolomites, in the provinces of Belluno, Vicenza, and Verona. Other spelling variations include casumziei, cassunziei, casumzieei, and casônsei. This dish speaks strongly of the influence that Austro-Hungarian cuisine has had on the kitchens of this region. The filling varies from area to area, from vegetables such as pumpkin or spinach (casunziei di belluno), ricotta cheese, speck, mushrooms, and red turnips (casunziei rossi). Casunziei Ampezzani are typically made with grated beets and ricotta cheese, but can be made with red turnips. They are usually served in a browned butter sauce flavored with poppy seeds and topped with grated cheese – either a local grana or aged asiago in the Dolomites, or Montasio or a smoked ricotta in nearby Friuli. In Cencenighe Agordino, a town in the province of Belluno, casunziei are a traditional Christmas dish, served with poppy seeds and honey.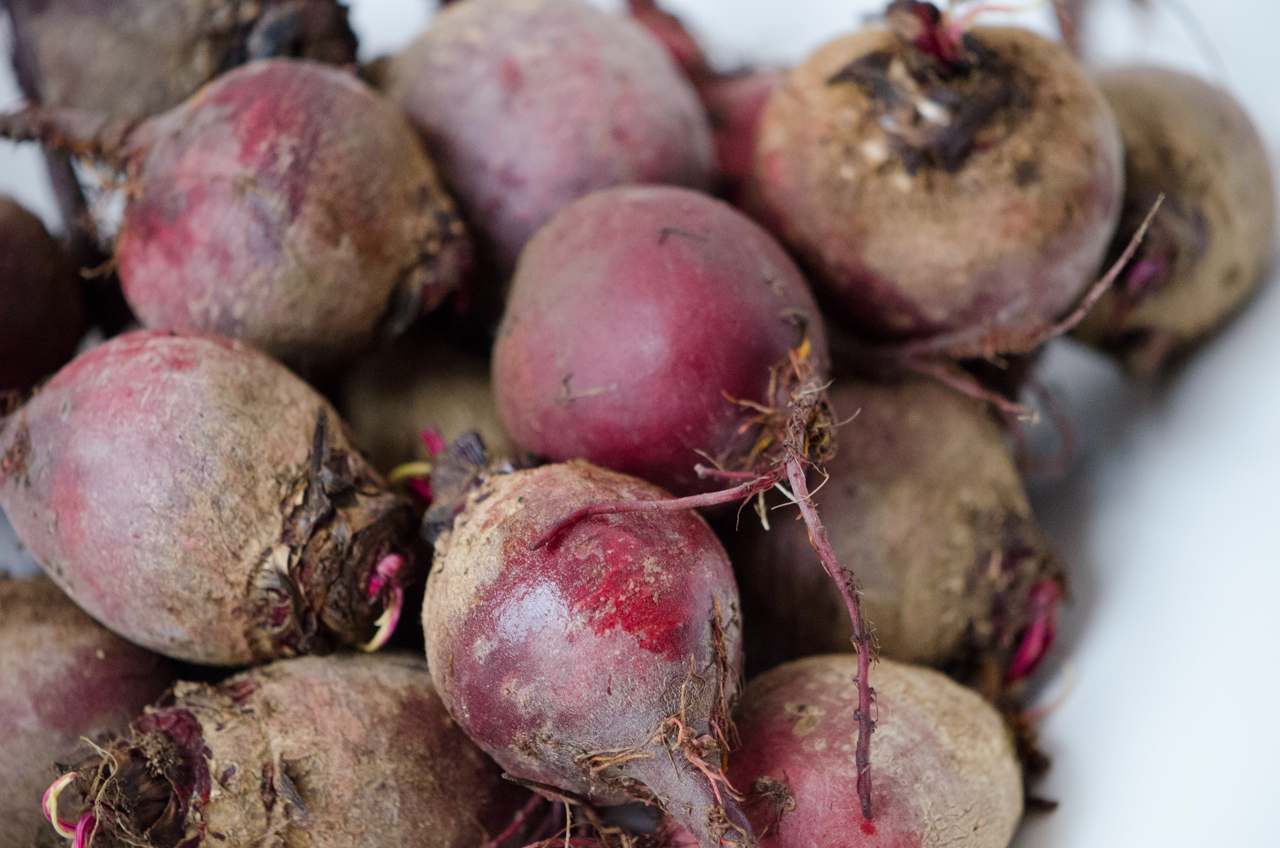 According to Clifford Wright, casunziei were first mentioned in La Cronaca di Bergamo at the end of the fourteenth century. And they also appear, interestingly enough, in Alfred Hitchcock's thriller Rope, in the scene where a meal is served upon a table in which the dead body of David is hidden. Interesting menu choice…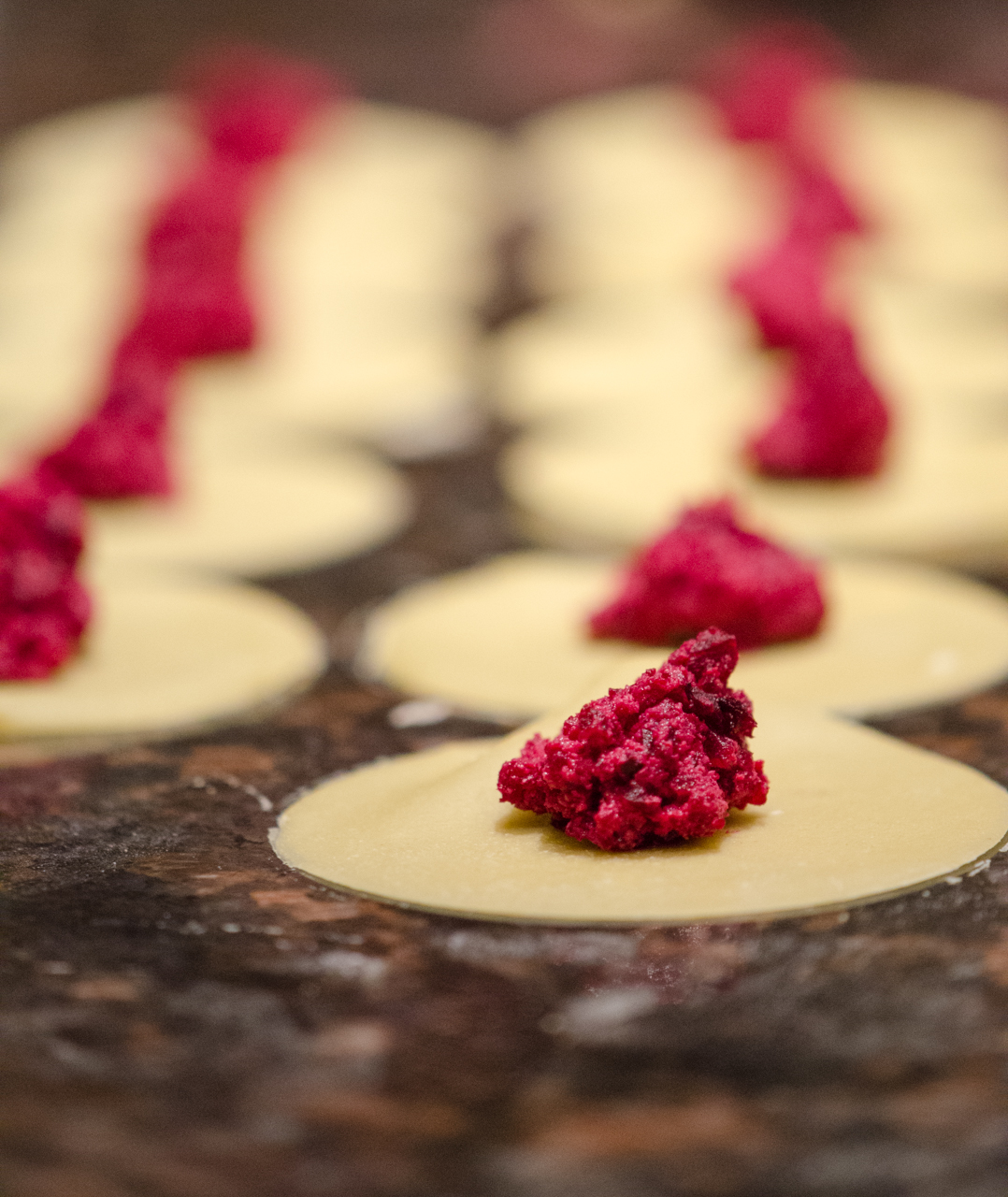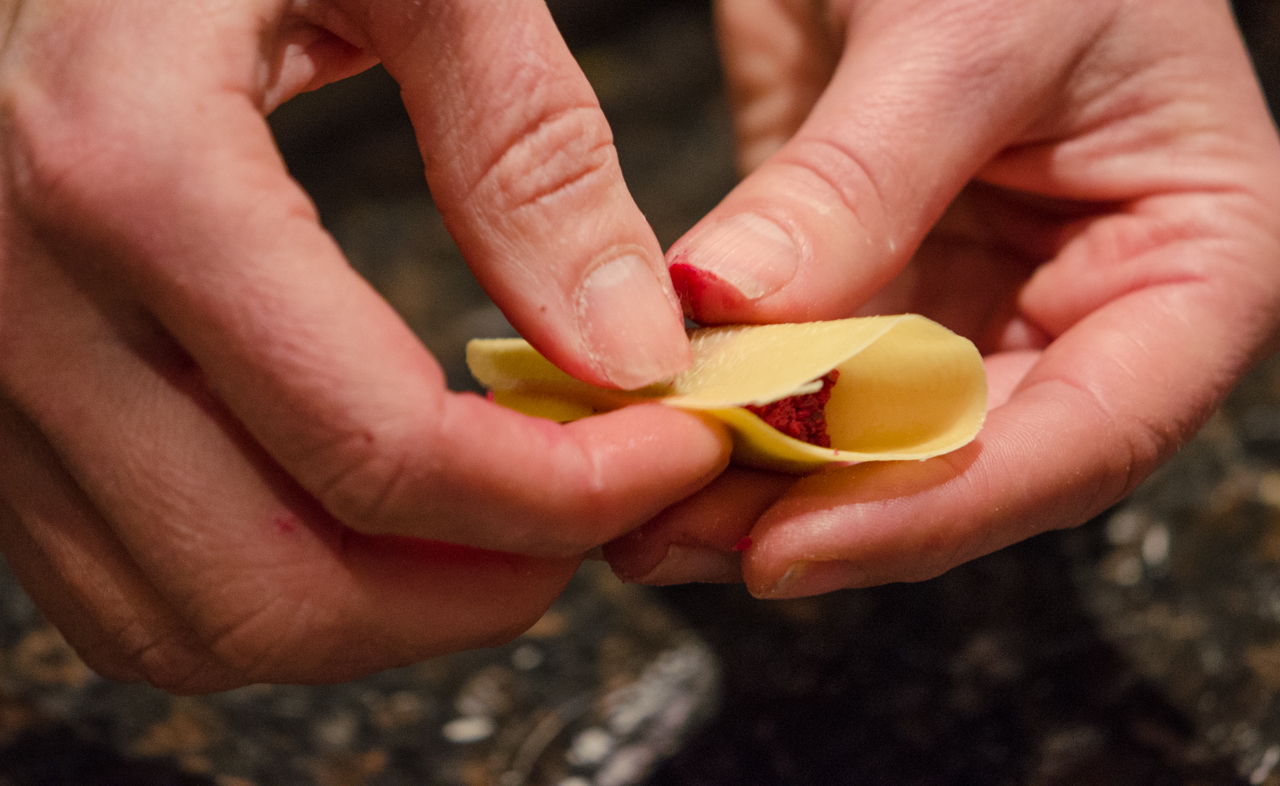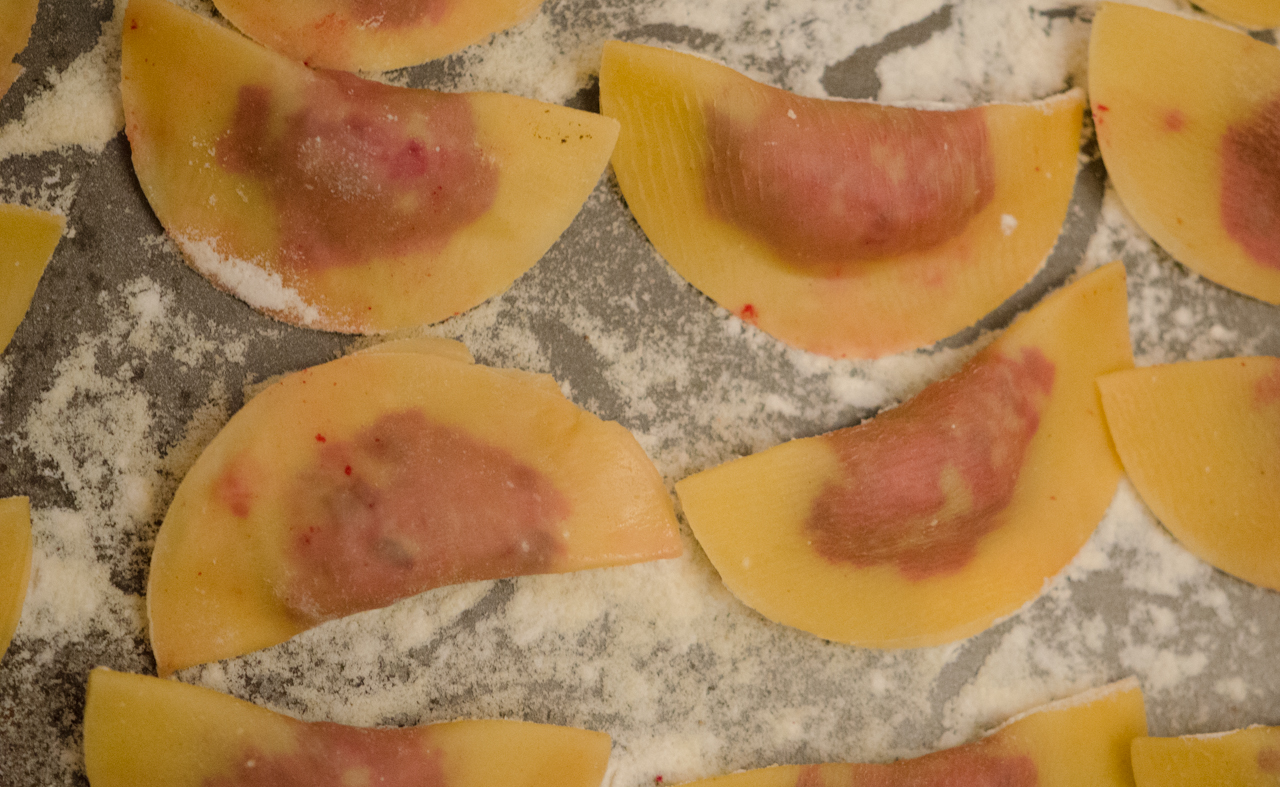 Casunziei Ampezzani (Beet Ravioli with Poppy Seed Butter)
Makes 8 first-course servings
2 large red beets (about 12 ounces)
1/2 cup fresh whole-milk ricotta cheese
1/4 cup grated aged cheese – grana, asiago stravecchio, montasio
1 pounds fresh egg pasta
1/2 cup (1 stick) butter
1 tablespoon poppy seeds
Freshly grated cheese – grana, asiago, montasio, smoked ricotta
Preheat oven to 400°F.
Wrap the beets in foil; drizzle with olive oil and place on baking sheet. Roast until tender when pierced with knife, about 1 hour. Unwrap foil carefully and allow to cool.
Peel the beets and finely grate into a food processor. Add the ricotta and grated cheese and pulse until finely chopped. Season to taste with salt and pepper.
Roll the pasta dough into sheets, according to the recipe. Place a small container of water and a floured sheet pan next to your work area.
Take one dough sheet and place on work surface, keeping others covered. Using 3-inch round biscuit cutter, cut sheet into rounds. Spoon one teaspoon of the filling onto each round. Moisten the edge of each round with a bit of the water. Fold the dough over the filling, forming a half circle. Press the edges firmly to seal, eliminating as much air as possible in the process. Place the formed casunziei onto the sheet pan. Repeat with the remaining pasta sheets.
You can store the casunziei for up to 24 hours in the refrigerator, or you can prepare up to a week ahead and freeze. To freeze, place the sheet pan into the freezer until they casunziei are frozen, then transfer into resealable plastic bags. When ready to serve, do not defrost, but simply cook them straight out of the freezer.
When ready to cook, melt the butter in large sauté pan over medium heat, cooking until brown and nutty. Stir in the poppy seeds and keep warm, being careful not to burn the butter.
Bring a large pot of water to boil over high heat. Salt the water. Working in batches, cook the casunziei in the boiling salted water until cooked through, about 2 minutes. Using slotted spoon, transfer to the sauté pan with the melted butter, tossing gently to coat. Divide the casunziei among 8 plates, sprinkle with the grated cheese and serve.