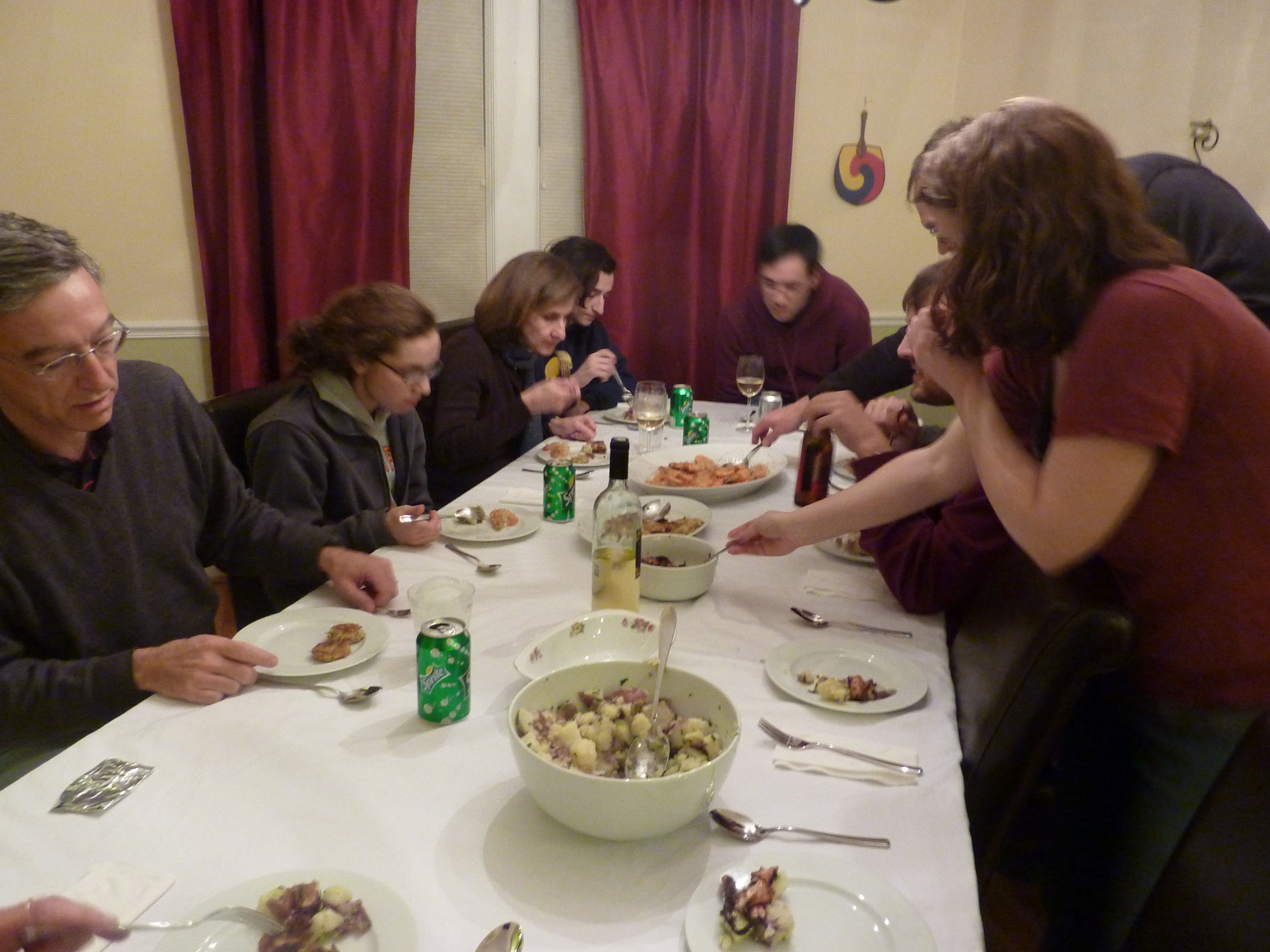 Italians traditionally celebrate Christmas Eve with the Feast of Seven Fishes. The choice of fish as the central theme for this menu evolves from the Catholic practice of abstaining from meat during holy days. More often observed in southern Italy than in the north, there are many different versions – each with their own story behind the custom.
The celebration itself marks the long wait Christmas Eve until the midnight birth of Christ – La Vigilia di Natale. Initially, this day was a day of fasting, so I'm sure this wait probably did seem quite long! Eventually, it became simply a day of abstinence. The Cena della Vigilia, eaten during this waiting period, could not include meat or dairy products; hence the focus on fish fried in oil. Why seven fishes? There are various explanations. Some say it is simply one fish for each day of the week, others that it represents the seven days it took God to create the universe, or the seven sacraments in the Catholic church. And 'seven' is not necessarily a sacred number; some traditions use 3 fishes, representing the Holy Trinity, others 9, or 13, 13 representing the 12 apostles plus Jesus himself.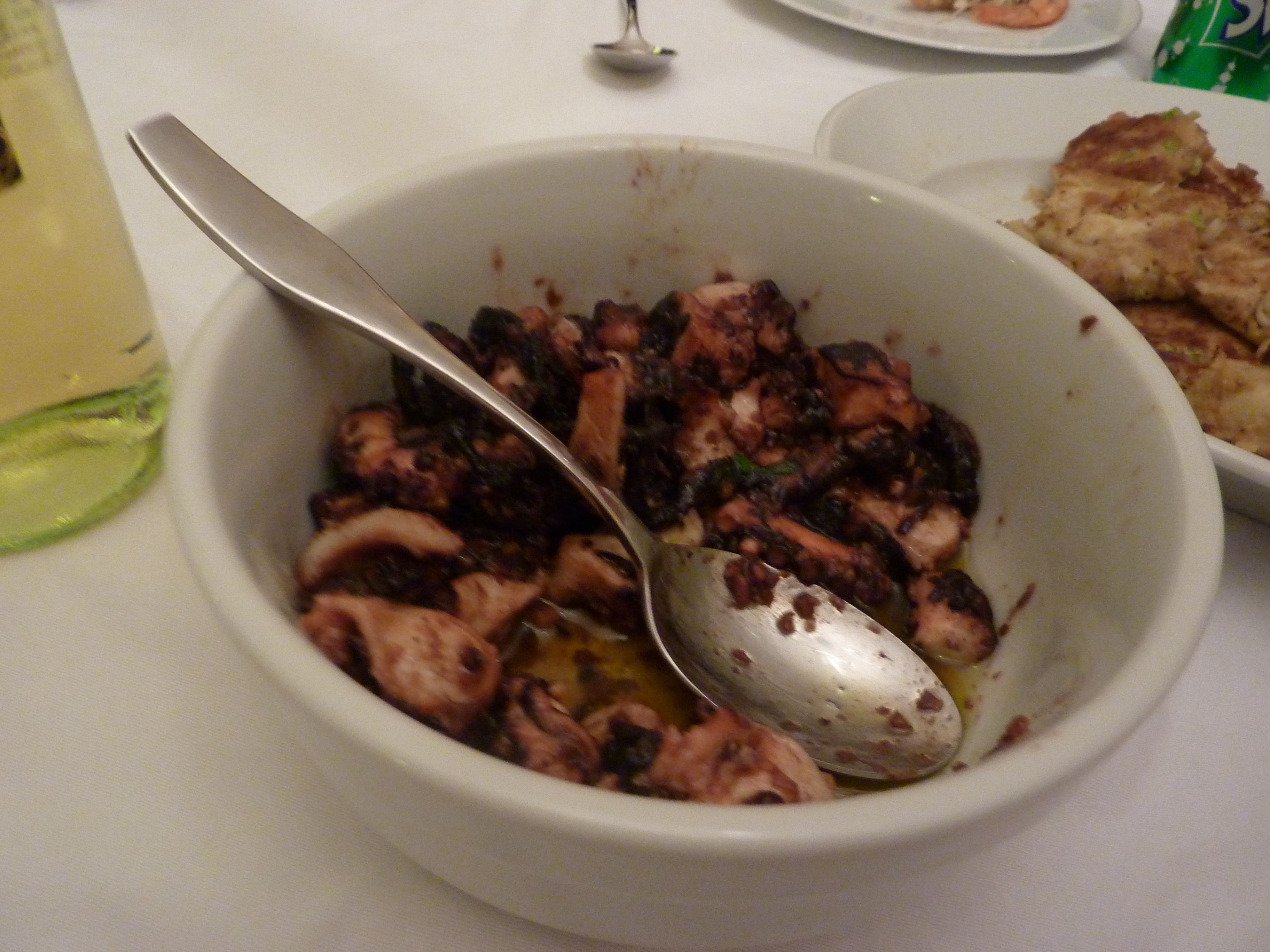 The varieties of fish, or the preparation techniques, are not standard either. Historically, the menu varied depending on the region and what fish was available locally, as well as the economic status of the family. For example, you may find baccala on the less affluent tables, and eel on the tables of the upper classes in the same locale. But it is common to find some combination of octopus, shrimp, squid, sardines, anchovies, mussels and clams, served with pasta, vegetables such as kale, bread, and wine, of course!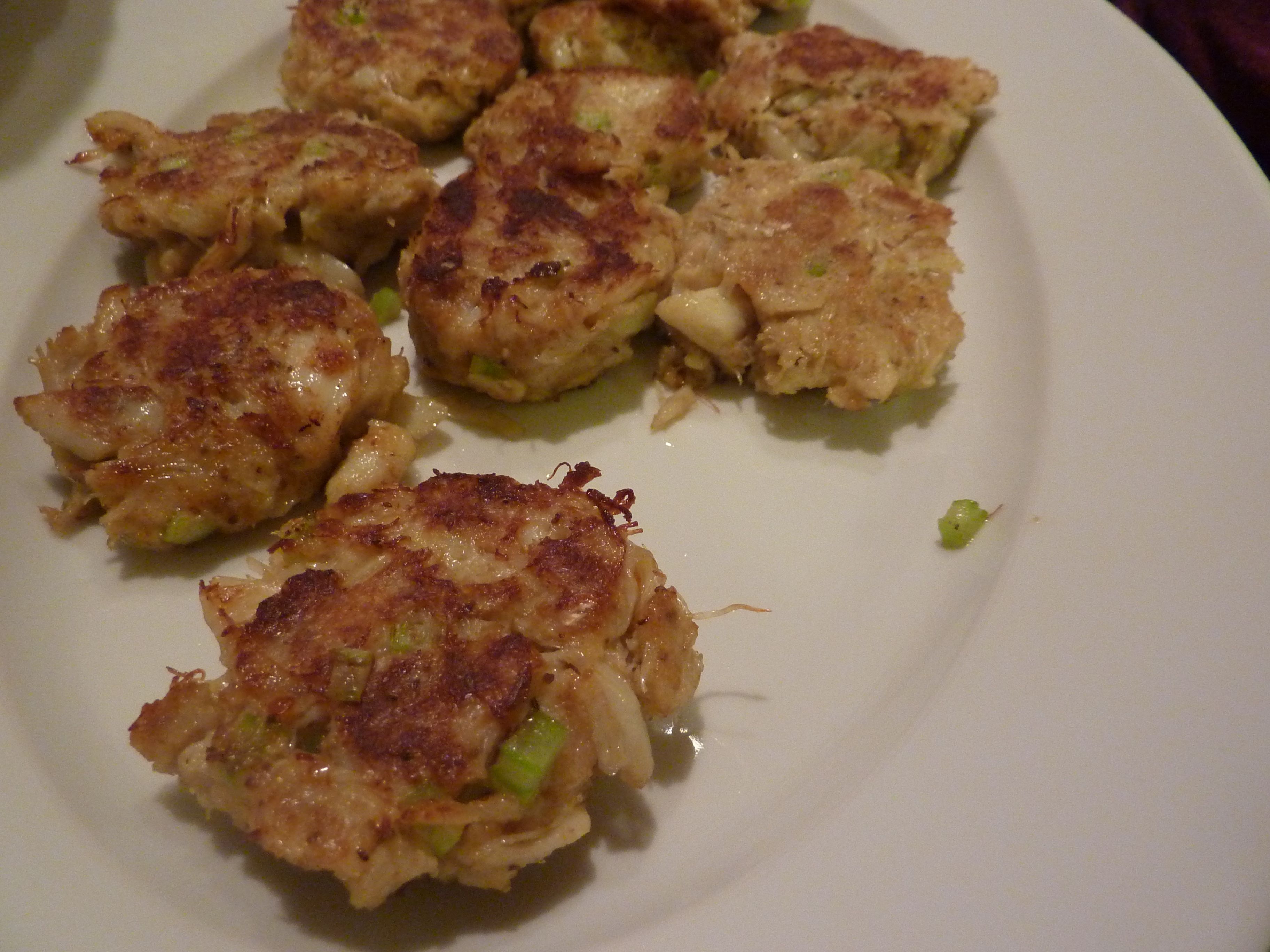 This year, I traveled down to Baltimore to visit with two of my sisters and their families, and my parents who are not able to travel. We arrived the evening of the 23rd, with no plan and no food to feed the 12 of us, and a full day ahead of errands and visits. So the Feast of Seven Fishes was not an obvious choice for a busy day, but my sister and I decided we'd go for it. A trip to the market at 7:30 the next morning to beat the crowds, and our menu evolved at the fish counter. Seven very straightforward fish dishes – we didn't have the time for complicated ones – made for a memorable Christmas Eve family dinner event, and captured the true flavor of this holiday dinner – time with family and friends.
The Menu:
Grilled Octopus with Potatoes
Fried Sardines
Maryland Crab Cakes
Flash Sauteed Squid with Tomatoes
Shrimp with Garlic and Breadcrumbs
Baked Salmon
Clams with Pasta
We prepped all the recipes first, lined up and ready for the final quick cooking to finish off these simple dishes. Once we were set to go, we were able to pretty rapidly put out a nice antipasti spread of the first six items. After we finished that off, we completed the pasta dish and served that as a second course. You could also serve it as seven different courses, but we had a long day and a lot of hungry kids, so a large antipasti with opportunity for all to pick and choose what they wanted made the most sense, and the most lively dinner table.
I'll post some recipes here today – very informal, just like our meal. The remainder will follow in a few days. I don't think this menu should be reserved for Christmas Eve. Any opportunity to indulge in a wide variety of fresh fish would be a great time to gather a group of friends and create a feast like this!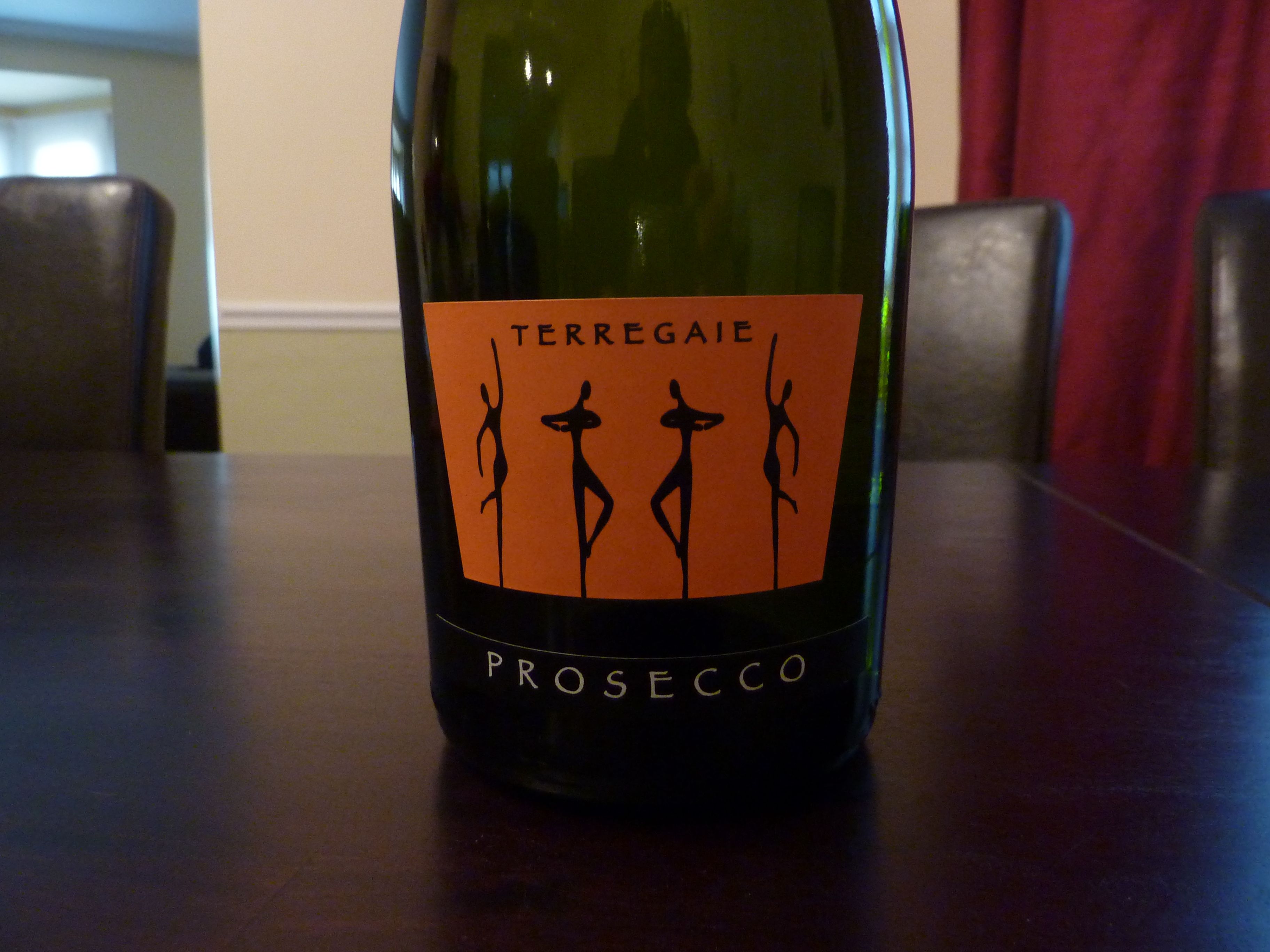 We of course did our part to consume some wines with our fish – we began with two proseccos: a prosecco from Colli Euganei, Terregaie. It was clean, with a slightly tart grapefruity start, but actually finished a little on the sweet side. Our preference was our second try, a Desiderio Jeio Prosecco Brut – from the traditional Prosecco region in the Veneto – Conegliano Valdobbiadene. This was drier, with a very clean, crisp finish, and paired quite well  with the fish.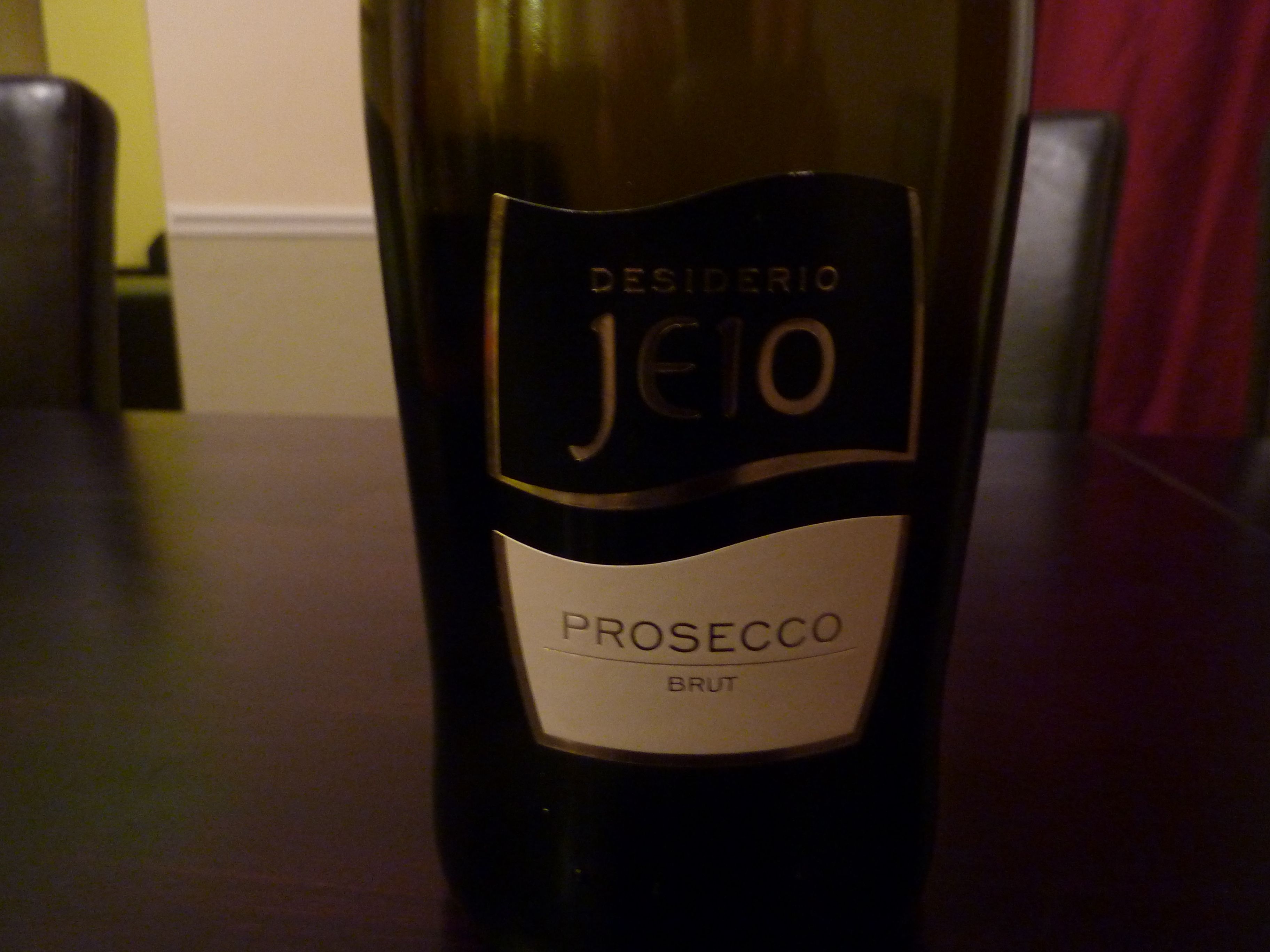 Grilled Octopus with Warm Potato Salad
This is a variation of a dish we did with Chef Jody Adams during our Italiaoutdoors bike tours of the Veneto this summer. We didn't have all of the ingredients, so we ad-libbed a bit and it still came out wonderfully – tender octopus with a warm potato salad.
To prep this in advance, we cooked the octopus until tender, then cut it up and set aside. We made the potato salad ahead, and reduced the octopus juices. The last minute prep only involved grilling the octopus on a grill pan, then mixing it with the reduced juices and serve.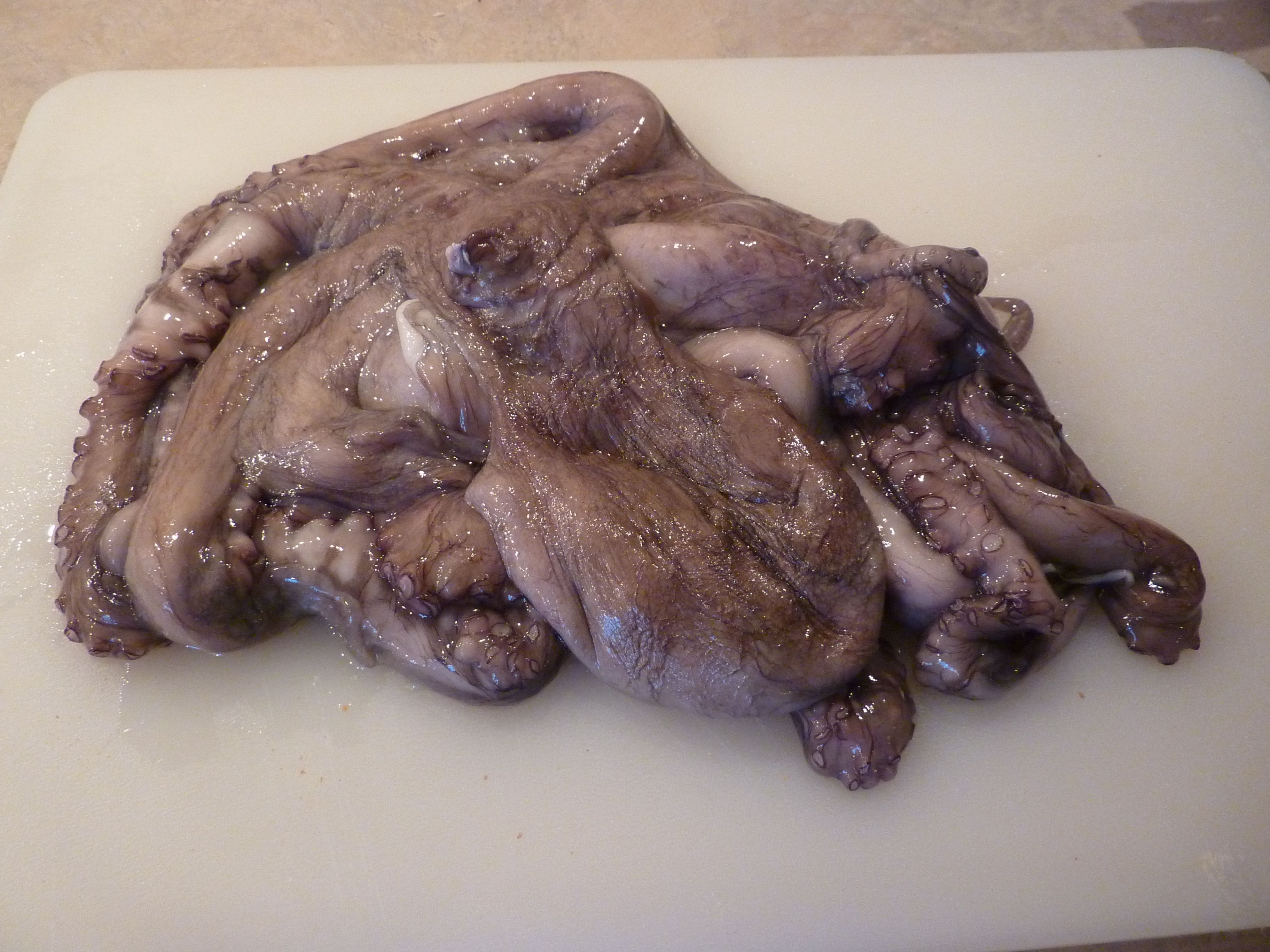 Serves 8 as an appetizer
1 2-pound octopus
1 tablespoon Kosher salt
1 lemon–zest removed and juiced
6 cloves garlic, minced
6 tablespoons extra virgin olive oil
1 teaspoon hot red pepper flakes
1 tablespoon chopped parsley
1 wine cork
Rub the octopus with one lemon half, season with salt, lemon juice and half of the garlic and allow to macerate for 30 minutes.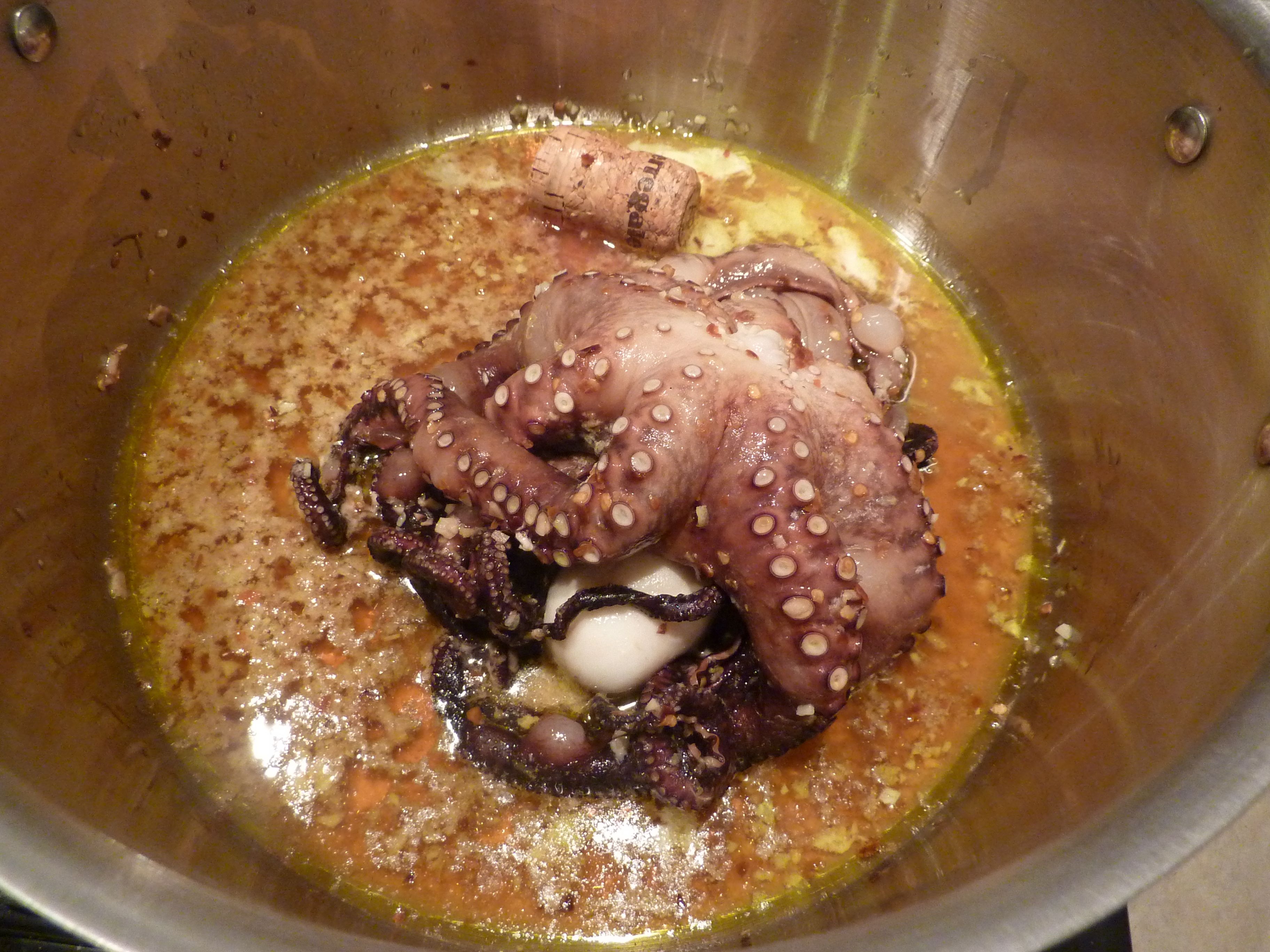 Heat 4 tablespoons of the olive oil in a large pot over medium heat. Add the reminder of garlic, and cook 1 minute, or until aromatic.  Do not brown. Add the octopus with the lemon juice, 1 teaspoon hot pepper flakes and the wine cork, cover, and turn the heat to low. The octopus will slowly release its liquid. Cook for 50-60 minutes, until a fork slides through it easily. Allow to cool.
Remove the head, cut in half, and discard any internal material.  Remove the eyes, and the beak at the center where all the legs meet.  Cut the tentacles into individual pieces through the natural dividing points at the top of the body.
Put the pan with the octopus juices back on a medium burner and cook until reduced to syrup. Reserve.
Preheat a grill pan to high. Add the remaining two tablespoons of olive oil. Grill the octopus pieces over high heat just to mark them. Cut into 1-2 inch pieces. Toss with the reduced juices, and serve with the warm potato salad.
Warm Potato Salad
Serves 8 as an appetizer
¼ cup white wine vinegar
1 tablespoon Dijon mustard
1 tablespoon minced shallot
¾ cups extra virgin olive oil
1/4 cup heavy cream
1 ½  lbs Yukon gold potatoes, peeled and cut into 1 inch dice
Kosher salt and freshly ground black pepper
2 tablespoons parsley, finely chopped
Place the white wine vinegar, dijon, minced shallot, olive oil and heavy cream in a small sealed container. Shake vigorously to mix. Season with salt and pepper.
Place the potatoes in a medium saucepan, cover with cold water, and season with salt.  Bring to a boil over medium-high heat and then reduce heat to low and simmer until potatoes are just cooked through. Strain the potatoes, and transfer to the bowl with vinaigrette while still warm.  Toss well. Allow to cool
Add the parsley adjust seasonings and serve with warm grilled octopus.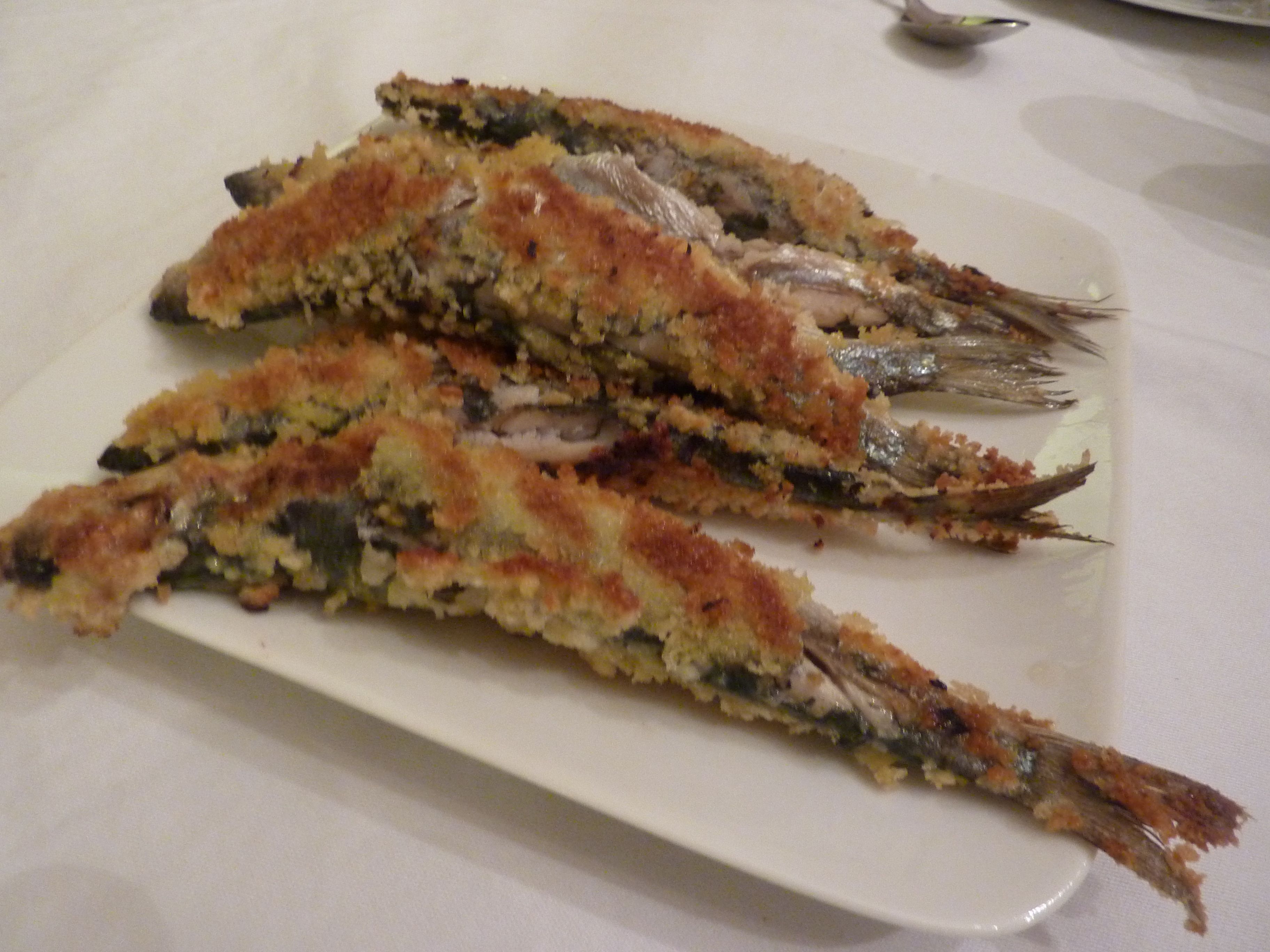 Fried Sardines
Serves 8 as an appetizer
8 sardines
1/2 cup flour
kosher salt and freshly ground pepper
2 eggs, lightly beaten
1 cup panko
3 tablespoons extra virgin olive oil
Clean the sardines under running water, inside and out. Dry.
Place flour on small plate and season with salt and pepper. Place the eggs in a shallow bowl, and the panko on a  third plate. Dredge each sardine first in the seasoned flour, then in the egg, and lastly in the panko.
Heat the olive oil in a saute pan or grill pan. Fry the sardines on one side until the bread coating is browned, flip and continue to cook until browned on both sides and cooked through. Serve.
Maryland Crab Cakes
Not exactly Italian – however, as we were celebrating the holidays in Baltimore, and in keeping with the spirit of utilizing the regional specialties, this was a given.  Also, it is a huge favorite of my parents, who now reside here.
Makes approximately 16 mini crab cakes
1 pound backfin crab meat
2 eggs, lightly beaten
1/4 cup mayonnaise
1 tablespoon Old Bay seasoning
1/2 cup toasted white bread crumbs (3 slices bread)
2 stalks celery, peeled and cut into small dice
1 teaspoon celery seeds
4 tablespoons extra virgin olive oil
Place the crab meat in a medium bowl and pull it apart with your fingers, removing any shell fragments. Add the eggs, mayonnaise, and Old Bay seasoning and mix to combine. Add in the bread crumbs, diced celery and celery seeds.
Form into small patties, about 2 inches across. These can be formed in advance, just keep them in the refrigerator until ready to cook.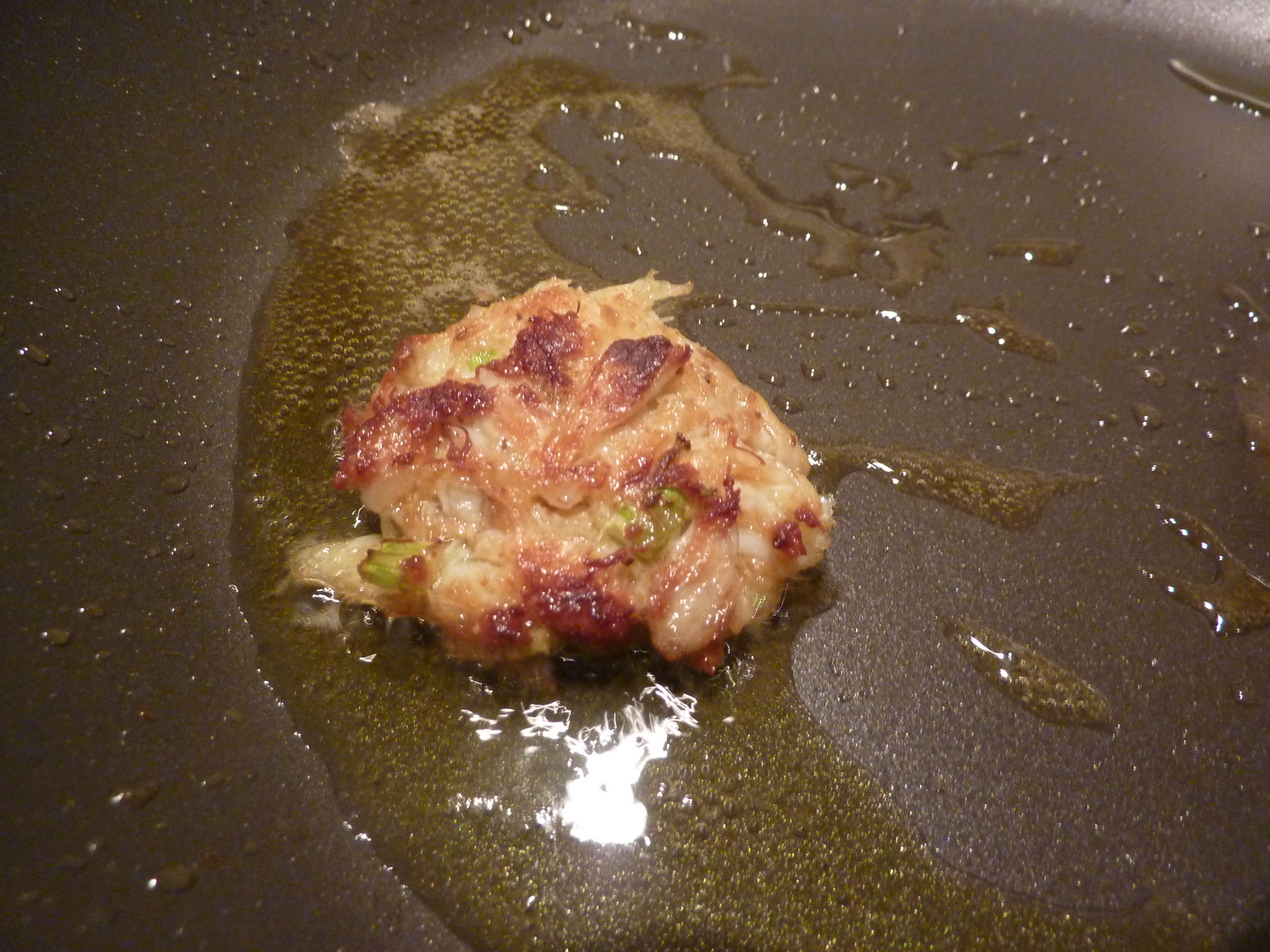 Heat 2 tablespoons of the olive oil in a saute pan over medium-high heat. Place the crab cakes in the saute pan, but leave space between them so they saute and not steam. You will probably have to do a couple of batches, adding some additional olive oil between each batch. Saute the crab cakes until golden brown on both sides and cooked through. Serve.