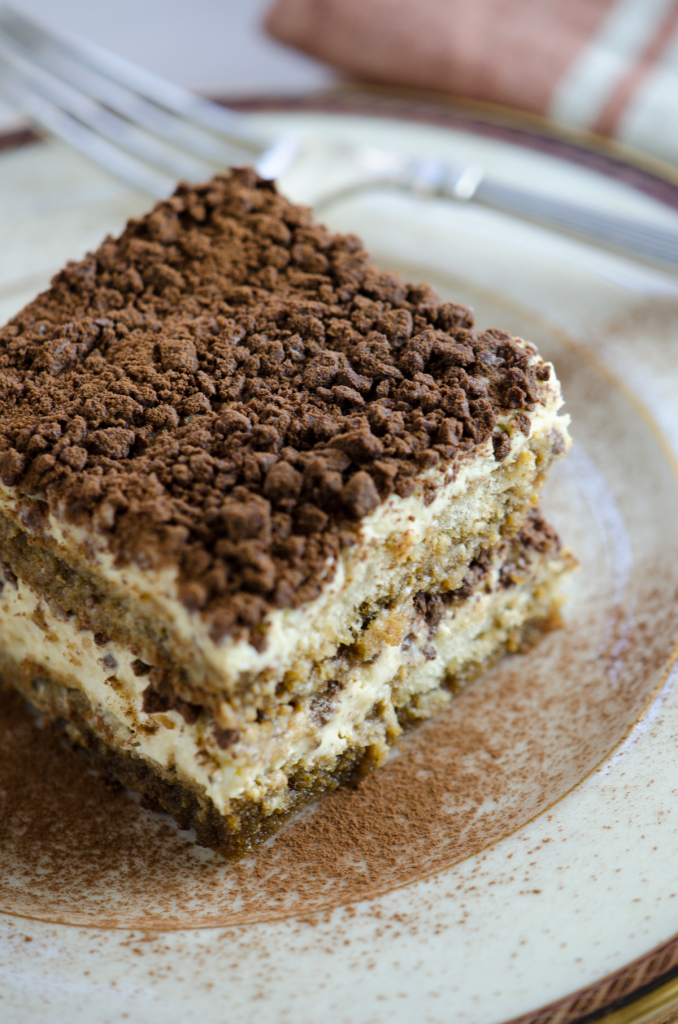 My favorite Italian dessert, and probably the best-known dessert of  Italy, is Tiramisu. We make this on many of our Italiaoutdoors Food and Wine Chefs on Bikes tours, and it always a big hit. My son Liam requests this on his birthday, rather than a cake. When we make this on our tours in Italy, our local chefs always have an anecdote to share as to the origin of this dish. Most begin in a brothel….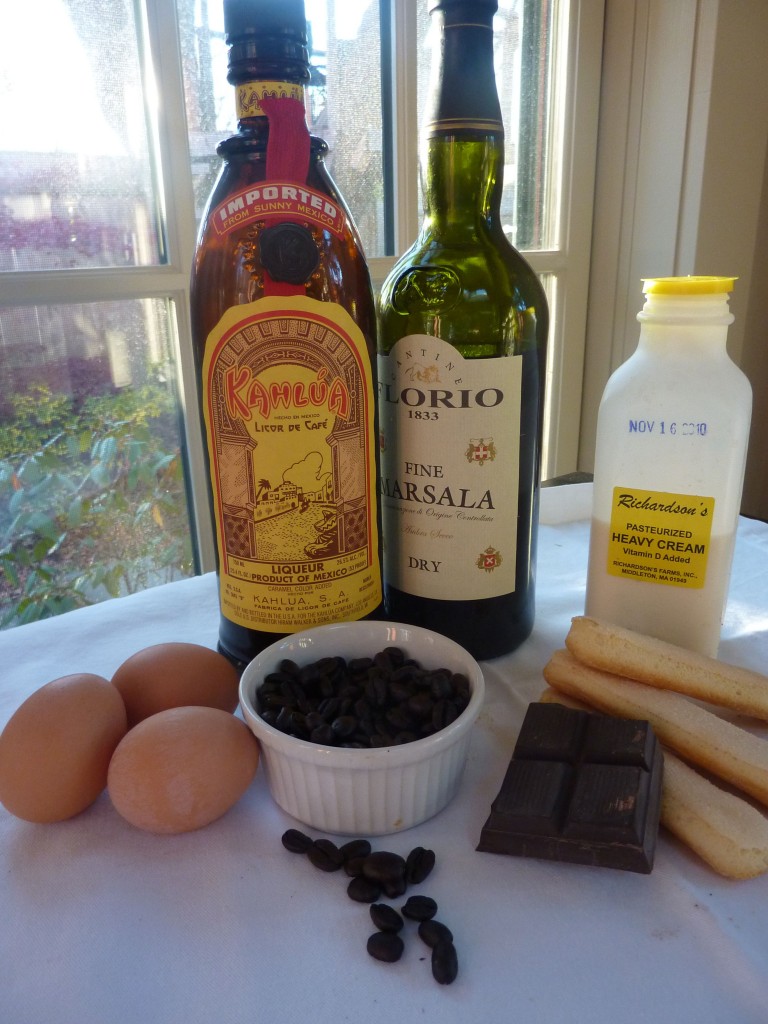 Tiramisu translates roughly to 'pick me up', and one of the more prevalent, and by far the most colorful legend behind the origin of tiramisu was that is was created as a 'pick me up' for weary patrons of a brothel, but I've already covered those stories in my tiramisu cookie post (click here). So what to add here? There are a lot of tiramisu recipes that use a simple combination of mascarpone and/or whipped cream as one of the layers, rather than take the time to make the traditional ingredient, an egg custard called a zabaglione. Why bother with making a zabaglione?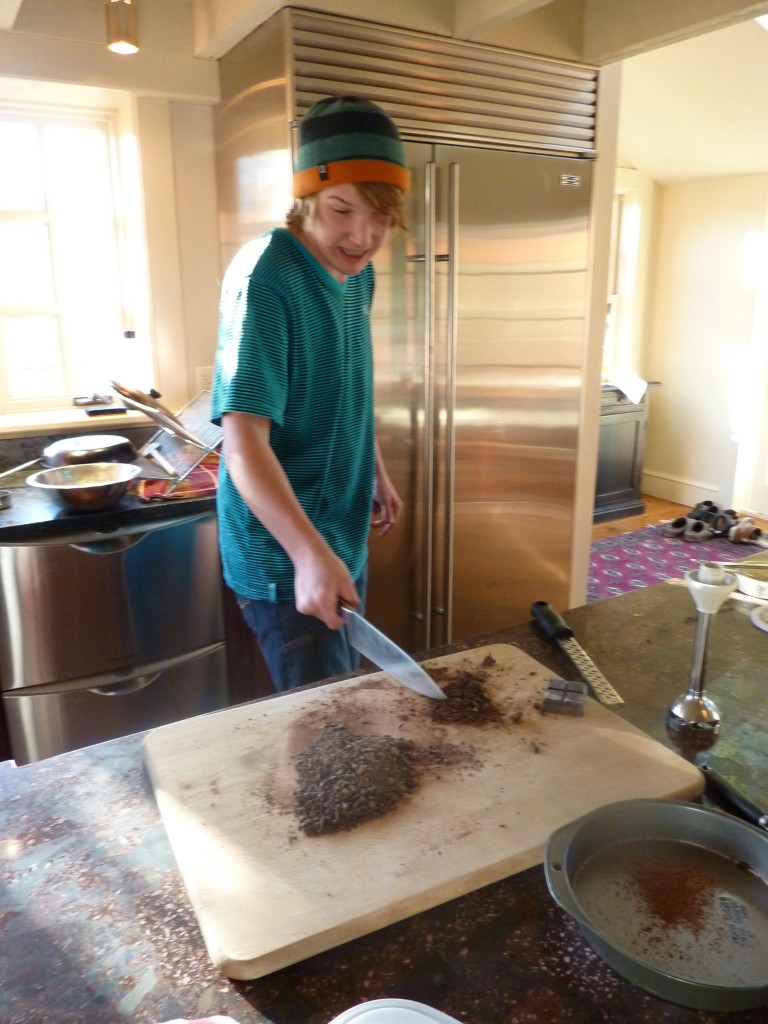 For me, THE key component to a great tiramisu is the zabaglione. It is a classic egg custard that appears in various forms, referred to as zabaglione in Italian, and sabayon in French. In Italy, it usually includes sugar and is served as or with desserts. In France, it is often made without sugar as an accompaniment to savory dishes. Various liquors are used; often you will see sparkling wines like prosecco or spumante. In the Veneto, their zabaglione (referred to in dialect as zabaio) is made from egg yolks, sugar, and marsala. I prefer the  texture this provides over the simpler whipped cream and mascarpone versions of tiramisu, and I also miss the marsala. And a real zabaglione is not hard to do.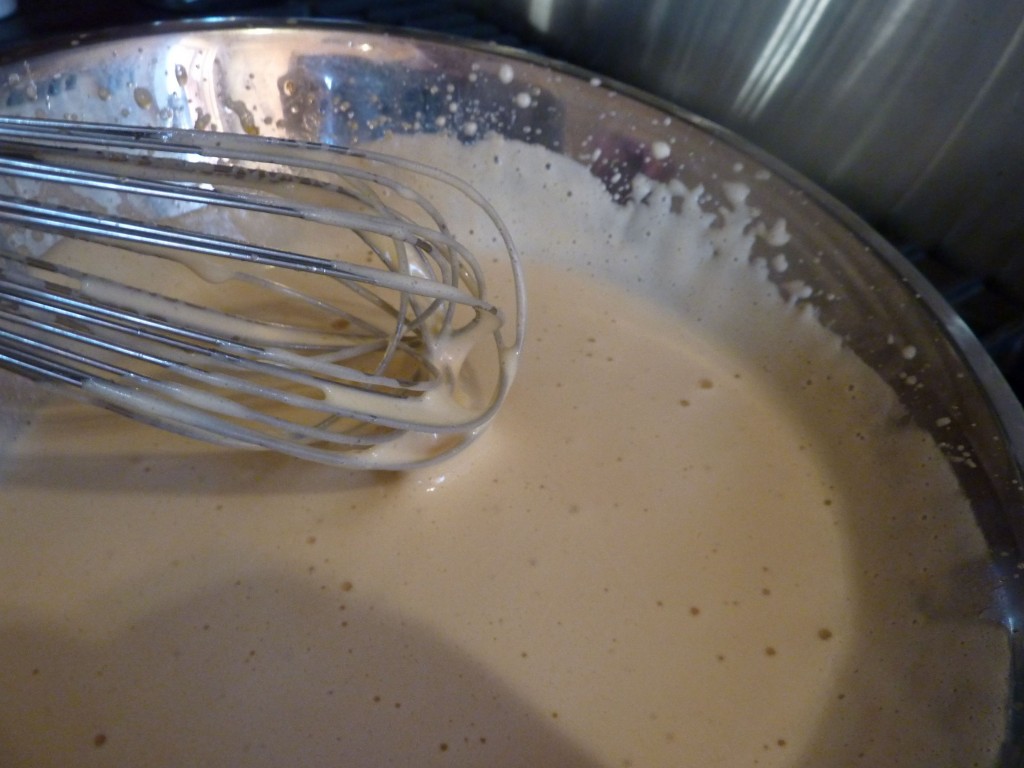 There is no single agreed-upon consensus on the origins of zabaglione. "The Penguin Companion to Food" claims that it was first produced in Florence in the Medici kitchens around 1500. The most probable story, but boring.
A more interesting tale gives the credit to Giovanni Baglioni, a military commander in the early 1500s. He and his troops were camped near Reggio Emilia, in Emiglia Romagna, and the locals referred to him in their dialect as "Zvan Bjoun". Scrounging what they could from the locals for food, this concoction was invented, and the troops loved it so much they named the treat after him.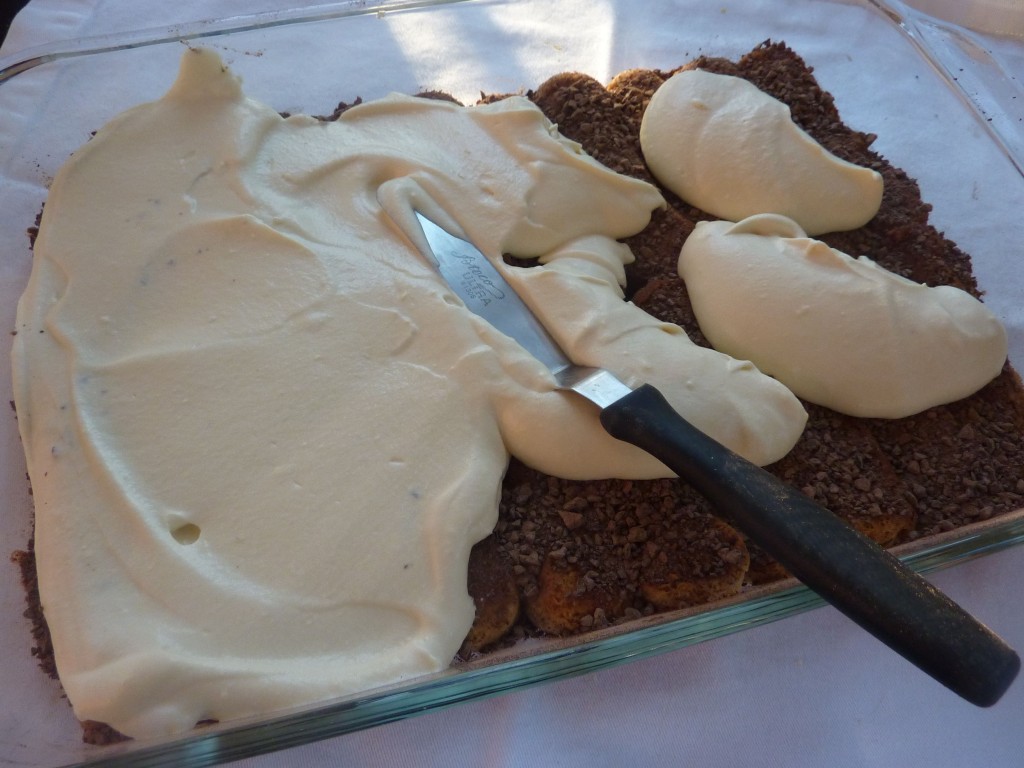 This latter story, unlikely but nevertheless well-known in Italy, in which zabaglione is used to provide sustenance to soldiers gave rise to a fairly common practice over past centuries of serving it to newlyweds, either on their wedding night, or on their first morning together. If it can fortify a well-conditioned fighting force, what better food to fuel more peaceful sustained activity?
A well-known Italian food expert, Giuseppe Maffioli, claims that the origins of zabaglione hail from Zabaja, a sweet dessert from Illiria, once a Venetian territory across the Adriatic. Maffioli writes, in his book "Il Ghiottone Veneto", "The groom's bachelor friends at the end of the long wedding banquet, maliciously teasing, gave to him before the couple retired a big bottle of zabajon, to guarantee a successful and prolonged honeymoon."
So, it appears that if tiramisu is to achieve its' claimed objective of picking up weary patrons of a brothel, zabaglione is a 'must' ingredient! And I thought it was for purely culinary reasons…
Makes 16 servings (13×9 pan)
2 ½  cups freshly brewed espresso
½ cup plus 1 tablespoon sugar, divided
3/4 cup Tia Maria or other coffee liqueur
4 large egg yolks
1/2 cup dry marsala
1 pound mascarpone (2 ½ cups)
1 cup chilled heavy cream
36 savoiardi (crisp Italian ladyfingers)
7 ounces bittersweet or dark chocolate, grated. I use bittersweet chocolate chips which I pulse in a food processor
Unsweetened cocoa powder for dusting
In a shallow bowl, combine the espresso, 1 tablespoon sugar, and Tia Maria. Stir until the sugar is dissolved, then cool.
Using a whisk, beat the egg yolks, marsala, and remaining ½ cup sugar in a metal bowl set over a saucepan of simmering water until it has tripled in volume and thickened slightly, about 5 to 8 minutes.  You've just made a zabaglione. Remove the bowl from the heat and set aside so it can cool slightly.
In a large bowl, beat the heavy cream until stiff. Add the mascarpone and beat together to combine. Add the zabaglione and beat briefly just until combined.
Gather your mascarpone mixture, ladyfingers, coffee mixture, and grated chocolate, along with a 13- by 9- by 3-inch glass pan.
Quickly dip both sides of each ladyfinger into the coffee mixture, and line the bottom of the 13- by 9- by 3-inch pan with ladyfingers in 2 rows, trimming edges to fit if necessary. Spread half of the mascarpone mixture on top. Sprinkle with half of the grated chocolate. Repeat a second layer of dipped ladyfingers, then top with the remaining mascarpone, and then the remaining grated chocolate.
Chill, covered, at least an hour. It is best made a day in advance. If it has chilled longer, allow to stand at room temperature for 30 minutes. Dust with cocoa before serving.