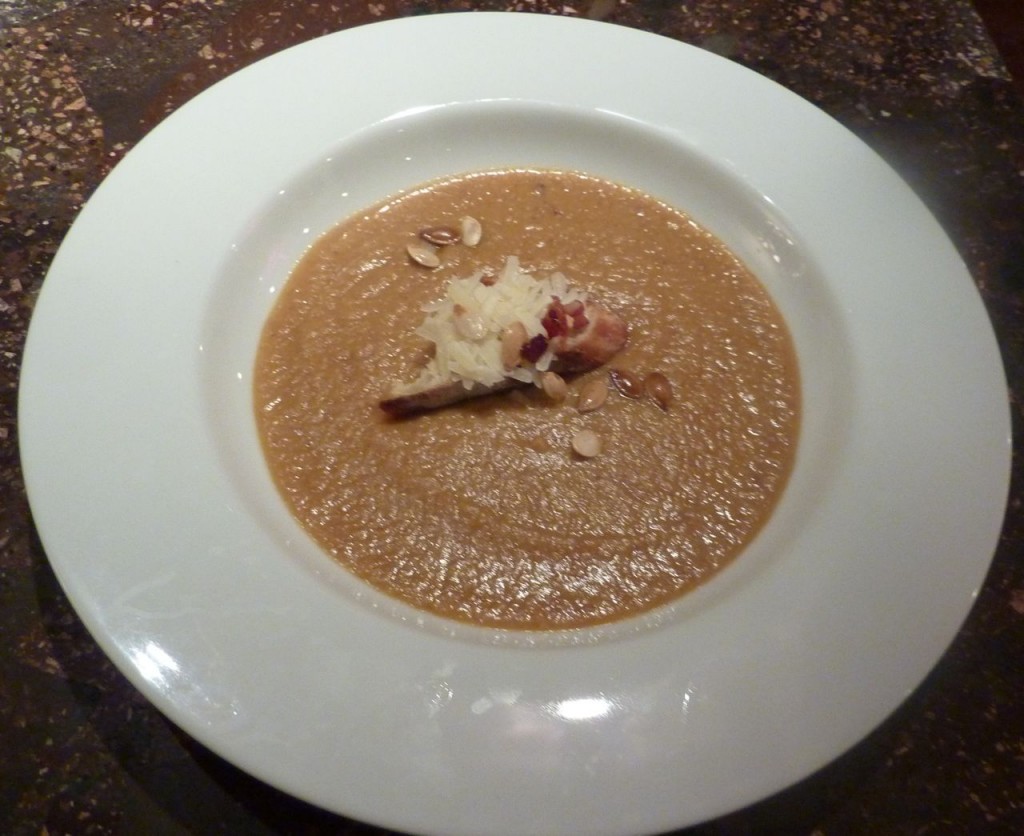 Fall is here, and with the colder weather my culinary thoughts turn towards warm comfort foods like soup. You will find pumpkin all over Italy, but it is especially common this time of year in the Northern regions we visit on my Italiaoutdoors Food and Wine bike and ski tours; in soups, in stuffed pastas, even sauteed and served over pasta. This soup was a combination of several different pumpkin soups from my library of Italian cookbooks.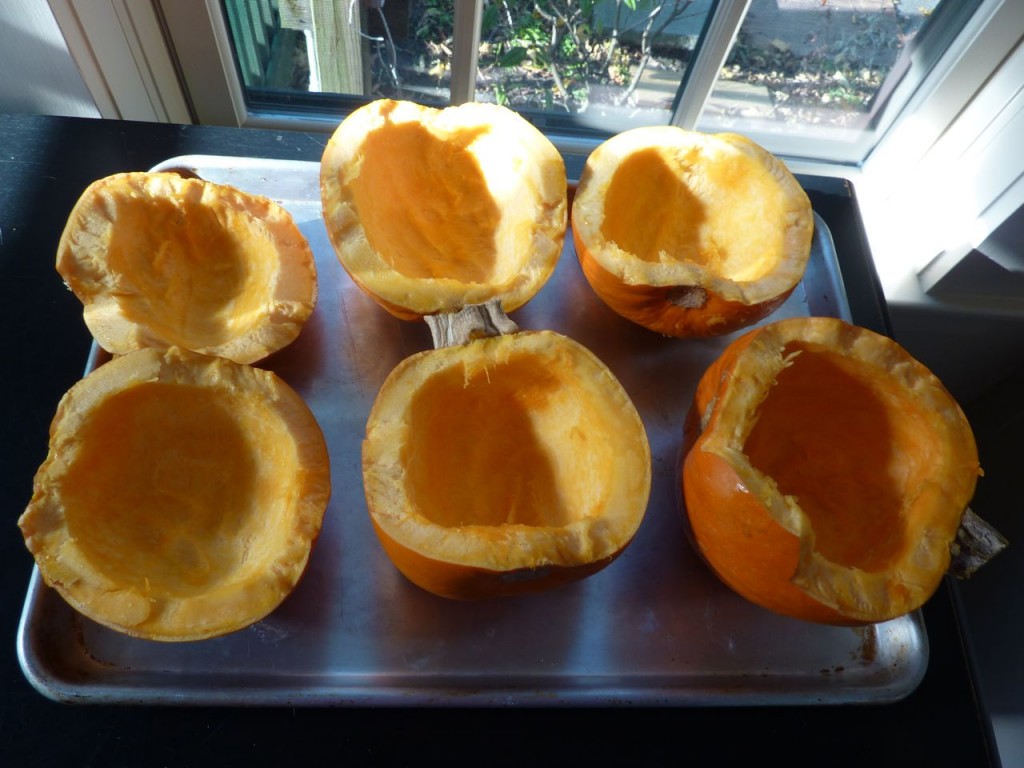 Most of the soup recipes I reviewed had you peel and chop the pumpkin, then boil it in the stock to cook. Peeling and chopping a pumpkin is a lot of work – I could barely manage cutting these in half! But it was much quicker to halve them and roast them, and then the flesh separates easily from the skin. Also, I prefer the flavor of the pumpkin moistened with olive oil, and I would add a couple of whole garlic cloves in each half next time. I got into the habit of roasted vegetables for soups, rather than boiling them, when I was trying to develop some tasty, low salt soups for my parents, who are on salt-restricted diets. A tasty, low-salt soup – not easy!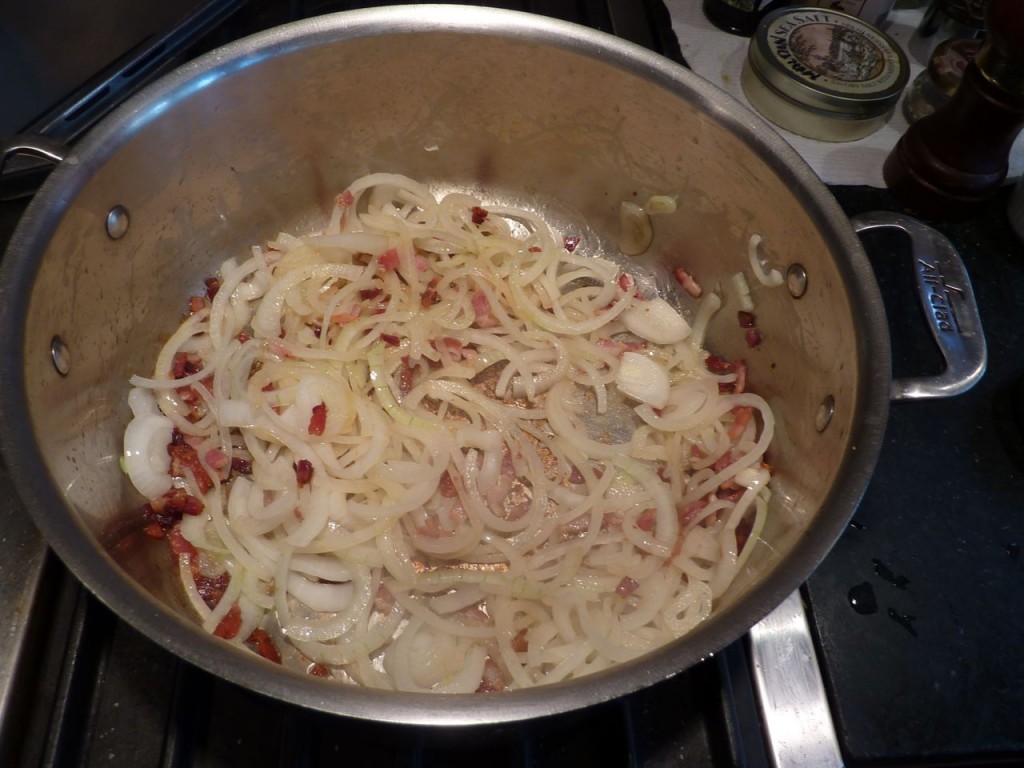 I tried the recipe once, and decided a little smoky flavor would be nice, so I added the bacon. I had a quart of apple cider in the refrigerator, and included that. Two cups went in the first batch, but that was a little too sweet for my taste. If you like a sweeter, more apple-y version, include more than one cup.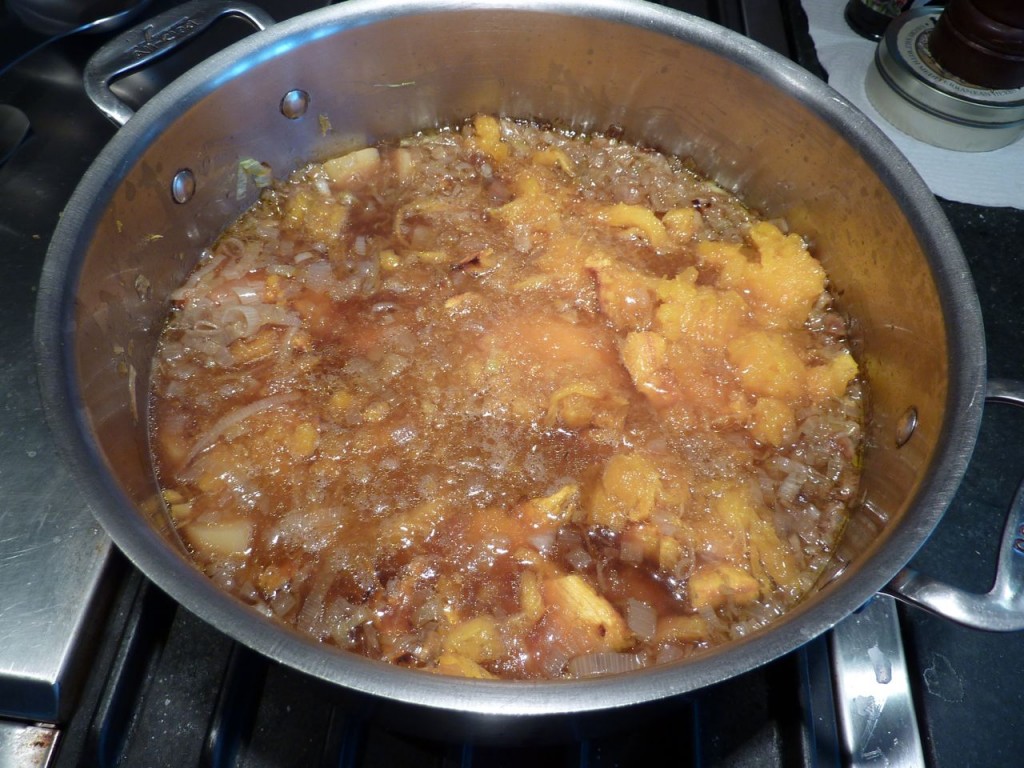 Depending upon the size and water content of your pumpkin, and the final consistency you desire, you may need to add more stock or water, or you may need to reduce it a bit. I found it rather thick, and added a little water. My immersion blender is on it's last legs and didn't do a very good job pureeing the soup. If you want a very smooth soup, you may have to move everything to the blender. And if you are pureeing and blending a thick soup, my last piece of advice – wear an apron. Between my malfunctioning immersion blender and the ill-fitting lid on my blender, I was wearing quite a bit of it by the time I finished. And my husband got the direct shot…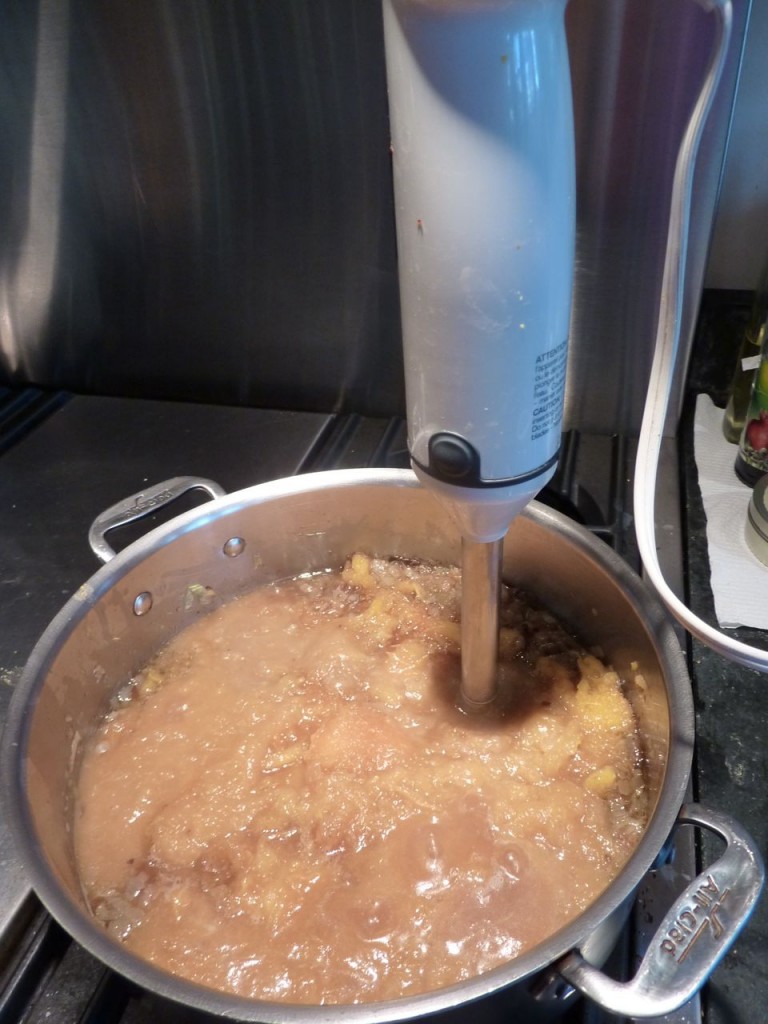 Zuppa di Zucca
Serves 8 as a first course, or 4 as a main with salad
1 small pumpkin, 3 1/2 pounds or so
4 ounces bacon, diced
2 onions, chopped
1 leek, white part only, sliced in half lengthwise, thinly sliced, and swirled in a bowl of water to remove grit
2 cloves garlic, minced
2 potatoes, peeled and chopped
6 cups chicken stock
1 cup apple cider
1/2 cup heavy cream
2 tablespoons butter
1/4 cup toasted pumpkin seeds
4 to 8 slices toasted bread (optional, for gluten free)

1/4 cup grated piave stravecchio cheese
Preheat oven to 400°.
Cut pumpkin in half, remove seeds and scrape out inside. Place on a baking sheet, fill pumpkin halves with a little water and roast until tender, about 40 minutes. Allow to cool.
Heat a large soup pan over medium heat, and add the bacon. Cook until just starting to crisp, and remove 1 tablespoon of the cooked bacon. Add the onions and leeks, and cook until translucent, about 7 minutes. Add the garlic and cook until aromatic, another minute or so. Add the potatoes, chicken stock and cider. Bring to a boil and cook until potatoes are tender, about 15 to 20 minutes.
Scrape the roasted pumpkin flesh out of the skin and add to the soup pan. Cook for five minutes. Using an immersion blender, puree the contents of the soup pan. If you prefer a finer texture, you can transfer the contents of the soup pan to a blender and puree.
Return soup to the pan, if you used the blender method, and reheat. Add the heavy cream and butter. Warm, and add salt and pepper to taste.
Serve in soup bowls, garnishing each with a toast slice topped with grated piave, a sprinkle of pumpkin seeds and bacon pieces.