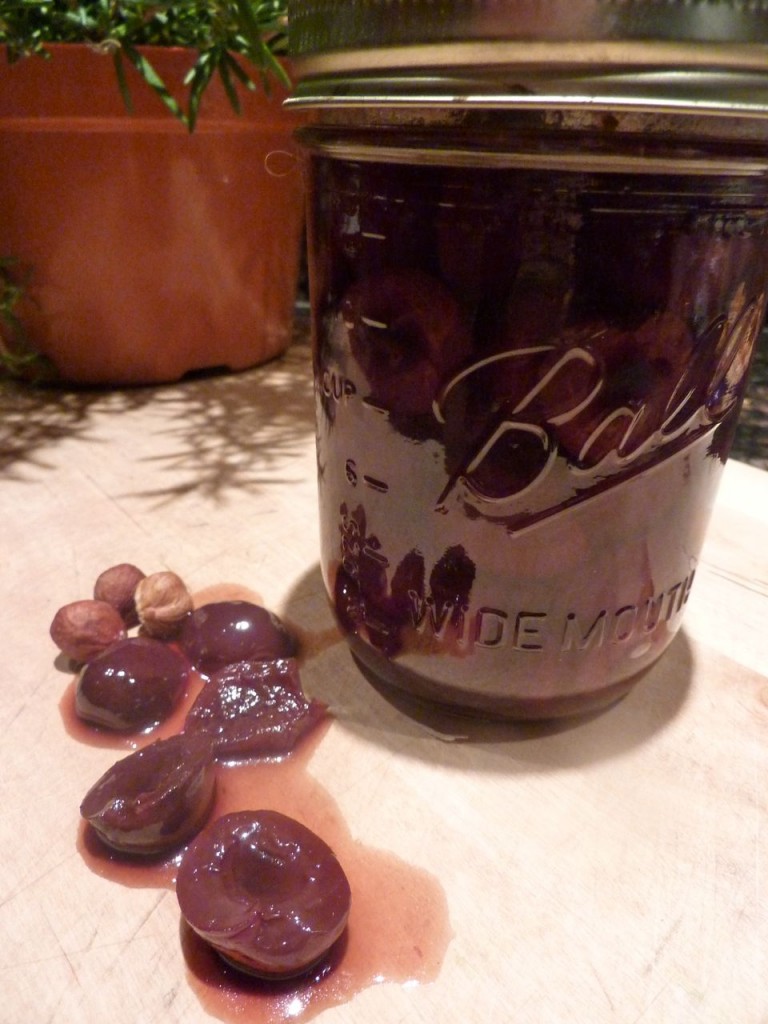 Two years ago I began teaching myself the basics of home canning, as part of my continuing effort to eat as 'locally' as possible. My freezer was filling up quickly with frozen fruit of all sorts – strawberries, blueberries, raspberries, peaches – and I was looking for some way to preserve fruits without taking up my  disappearing freezer space. These cherries were hardly 'local', as we don't see many of them in New England, but they were from about as close they get – probably mid-east coast.  But during a visit to bike in the Veneto last May, I discovered the cherries of Marostica, and saw how those made their way into the cuisine of the season. I had done peaches in a sweetened brandy liquid the preceding fall, and thought a similar technique would work well  with cherries, using a combination of red wine with a little grappa kick -certainly more Italian! I threw in some orange juice and rind for a little acidity, and added some spice with a few cloves.
I found that canning the cherries, or canning just about anything, is only step one of the process. What remains is how to use what you canned. Up until  this point, canned cherries were something that I rarely ever use, and now I had a dozen or so cans. What to do with them? So I came up with this cherry wine sauce that I paired with rack of lamb. It would also work well with a pepper-encrusted beef tenderloin.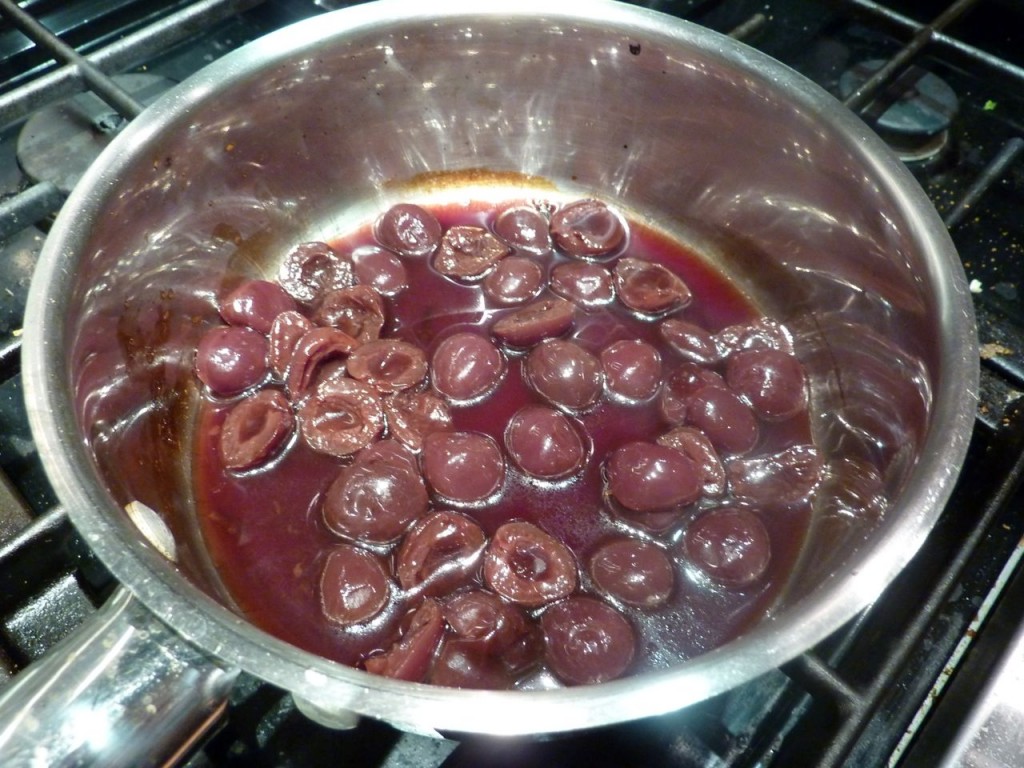 The wine sauce is easy once you have the canned cherries in wine on hand – I simply drained the wine 'juice' off of the cherries into a saucepan, added beef stock and a little balsamic, and reduced. I just needed to season it a bit with salt and pepper. This can all be done in advance, and just reheated when you are ready to serve. For those of you who don't have the luxury of nice canned cherries available, I've include a version that uses fresh. I've added a few ingredients to the sauce to recreate the flavors from the original wine 'juice' I used in the canning process.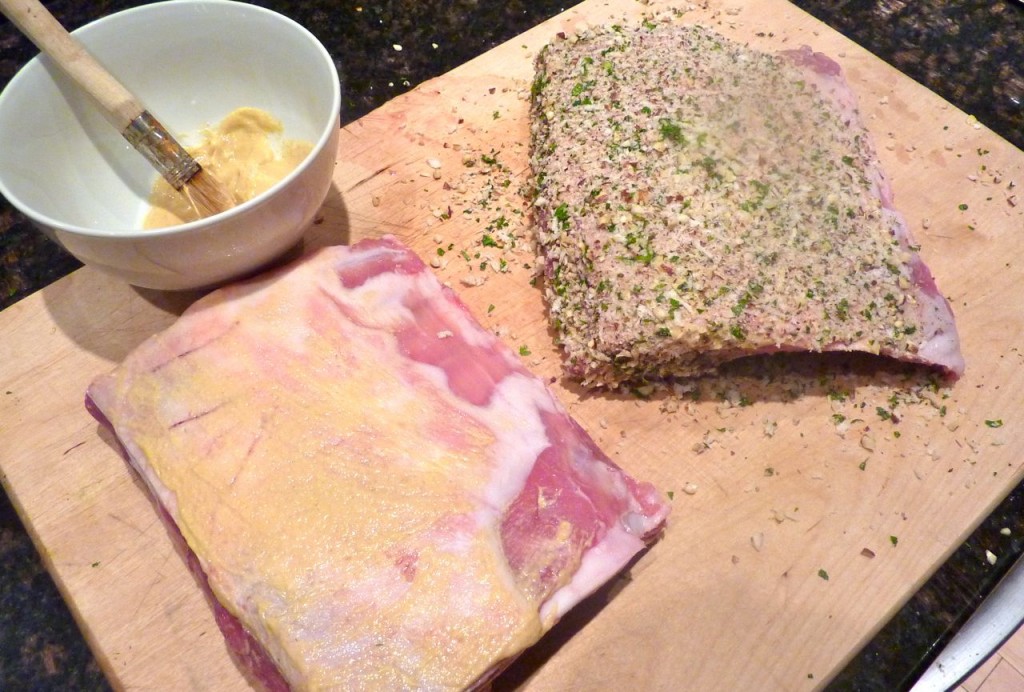 The lamb I had purchased at the Newburyport Farmer's Market that runs every Sunday between May and November in Newburyport, MA. It is locally raised in Epping, NH at Riverslea Farm. I thought a crust with hazelnuts, breadcrumbs, with some zest from dijon and a taste of horseradish would work nicely with the sweetness of the cherries. The crust can be prepared and applied to the lamb in advance, just place the coated racks on a sheet pan and keep in your frig until ready to cook.
I served these with some sauteed greens (chard and russian kale), and fried parsnip parsnip cakes. A Valpolicella paired nicely with it; a good Pinot Noir would work well too. And the canned cherries are great served as is over almond ice cream, with a little piece of dark chocolate.
Rack of Lamb with Hazelnut Crust and Cherry Sauce
Serves 4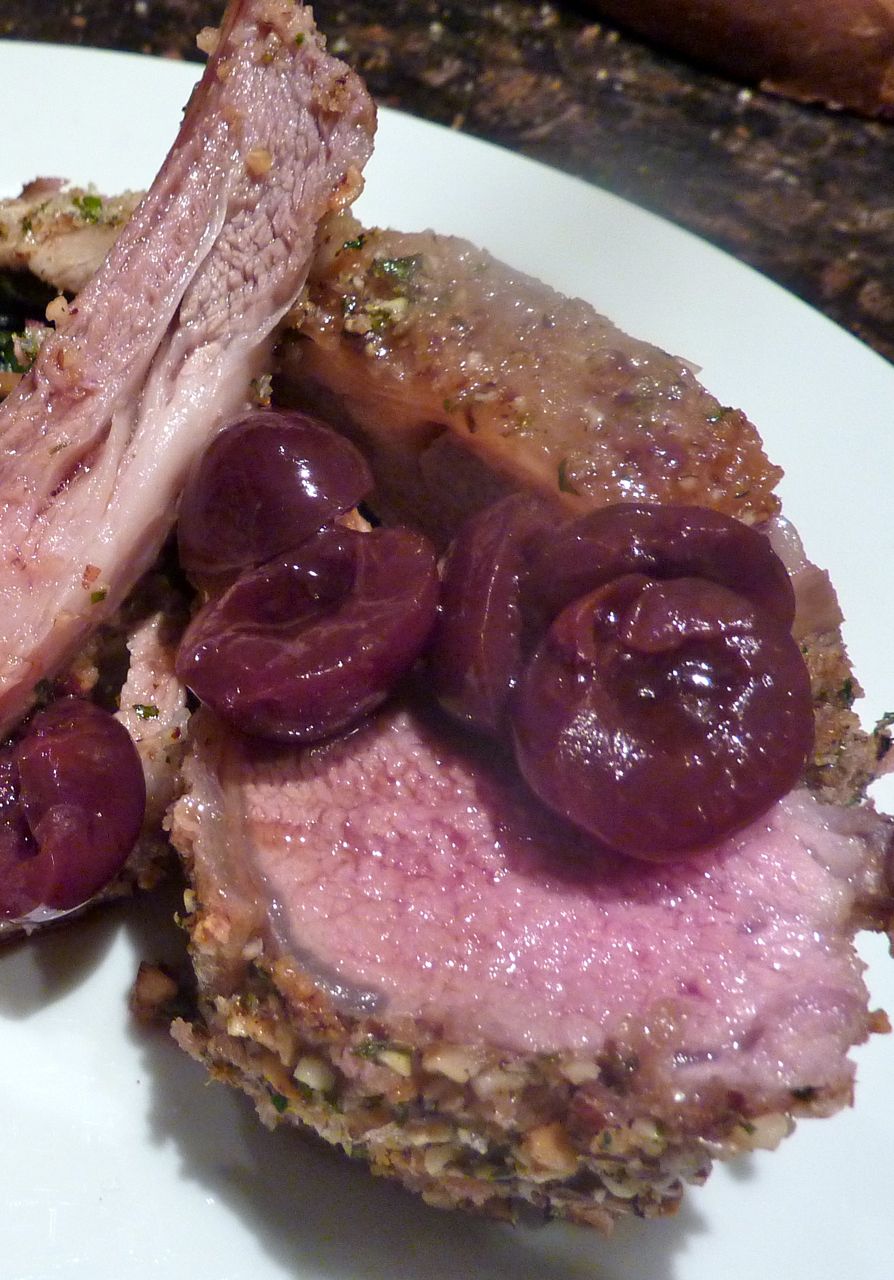 For wine sauce:
1 pint canned cherries in wine OR 1 pint fresh cherries, cut in half and pitted
2 cups beef stock
2 tablespoons balsamic vinegar
kosher salt and freshly ground pepper
and, if using fresh cherries:
1 cup red wine
1 tablespoon honey
1/2 cup orange juice
4 cloves
For lamb:
3

/4 cup finely chopped hazelnuts
1/2 cup dry breadcrumbs
2 tablespoons horseradish
1/4 cup finely chopped parsley
1 tablespoon chopped fresh thyme leaves
Kosher salt and freshly ground pepper
1/2 cup dijon mustard
2 racks of lamb
For the sauce (this can be done in advance, and reheated just before serving)
If using canned cherries in wine, place a strainer over a medium saucepan and pour the canned cherries into the strainer, allowing the wine sauce to flow into the pan. Set the cherries aside in a small bowl. Add the stock and vinegar. Skip the next paragraph and proceed to the instructions on reducing the sauce.
If using fresh cherries, combine the stock, balsamic vinegar, red wine, honey, orange juice and cloves in a medium saucepan.
Bring to a boil over high heat, reduce heat to medium and reduce to 1/2 cup. If there are cloves in the pan, remove them. Season with salt and pepper. Add the cherries. Reserve until lamb is done.
For the lamb:
Preheat oven to 375°.
Combine the hazelnuts, breadcrumbs, horseradish, parsley and thyme in a small bowl. Season with salt and pepper.
Brush the lamb on all sides with the dijon mustard, except for any exposed bone portion of the rack. Press the hazelnut breadcrumb mixture into the mustard to form a crust. Place the racks on a sheet pan, with the more heavily crusted side up.
Roast in the oven until the internal temperature reaches 130°. Remove from oven. Cut into individual chops, place on 4 plates and top with cherries and a spoonful of sauce.