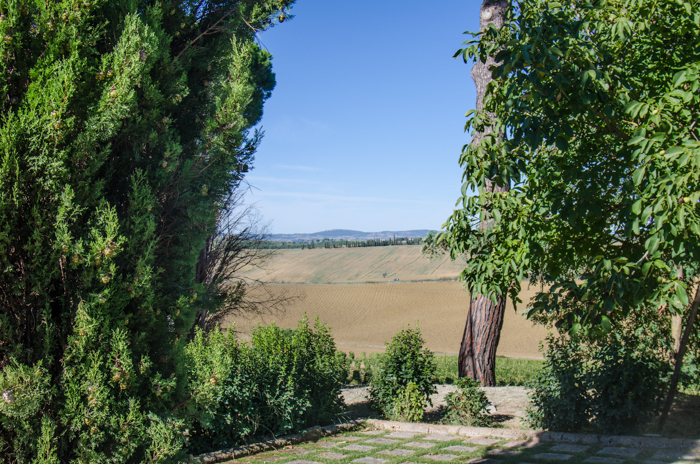 Our cycling excursions and walking tours through Tuscany visit many of this lovely regions more prestigious wine zones. One of our favorite destinations – both for its stunning hilltop location, and the picturesque vineyards that surround it, is Montepulciano. The wine produced in these vineyards, Vino Nobile di Montepulciano, or "the noble wine from Montepulciano", obtained Italy's highest quality designation, DOCG (Denominazione di Origine Controllata e Garantita; Denomination of Controlled and Guaranteed Origin) status in 1980.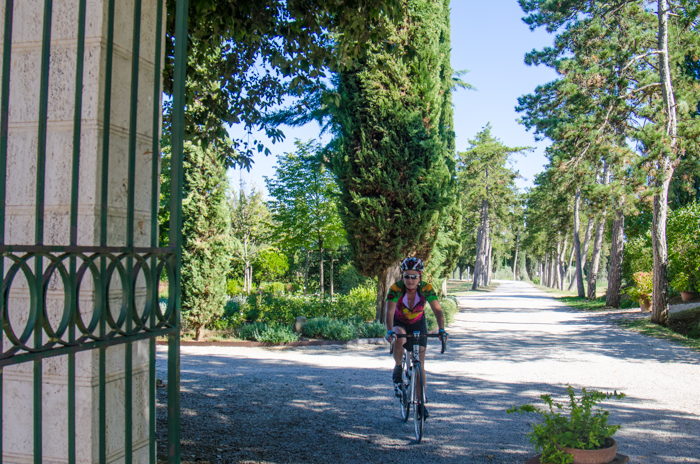 Like many Tuscan wines, Vine Nobile is made primarily from Sangiovese. Sangiovese is Italy's most widely planted grape varietal, and it is far and away the dominant varietal in central Italy. But Sangiovese varies from area to area – in actuality, there are a myriad of clones of the Sangiovese varietal which possess different characteristics and flourish in different climates. The wines of Montepulciano showcase the local clone of Sangiovese, Prugnolo gentile. This Prugnolo Sangiovese can be the only varietal used, or it can be blended with Canaiolo Nero and small amounts of other local varieties such as Mammolo. The wine is aged in oak barrels for 2 years; it earns riserva designation if it is aged for three years.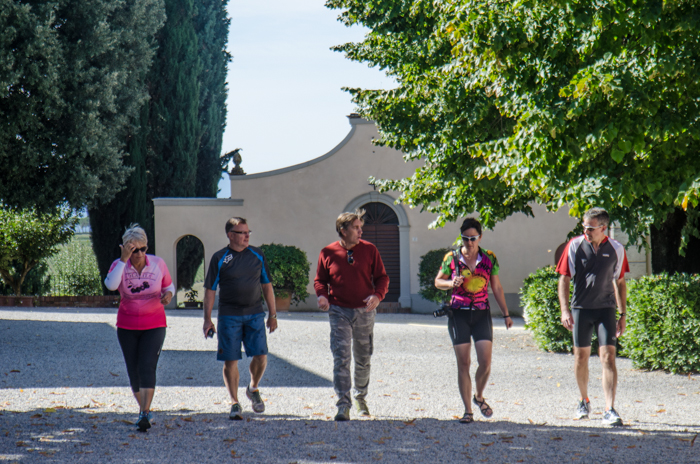 One of our favorite stops to learn more about Vino Nobile (and taste, of course) is the winery of Avignonesi. The winery, first established in 1974, is named after the Avignonesi family, the founders of the original estate. In 2009, Avignonesi was acquired by Virginie Saverys who has since introduced organic and biodynamic farming methods to produced distinctive wines that reflect the true character of the local grapes, and the region's terroir. She has also acquired additional vineyards and invested in a state-of-the-art winemaking facility in Montepulciano.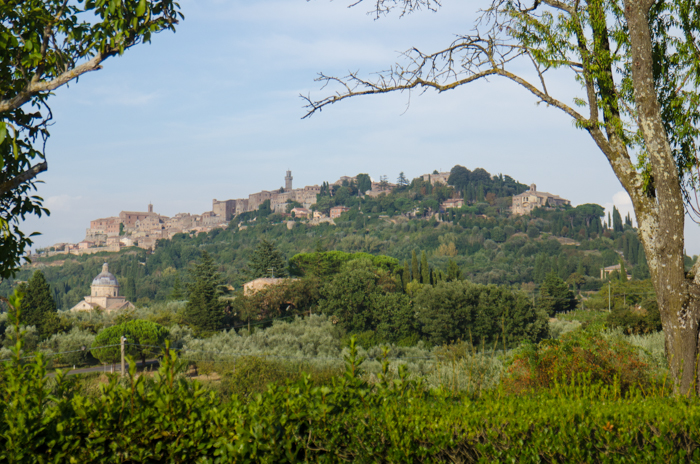 "We believe that the life force of the earth and the uniqueness of our terroir are at the heart of our brand. Avignonesi is reborn from the soil of our vineyards with each vintage in wines that mirror the subtle flavors of the site and the special traits of each year. Our wines express the richness and beauty of the Montepulciano territory. We respect the heritage of Montepulciano, where Sangiovese wines have been produced for centuries, and we wish to contribute to its future by being the finest representative of its heritage that we can be."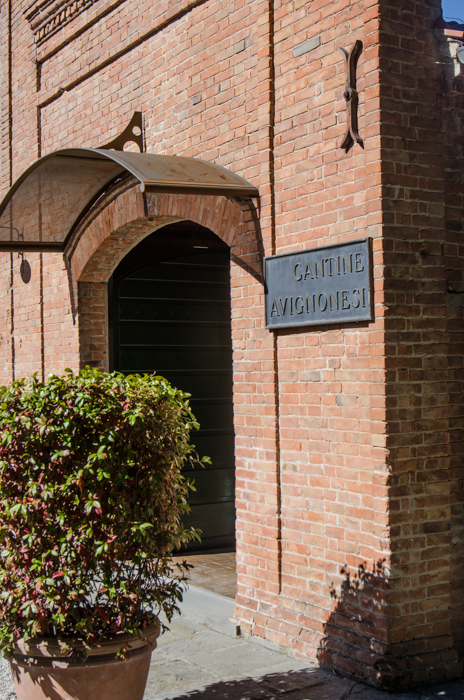 Avignonesi is currently using sustainable farming methods in all 200 hectares of vineyards., and is on track to be granted full organic certification in 2106. But their dedication to natural cultivation does not stop there, they now employ biodynamic farming that integrates local flora and fauna and biodiversity to protect the vine through strengthening its natural defense system and making its growing habitat as healthy and nourishing as possible. "Green" manure is grown in the rows between the vines, including plants like mustard, vetch, rocket, field beans, and grasses, which are eventually mulched into the soil. While growing, the network of roots loosens the soil, aerating it, making it looser and protecting it against erosion. This biodiversity of flora encourages the proliferation of insects and microorganisms that help the vines to thrive.
In addition, Avignonesi employs two biodynamic preparations that they produce to nourish their vines, one cow manure based, the other ground quartz, both of which are matured for several months in cow horns buried underground. No shortcuts taken here!
We enjoyed the opportunity to appreciate the fruits of their careful labor on a recent cycling tour. Our tasting include four of their most impressive wines, all of which are hard to come by in the US.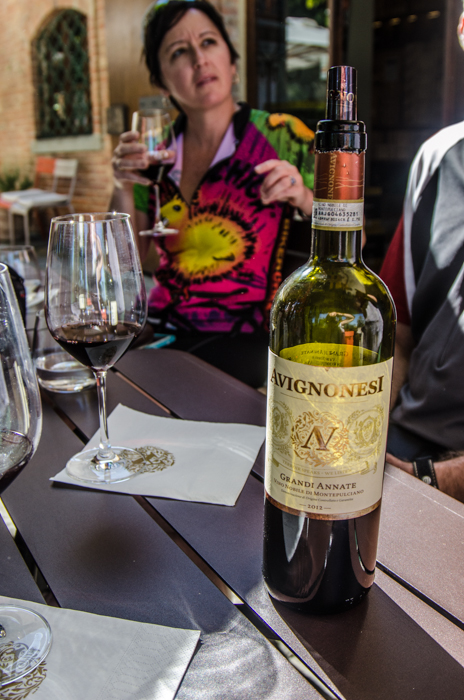 Grandi Annati Vino Nobile di Montepulciano
Vino Nobile Grandi Annate is the finest expression of Sangiovese from Avignonesi's Montepulciano vineyards. This wine is produced only in the very best years, when the climate and growing conditions are optimum, and the grapes can express all the complexity of the terroir. This is a wine that is rich in character with the stamina to age for many years.
Grandi Annati is 100% Sangiovese, aged for 18 months in French barriques and tonneaux, 20% of this time in new new oak, 80% older oak.
"Medium ruby red color. The elegant bouquet opens with notes of wild roses, plums, and a variety of red fruits, underlined by intriguing scents of sandalwood, myrrh and delicate hints of cloves. The Grandi Annate 2012 is full-bodied yet delicate and round with a fresh acidity and a savory finish that lingers on the palate."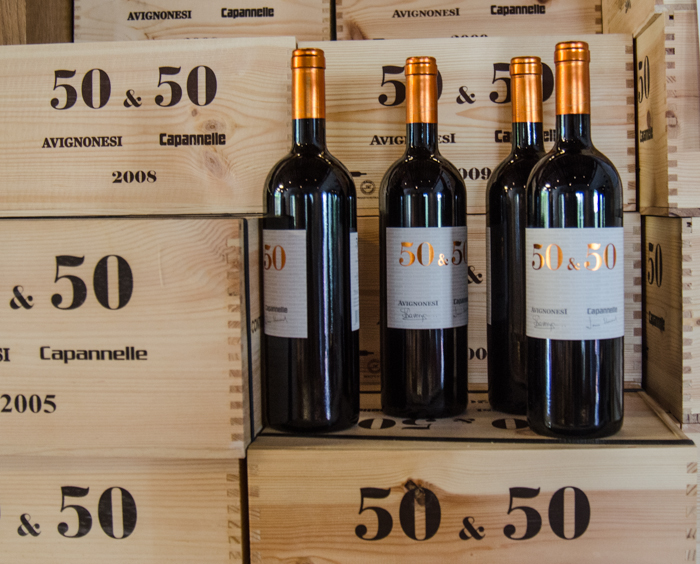 50&50
A few years ago the winemakers at Avignonesi enjoyed a high-spirited evening with the winemakers from Capannelle, a Chianti producer. No doubt a fair amount of wine was consumed, with much friendly competitive banter, the outcome being an agreement to collaborate. The result is 50&50, a blend of 50% Sangiovese from Capanelle with 50% Merlot from Avignonesi holding in the nearby Cortona zone.
"The 50&50 2011 has a deep, ruby, red color. Aromas of blackcurrant and black cherry are complemented by notes of sandalwood, sweet spices, and menthol. The rich and velvety palate has a fruit-flavored core with subtle complexities from the long aging in oak. Long-lingering  and elegant, this is a wine suitable for long aging in the bottle."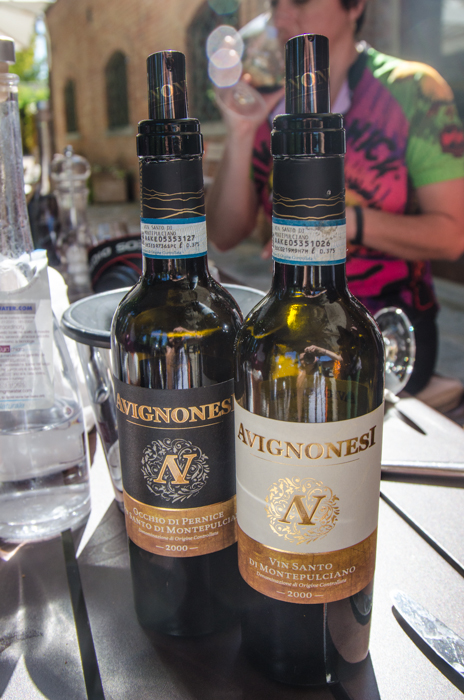 Vin Santo di Montepulciano 2000 and Occhio di Pernice 2000
Vin Santo is a sweet wine with a long history of production in Tuscany.  Once called the "wine of hospitality", it was used to warm up a passing stranger on his way down from the hills, celebrate some happy event, or make a toast on a Sunday after a special meal.
There are three distinct designations for Vin Santo in this region: Vin Santo di Montepulciano, Vin Santo di Montepulciano – Riserva, Vin Santo di Montepulciano – Occhio di Pernice. The Avignonesi Vin Santo is a blend of Malvasia Bianca and Trebbiano toscano grapes. The "Occhio di Pernice" is a sweet wine made in the Vin Santo style, using instead red grapes, in this case 100% Sangiovese
The traditional fermentation method employed for Vin Santo wines is very typical: the harvested grapes are sorted and hung to dry in temperature- and humidity-controlled rooms. Drying concentrates the sugars, obtaining the hogh sugar levels necessary to make this sweet dessert wine. According to the specifications, the grapes must be pressed from December 1 for Vin Santo di Montepulciano and January 1 for the other two, then they are aged in small 25-liter oaks barrels (caratelli) for 10 years, with an additional 1 year minimum in the bottle. In the case of the Occhio di Pernice, the barrel aging includes contact with a "madre", or mother, similar to that used in the production of vinegar or sourdough, which is the property of Avignonesi.
The Avignonesi Vin Santo is "Intense and full-bodied with a rich texture and an intriguingly sweet and spicy bouquet of candied citrus fruits, figs, honey and aromatic herbs." The Occhio di Pernice "Rich and concentrated with enveloping aromas of Mediterranean herbs, citron, plums, fruit cake, star anise and a long-lingering, nutty finish. " Both were a real treat to end the tasting, with the Occhio di Pernice a unique wine to experience, very rare to come across outside of this corner of Tuscany.