Our season starts soon in Italy, and we are looking forward to spending a couple of cycling tours exploring the wine regions in Alto Adige. Three bicycle routes run along the Alto Adige Wine Road, or Strada di Vini, through the province's largest winegrowing zone, and amongst some of the loveliest vineyards in all of Italy. One day we'll follow the path that runs from Bolzano, through Caldaro, and Cortaccia down to Trento, without any serious ascents as we pass medieval manors and castles through the vineyards and right by numerous wineries. One winery we will pass that I've been lucky enough their wines fairly easily in the US is Tiefenbrunner.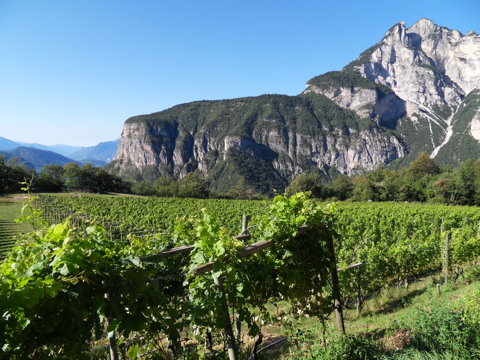 The Tiefenbrunner winery is in the hamlet Entiklar, in the town of Cortaccia. Wine production has always played a significant role in the economic development of Entiklar, with grapes cultivated here as far back as Roman times. Located today in the Castel Turmhof estate, the winery was founded in 1848, but wine production on the estate dates back over 300 years. Today, the winery is still owned and operated by the Tiefenbrunner family, with Christof now overseeing the operations began by his parents, Hilde and Herbert. The passion this family has for its farmlands, its history, and their estate is wonderfully expressed in the wines they produce.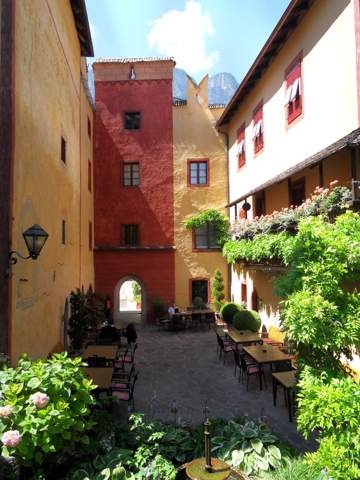 The vineyards of Tiefenbrunner are spread on the picturesque mountain slopes around Turmhof Castle, with other vines located in the the flatter valley. The south facing slopes and loamy, chalk soil is the optimum environment for producing high-quality wines. The unique climate of this area, characterized by moderate rainfall and cool evening winds, and over 300 days of sunshine a year, results in a large temperature variation between day anid night, ideal for the ripening of the grapes. The Tiefenbrunner family appreciates the unique qualities of their terroir, carefully selecting varietals for each plot and overseeing their care, with a focus on enhancing the distinctive varietal nature of each wine.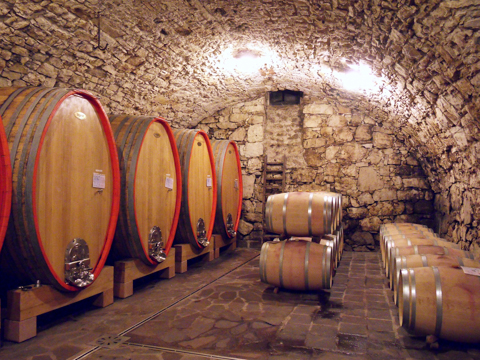 The estate produces a nice range of wines, predominately whites such as Pinot Bianco, Pinot Grigio, Sauvignon Blanc, Gewürztraminer, and Müller-Thurgau, but also a few reds that do well in this northern region, Lagrein and Pinot Nero
A few tasting notes on the Tiefenbrunner wines I've enjoyed: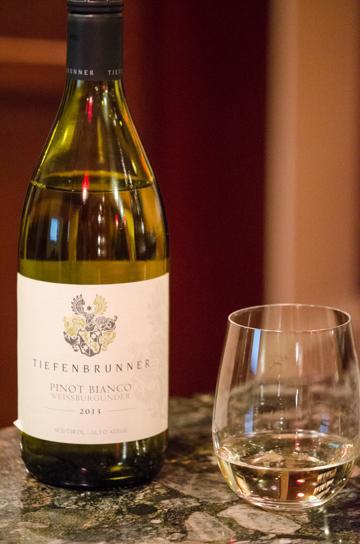 Tiefenbrunner Pinot Bianco
100% Pinot Bianco, known here in Alto Adige also as Weissburgunder. A refined Pinot Bianco, bright yellow in color, refreshing in style. Floral aromas, with scents of apples and citrus. Rich, yet fresh, with a nice counterbalancing minerality and acidity. It pairs well with an antipasti, seafood dishs, and vegetable risottos.

Feldmarschall Müller-Thurgau
100% Müller-Thurgau. The vineyards for this wine sit on the high plateau of Fennberg, and ripen in a very rare microclimate. At an elevation of 3,300 feet above sea level, these are among the highest vineyards in Europe. The wine is named after Franz Philipp Freiherr von Fenner zu Fennberg, founder of the Austrian Kaiserjäger (soldiers of the Austrian emperor), who once used this as a summer residence.
Straw yellow in color, with fragrances of stone fruits and citrus and spicy florals. A well-rounded and elegant palate with hints of peaches and white flowers balanced nicely with a fresh acidity and generous minerality. This is wonderful on its own as an aperitif, or with seafood dishs and light salads and pastas.