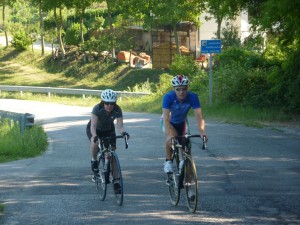 Today our first ride – a day to get acclimated to our new bikes and our surrounding here in the beautiful Berici Hills. No better way than to try out a few rolling hills along the spine of the Berici, where we ride over the hilltops along the Strada di Vini Colli Berici (the Wine Road of the Colli Berici).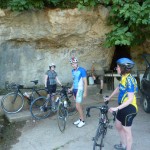 The first few hills we take a little slowly, with Vernon showing everyone how to use their gears and climb the hills efficiently, so we have enough energy to get us up the last climb back to our locanda! Everyone soon picked it up, and we were making good progress to our destination, the town of Barbarano. It was a bit hot, but Vernon pointed out the roadside springs with fresh cold water where we could refill our bottles and splash some cold water on our arms to cool off. Here, we were greeted by many local bikers who were rather impressed that us Americans were out riding these hills – we were 'real' bikers, not just tourists!
Soon we reached the 'top', at least temporarily, where Vernon gave us a quick tutorial on how to descend safely; there are a few fun hairpin turns on the way down, but it was nice to pick up some speed – I think I heard a few shrieks of delight from Susie as we descended. Susan and I picked up some fennel fronds and wild oregano we found alongside the road as we cruised down.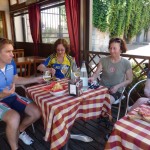 We enjoyed a nice snack at an enoteca in Barbarano. A glass of a light, slightly sparking  local wine was required as well; after all, it was after 10am. Refueled, we headed out to complete our loop home. Through the towns of Mossano, Nanto, Longare and Custozza, we wound through the vineyards of the Colli Berici. One last longish climb, and we were back at our Locanda. After a quick shower, we all joined Susan and me in the kitchen for our first cooking class.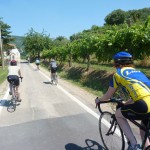 Pizza dough was our first task, after a bit of work to find yeast. We have both yeast to use, as well as a dehydrated sourdough starter that I picked up at a specialty producer, Antico Molino Rosso. We made a dough with each, and will wait until tomorrow to see what happens!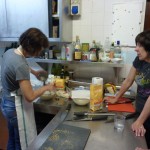 We also made our own ricotta cheese, with a combination of whole milk and cream. This is a slightly different recipe than we did last year with Jody Adams, requiring a slower cook time and no stirring! It came out beautifully, perfect for our pizza lunch tomorrow.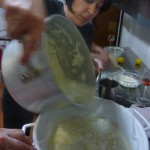 We braised some fennel, cooked up some wonderful fresh borlotti, or cranberry, beans, and Susie demonstrated how to break down a duck. We'll grill the breasts, and make a nice ragu from the legs.
Dinner was in downtown Vicenza, at Antica Guelfa. A salad with barley and a mozzerella made from rice (tofu-like was the consensus), a gluten-free pasta made with corn flour, involtini of speck and prunes, a small cheese souffle were our starters. Vitello tonnoto was the specialty of the house; a classic Italian dish of veal scallops topped with a sauce made with the wonderful Italian canned tuna – served cold. Fantastic desserts; two semifreddos, one with peach and one caffe; and a dark chocolate crostata.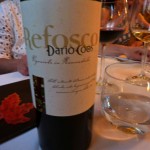 We began with a nice Soave wine from La Cappucina, as we are heading there tomorrow on our bikes. We followed this with a Refosco di Peduncol Rosso, one of my top 10 undiscovered wines of Northeastern Italy. It began with a fruity, almost sweet palate, and then the characteristic slightly bitter finish with the tannins kicked in. Interesting, we all agreed. But after 20 minutes the flavors all blended, and it was quite a different, and wonderful, wine. Smooth, full, robust.