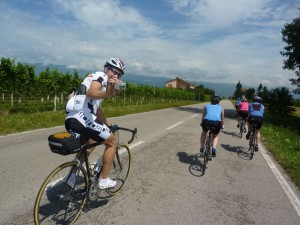 Today we decided to take a break from the kitchen altogether, and do a longer and more leisurely ride. Our destination today is the beautiful city of Bassano del Grappa, known for white asparagus in the spring, the beautiful Ponte degli Alpini, another of Palladio's designs, and home to several grappa distilleries.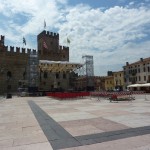 We head out through downtown Vicenza and north. Once again, lovely vineyards and farmlands stretch on either side of us as we ride from small town to small town. We make a quick first stop to refuel on a caffe and croisssants. Our first destination is the walled city of Marostica. Surrounded by walls dating from the 11th century, Marostica is known for its cherries, which have just come and gone in May.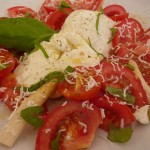 The introduction of cherries into Marostica itself is a very well-known story. In 1454, the governor, Taddeo Parisio, had a daughter Lionora who had two suitors vying for her hand in marriage. Rather that subject everyone to the usual duel, Parisio promised his daughter to the one suitor who could best the other in a living chess game. This chess game was played in the city center, with live persons standing in for the chess pieces. The winner wed the beautiful Lionora, and the loser was awarded the hand of her less attractive younger sister. The first cherry trees were planted that year in Marostica in commemoration of this event. To this day, this chess game is reenacted every other year in September.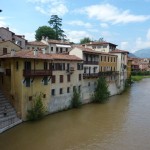 We enjoyed a quick lunch, then back on the road. We have only 7 kilometers to go, and quickly reach Bassano. We visit the famous bridge, Ponte degli Alpini, and then pay a visit to the Poli grappa distillery. We tasted several types of grappa, all very different: a 'traditional' grappa, not to processed or aged, that one would typically use in coffee or cooking; an aged grappa, golden in color and noticeable smoother, and then some interesting flavored grappas, including blueberry (mirtillo).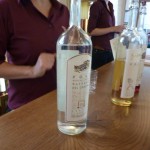 We had an hour to explore Bassano, and while Vernon returned with all of our bikes, we took a taxi back to our Locanda. We had some time to relax before our dinner at Trattoria Zamboni. We dined outside, amidst beautiful flowers. A lovely evening, which had cooled off to the perfect temperature for dining al fresco. We enjoyed lots of different dishes; souffle of carrots and zucchini, homemade pasta topped with truffles from the Colli Berici, pork braised in milk, venison with cherries. We began with a Pinot Grigio from Colle di Bugano, which we have passed on our rides, and made our Gargenega from last night. Next was an absolutely amazing wine from Antonio Maule, Cana, full-bodied, robust. Maule has a small vineyard, La Biancara, in Gambellara, and is passionately devoted to sustainable, biodynamic techniques and hands-off processing. We finished with another red from Castello di Lispida in the nearby Colli Euganie. Yet another wonderful dinner; most agreed that this was our favorite restaurant so far, although it is certainly hard to choose!