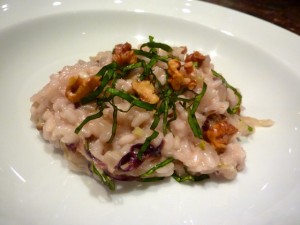 Currently, I am working on the recipes for our upcoming Italiaoutdoors Chefs on Bikes tour of the Veneto. I like to include dishes that incorporate the wonderful products of the Veneto region, reflect the traditional cuisine of the area, and are ones that our guests would be able to prepare in their own kitchens when they return home. I've done many classes introducing risottos, and students always enjoy them, as the technique is pretty straightforward, and there are so many options to make this dish different every time.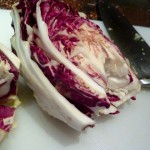 Radicchio is one of the foremost products of the region – there are 4 different varieties that are officially recognized with the IGP (Indicazione Geografica Protetta) or DOP (Denominazione Origine Protetta) designations. Both designations protect these products from lower quality competitors using the same names, dictating the region, production methods, varieties and other details of the production process. There are four of these in the Veneto region alone, for four different types of radicchio, with many other wonderful varieties available as well. The beautiful walled city of Treviso is radicchio 'central' of the Veneto region, and a biking destination on our trip. I love this slightly bitter vegetable, and can find locally grown Chioggia radicchio right now in New England, so a radicchio risotto is a perfect dish to include.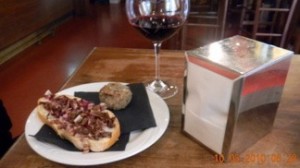 Often risottos are made with a bit of wine being the first addition of liquid; prosecco is what I've chosen to include, reflecting again the Treviso region. Finishing the risotto with a cheese is traditional, my choice in this recipe is a Ubriaco Prosecco, another product from the Veneto region. This cheese is washed with the pomace, or grape must, leftover from the wine production process, which makes a very tasting and tangy cheese that will stand up well to the radicchio. My local cheese shop carries the Ubriaco Prosecco on a regular basis, but a grana padano would make a good substitute.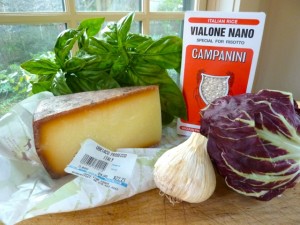 One other Veneto product I've included here is marroni, or chestnuts. In September, these are found at every market, freshly roasted and ready for snacking. In the forests of northern and western Veneto, as well as north in Trentino and east in Friuli, chestnuts have been a traditional food since ancient times, used as is, or as chestnut flour. It is even used as pig fodder, and required feed for some of the IGP and DOP prosciuttos. In  the US, I will substitute walnuts when I can't find good chestnuts.
Finally, my choice for rice – the Vialone Nano rice is the IGP rice from the Veneto region traditionally used in the risottos of the region. The Grumolo della Abbadessa area, right outside of Vicenza, is renowned for this rice, which has been cultivated here for hundreds of years. I have managed to find this here, at Micuci's Market in Portland, ME, but a Carnaroli or Arborio rice would make a great choice as well.
Risotto con Radicchio Trevigiano e Ubriaco
Serves 4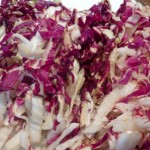 About 6 1/2 cups vegetable stock
2 tablespoons extra virgin olive oil
1 tablespoon butter
1 onion, chopped into 1/4 inch dice
1 stalk celery, chopped into 1/4 inch dice
1 clove garlic, minced
1 head radicchio, cored and cut into thin strips (chiffonade)
2 cups risotto rice, preferably Vialone Nano
1/2 cup prosecco or white wine
3/4 cup grated Ubriaco cheese
Kosher salt and freshly ground peper
1/2 cup toasted chestnuts
8 basil leaves, cut into thin strips (chiffonade)
Bring the stock to a boil in a large pot.
Heat the olive oil and butter in a large saute pan over medium heat. Add the onion and celery, and cook until soft and translucent, about 5-7 minutes. Add the garlic and radicchio; cook for 1 minute.
Add the rice. Stir for about 1 minute. Add the prosecco, and simmer until it has evaporated. Stir in a ladleful of the stock. Cook, adding the stock a ladleful at a time, and allowing it to be absorbed by the rice before adding more. Cook until the rice is just tender to the bite, or 'al dente'. You may not use all of the stock.
Stir in the cheese, and season with salt and pepper. Divide between 4 serving plates, garnish with walnuts and basil and serve.
And what wine to pair with this? A sparkling prosecco from Treviso, of course!