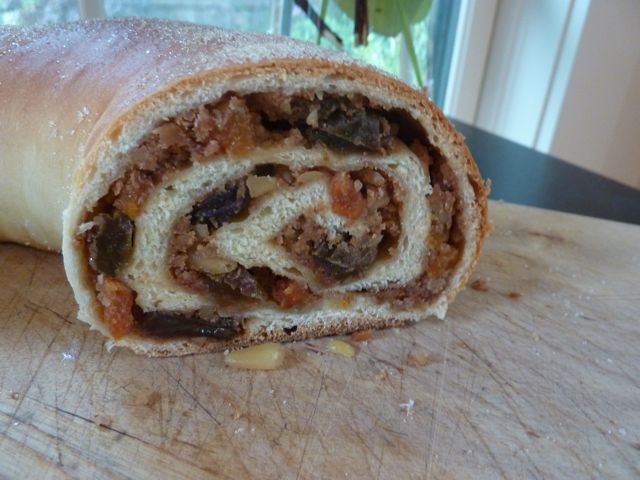 One example of traditional Christmas holiday food with deep-seated cultural roots in a specific region is the Gubana. A cake of sweet leavened dough, heavy with a filling of dried fruits and nuts. Depending upon the source, Gubana originated in either the Valli del Natisone or nearby Cividale, in the region of Friuli-Venezia Giulia.  Friuli-Venezia is a fascinating region in the northeast corner of Italy, at the cross-roads of eastern and western Europe. It is a region we are exploring on one of our Italiaoutdoors bicycle tours in 2012. The original settlers in the area were from Slavic stock, and the name Gubana is derived from the Slavic word guba, meaning fold. As far back as 1409, Gubana was one of the 72 courses served during a dinner held by the city of Cividale in honor of visiting Pope Gregory XII.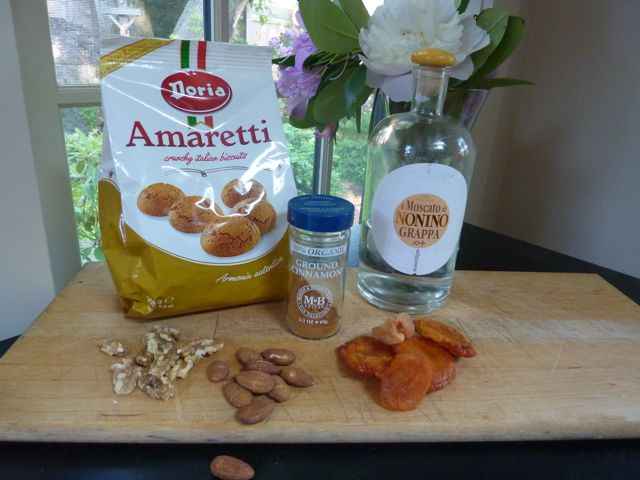 Local legend has it that Gubana was created by a poor woman who had nothing with which to sweeten Christmas meals. She prepared for her family a cake made with what she had a hand; flour, eggs, walnuts and honey. A less picturesque explanation is that Gubana sprang from the Slovian dumplings called struklji, known today as strucchi, which were fritters filled with a similar stuffing of dried fruits and nuts.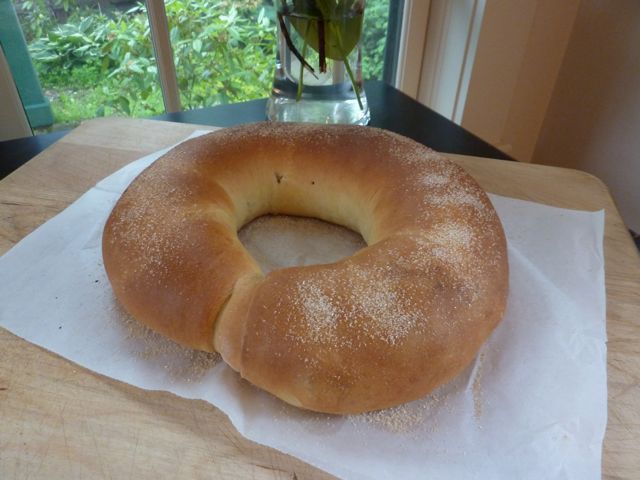 There are a couple of versions of Gubana dough, and numerous variations in the filling. Waverley Root, in The Food of Italy, describes Gubana as a ciambella, a ring-shaped cake of puff pastry, stuffed with crushed walnuts, pine nuts, almonds and spices. He mentions that you can dress it up with raisins, dried figs, prunes, candied citron, orange peel and chocolate. It is then doused in liquor, typically rum or grappa. In her cookbook, Flavors of Friuli, Elisabeth Antoine Crawford supplies two recipes, both using the same stuffing, one a sweetened leavened dough, the other a puff-pastry version. Gubana is a bit labor intensive, and many bakeries in the region produce wonderful versions, so they are rarely made at home.
I based this recipe quite closely on Crawford's Gubana delle Valli del Natisone. I've tried it numerous times, and while it does take a bit of time, it consistently comes out well. I've simply made a few additions to the filling, and added a tablespoon of grappa to the dough.
Gubana Filling
1/2 cup raisins
1/2 cup dried fruit – prunes, apricots 1/2 cup grappa
1 cup coarsely chopped walnuts
1/2 cup blanched slivered almonds
3/4 cup finely chopped amaretti cookies
1/4 cup diced candied orange peel
1/4 cup diced crystalized ginger 1/4 cup pine nuts
2 tablespoons melted butter
1 tablespoon honey
1 1/2 teaspoons ground cinnamon
4 ounces bittersweet or dark chocolate, shaved
1 egg
Place the raisins in a large bowl. Add the grappa and let soak for 30 minutes.
Finely grind the walnuts and almonds in a food processor; add to the bowl of raisins and dried fruit. Stir in the crushed amaretti, candied orange peel, ginger, pine nuts, melted butter, honey, cinnamon, grated chocolate, and egg.
Gubana
3 1/2 teaspoons active dry yeast, divided into 2 teaspoons and 1 1/2 teaspoons
1/3 cup sugar, divided
1/2 cup warm water, divided into 1/4 cup and 1/4 cup
2 2/3 cup flour, divided into 1/2 cup, 1 cup, and remaining 1 1/6 cups
1 egg
1 egg yolk
4 tablespoons butter, diced and softened
1 teaspoon salt
1 teaspoon vanilla extract
1 tablespoon grappa
For the dough:
In a small bowl, dissolve 2 teaspoons yeast and a pinch of sugar in 1/4 cup warm (110°) water. If you haven't used the yeast in a while, let it rest until foamy, about 10 minutes, to make sure it is still active. Stir in 1/4 cup flour. Cover and let rise for 30 minutes.
Transfer the mixture in a large bowl. Stir in 1 cup flour, 1 tablespoon sugar, the egg and egg yolk. Cover and let rise for 1 hour.
In a small bowl, dissolve the remaining 1 1/2 teaspoons yeast and a pinch of sugar in the remaining 1/4 cup warm water. Add to the bowl of risen dough, along with the remaining flour and sugar, butter, salt, vanilla extract and grappa; mix well. Using a mixer with a dough hook attachment, knead for 10 minutes, adding a bit more flour if the dough begins to stick to the sides of the bowl. Transfer the dough to a lightly floured surface and knead briefly by hand; the dough should be smooth and elastic. Form the dough into a ball; cover loosely with plastic wrap or a damp kitchen towel and let rise in warm place for 1 1/2 hours.
To prepare the Gubana:
Preheat the oven to 350°. Place a pan filled with warm water on the bottom rack to create steam. On a lightly floured surface, roll  the dough into a 14- by 20-inch rectangle. Spread the filling over the dough, covering the dough as evenly as possible. Starting with one long side, roll up the Gubana jelly roll style. Place the roll seam-side down on a sheet of parchment paper. Form the roll into a spiral. Transfer the spiral, along with the parchment paper, to a baking sheet. Cover loosely with plastic wrap or a damp kitchen towel and let rise for 30 minutes.
Sprinkle the top of the spiral with 1 teaspoon sugar. Bake until golden brown, about 45 minutes. Serve with grappa for dunking.