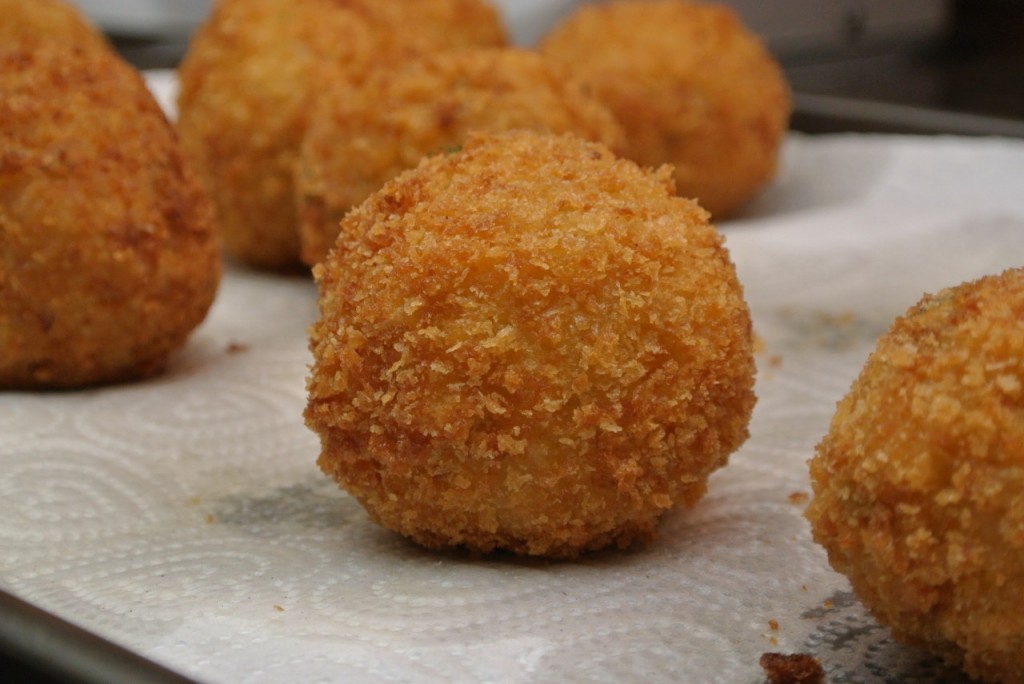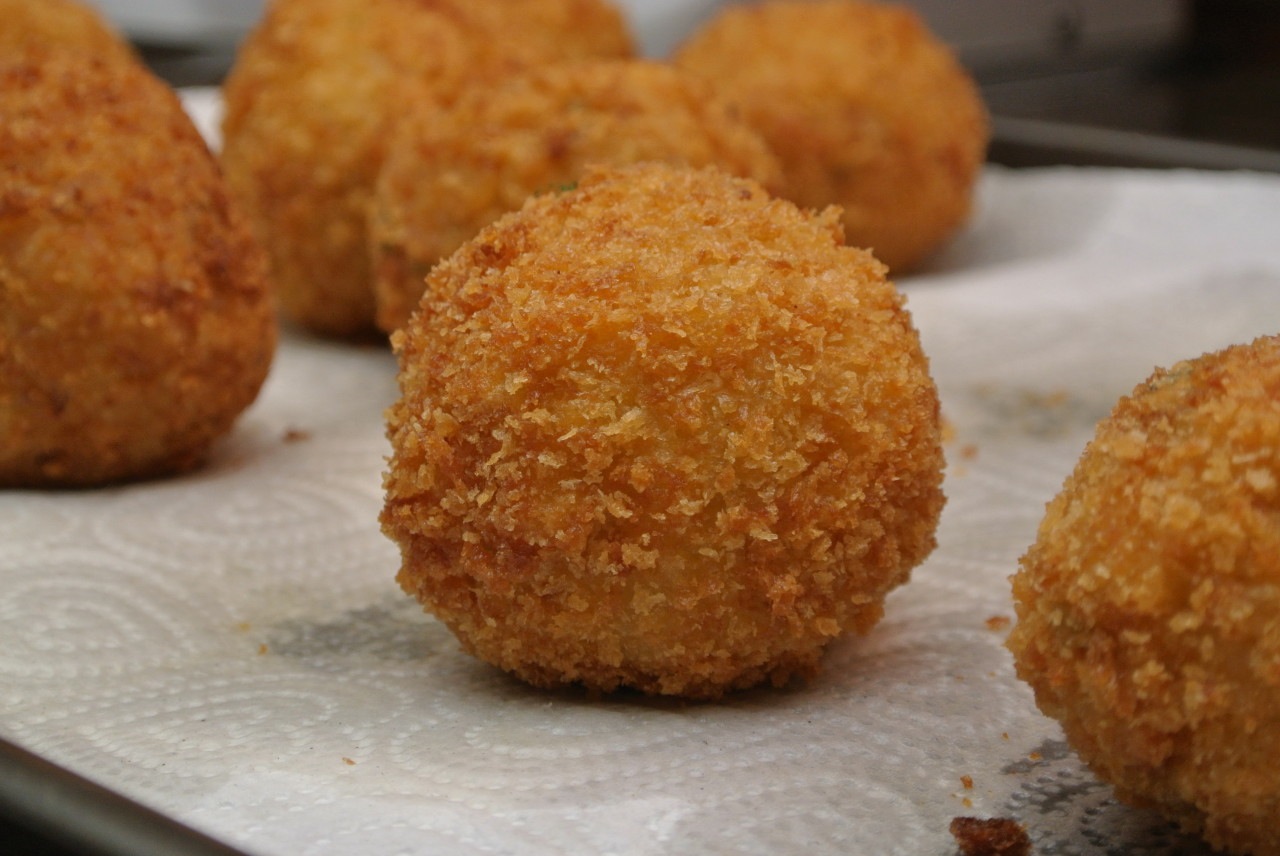 When guests on our Italy bike tours are first introduced to the Italian foods of the Northeast regions, they are often surprised – pastas with red sauce, or, frankly, anything with a 'red sauce' are rare on the menus. The many pasta dishes are replaced with other starches; predominately polenta, and numerous varieties of wonderful risottos.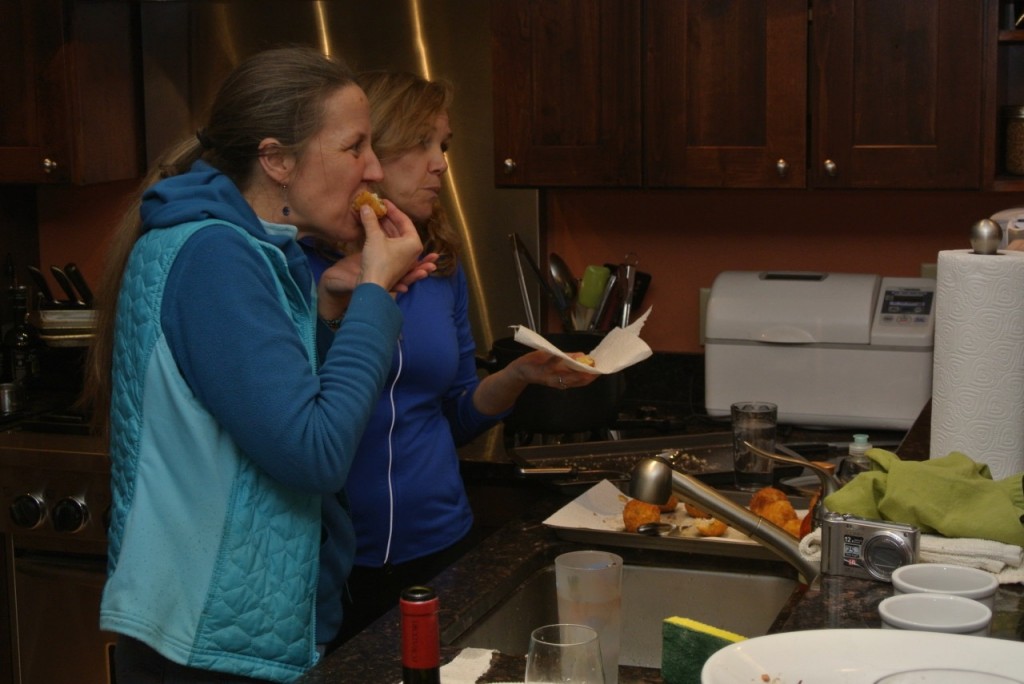 Brought to the Veneto in the 14th century by the Venetian explorer Marco Polo, rice was a highly productive crop that grew well in the climate of the area. It quickly replaced some of the more traditional grains that were grown in the area – wheat, barley and rye – which had been susceptible to agricultural blights. Over the next 500 years, rice became a mainstay of the local agricultural system, and was incorporated into the regional diet. In the 16th and 17th centuries, much of the land in the Grumolo area, located between Padua and Vicenza, and reclaimed via a system of canals by the nuns of the Abbacy of San Pietro in Vicenza, was converted to rice patties to support the demand for rice.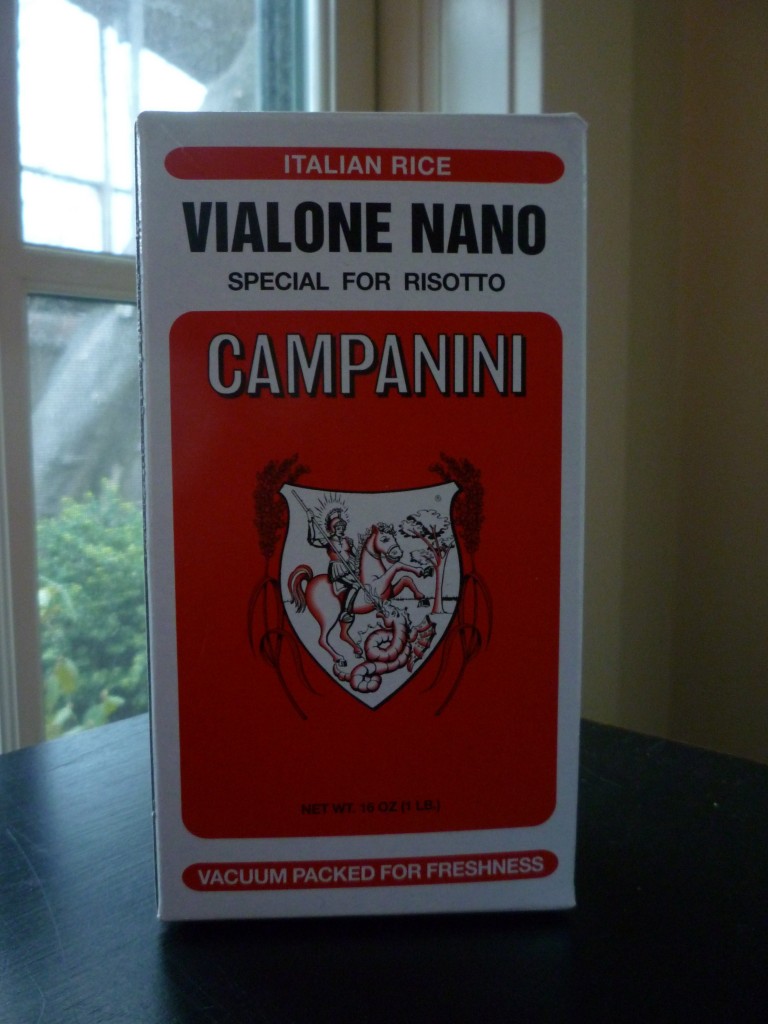 Today, only about 200 hectares are still devoted to the production of rice in the Grumolo area. The area is best known for it's unique regional strain of risotto rice, Vialone Nano. I can occasionally find it here in the US, at Micucci's market in Portland, ME. But always use it in our cooking classes in Italy.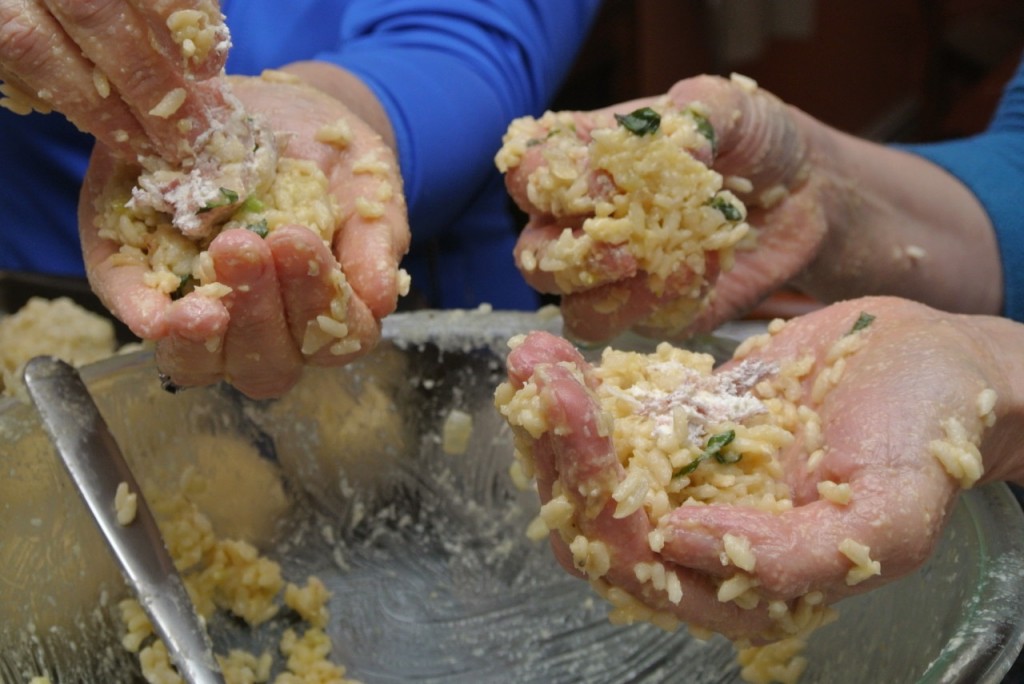 I've taught classes on risottos many time, both here in the US and in Italy. It's a basic technique that people can easily learn, and then adapt to make their own. One 'treat' that I include in these classes is a great use for their leftover risotto, a tasty deep-fried rice ball called 'arancini'.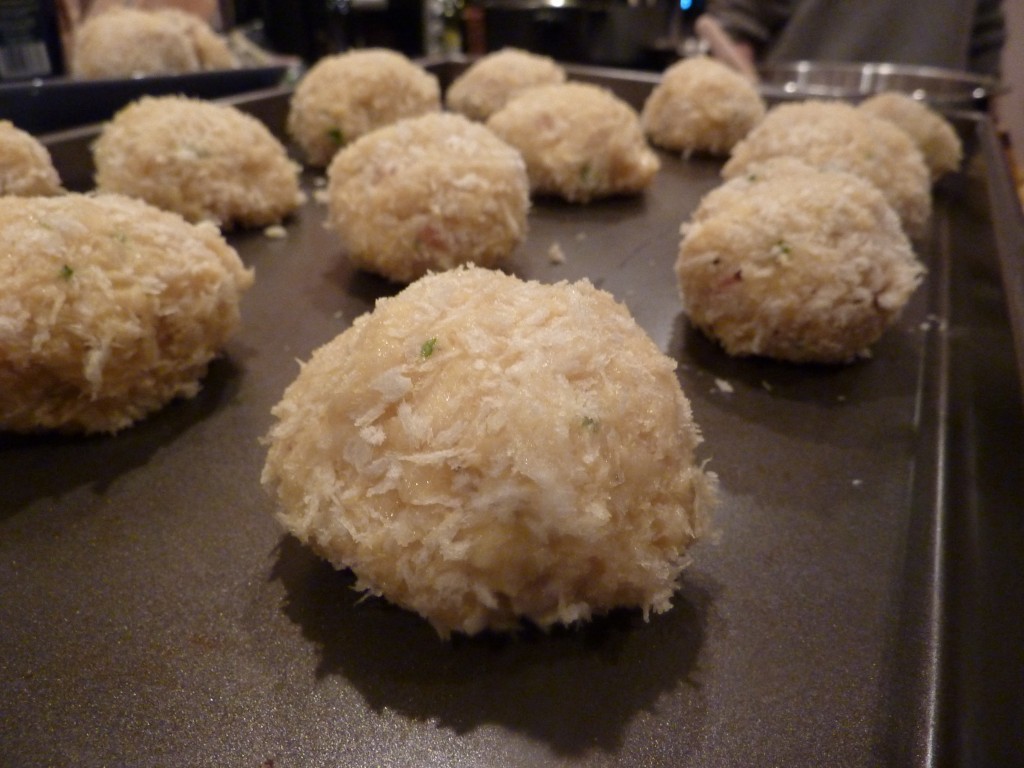 Arancini are fried rice balls covered with breadcrumbs. Reputed to have originated in Sicily in the 10th century, I don't see them often in the regions we visit, but they are tasty and fun to make. The name arancini comes from the food's color and shape, which resemble little oranges, 'arancina'. A common street food in Sicily, they typically are stuffed with a meat ragu (meat tomato sauce) and mozzarella, but you can find many specialty types, stuffed with mushrooms (con funghi), eggplant (con melanzane), and peas. In Rome, you will find a similar food called suppli, most typically stuffed with cheese. The melted cheese makes 'strings' as you pull it apart, 'suppli al telefono', or telephone wires. In Naples, they are known as Palle di Riso.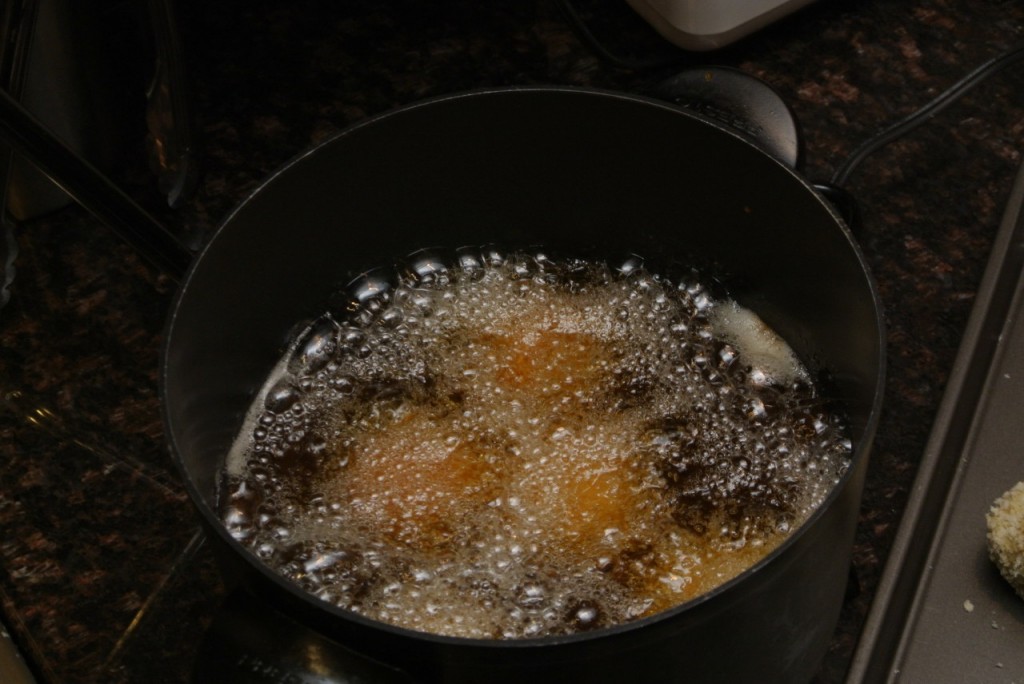 Here's a recipe I've used in my classes to great success. These are stuffed with prosciutto or speck and mozzarella; I use a wonderful local prosciutto from the Colli Berici in the Veneto, or a speck from Alto Adige. I'd add peas this time of year, they can be included in the stuffing or mixed in with the rice itself. I've also used goat cheese and mushrooms; or whatever else you can come up with! Keep them warm in a low oven while you fry them all up, but they are best enjoyed warm.
Arancini con Mozzarella e Prosciutto
4 1/2 cups leftover risotto
kosher salt and freshly ground pepper
1/4 cup unsalted butter, melted
2 tablespoons minced parsley
1 cup freshly grated grana cheese
4 eggs, lightly beaten,  two at a time
4 ounces mozzarella, cut into 1/4 inch cubes
4 ounces prosciutto, diced
bread crumbs or panko
flour
vegetable oil for frying
Place the risotto in a medium bowl. Season with salt and pepper, if needed. Add the butter, parsley, grana, two of the beaten eggs and stir gently to combine.
Lightly beat the remaining two eggs and season with salt and pepper. Place the flour in a shallow bowl, the beaten eggs in another, and the bread crumbs in a third bowl.
Combine the prosciutto and mozzarella.
Take a small handful (about 2 tablespoons) of rice and begin to shape into a small ball. Press into the ball with your finger to make a small hole. Fill the hole with some of the mozzarella and prosciutto, and then close the hole with a little additional risotto. Roll between your palms a bit to form a small ball, about the size of a small clementine. If they are too large, the stuffing inside will not get warm enough as it cooks. Place on a sheet pan, and form the remaining balls, attempting to keep them uniform in size.
Roll each arancino first in the flour, then dredge it in the beaten egg, and roll it well in the breadcrumbs. Place on a sheet pan.
Fill a heavy sauce pan with the vegetable oil to a depth of 3 inches. Heat the oil over medium heat to a temperature of 350°. Carefully place a couple of arancino in the pan and fry until a deep golden brown, turning occasionally. You want to make sure you cook them long enough so the cheese in the middle melts. Using a slotted spoon, remove from the oil and drain on a dish covered with a paper towel. Feel free to taste the first one, to check that the cheese has melted! Continue cooking until all are fried. Keep warm in a heated oven, and serve hot.