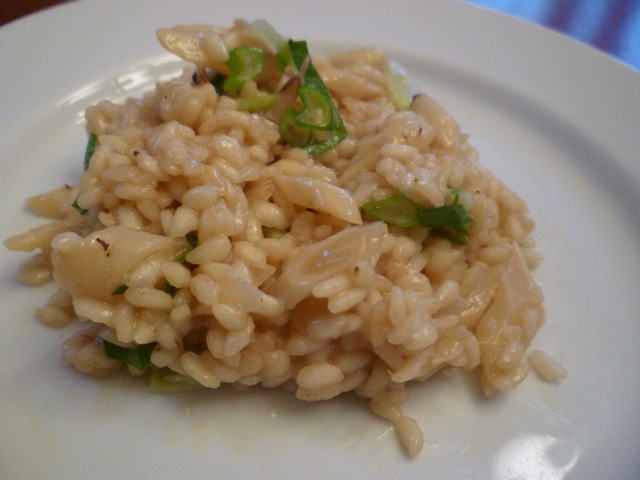 So many interesting foods are beginning to appear at local farmer's markets here in New England, now that spring is here. I love to try these new foods, and learn about their history in the culinary traditions of Italy. Scorzonera is my latest discovery, and now that I know what to look for, I'll keep my eyes open for it on our next culinary bike tour in Italy.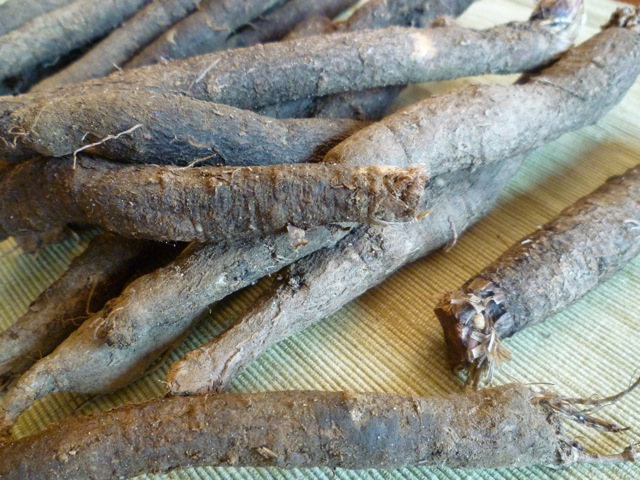 Scorzonera is the root of salsify, sometimes referred to as 'black salsify', due to the black color of the outer layer of the root. It is native to lands around the eastern Mediterranean, growing as far east as Siberia. It has likely been eaten since classical times, but actual cultivation began in Italy and France in the 16th century. It has never really taken off here in the US, and appears most commonly on tables in France, Italy, and Russia.
The name itself has a couple of origins: from the Italian words scorza, or bark, and nera, black. In addition, scorzone in Italian refers to a poisonous snake, and the salsify root has been used for a long time to treat venomous snake bites.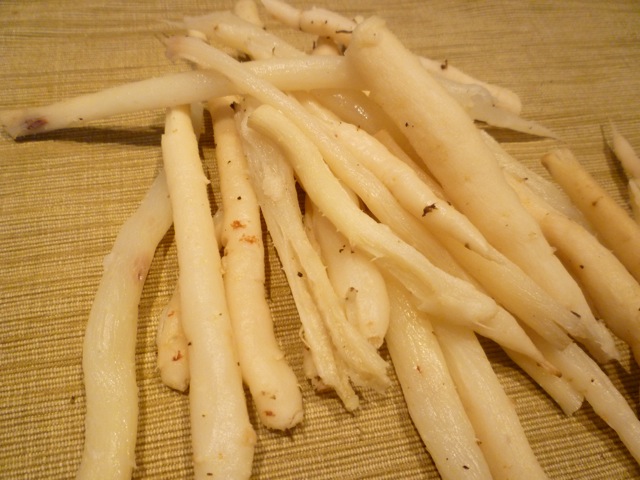 Salsify resembles a long, thin carrot, with an outer black layer that surrounds a white interior. The root is difficult to remove from the soil without damage, and if broken it should be used immediately, as it will discolor. When cutting to use in cooking, it should be kept in acidulated water to prevent it from turning brown.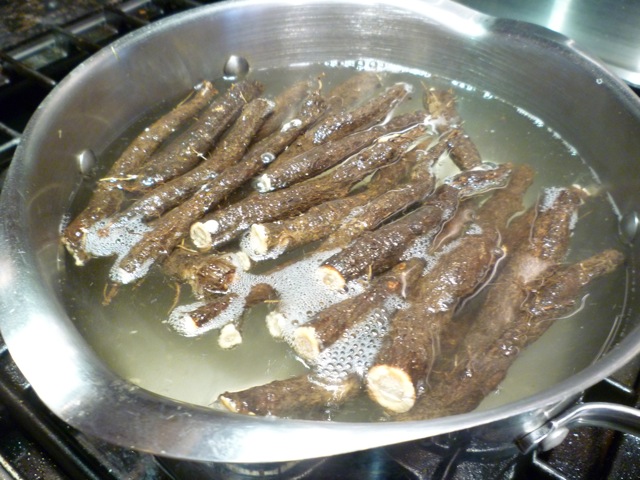 I had to do some reading and research to learn more about how to prepare scorzonera, and what types of dishes would include it. It is often roasted or boiled, used in a gratin, or in a nice cream based soup. Many suggested to cut into large pieces and cook it, unpeeled. Once cooked, the outer black skin slides off pretty easily. Not many recipes are available, especially in English, but a very traditional use in Italy would be in a risotto. With a flavor that has been described as a cross between artichokes and asparagus, scorzonera makes a wonderful addition to a spring risotto.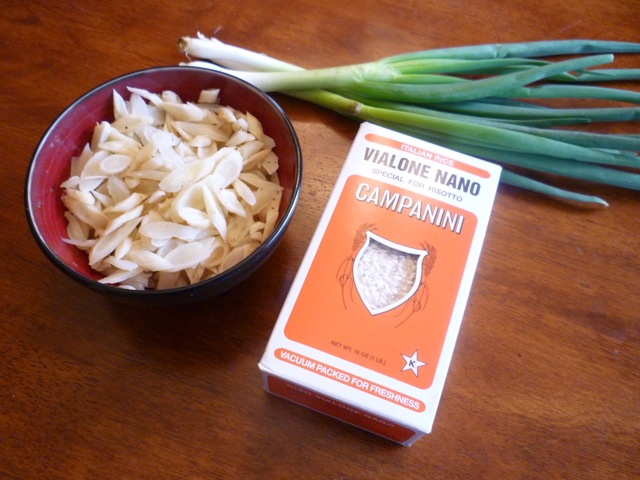 Risotto di Scorzonera
Serves 6
1 pound scorzonera
6 1/4 cups vegetable or chicken stock
1 1/2 tablespoons olive oil
1 1/2 tablespoons butter
1 leek, white part only, trimmed of roots and outer leaves, sliced thinly crosswise and swirled in a bowl of cold water to remove any grit
1 scallion, thinly sliced
2 cups risotto rice, vialone nano, arborio or carnaroli
1 1/2 cups white wine
1/2 cup grated grana cheese
1 tablespoon fresh herbs – chives, basil, mint – finely chopped
Place a large pot of water on the stove, and bring to a boil over high heat.
Trim the scorzonera roots, and cut into large pieces if desired. Place in the boiling water, and simmer until the roots are cooked through, about 15-20 minutes depending upon the thickness.
Remove from water, and when cool enough to handle, remove the outer black skin. This should be loose enough to simply rub off with your fingers. Cut the white core into 1/4 inch slices.
Bring the stock to a boil, then reduce heat and keep warm.
Heat the oil and butter in a large saute pan, add the leek, shallots, and scorzonera slices, and cook over low heat, stirring occasionally, for 5 minutes.
Add the rice. Stir for about 1 minute. Add the white wine, and simmer until it has evaporated. Stir in a ladleful of the stock. Cook, adding the stock a ladleful at a time, and allowing it to be absorbed by the rice before adding more.
Taste the rice occasionally as you add the stock, and stop cooking when the rice is al dente, you don't want it too mushy.  You may not use all of the stock. Add the grated cheese. Season with salt to taste, and serve, garnished with the chopped herbs – I used thinly sliced fresh spring onions as my garnish.
A nice wine to enjoy with this would be the aromatic Kerner, such as that produced in Alto Adige by Abbazia di Novacella.