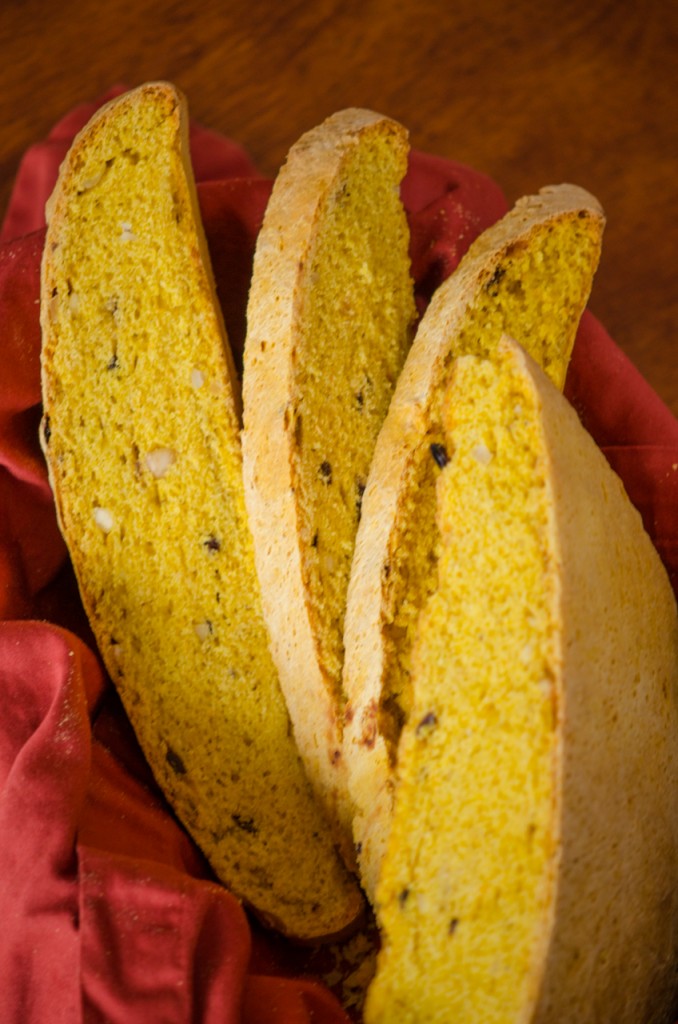 For a couple of weeks now I have been staring at my last winter pumpkin, waiting for some inspiration to determine it's fate. After my travels last year to Ferrara, the "City of Squash Eaters", I covered a sformato recipe as well as cappellacci di zucca. I've done a squash soup. I've done numerous risottos – not yet squash – but did rice last week. I was browsing through a recent issue of La Cucina Italiana, and spotted a recipe for a squash bread. I realized I hadn't yet done a bread recipe on this blog, so here's my first.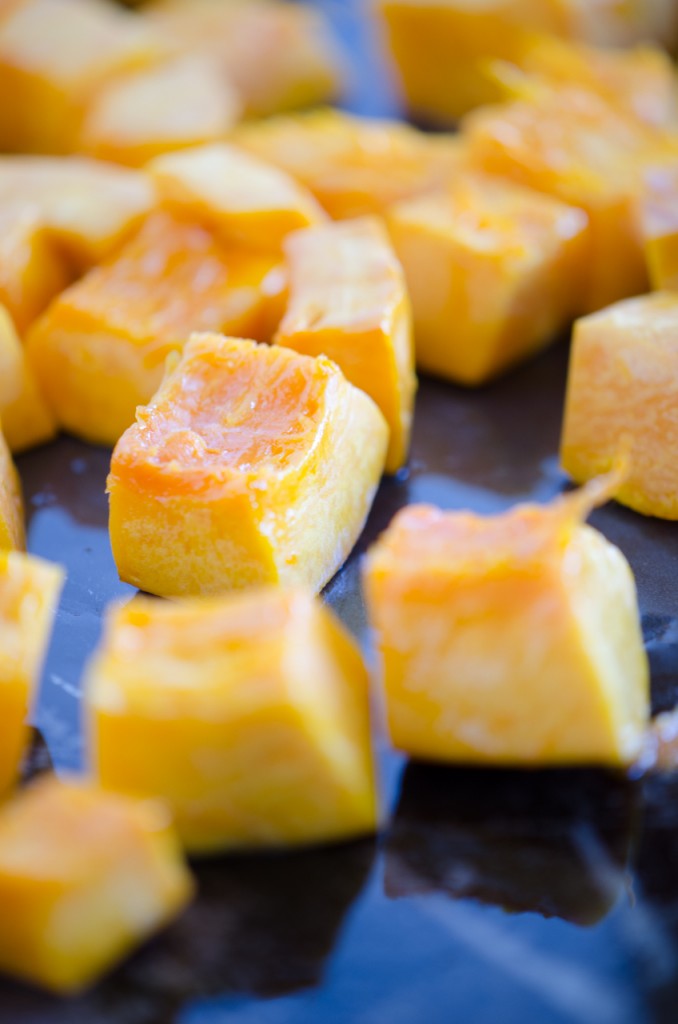 One I started looking for recipes for a pumpkin bread, I found dozens. The majority in Italian. I expected that the recipes would hail from the Northern regions of Italy, as pumpkin is a favorite food there, but I found several further afield – one from Tuscany, another from Umbria. The Franziskaner bakery in Bolzano, Alto Adige, describes their Pane di Zucca as made from a traditional recipe, well-suited for both elderly and children and a great accompaniment to meats and cheeses of the region. La Cucina: The Regional Cooking of Italy has a recipe from Emilia-Romagna – home to the aforementioned squash-eating city. This was the sweetest version I came across, including 1 1/2 cups sugar. Elisabeth Crawford includes a Pane di Zucca recipe in her cookbook, Flavors of Friuli. Her version of this baked treat is one of many featured during the Festa di Zucca, an annual festival held the last weekend in October in the small town of Venzone in Friuli-Venezia Giulia. I suspect that every region in Italy that produces squash – which includes most of Italy, from Friuli and Alto Adige to Sicily – has some variation of this bread in it's cuisine.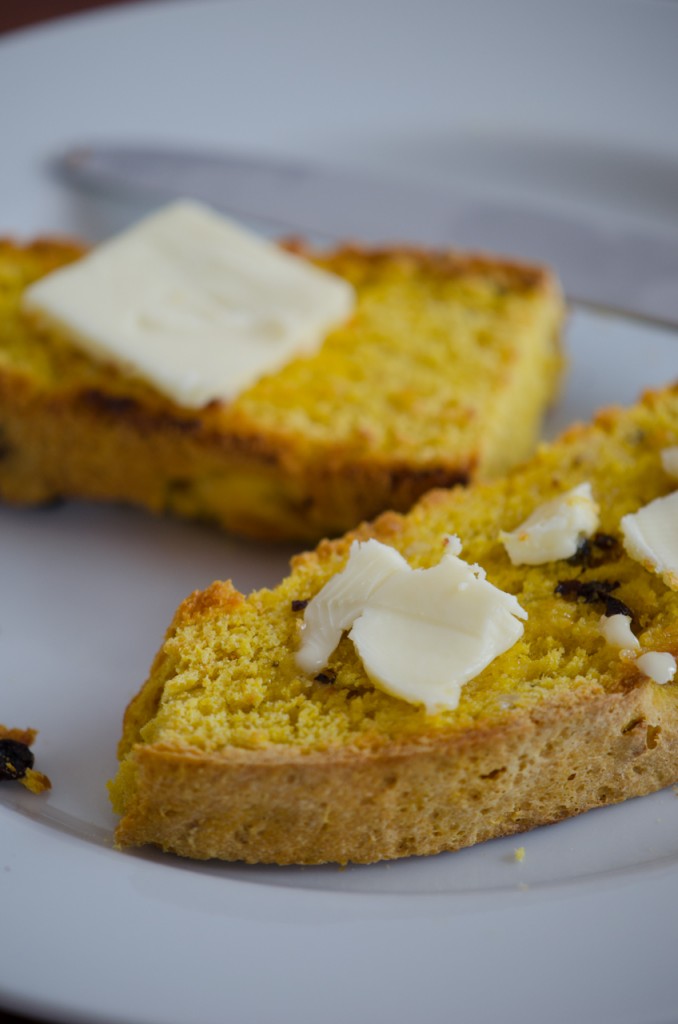 All versions included some sort of winter squash or pumpkin that has been cooked – boiled, roasted, however – and then mashed. Adding mashed vegetables, like potatoes, to bread results in breads that are moist and keep longer, so was often done back in the day when the big brick community oven might only be fired up once a week or so. Some were sweet versions that included sugar, and are meant to be served as a dolce, but I elected to keep this version sugar-free. Many included either nuts, or raisins, I added both currants and hazelnuts.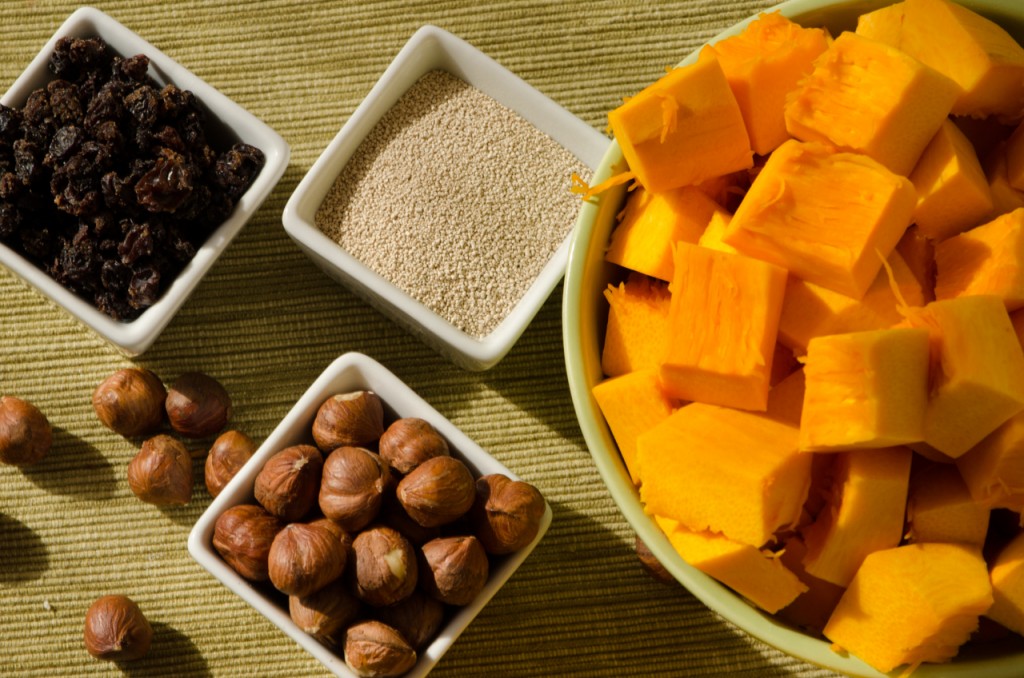 Pane alla Zucca/ Pane con ucca/ Pane di Zucca
2 cups 1/2 inch cubes pumpkin or butternut squash
Olive oil for coating squash and bowl
Kosher salt
2 1/2 cups all purpose flour
1 1/2 cups semolina flour
2 1/2 teaspoons active dry yeast
2 1/2 tablespoons unsalted butter, at room temperature
1/4 cup hazelnuts, toasted, skins removed, and coarsely chopped
2 tablespoons currants, soaked in a tablespoon of warm water, drained
Preheat oven to 375°.
Place the squash cubes on a sheet pan, drizzle with olive oil and toss the cubes to coat them in the oil. Season with salt. Place in the oven and roast until tender, about 12 minutes. Remove from oven, and pass the cubes through a ricer to mash, or just mash with a fork until smooth. Allow to cool to room temperature.
In a large bowl, dissolve the yeast in 1 cup warm water (110°); let stand until foamy, about 10 minutes. If the mixture doesn't foam, begin again with fresh yeast.
In a second bowl, combine the all purpose flour and the semolina flour with 1 teaspoon of kosher salt. Add the smashed pumpkin, butter, and flours to the water and yeast, and, using your hands, combine to form a soft dough. Turn dough out onto a lightly floured work surface, and knead the dough for 10 – 15 minutes, until soft and elastic. As the dough becomes soft, knead in the chopped nuts and the currants.
Coat the inside of a large bowl with olive oil. Place the dough in the bowl, turning to cover the entire ball of dough with olive oil. Cover with plastic wrap and allow to rise in a warm place until doubled in size, about 90 minutes.
Turn the risen dough out onto a floured surface, and form it into a 5-6 inch round loaf. Place on a baking sheet and loosely cover with plastic wrap. Let rise in a warm place until double in size, about 45 minutes. While the dough is rising, preheat the oven to 400°.
Place bread on the middle rack in the preheated oven. Bake until the loaf is golden brown and sounds hollow when tapped, about 45 minutes, rotating loaf about halfway through. Transfer to a rack and allow to cool completely.