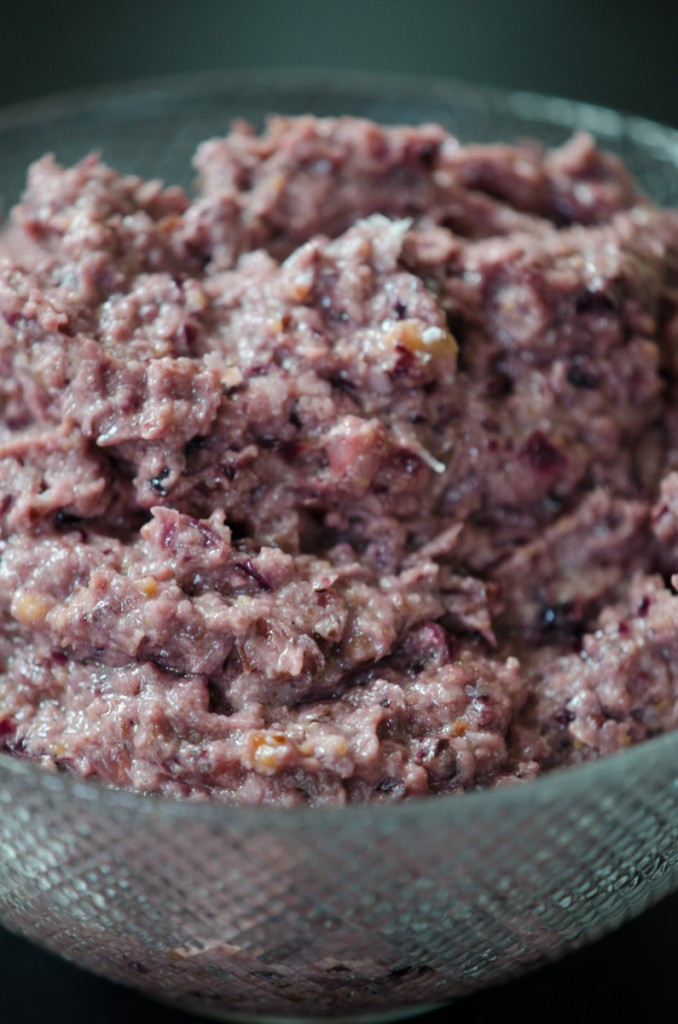 Pesto is most commonly interpreted as a mixture of crushed basil, garlic, cheese, nuts and olive oil, but this simple technique can be applied to so many other ingredients. We see many varieties on our cycling tours in Italy – lots of basil, but also white asparagus, zucchini, pea and mint.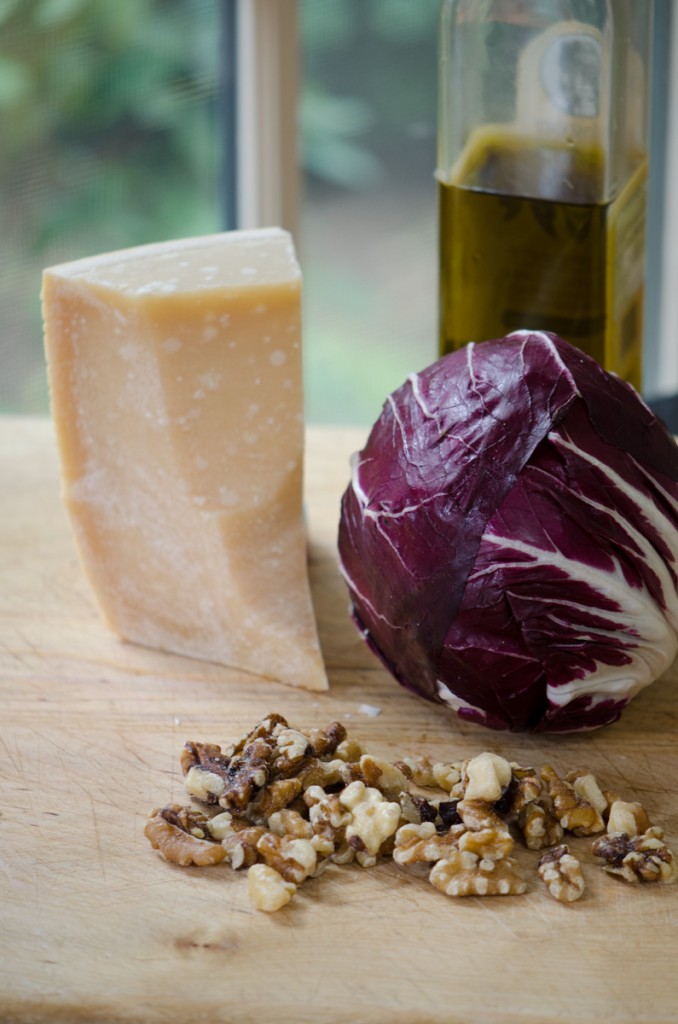 The word 'pesto' derives from the Italian word "pestare", which means to pound or crush. Traditionally, a pesto would be made using a mortar and pestle, with the ingredients being 'ground' with a circular motion of the pesto. Now apply this same technique to, say, asparagus, and you get a wonderful sauce for pasta.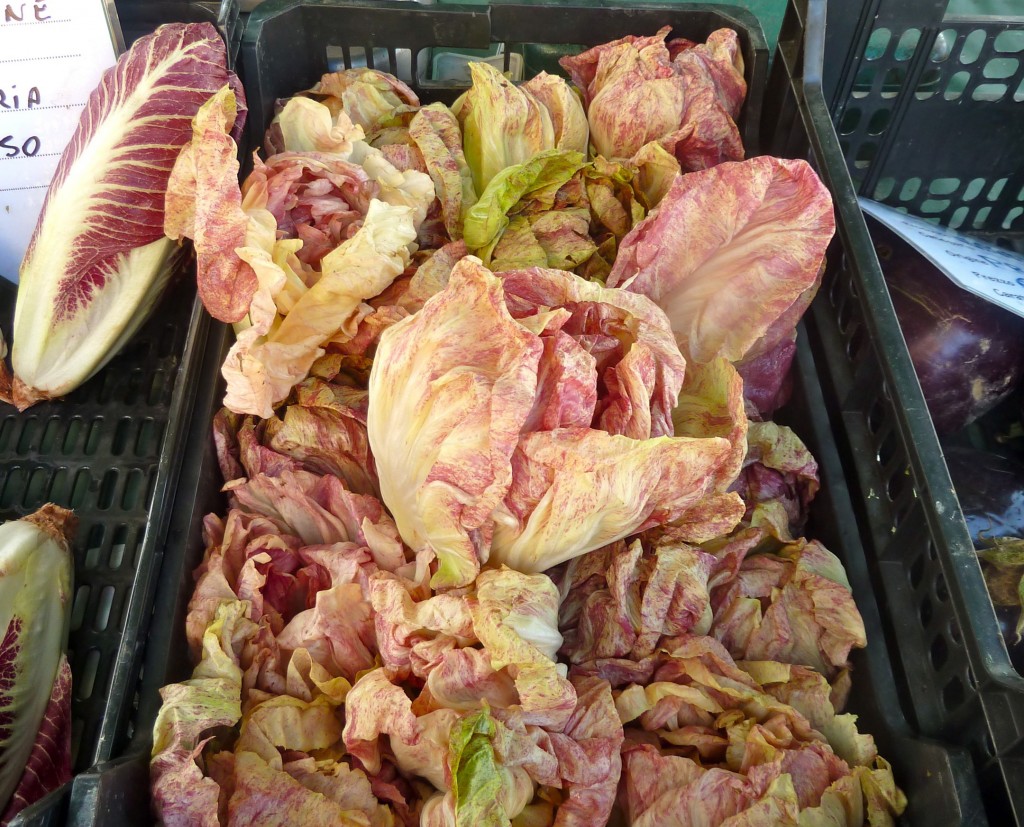 I like to play with all sorts of variations which I've posted in the past – garlic scape, AOP (garlic, oil and peppers), asparagus. Today I'm introducing another, radicchio. This pesto is has a slightly bitter, savory flavor, and goes well with grilled vegetables, grilled chicken, or on pasta. My dinner tonight is pasta with radicchio pesto and sausage, inspired by a recipe from Melissa Clark on the New York Times blog Diner's Journal, Grilled Sausage and Radicchio.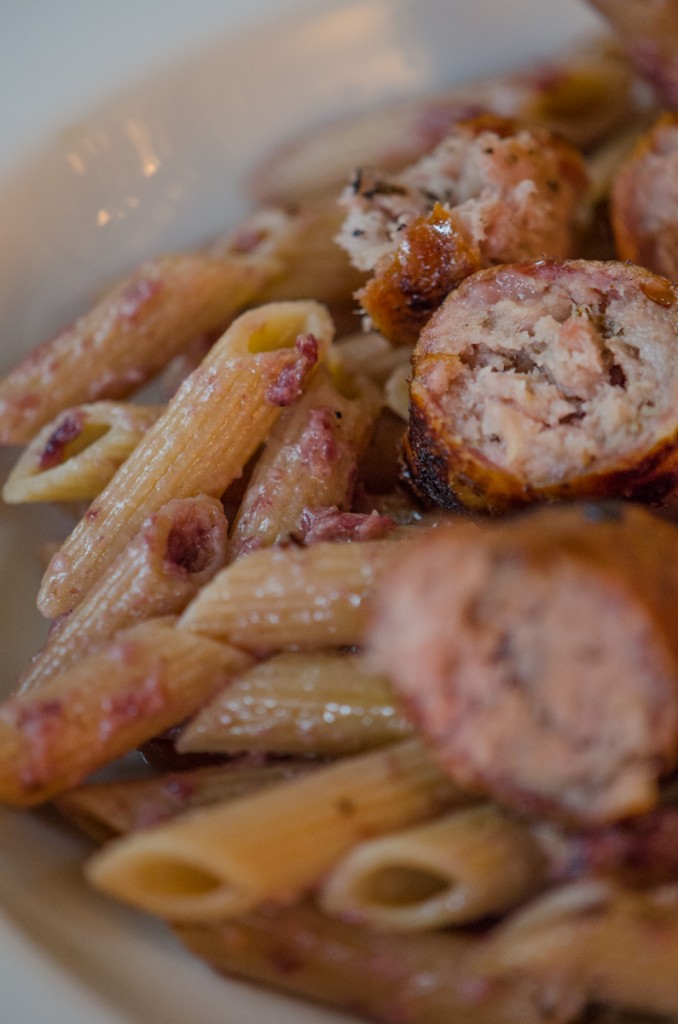 Radicchio, a member of the chicory family, was first introduced to the Republic of Venice from Asia around 1400. It began to be cultivated fairly extensively in the region, but it served primarily as animal fodder, and the roots were dried and mashed and used as a substitute for coffee. It was also included as an ornamental plant in the botanical gardens of the Venetian aristocracy. It wasn't until the 19th century that radicchio was introduced into the cuisine of the Veneto. It does make an occasional appearance in its raw form, but the preferred method of use is as an ingredient in pasta fillings, rice dishes, or sauteed and served as a side dish to braised meats.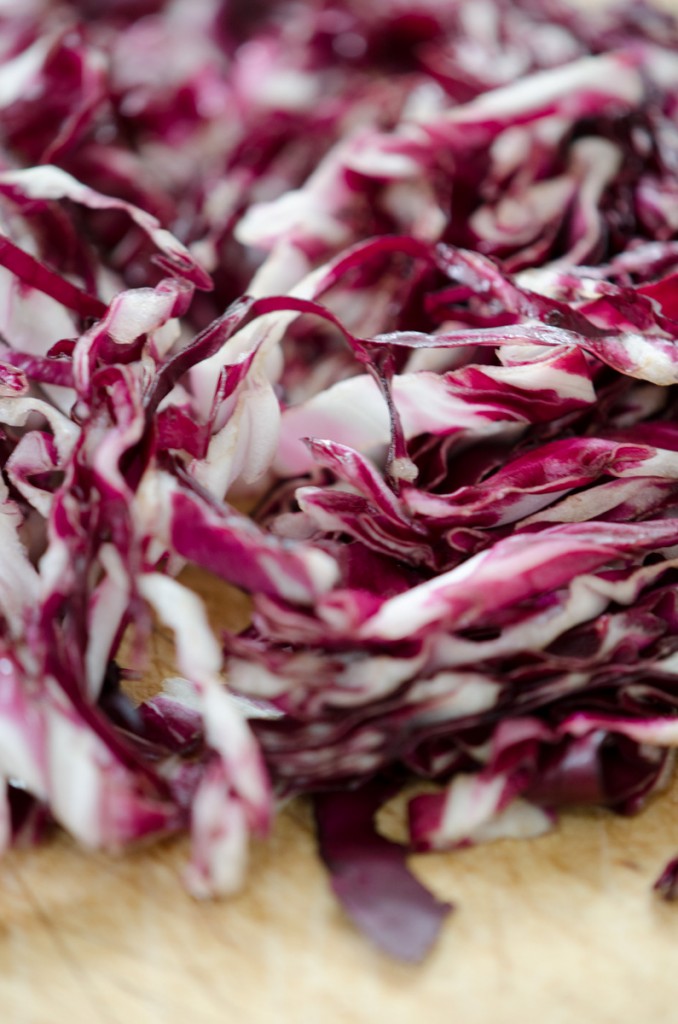 Here in the US, we see predominately the Radicchio Rosso di Chioggia form, which was first grown in the town of Chioggia on the Venetian Lagoon. This type is ball-shaped, like a small cabbage, and mostly purple in color with larger white streaks, or veins. In the Veneto region, however, there are many other varieties, each making an appearance at a slightly different time of year, and displaying its own culinary characteristics. On our Italiaoutdoors Food and Wine web site, our food section introduces a few these very interesting varieties, ranging from dark purple to white streaked with light green and pink.
Radicchio Pesto
A few tablespoons extra virgin olive oil
1 head radicchio, chiffonade
1/2 onion, minced
1 clove garlic, minced
Handful toasted walnuts
A few tablespoons heavy cream
1/2 to 2/3 cup grated cheese
Kosher salt and freshly ground pepper
Place the cut radicchio in a small bowl of cold water and allow to sit for 30 minutes. This will remove some of the bitterness. Drain and squeeze out as much water as possible.
Place 1 tablespoon olive oil into a sauté pan, and heat over medium heat. Add the radicchio and onion, and sauté until soft and dry and beginning to brown, about 10 minutes. Add the garlic, sauté until aromatic, about 30 seconds. Transfer into blender.
Add the toasted nuts and pulse to chop. Add enough olive oil and heavy cream to reach the consistency you desire. Transfer to a small bowl, and combine with grated cheese. Season to taste.