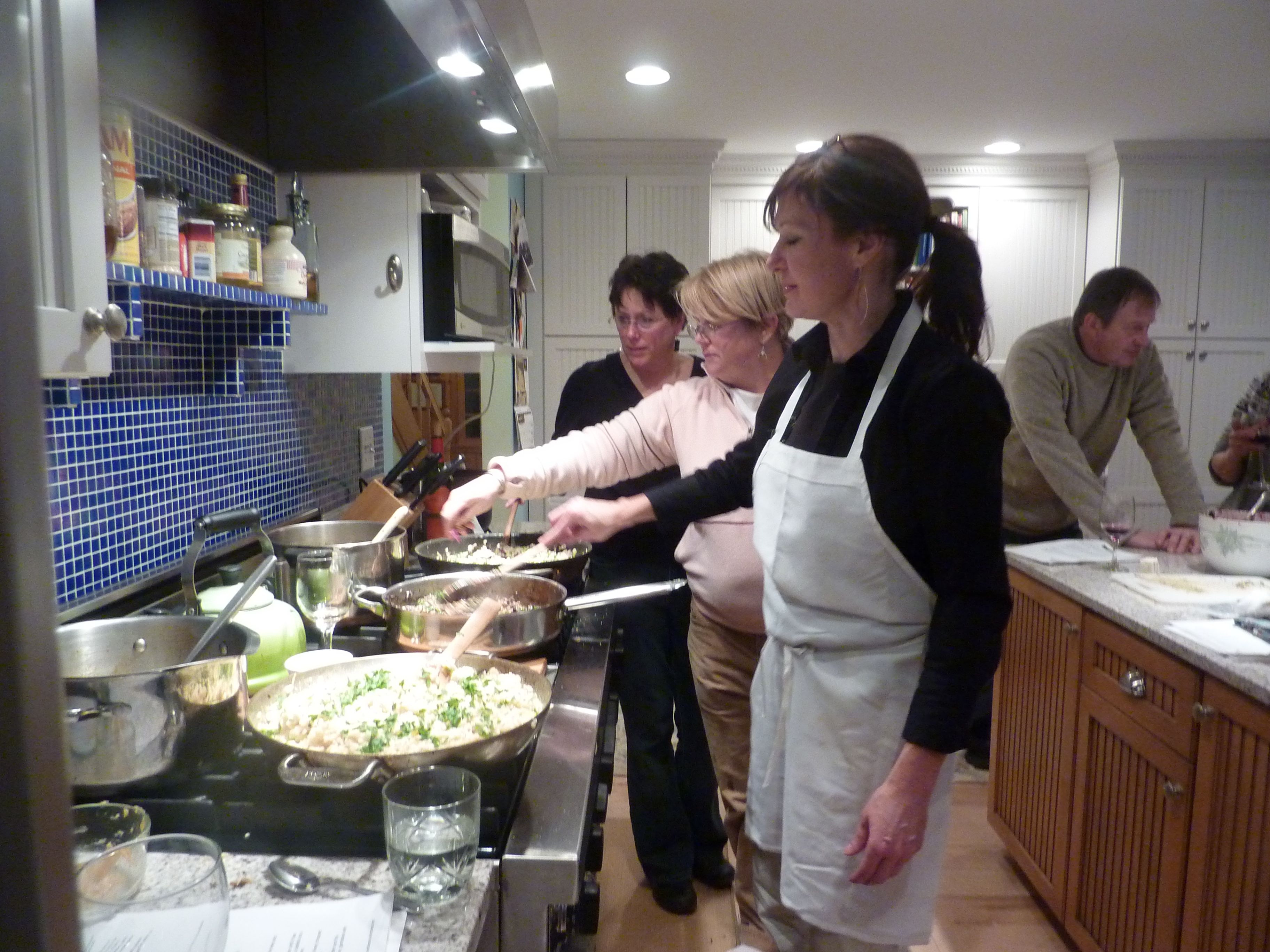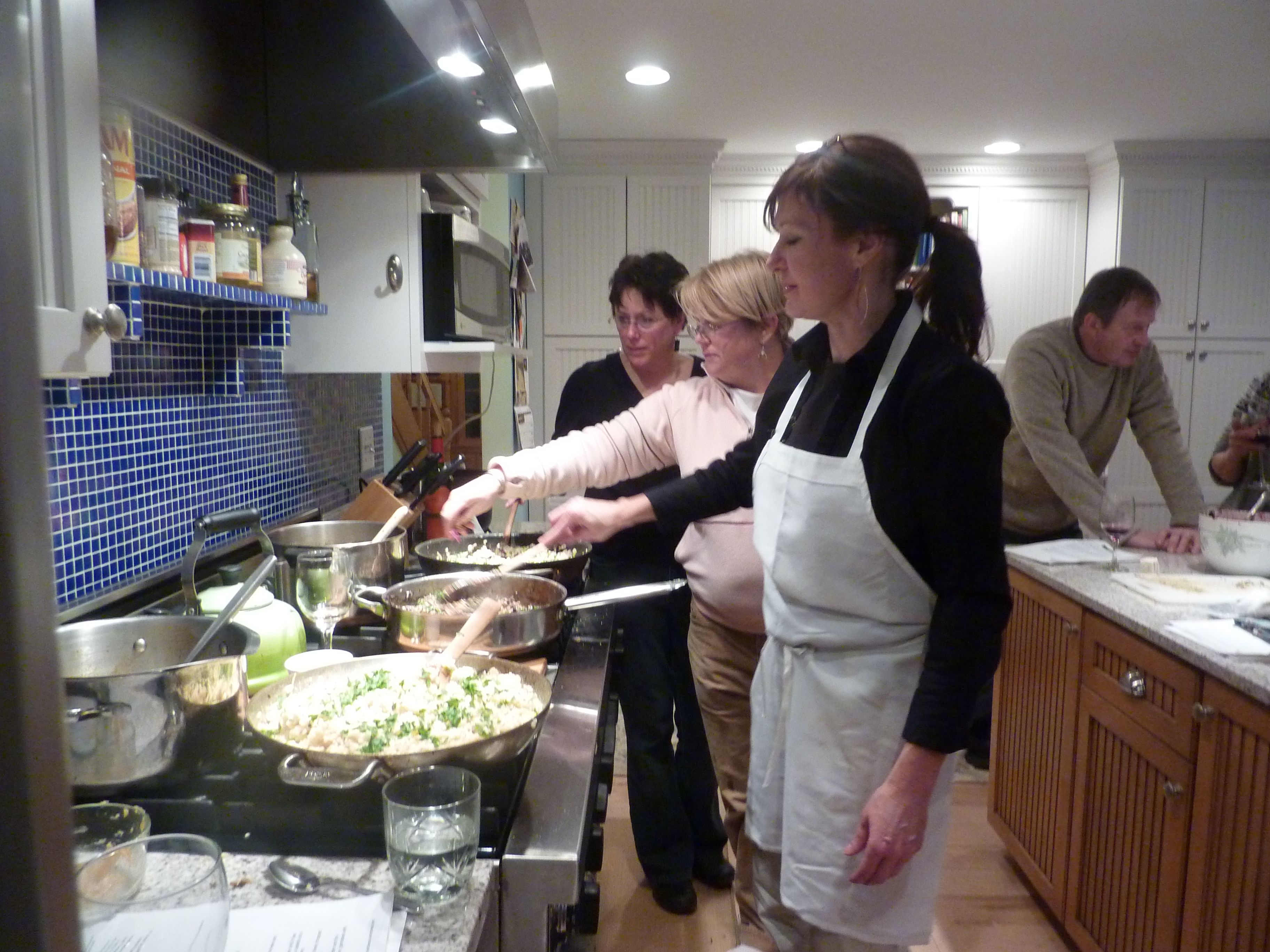 Last Monday we had another very enjoyable cooking class in the back woods of Sugarloaf, ME. A enthusiastic group of women, plus two brave men faced brutal sub-zero temperatures to gather at my friend Nancy Marshall's house for an evening of cooking, eating, wine, and great fun. On the menu that night – risottos. I planned three types, a spin on the classic Venetian Risi e Bisi, a seafood risotto with smoked salmon, and a barley risotto with mushrooms, red wine and arugula.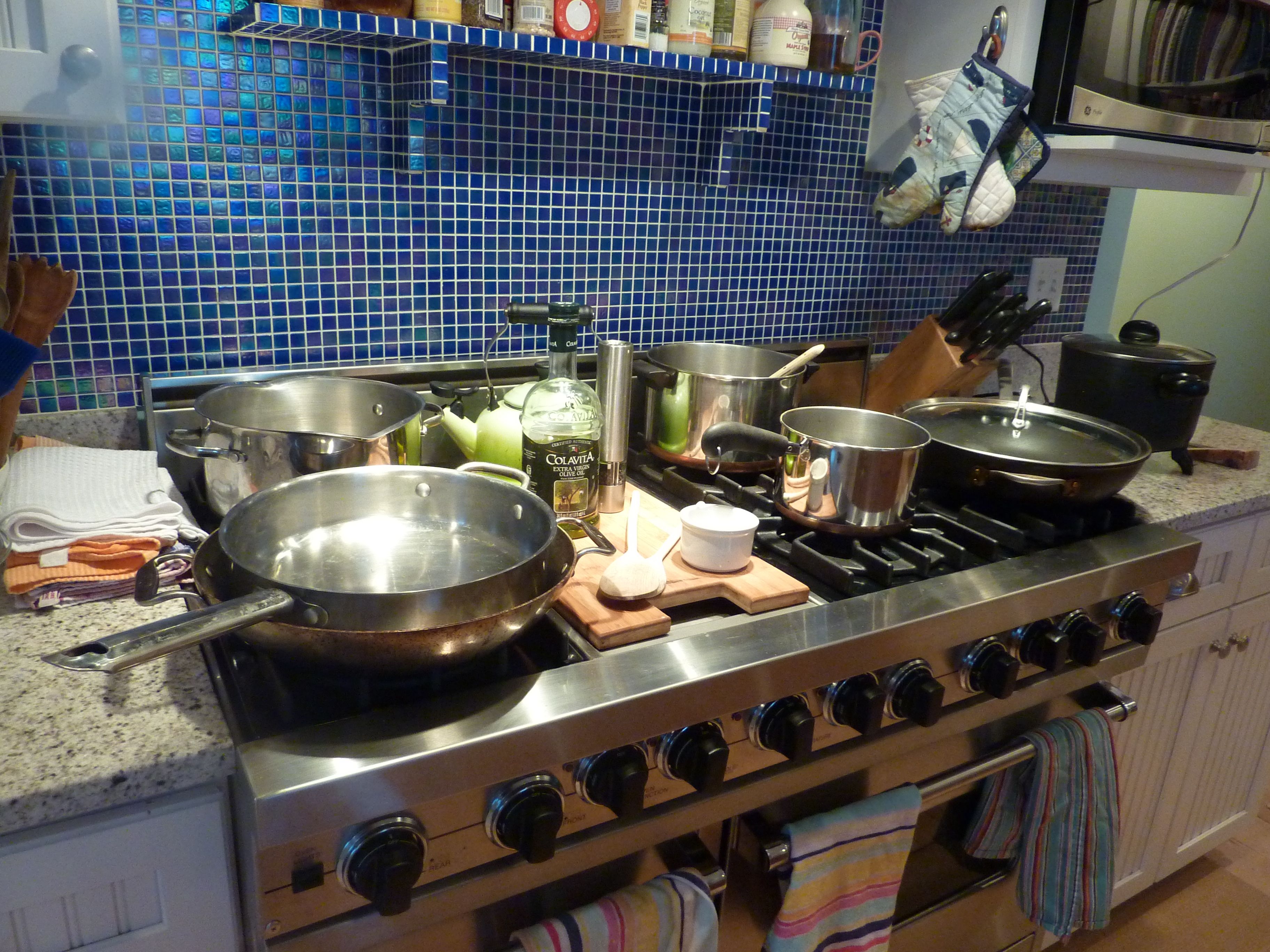 Okay, so we did almost burn down Nancy's house in the process. The picture on the right shows the stove set up for cooking our three risottos prior to class. Note the stack of dish towels on the left, right near the gas burner. There is a lot of fun and bustle in the kitchen during my classes, and some wine is consumed, and somehow during all of this activity this stack of towels burst into flames. I could attribute this to spontaneous combustion – my 15 year old son Liam would be a proponent of this explanation, having viewed the movie Spinal Tap a few too many times. However, the towels were probably pushed a little to the right as ingredients were moved back and forth, and – poof! A quick thinking Nancy grabbed the stack, threw it in the sink and doused them with water. There was then a search for the fire extinguisher, just in case. Although if the fire extinguisher had been used there wouldn't have been much risotto to eat, as the spray would have pretty much covered everything on the stove – Nancy's method saved our meal! Her dish towels, however, are toast. Literally. Future classes will have these located far from the stove.
More pictures from the class are available on our Italiaoutdoors facebook page.
Back to the class: the basic technique for cooking risotto is pretty simple. The three recipes we used were simple variations on this basic technique. You may or may not use wine; you can add different ingredients at the beginning or at the end, depending on the cooking time they need – vegetables, cheeses, butter, meats, seafood, shellfish; you use different stocks, to complement the other flavors in the dish; you may even use grains other than rice – here, I used pearled barley for one of our recipes.
Basic Risotto Technique:
Heat the stock
Saute soffrito or similar vegetables (onion, carrot, celery, leeks, garlic) in oil in a heavy bottomed saucepan until tender
Add any vegetables or meats that may require a longer cooking time (mushrooms, uncooked meats, bacon/pancetta.
Add rice and saute a few minutes
Add wine, if using. Cook until absorbed.
Add stock, 1/2 cup at a time, cooking until it is absorbed before adding more
Stop adding the stock and remove from heat when tender, but still at little firm to the bite
Add any remaining ingredients – cheeses, butter, cooked meats, shellfish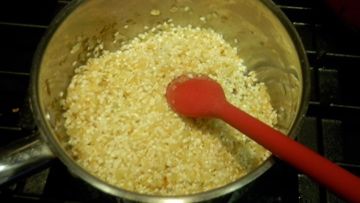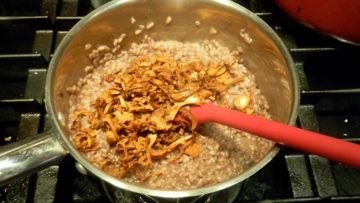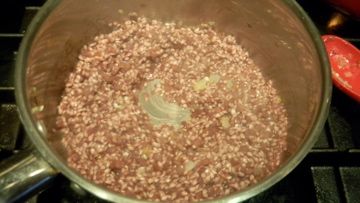 Depending on the recipe, you may add additional ingredients at the start, or at the end. But basically that's it – the cook time will vary depending on the grain. A rice risotto takes about 30 minutes; the barley version may take 45 to 50, depending upon how 'pearled' the barley is. Other grain options include farro, or any of the various whole grain blends available from Kashi or Bob's or a variety of suppliers here in the US. Depending upon the grains you use, the result may not be the creamy consistency you will get with a true risotto rice (more on this below) but will certainly be a healthy and delicious meal.
Risottos in Northern Italy
When referring to Italian food, most people immediately think of pasta. But Italy is the greatest rice producing nation in Europe, and the Po River valley in Northern Italy is the largest rice producing region in Italy. Since Venice controlled the major part of this fertile valley for centuries, rice is a mainstay of their cuisine; more prevalent than pasta. Venetians have a myriad of risotto dishes, but probably the most famous of all is Risi e Bisi, Rice with Peas.
Often prepared and served somewhat thoughtlessly, it can be a rather bland dish. However, historically it was created to celebrate the arrival of the new crop of fresh peas and only eaten in early spring. This dish was traditionally served to the Doge (Ruler) of Venice on April 25, the feast day of the patron saint of Venice, Saint Mark. This feast day roughly coincided with the annual introduction of the first baby peas at the Rialto market in Venice.
In Venice, a proper Risi e Bisi would appear to us Americans as more soup-like than the risottos we are familiar with. Their risottos are much more liquid, risotto all'onda, or "risotto with waves". You should be able create 'waves' in your risotto by tipping your plate.
Most chefs are familiar with the use of two strains of rice for risotto, Arborio and Carnaroli. Carnaroli rice is grown in the Grumolo area today. But the area is perhaps best known for its unique regional strain, Vialone Nano. Developed in 1937 by crossing the Vialone strain with the Nano,  it is considered by many to be the premier risotto rice produced in Italy. It is the only European rice with its own IGP quality designation.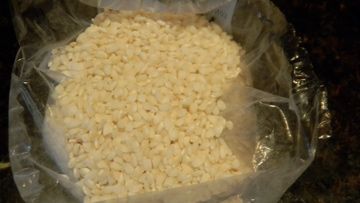 I use Vialone Nano rice when in Italy, cooking on our Italiaoutdoors trips, but cannot find it here in the states. Arborio and Carnaroli are pretty readily available here. Carnaroli has a longer, larger kernel that retains is consistency during cooking, as it releases the starch that contributes to a nice, creamy risotto.
Here, I've played with a traditional risi e bisi recipe, and added radicchio and mascarpone – both ingredients also found in the Veneto. A little lemon and pistachios, and you have a dish that is worth serving even if the peas aren't from Lumignano in April.
Risi e Bisi con Radicchio e Pistacchi
Serves 4-6
2 ¼ cups peas, shelled or 1 package frozen peas, defrosted
5 cups chicken stock
3 tablespoons olive oil
¼ cup butter
1 leek, white part only, trimmed of roots and outer leaves, sliced thinly crosswise, and swirled in a bowl of cold water to remove any grit.
1 garlic clove
1 celery stalk, chopped
1 cup risotto rice, preferably riso Vialone Nano, Carnaroli, or Arborio
1 small head radicchio, washed, dried, and thinly sliced crosswise
½ cup Asiago d'Allevo stravecchio or Parmigiano Reggiano, freshly grated
½ cup mascarpone cheese
½ cup raw pistachios, very finely chopped
Zest from one lemon
salt and freshly ground pepper
Bring the stock to a boil. If you are using fresh peas, rather than the chicken stock, you can create a pea stock by boiling the (washed) pea pods in 6 cups of water for 10 minutes. Fill a large bowl with ice water. Remove the pods from the stock, then add the fresh peas. Cook the peas, uncovered, until tender, which should only take a couple of minutes, especially if the peas are tiny. Remove the peas from the stock, and immerse in the cold water. Remove from the water and set aside. If you are using defrosted frozen peas, you can skip this step – they have already been blanched.
Heat the oil and half the butter in another pan, add the leek, garlic and celery and cook over low heat, stirring occasionally, for 5 minutes. Remove and discard the garlic.
Add the rice. Stir for about 1 minute, and then stir in a ladleful of the stock. Cook, adding the stock a ladleful at a time, for about 20 minutes until the rice is tender and all the stock has been used. Add the radicchio and continue to cook until radicchio is tender, about 5 minutes. Add the peas and cook until heated through.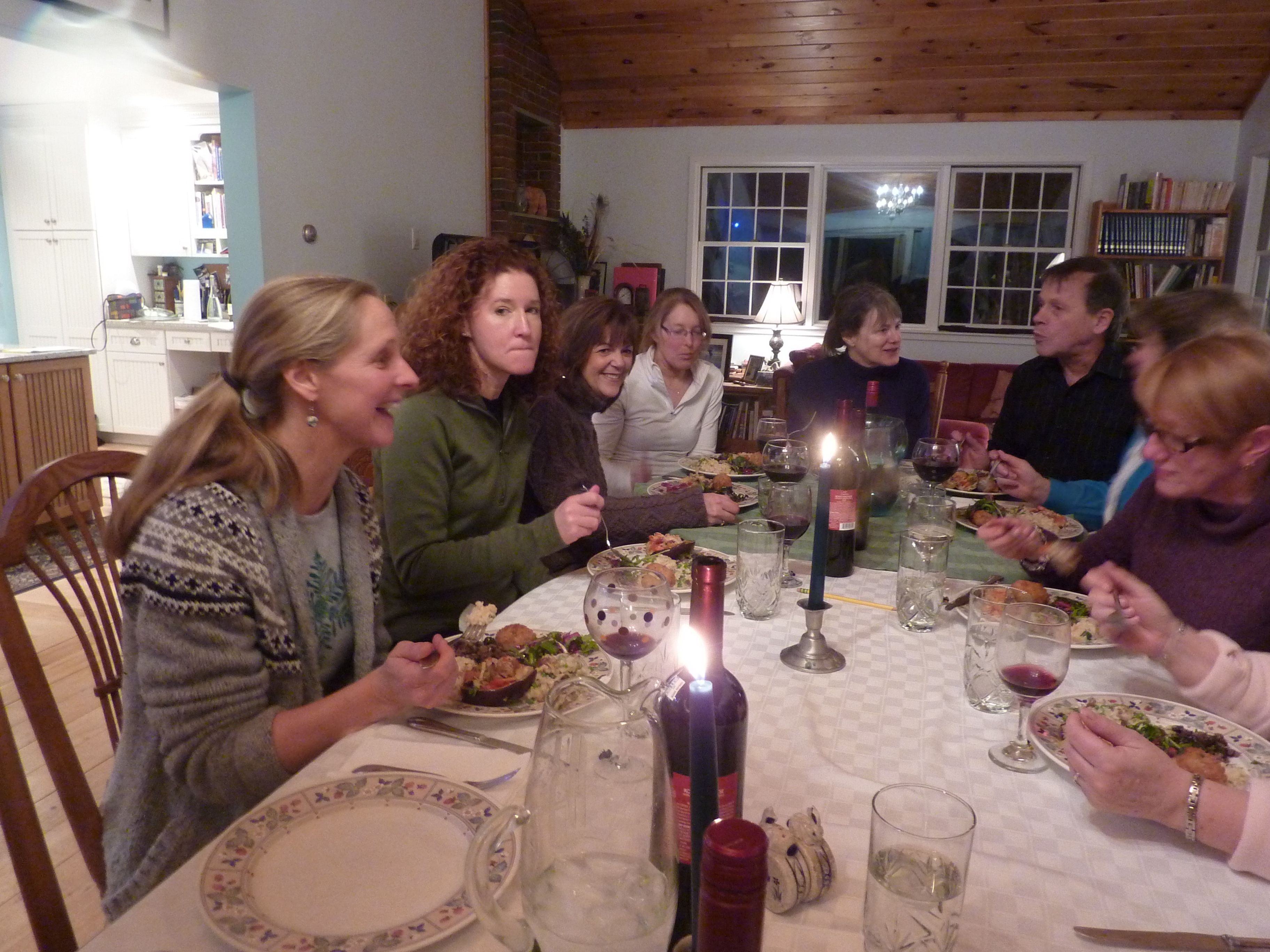 Season with salt to taste, stir in the remaining butter, the Asiago or Parmesan, and the mascarpone. Add the pistachios and lemon zest, reserving a tablespoon or so of the pistachios to garnish. Pour into a soup tureen and serve, garnish with the remaining pistachios.