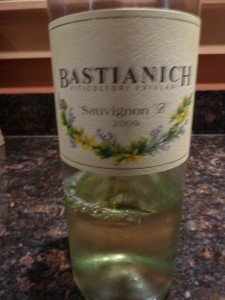 I thought I would begin sharing some of the wines I am discovering as I 'research' the wines of Northern Italy for our Italiaoutdoors culinary vacations where we enjoy biking, hiking and skiing there. Yes, my job is so tough sometimes. But reading up on each wine, tracking it down (not easy here in the states, if possible at all), and documenting it does take a bit of discipline and time. Here's my first post in this vein – the Bastianich Sauvignon "B" 2009 from Friuli-Venezia Giulia.
A well-known name in the US restaurant and Italian food world; mother Lidia, famous chef, TV show host and cookbook author, hails originally from the Istrian peninsula in this region; son Joseph is a very successful restauranteur (with his partner, Mario Batali.) Joseph operates several vineyards in Italy, with this being his most recent venture. The Bastianich's have acquired prime vineyards in the Buttrio/Premariacco region on the southernmost hills of the Colli Orientali del Friuli DOC, and near Cividale, where their vineyards are subjected to the cooler winds from the north, resulting in particularly aromatic wines.
They cultivate Pinot Bianco, Pinot Grigio, and Sauvignon varietals, as well as local varieties such as Tocai Friuliano. This area is traditionally known for producing single-varietal wines, but the Bastianich's are producing blends here, specifically their Vespa Bianco and Vespa Rosso (the name vespa means wasp, which are attracted to the ripening grapes.) Also produced here is a red blend, Calabrone (or hornet), made from dried grapes. The cellar here has a drying room, where the winemakers are experimenting with a variety of grapes. Another example is the Tocai Plus, which is a blend of late-harvest and dried fruit from a single vineyard of 60 year-old wines.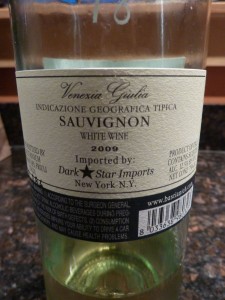 My tasting was of the Bastianich Sauvignon B 2009. Note that this is an IGT (Indicazione Geographica Tipica) wine, which indicates a wine that is considered to be higher quality thatn your average table wine, but does not adhere to the established DOC/DOCG wine laws for this region. Made from 100% sauvignon blanc grapes, I found it very crisp, dry and refreshing with a fruity aroma – the description on line describes it as a mix of grapefruit, mango, mint, tomato leaf and white sambuco. I found it had a good balance between the tartness and the other flavors, but not overbearingly grapefruity like some Sauvignon Blancs can be. A nice first course wine, which would pair well with antipasti and risottos – a wonderful match with my Risi e Bisi with Radicchio and Mascarpone.