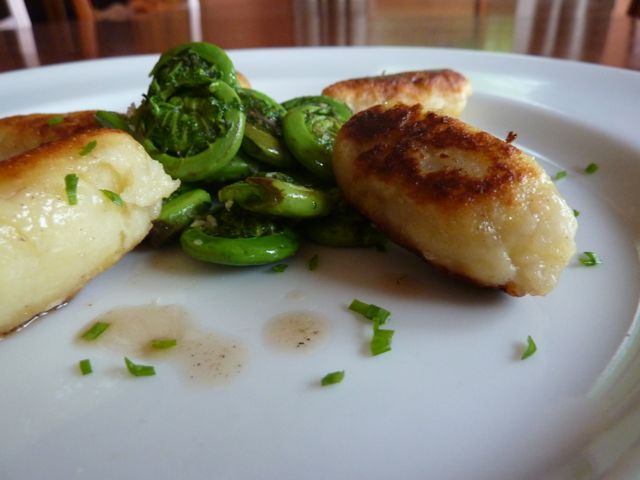 Previously, I've covered several gnocchi recipes in my posts, from a potato gnocchi to a buckwheat squash version. It's a food common to all the regions we visit with Italiaoutdoors, and there are so many different and interesting preparations. From potato, buckwheat, ricotta, mixed with meats from prosciutto to spleen, cheeses, and all sorts of greens, not to mention squash and bread, it has been a way to put all your leftovers to use for centuries. I don't think I'll run out of material on this subject for quite some time! On my Italiaoutdoors web site, there is a brief overview of the various different types of gnocchi we see in the Veneto, Trentino-Alto Adige and Friuli-Venezia Giulia.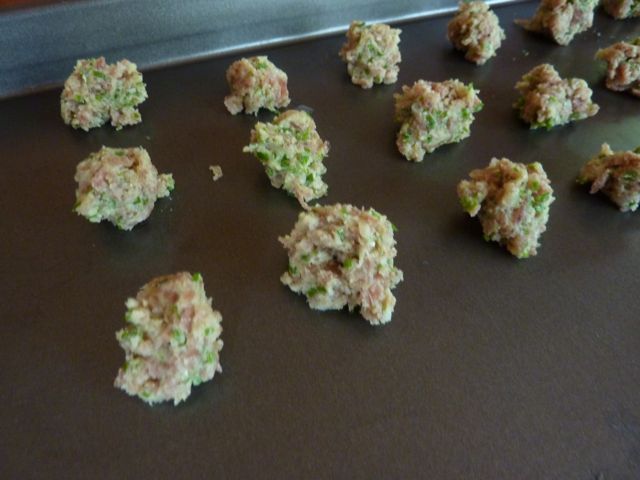 I recently came across a wonderful book on the regional foods of Friuli-Venezia Giulia, entitled Flavors of Friuli by Elisabeth Antoine Crawford. Interesting and well-done recipes, combined with great information on the producers and restaurateurs of the region makes it a fantastic resource for me. This latest recipe for gnocchi comes from there – "Gnocchi Croccanti di Sauris". It is a gnocchi that has been stuffed with cheese and prosciutto, then pan seared after it has been first cooked in water. The prosciutto in this recipe is the wonderful local Prosciutto di Sauris, which I have never seen here in the US. Substitute another high quality prosciutto, like the San Daniele, also from Friuli.
I've seen several recipes for gnocchi croccanti, but many are not stuffed, just simply pan seared to finish. In Friuli, there is another classic gnocchi dish, Gnocchi di Susine, which is also a stuffed gnocchi, this one a sweet gnocchi which has been stuffed with fruit.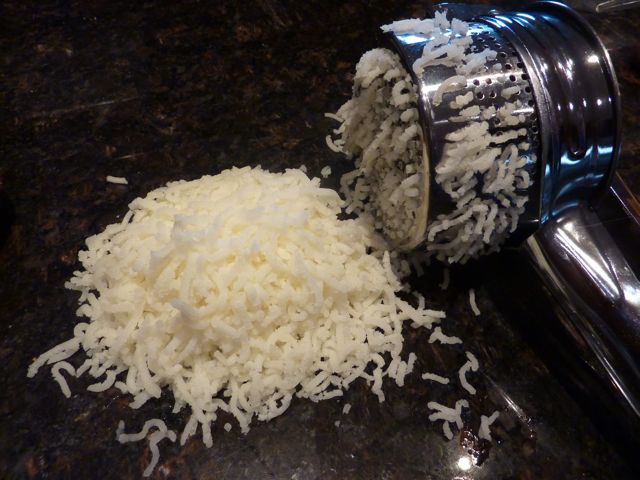 Having made, and taught how to make, gnocchi on many occasions, I've learned to secret to light gnocchi is twofold; first, rice the potatoes when warm, then allow them to cool. Second, use as little flour as possible, and handle it as little as possible. This second tip becomes a bit more difficult when you are stuffing the gnocchi. So I started with my standard gnocchi recipe, with the plan to increase the flour only as necessary to get the dough around the stuffing.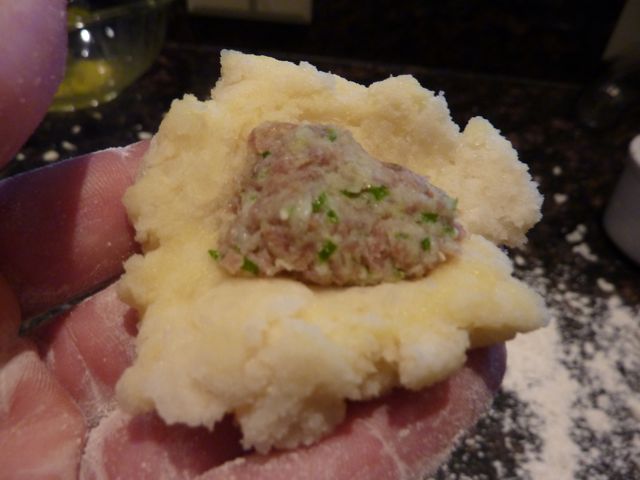 It ends up I didn't really need to increase the flour at all. Once the dough was together, it was a bit sticky, but as long as I kept my hands clean and dusted with a little bit of flour, I was able to form the dumplings. I do elect to bake my potatoes that I use for gnocchi, rather than boil them. I baked them for well over an hour, and I live in a dry climate, although it is rainy and humid today. But having dry (and cool) potatoes will decrease the amount of flour that you will need.
Here is my modified version of Elisabeth's recipe. I would suggest just keeping the flour close by while you are forming the dumplings. If it is too wet, add a bit and try again.
As I am still living in a remote part of Maine, with limited access to things like Prosciutto di Sauris and Montasio – today, even arugula – I've substituted with sopressa, grated Sapore di Asiago, and my green of choice right now, local fiddleheads.
Gnocchi Croccanti di Sauris
Serves 6
Filling:
8 ounces prosciutto, coarsely chopped
1/2 cup grated aged cheese, such as grana or montasio
1 tablespoon whole milk
2 tablespoons chopped fresh chives
Dough:
1 1/2 pounds potatoes
3/4 cup all purpose flour
1 tablespoon salt
1 egg, beaten
6 tablespoons butter, divided
12 ounces arugula, or other green
1 clove garlic, minced
1 tablespoon chopped chives
Preheat the oven to 400°.
Pierce the potato in several places with a knife. Set in the oven and bake until very tender, about an hour, depending upon the size of the potatoes.
For the filling:
Place the prosciutto, cheese, and milk in a food processor and pulse to combine. Stir in the chives. Form the mixture into 3 dozen balls, of about 1/2 teaspoon each.
For the dough:
Remove the potatoes from the oven, and allow to cool only 5 minutes or so. Rice the potatoes with a ricer, or press it through a large mesh sieve. Allow to cool to room temperature. Add the flour and salt, and combine with the potatoes until well mixed, but still fluffy. Add the egg and mix just until you form a soft dough.
Taking a bit of the dough, about 1 scant tablespoon, press it out on the palm of your hand. Place one of the filling balls in the center, and wrap the dough around it. Keep a bit of flour nearby to dust your hands, and when the dough starts to stick take a moment to rub your hands together to remove the dough and dust them again with flour. Roll each dumpling gently to form an oblong shape.
To prepare:
Bring a large pot of lightly salted water to boil over high heat. Salt the water. Working in small batches, place the gnocchi in the water – don't overcrowd them. Cook until the gnocchi rise to the surface; using a slotted spoon, remove them and place on a sheet pan in a single layer.
Melt 2 tablespoons of butter in a medium saute pan over medium heat. Add the greens and saute until tender. The time will vary depending on the greens; from a couple of minutes for arugula to 6-7 minutes for a chard, or fiddleheads. Add the garlic a minute or so before they are done. Remove from heat and season with salt and pepper.
Melt 2 tablespoons of butter in a large saute pan over medium high heat. Add half of the gnocchi, again, don't overcrowd. Cook until the bottoms are crisp and golden brown, about 3-5 minutes. Turn, and cook the other side until brown. Don't force them to turn, they will release from the bottom of the pan when they are seared. Remove and repeat with the remaining gnocchi.
Place the greens on 6 warmed plates. Top with the gnocchi, and drizzle any remaining butter over the dish. Garnish with chopped chives.
I'll go off the beaten path here and recommend a red with this – it is delicious, but can be a bit heavy.. I think the La Biancara Rosso Masieri would pair nicely; the slight mineral tingle it offers would cut through the butter.