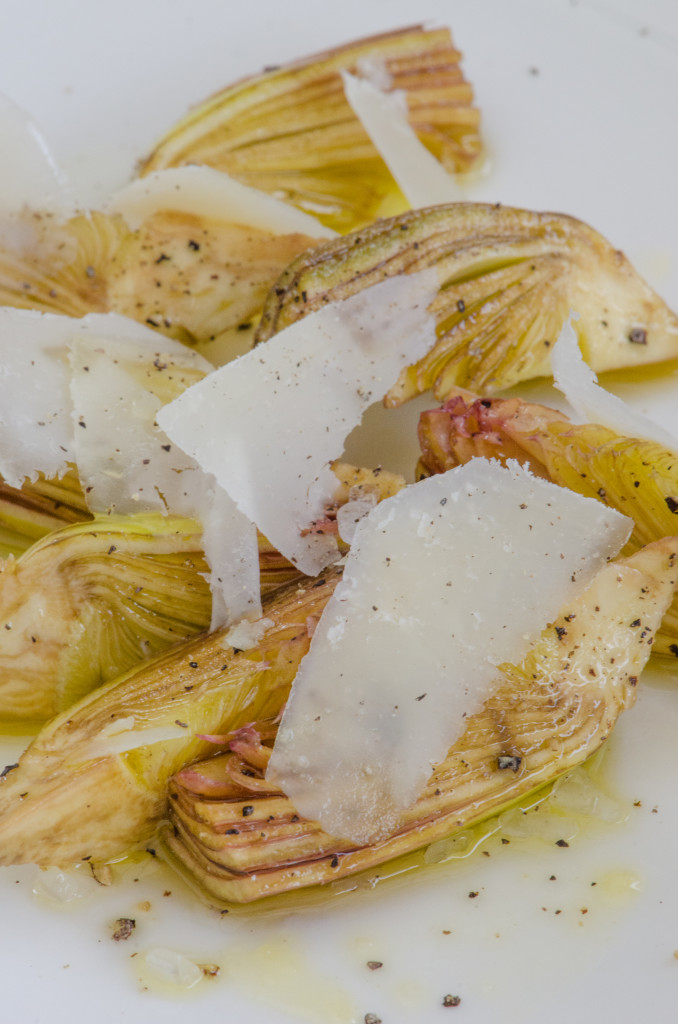 Just northeast of Venice lies the island of Sant'Erasmo – half the size of Venice, with many canals, but with 60 resident farmers out of 850 total population. On a visit to Venice's Rialto market, a highlight of our walking tours in the Veneto, you will note Sant'Erasmo is indicated as the source of the best produce available – the salty clay soil of the island is said to produce particularly flavorful vegetables. In spring, the vegetable particularly sought after is the carciofi violetti, violet artichokes. Their buds, harvested once a year in the spring, are known as the castraure, and are one of the seasons prized delicacies.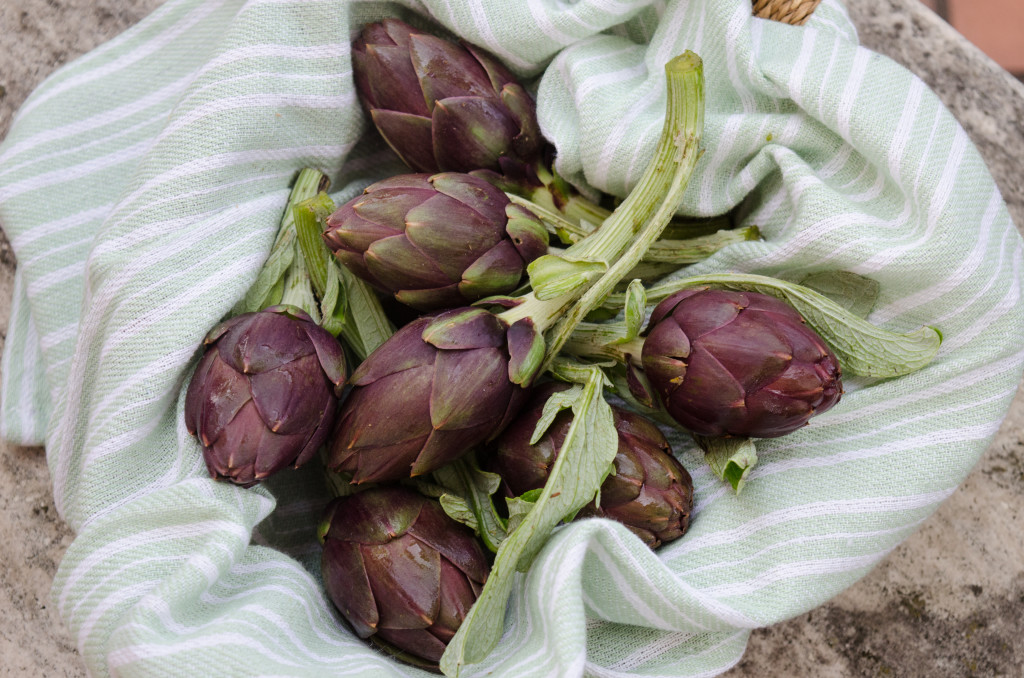 The carciofi violetti are small, prickly, tender and oblong, with a purple color and a meaty, delicious heart. The season begins in April when the castraure (from castrare, which means to castrate or cut) are carefully harvested by hand with a special knife – got to hand it to the Italians for the graphic nomenclature here! These first blossoms of the artichoke are cut in order to allow twenty or more lateral blossoms to grow. A second batch is cut in June. Each generation of blossom has a name: castraure, botoli, sottobotoli, articiocchi,  mazzette.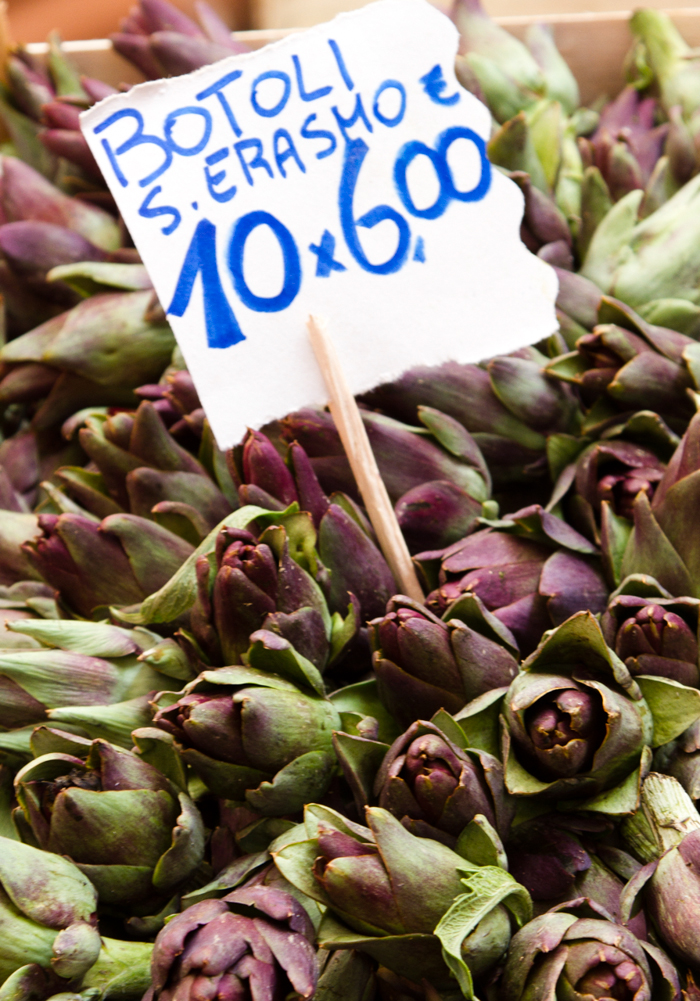 Castraure are so delicate that they are typically eaten raw. Only a limited number are available, and they are offered at only a few local restaurants for a brief period of time, and command high prices at the market. A small local market next to my apartment here had a few, and the vendor questioned me when I asked for 8 – "Do you know how much these cost? These are very special". I didn't think paying 60 cents each was particularly exorbitant, given how much I pay for very ordinary ones back in the US.
Here's a recipe from the now-defunct "La Cucina Italiana" for the classic raw preparation. Next post will be on a pasta dish using carciofi violetti – and more on the history of artichokes in Italy.
Carciofini con Grana Padano
Serves 4
1/2 lemon
8 baby artichokes
1/4 best extra-virgin olive oil
Coarse sea salt
Freshly ground black pepper
3 ounces shaved Grana Padano or Parmegiano-Reggiano cheese
Fill a large bowl with cold water. Squeeze juice from lemon half into the water in bowl, then add lemon half.
Cut off artichoke stems and discard. Cut off top 1/2 inch of one artichoke with a serrated knife. Bend outer leaves back until they snap off close to base, then continue to discard several more layers of leaves in the same manner until you reach pale yellow or purple leaves. Cut off any green tips. Trim dark green fibrous parts from base and sides with a small sharp knife, then cut lengthwise into sixths. Put the pieces in the lemon water. Repeat with remaining artichokes.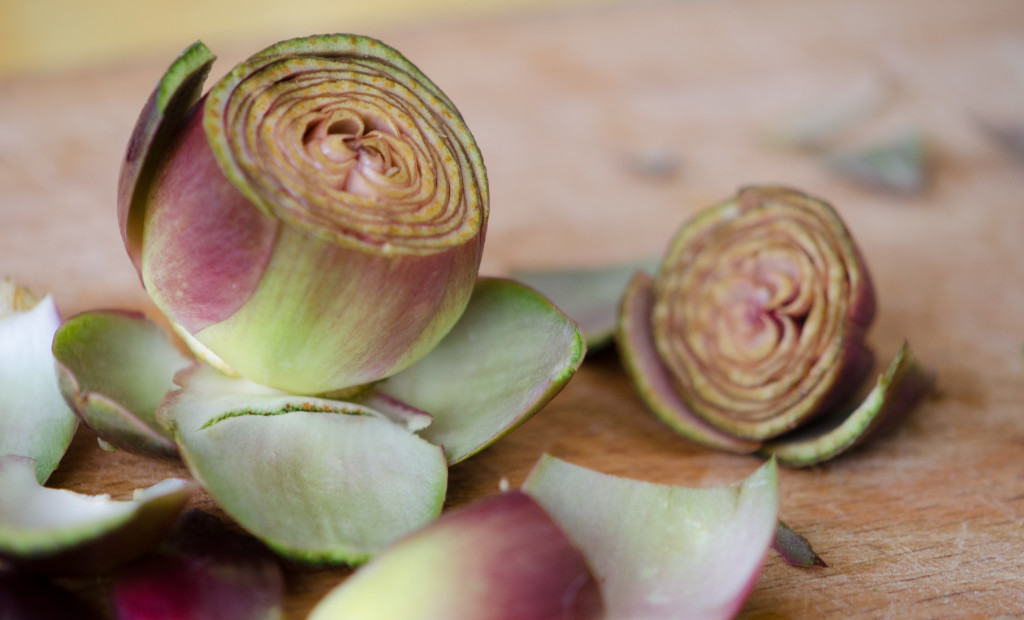 Drain artichokes and pat dry well, then put into a dry bowl. Add the olive oil and toss to coat. Season with salt and pepper to taste. Divide artichokes onto serving plates and top with the shaved cheese; drizzle with oil from the bowl.
Enjoy with a local wine, here one of my favorite whites from the Colli Berici, a Garganega based wine – the grape varietal used in Soave.