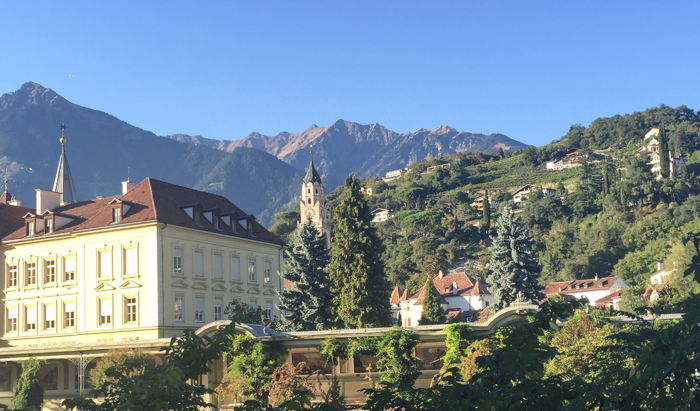 A favorite destination on our Bike the Wine Roads of Trentino-Alto Adige tour is the town of Merano, or Meran in German. It's stunning location within a basin at the entrance of the Passeier Valley and the Val Venosta, surrounded by mountains topping out at over 3000 meters, offers a plethora of outdoor activities to keep us busy – cycling along the Val Venosta bike path, hiking along the Merano High Mountain Trail in the Texel Mountain group, climbing, and in the winter five different ski areas to explore. Afternoons bring us ample opportunity to explore the culture, history and cuisine of this vibrant town.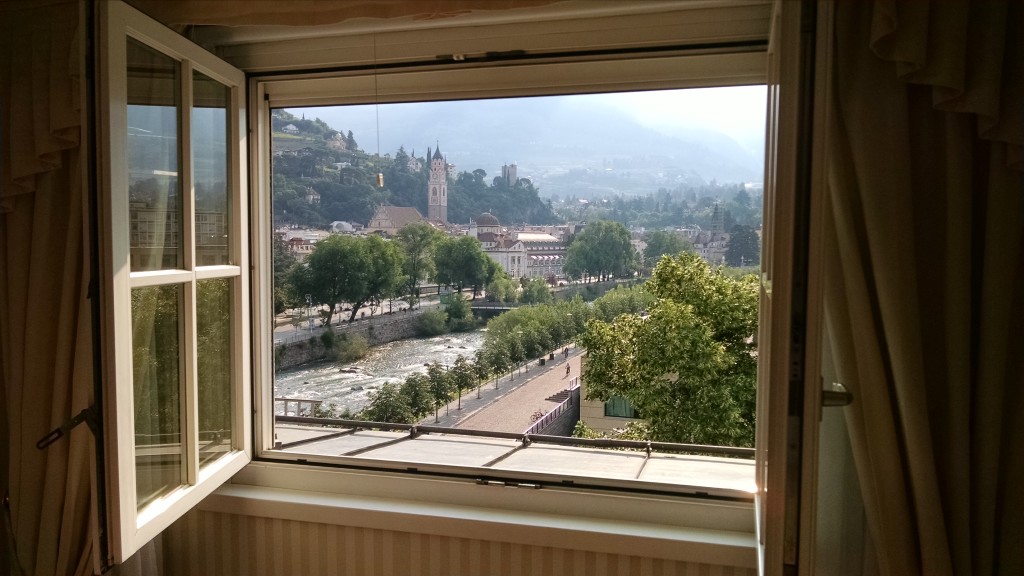 The enviable climate of Merano (over 300 days of sunshine a year) and its thermal springs have made it a prime vacation destination for many years, attracting luminaries such as Franz Kafka and Ezra Pound. Settled initially as a road station for the Romans in 15 BC, Merano was elevated to the status of a city during the 13th century and made the capital of Tyrol. In 1420, the Duke of Austria, Frederick moved the Tyrolean court to Innsbruck. Though Meran remained the official capital until 1848, it lost its predominant economic position, but its popularity as tourist destination especially for Germans and Italians, remains strong.
Thanks to its' unique topology, Merano boasts the mildest winters in the entire central European area. The mild climate allows plants from Mediterranean areas to flourish alongside those from Alpine areas. This amazing diversity of flora can be admired in Merano's beautiful gardens, including the botanical garden of Trauttmansdorff Castle, as well as the Kranzel Labrinth Gardens, ranking among some of loveliest gardens in the world, and giving Merano its monikeru of the "City of Flowers."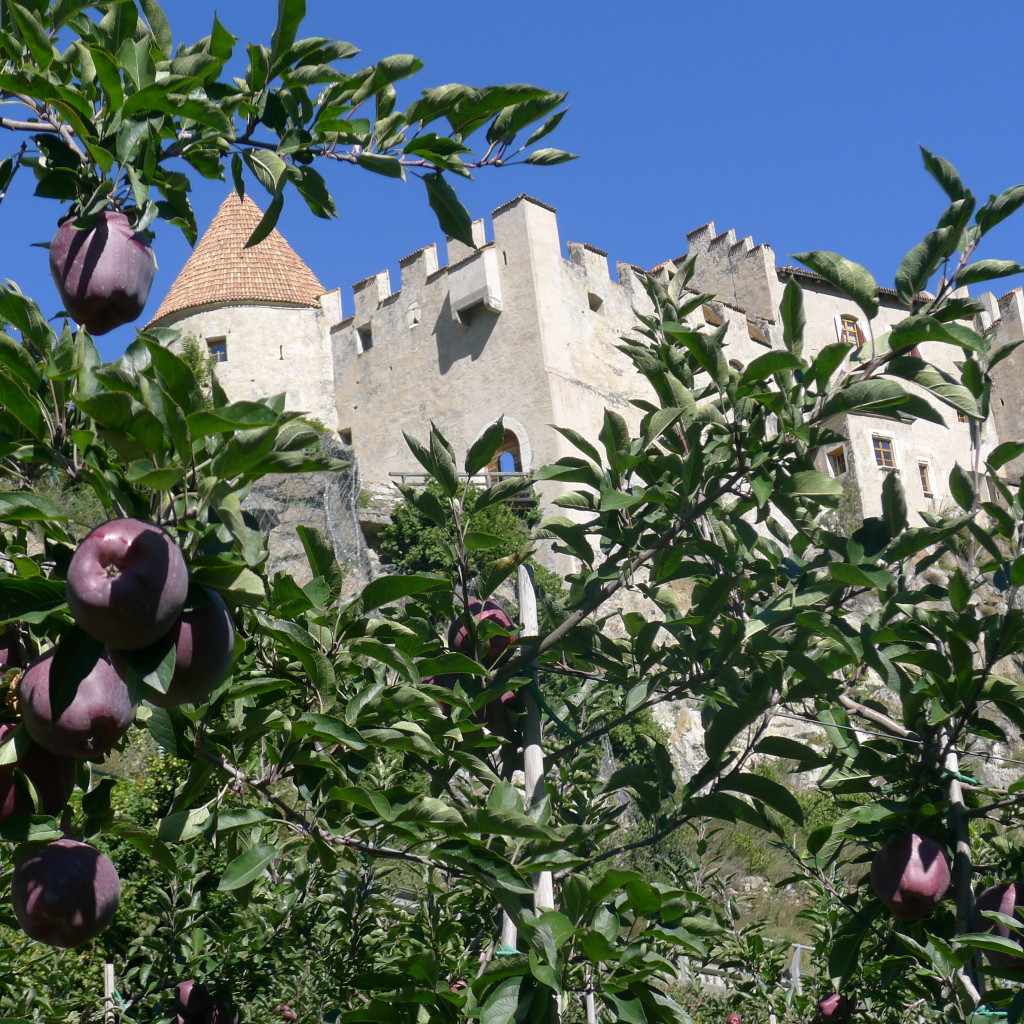 Sudtirol is also the European region with the highest number of castles, with over 800 castles, manor houses, and ruins. The oldest manors date to the early Middle Ages while the most recent date from the late Baroque period. One of the most important is Tyrol Castle, dating from the eleventh century, which now is home to the South Tyrol Museum of History and Culture. The densest concentration of castles and palaces in area can be found in two villages just south Merano, Tisens and Prissian, often referred to as 'castle villages', where many aristocratic families constructed summer homes here. There are seven castles here, making it a lovely spot for a walking tour or well worth a short detour from the bike path traveling from Merano to Bolzano.
Merano is also known as the "beautiful fruit garden of the Alps", where you can find apples, pears, apricots and many types of berries cultivated nearby. Honey, herbs, breads based on rye and other whole grains, Sudtirol speck and mountain cheese, spirits and brandies, beer. Here is where the Central European culinary tradition and alpine flavors meet the cuisine of the Mediterranean. Dine on traditional rich Tyrolean dishes, or enjoy more sophisticated versions reflecting inspiration from the south.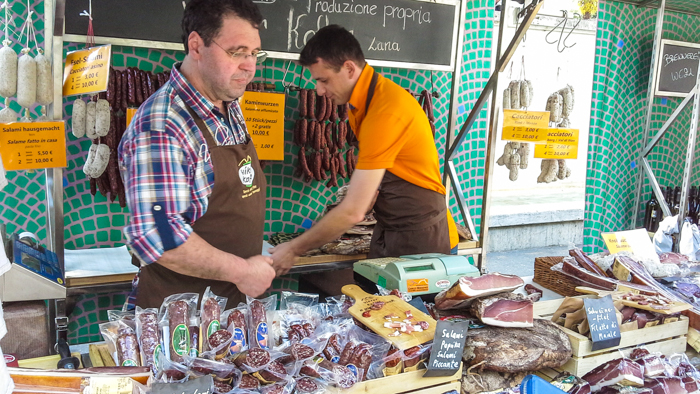 In this area of Italy, there are no over-sized shopping malls: local producers offer their wares and fresh seasonal products at markets year round. In Merano there is a large traditional Friday market, as well as several smaller farmers' markets throughout the week. My favorite to visit before we start a tour is the market held Saturday mornings from 9.00 a.m. to 1.00 p.m on the upper Corso Liberta. Another great place to buy local products from speck to chestnut pasta and apples, a wide selection of local cheese and wines and freshly baked bread is Pur, at Corso della Liberta, 35. Enjoy a freshly made panini on their outdoor patio.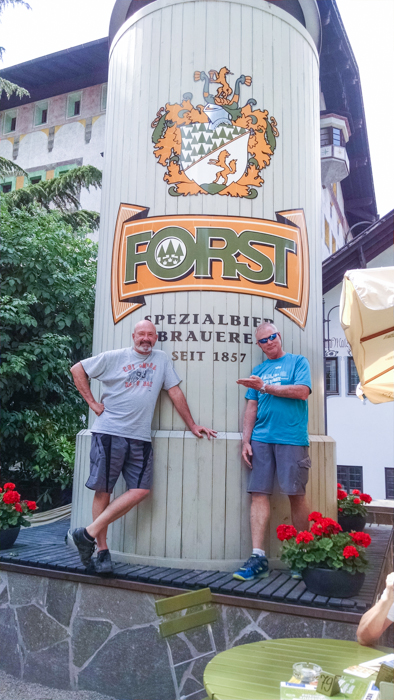 Terraced vineyards surround Merano, where a nice variety of both local and international varietals are cultivated, thanks again to the region's mild Alpine-Mediterranean climate. The best way to discover this region is to taste a glass of one of the original indigenous varietals: try the traditional Vernatsch (Schiava in Italian), the intense Lagrein, or a St. Magdalena, a blend of both. White varietals that originally hail from this region are Gewurztraminer and Moscato Rosa. International varietals that flourish here include Pinot Nero/Noir, Sylvaner, Sauvignon, and Riesling, just to name a few. Northern climates in Italy also provide the barley and fresh mountain water perfect for brewing beer, so one last stop at Forst brewery for a crisp cold beer is a great way to end our ride.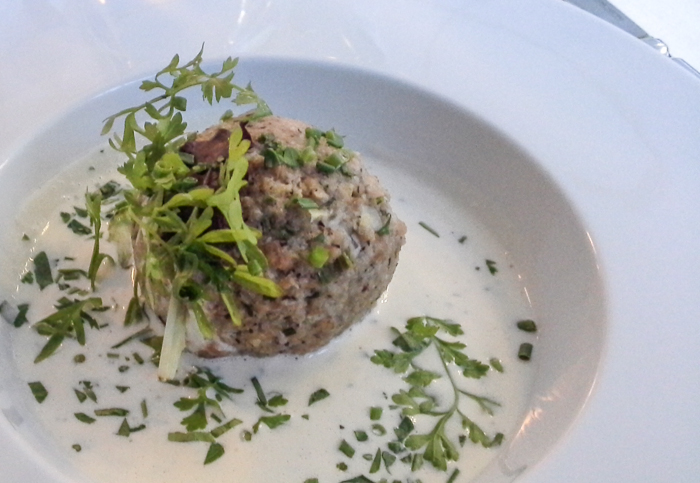 There are also plenty of wonderful restaurants where we can experience these great products and unique blend of cuisines found in this region. We often celebrate our first night on tour at Restaurant Sigmund on Corso Liberta, which offers typical Tyrolean cuisine with more modern, Mediterranean touch. A lovely spot to dine outdoors in the heart of Merano. A bit outside the town center is Restaurant Roberts Stube, a Slow Food restaurant of only a few tables tucked in an ancient cave. Their menu changes with the season, incorporating local products from white asparagus in the spring to chestnuts in the fall. Laubenkeller is an old school traditional restaurant with good solid food. Kallmunz offers more modern style cuisine, in an elegant room in an old castle on Piazza Duomo. For something sweet, Gelaterie Sabine has been making artisanal gelato in Merano for 40 years.