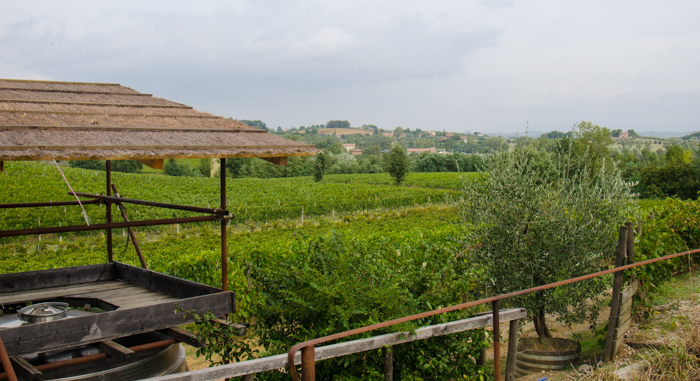 On our Italiaoutdoors bike tours and walking tours through the best wine regions in Tuscany, we often spend a couple of days exploring Montepulciano. This hilltop town is surrounded by picturesque vineyards producing one of Italy's quality wines, the Vino Nobile di Montepulciano. During a recent visit, I stopped by Poderi Boscarelli, a family producer with over 50 years of history producing Vino Nobile.
Poderi Boscarelli is located in northeast Montepulciano facing the Chiana Valley, in the commune of Cervognano. At 300 m above sea level, their vineyards have the right combination of temperatures and natural air circulation to provide an ideal microclimate. Rich alluvial soil and sand provide good drainage and result in wines with elegant character and minerality.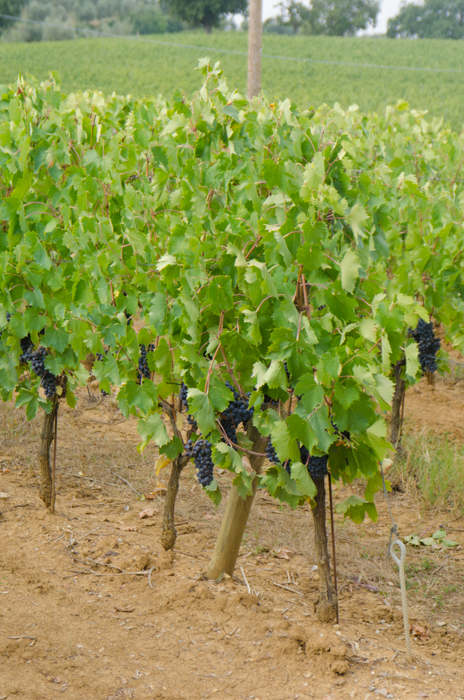 The estate was founded by Egidio Corradi, a member of the old Poliziana family. longtime wine producers in the Montepulciano region. After spending much of his life working as an international broker in Genoa and Milan, he returned to his home region and purchased two semi-abandoned small farms in Cervognano, a corner of old Etruscan Tuscany near Montepulciano.
His daughter Paola and her husband Ippolito De Ferrari started Poderi Boscarelli in the '60s on this estate, planting their first specialized vineyards and building the first winery by renovating the old stables. The estate has now passed to the third generation of the family, sons Luca and Nicolò De Ferrari.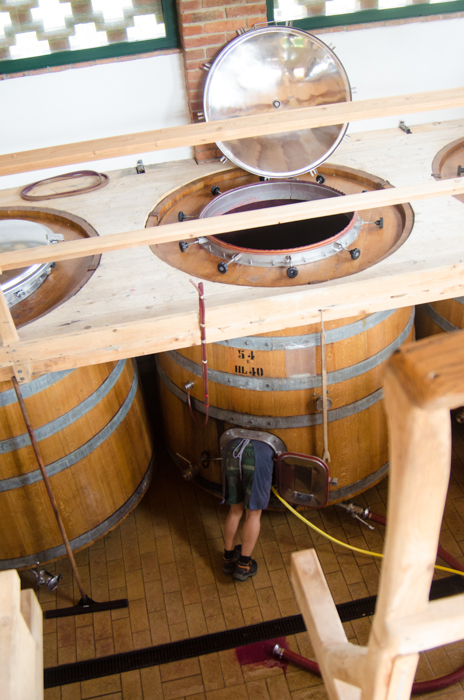 Sangiovese grapes are the most prevalent varietal, covering about 80% of the 14 hectares of vineyards in the estate. The remaining 20% consists of several native varietals, including Mammolo, Canaiolo and Colorino, and international varieties such as Merlot and Cabernet. In 2006 they planted 2 hectares of Merlot in vineyards in nearby Cortona.
Boscarelli's commitment to quality wine production begins in the vineyard, with careful selection of location for each of the various grapevines. During my tour I was shown a large rolling field with several varietals, the Merlot vines planted at the just slightly lower elevations where it is a degree or two cooler, the Sangiovese on the crests.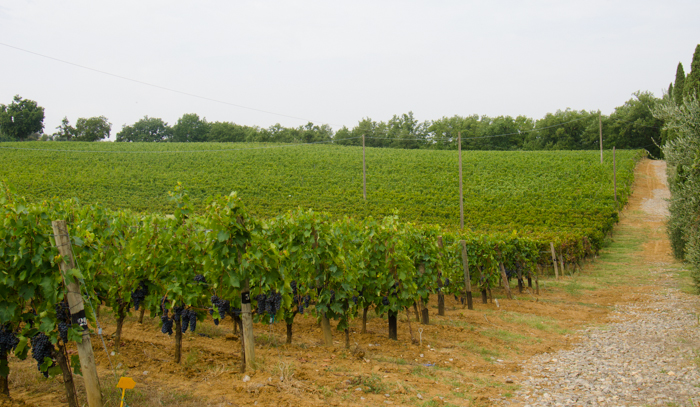 This attention to detail continues during harvest, with the age, optimum ripeness and soil composition all playing a role in determining when a particular grape is harvested. Each selection is then fermented separately, resulting in at least 30 different cuvées. After separate aging, the wines are then blended from these various cuvées a few weeks before bottling, with the final proportions determined in a lengthy – but I imagine very fun – tasting process. This method requires a lot of work but it allows for the deepest expression of the character of each varietal and its terroir.
I enjoyed tasting of a few of Boscarelli wines.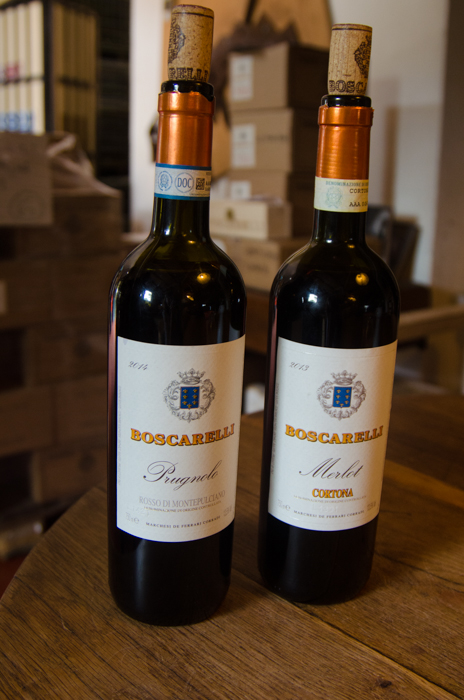 Prugnolo
A Rosso di Montepulciano DOC wine, 90% Sangiovese Prugnolo Gentile – the local Sangiovese clone used in the wines from Montepulciano, and 10% Mammolo. The freshness of the fruity notes of Sangiovese combined with spicing from the Mammolo variety. This is produced from younger vines, and is a fresh wine meant to be enjoyed young.
Merlot
Produced under the nearby Cortona DOC, from their Merlot vineyards in Centoia, this is 100% Merlot. A fresh and fruity wine, again best enjoyed you, within 4 to 5 years.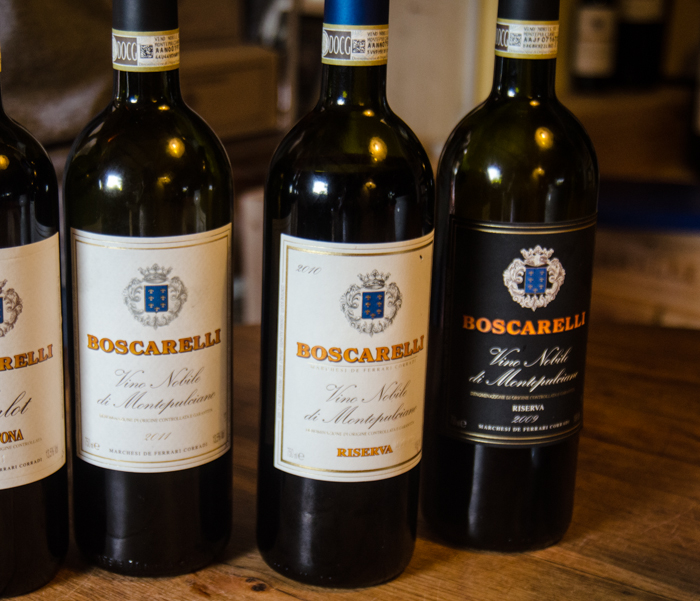 Vino Nobile di Montepulciano
This is Boscarelli's older label of Vino Nobile, first produced in 1968.  It represents almost half of their total production. This Vino Nobile is produced with selected grapes from vineyards of at minimum 10 years of age, planted in red, sandy and mineral soils to give the wine a great deal of character and aging potential. It consists of 85% Sangiovese Prugnolo Gentile, with the remainder Colorino, Canaiolo and Mammolo.
The grapes are picked manually, soft pressed and fermented in oak vats. Indigenous yeast is used in the fermentation process.
This Nobile vintage is aged in Allier or Slavonian oak casks from 18 to 24 months. Before delivery the wine is aged in the bottle for several months. This has the potential to age a few decades, but the recommended maturation period, depending on the vintage, is between 5 to 8 years after harvest.
Vino Nobile di Montepulciano Riserva
This wine was produced in 2010, making it almost 20 years since the reserve was last released in 1992. The reason for this break was that for the previous 26 years Boscarelli gradually re-selected and replanted their historic vineyards, focusing on clone selection, different expressions of Sangiovese vines in relation to the soil and the potential of combining the characteristics of Sangiovese grapes with other international varieties.
2010 found increased complexity and structure in the grapes from the first replanting of native vines, which inspired Boscarelli to repeat, with the same blend of local grapes, the Reserve of the Vino Nobile of the 1970s and '80s.
The Vino Nobile Riserva is made from 88% Sangiovese Prugnolo Gentile grapes and 12% Colorino. The grapes are picked manually and fermented in oak vats using indigenous yeast. Nobile Reserve is aged in Allier or Slavonian oak casks from 28 to 32 months. Before delivery the wine is aged in bottles for several months.
The aging potential of the Riserva is a few decades, with the recommended optimum, depending on the vintage, from 5 to 10 years after harvest.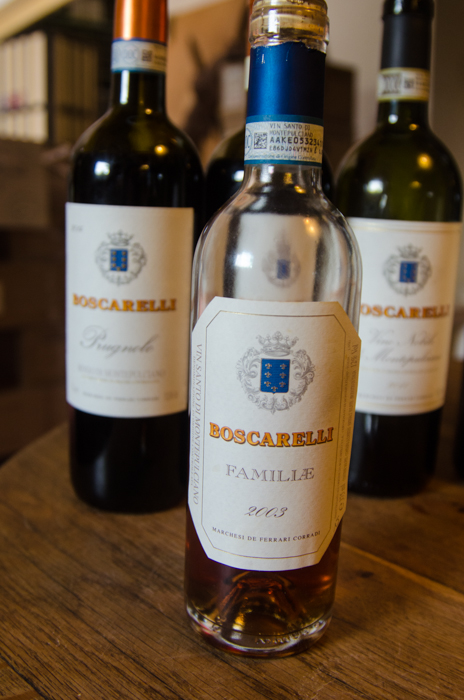 Familiae
Vin Santo di Montepulciano
Vin Santo is a sweet wine with a long history of production in Tuscany.  Once called the "wine of hospitality", it was used to warm up a passing stranger on his way down from the hills, celebrate some happy event, or make a toast on a Sunday after a special meal.
The traditional fermentation method is extremely typical for Vin Santo wines: the harvested grapes, Trebbiano Malvasia and Grechetto, are selected and hung up to dry in temperature- and humidity-controlled rooms. Drying concentrates the sugars, makes it possible to obtain the sugar levels necessary to make the wine. During my visit, I watched a couple of workers carefully selecting and laying the grapes out on mats for drying.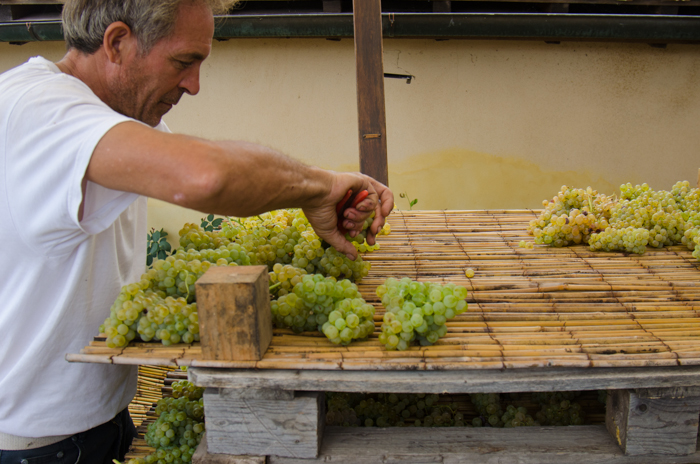 According to the specifications, the grapes must be pressed from December 1 for Vin Santo di Montepulciano, then aged in wooden barrels. The aging period lasts for at 4 to 5 years for the Boscarelli Vin Santo di Montepulciano.