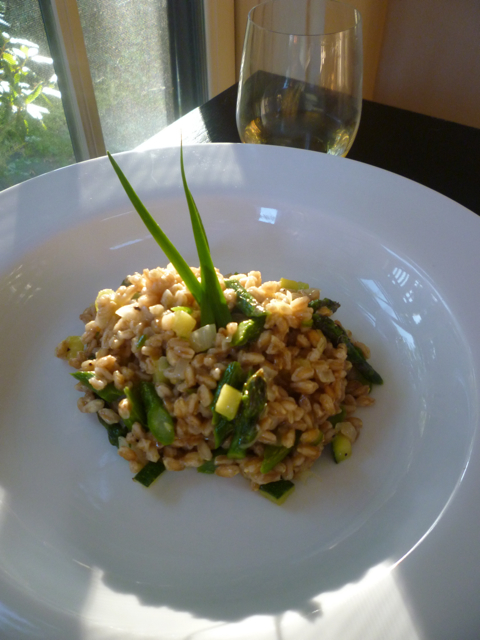 Farro is a whole grain often seen in Italy, and now beginning to be available here in the US. I love to cook with it, and am always looking for additional ways to use it. Locating the real thing here can be difficult, as there seems to be quite a bit of confusion as to what exactly it is – here's what I've been able to find out about it.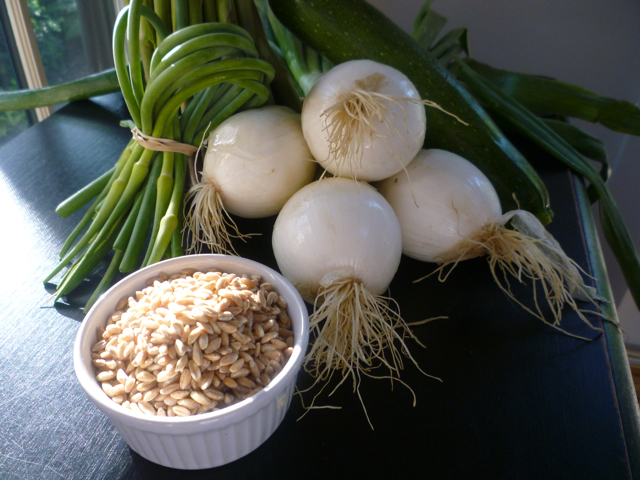 Farro is often said to be a whole wheat, but in fact is a totally different grain. Also referred to as "emmer" in English, it can be used whole, or ground into flour and used to make pasta and bread. Often spelt or wheatberries are recommended as a substitute, but they make poor replacements, being heavier grains that require much longer cooking times. When searching for farro, look for light brown grains with a small cleft, with some white striping.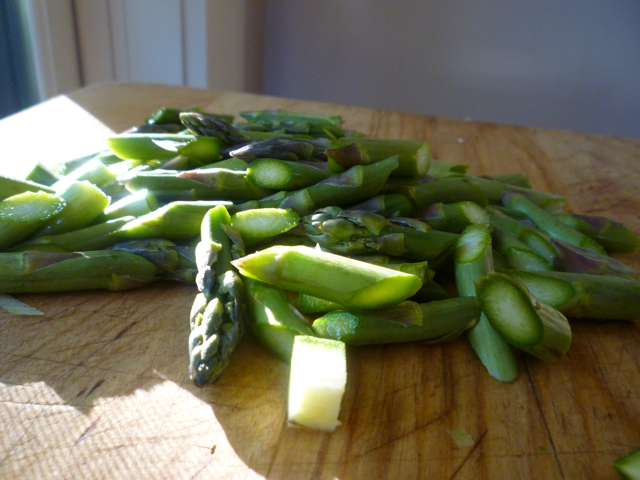 Farro is an ancient grain, grown for thousands of years in North Africa, the Middle East, and northern and central Italy, it flourishes best in high-altitude, barren land. Centuries ago, it fed the Roman legions and was a nutritious food that played a primary role in their diet during this time, and may have even been used as money. It is a very nutritious grain, high in vitamins A, B, C and E, magnesium, and fiber. It is quite easy to digest, and as it is also quite low in gluten, may be appropriate for some who are gluten-intolerant.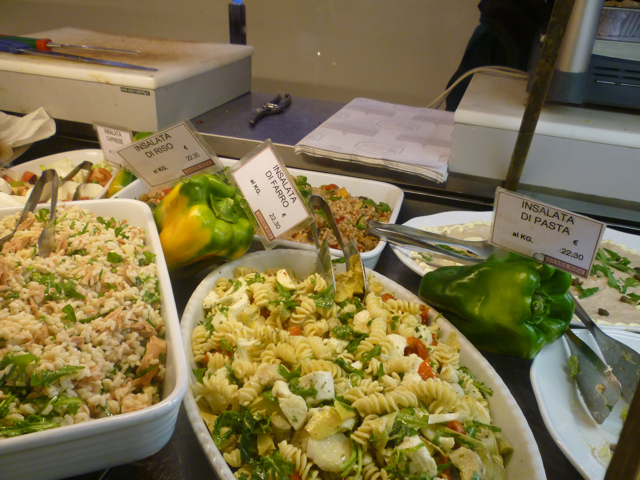 Today in Italy, you will see farro used in the cuisine of Central and Northern Italy, home of our custom bike tours. It is very common to find it in soups, together with beans, chickpeas, and greens. Farro pastas are wonderful to try. And as it contains a starch very similar to that found in rices such as Carnaroli and Arborio, it makes a wonderful risotto, with its characteristic creamy liquid.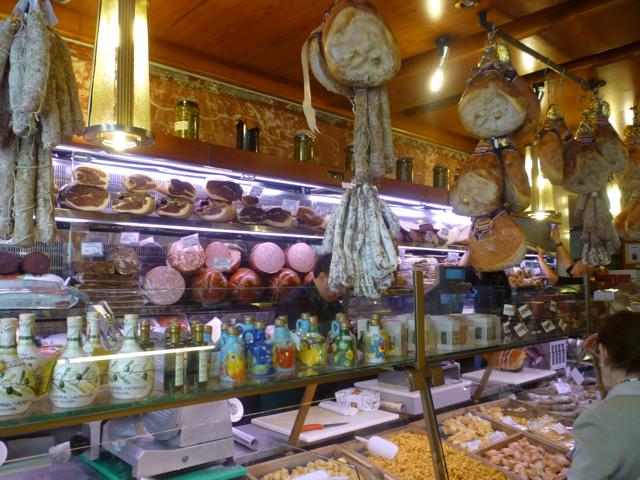 On a recent trip to Bologna, I visited one of the wonderful local food stores, Tamburini, on Via Caprarie. This is a beautiful store featuring the magnificent cuisine of Emilia-Romagna. There is a vast array of cured meats and cheeses to tempt you, as well as the sublime stuffed pastas that Emilia-Romagna is renowned for. A wide variety of prepared foods are available for take-out, and among the choices was a lovely farro salad, which I attempted to recreate here. In Bologna, I purchased a few snacks and headed over to the Osteria del Sole, an unassuming neighborhood hangout, opened in 1468. You bring your own food to this wine bar, and enjoy it at long tables with a glass of Sangiovese or Pignoletto as you rub elbows with the locals.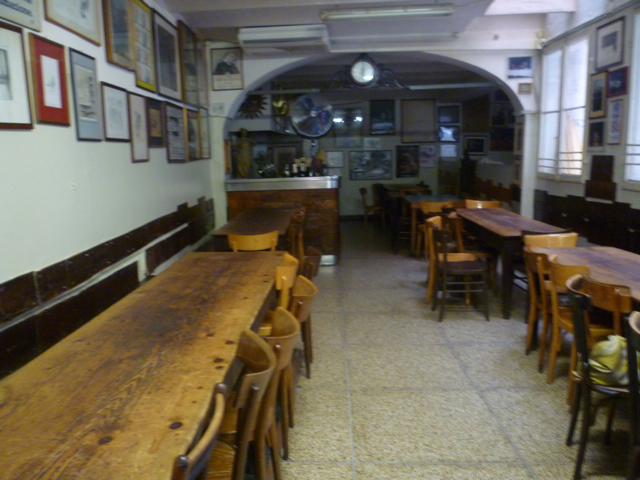 Insalata di Farro con Asparagi e Zucchine
Serves 6
3 tablespoons extra virgin olive oil
1 spring onion, chopped into 1/4 inch dice
1 1/2 cups farro
1 cup white wine
4 cups chicken broth
1/2 lb. asparagus, peeled, woody end snapped off, and cut into 3/4 inch pieces
1 zucchini, chopped into 1/4 inch dice
1 clove garlic, minced, or 2 garlic scapes, finely chopped
1/2 cup grated Parmigiano-Reggiano cheese
Kosher salt and freshly ground pepper
Heat half of the olive oil in a sauce pan over medium high heat. Add the chopped onion and saute until beginning to soften, about 4 minutes.
Add the farro, and saute briefly, about 1 minute. Add the white wine and simmer until the wine is reduced by half or more.
Add the chicken stock and bring to a boil. Reduce the heat and simmer until the farro is done, about 15-20 minutes. This can vary quite a bit, depending upon the farro itself, so keep checking it. The chicken stock may not be totally absorbed before the farro is tender. If this is the case, simply pour the contents of the saucepan into a strainer (over the sink or a bowl) to remove the excess liquid, then return the farro to the saucepan and keep it warm.
While the farro is cooking, heat half of the remaining oil in a saute pan over medium high heat. Add the asparagus and saute until tender. Remove from pan and keep warm. Add the last of the oil to the pan, then the zucchini, and saute until tender. Add the garlic, saute another minute, and remove from heat.
When everything is done cooking – the farro, asparagus, and zucchini – combine them all in the saucepan. Add the cheese and stir to combine. Season with salt and pepper. Serve warm if you wish, or chill and serve later as a side salad. I would remove it from the refrigerator a bit before serving, to remove a bit of the chill.