Our last Italiaoutdoors Food and Wine custom bike trip to Italy included a visit to an Amarone producer. Our clients were big fans of Amarone, and I wanted to take them someplace special. I didn't want a large, well-known producer where you pay many euros to sample a few wines and are taken on a standard tour by a staff member. Instead, what I was looking for – and found – was a small producer where my guests could see first hand the knowledge, the labor, and the passion involved in making wines.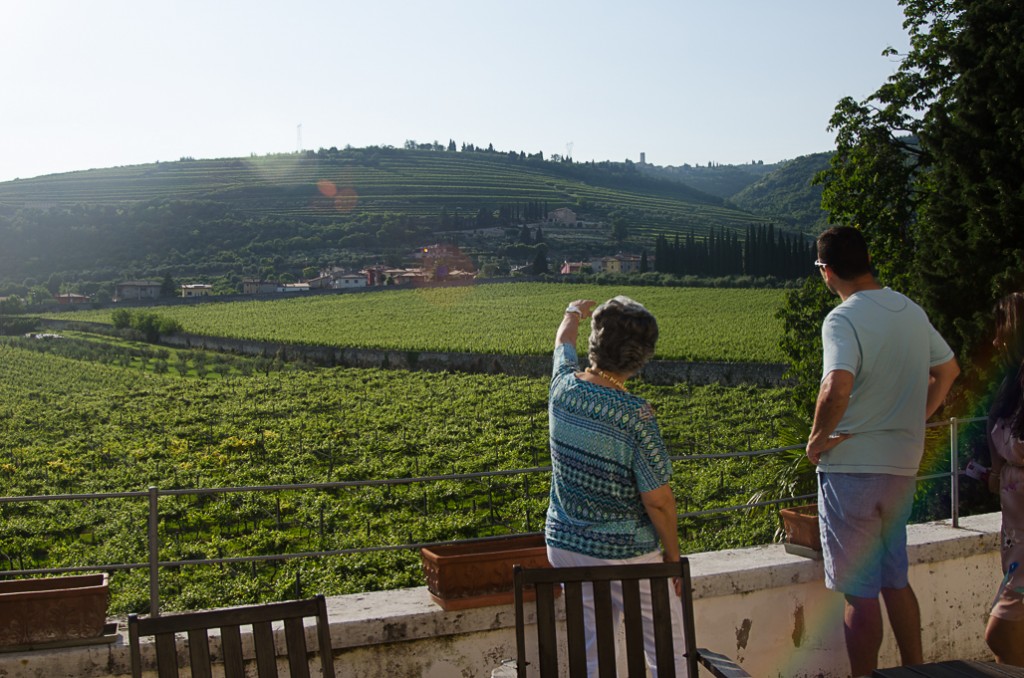 Prior to our clients arrival, I spent a very pleasant evening at Villa Monteleone, visiting with owner Lucia Raimondi. In addition to her winery, Lucia operates a small bed and breakfast at the Villa, along with a separate house that is available for rental by the week. Lucia was a gracious hostess, and I soon found myself sitting on the terrace, enjoying a spectacular view of the surrounding Valpolicella countryside, enjoying an antipasti and a glass of her fresh Valpolicella wine – ahhh, I have truly arrived in Italy!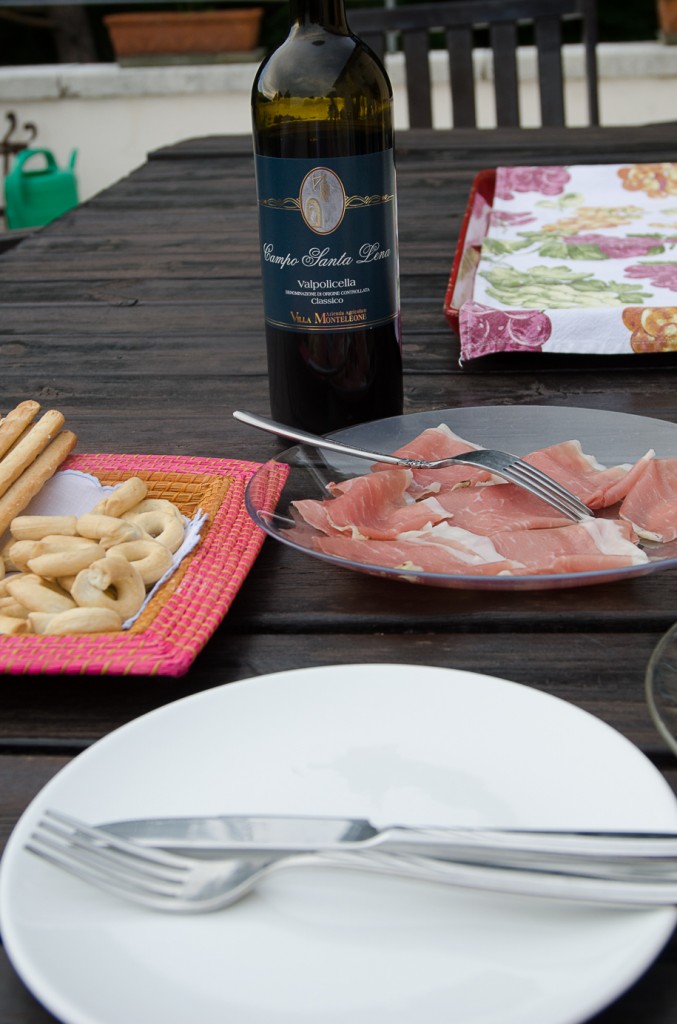 To give some background on the wines of Valpolicella, they are all red wines based on the local Corvina grape, optionally blended with the following: Rondinella, Molinara, Corvinone, Rossignola, Negrara, Barbera, Sangiovese, even the indigenous grape Oseleta. There are several different styles of Valpolicella wines, ranging from light to full-bodied, dry to sweet to sparkling.
A Valpolicella DOC wine is a lighter bodied wine, similar in style to a Beaujolais, and served young. A tart, sour cherry type flavor, with a lower alcohol level, it is a great all-occasion wine.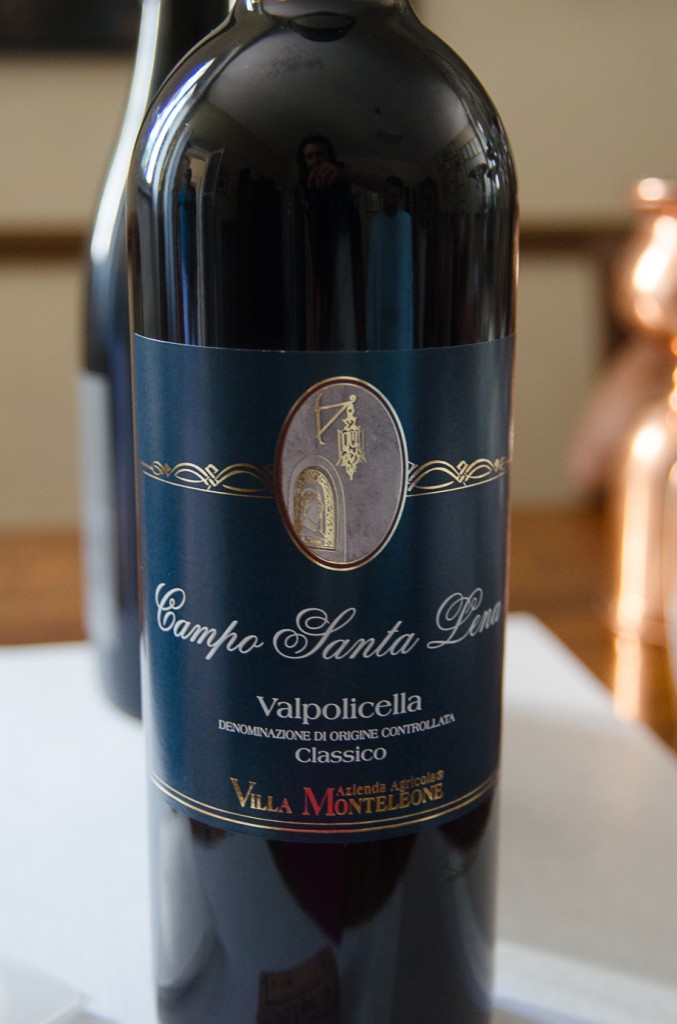 Anything labelled Valpolicella Classico DOC is a Valpolicella from the 'classic', or original hillside vineyards, including the town Negrar, Marano, Fumane, S. Ambrose, S. Peter Cariano. Lucia educates me a bit on the area – Villa Monteleone is in the Classico area, on the west side of Verona. This was the original area included in the DOC definition. Later, as the wines increased in popularity, the DOC region was expanded to include vineyards to the east of Verona. These vineyards make up the Valpolicella Valpantena area.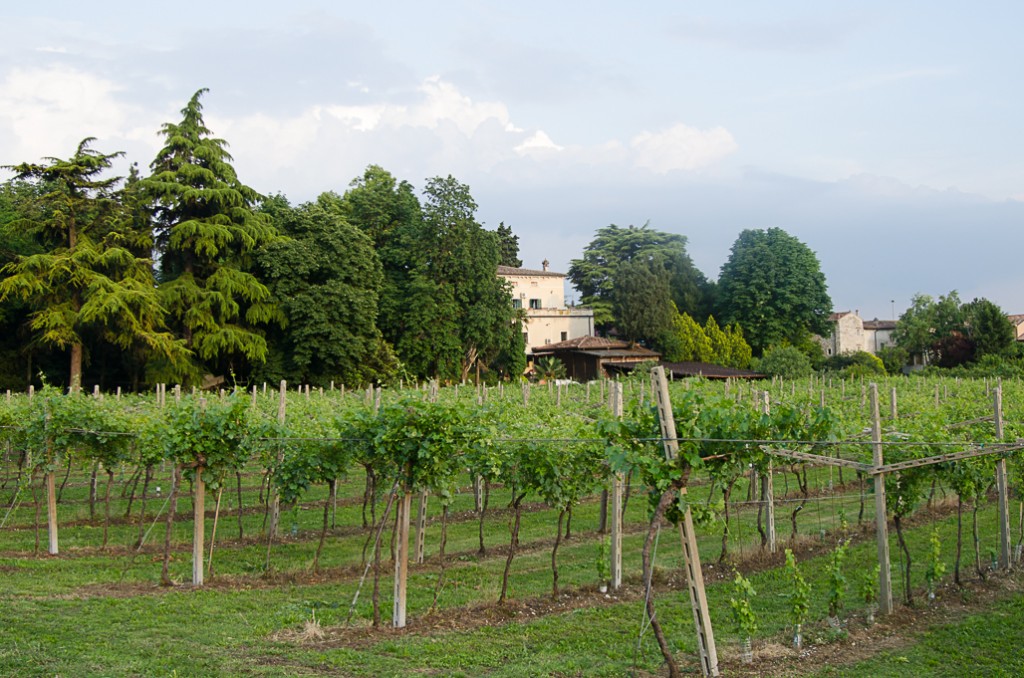 Little seen in  the US is this regions sweet red dessert wine, the Recioto della Valpolicella. The name 'recioto' comes from 'recie', meaning ears in the local dialect. The 'ears' of the grape bunch are those lobes on the top, which receive the most sunlight, and are therefore riper and drier, with more concentrated sugars. These are separated from the remainder of the bunch, and are used to produce this sweet dessert wine. Today, this process is a bit more efficient, as the entire bunch is picked and the grapes are air dried in a room to concentrate the sugars. There are also Classico and Valpantena, as well as Spumante versions of this DOC. This wine pairs well with desserts and hard cheeses.
Finally, the star of the show: Amarone della Valpolicella DOCG. I have learned from Lucia, and other area producers, that the first Amarone wine was produced accidentally – a Recioto wine taken a bit too far. Fermentation of wine is the process of converting sugar to alcohol. In Recioto wines, the fermentation process is stopped before all the sugar is consumed, resulting in a sweet wine. In the case of Amarone, the fermentation process continues until the sugar is totally consumed, resulting in a dry, high alcohol, full-bodied wine. The name itself, Amarone, comes from the word amara, or bitter.
The production of this DOCG wine is tightly controlled. Lucia relates that the DOCG authorities tell her when, each season, she can begin harvest – if she begins early, it cannot earn the DOCG designation. The grapes for Amarone are the last to be picked in this zone, and then spend the next three to four months in drying rooms, being carefully desiccated to avoid mold and rot. This technique (passito) produces a raisin that has the acid balance characteristic of grapes from cooler climates. Amarone wines are then aged in wood barriques for several years, some up to five years, before release. The resulting wine is full-bodied and rich, with hints of port wine, dark chocolate, coffee, and fig. It is usually paired with hearty red meat dishes, or with strong aged cheese such as Parmigiano-Reggiano.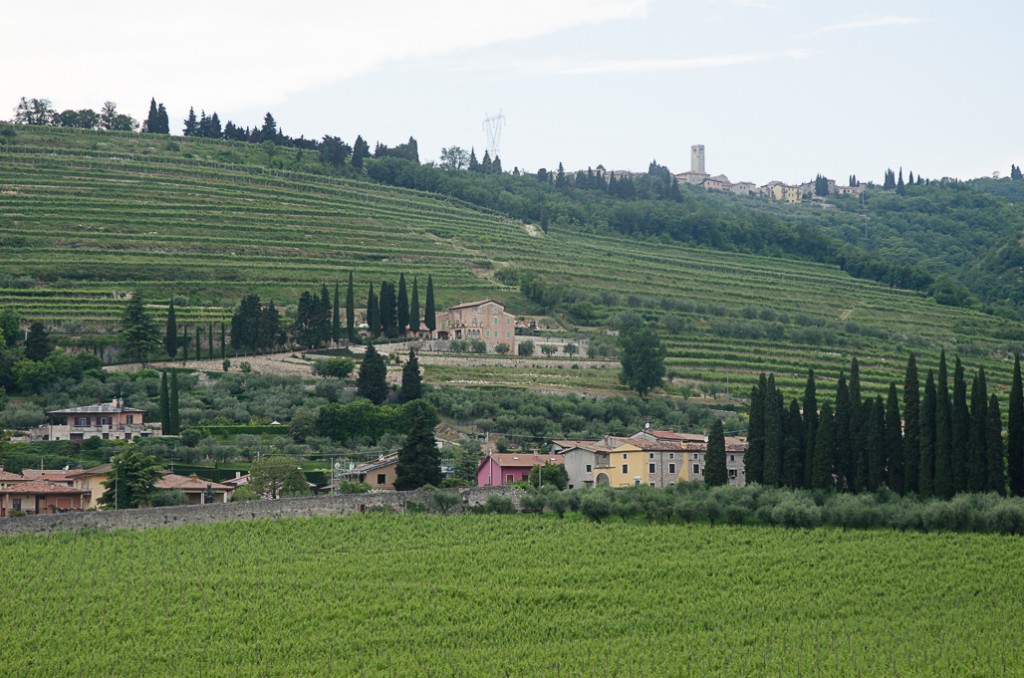 Finally, another wine produced in this region is the Ripasso della Valpolicella DOC. The ripasso technique is a relatively new innovation in wine production, introduced by Masi in the early 1980's. Here, the leftover grape skins and seeds from the Recioto and Amarone fermentation process are added to Valpolicella, and the mixture is allowed to macerate for an extended period of time. Ripasso della Valpolicella wines are fuller-bodied than a 'standard' Valpolicella, with a higher alcohol content. Today, most Amarone producers produce a Ripasso wine as well, and the Ripasso wine was also awarded its own DOC status in 2009.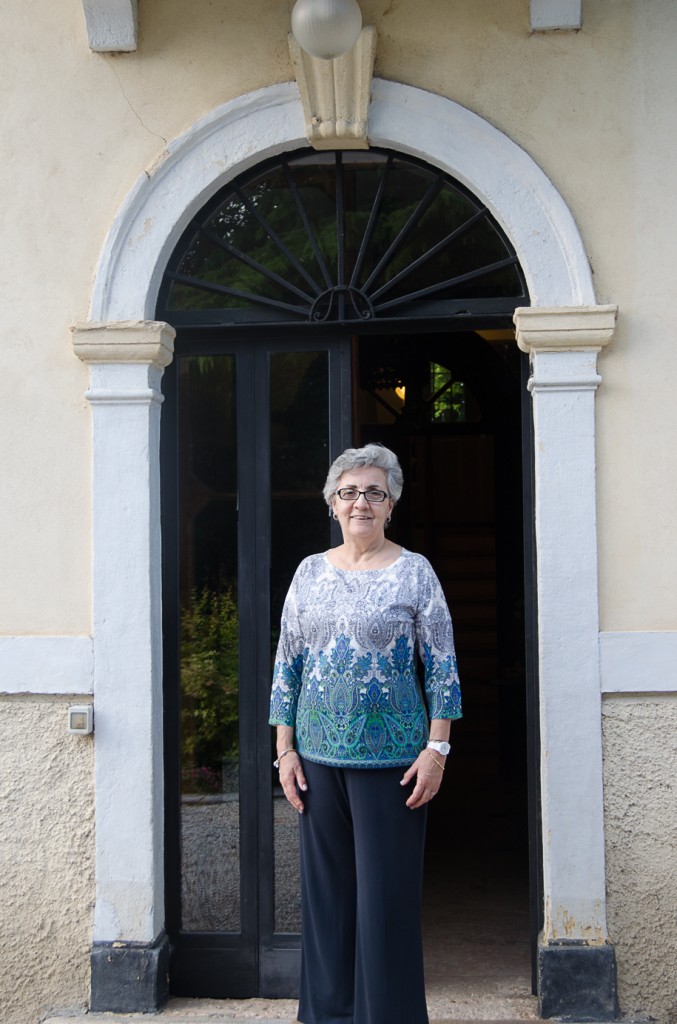 Lucia arrived in Verona, making wonderful wines, through a circuitous path. She was born in South America, and then made her home in Chicago with her husband, an eminent neurosurgeon and wine enthusiast. After his retirement from Northwestern University, they eventually made their way together to Italy, and purchased Villa Monteleone. Together, they began to realize their dream of making wines. However, Lucia's husband unfortunately passed away in 2000, and Lucia dedicated herself to singlehandedly continuing on the business.
Today, Villa Monteleone produces 4 wines, a Valpolicella Classico, Ripasso di Valpolicella Classico, an Amarone Classico, and a Recioto. They produce 3000 cases a year, on 15 acres total. Lucia shares that she sees most of the region's wine producers very focused on Amarone production. Amarone, she informs us at our tasting later in the week, is the biggest selling wine from Italy, just now surpassing Barolo. As such, the grapes destined for Amarone are often given premium care – pruned carefully to produce smaller clusters, hand harvested into small boxes, and crushed immediately after harvest to insure not fermentation occurs before crushing. Any other grapes were thrown into Valpolicella. At Villa Monteleone, she uses the same careful handling techniques for all of her wines, striving to make each type a wonderful example of the traditional Valpolicella styles. She shares some industry inside information – many Amarone producers are including Cabernet Sauvignon in their blend. This is allowed, up to 15% of the total. This is done to make the wines more 'familiar' and therefore hopefully more attractive to an international audience. But not on Lucia's watch. She is dedicated to the truest traditions of the region, and only uses indigenous varietals in her wines: Corvina, Molinara, and Rondinella.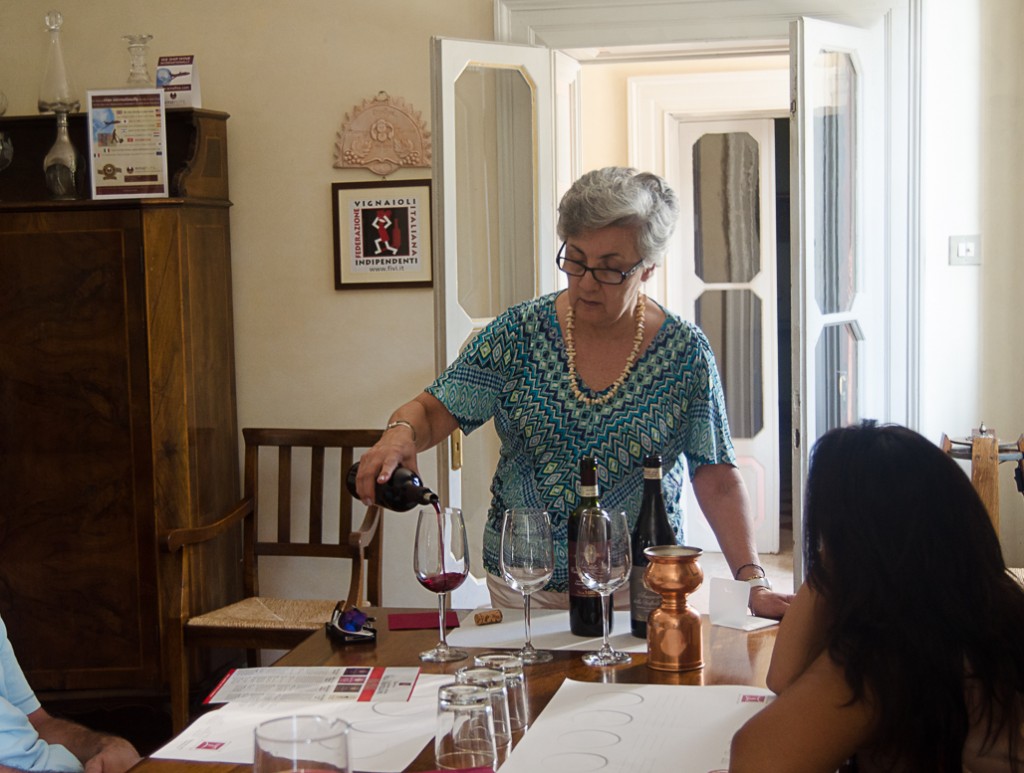 Later that week, I return for a tour and tasting with my clients. We are treated to her two Valpolicella wines, and the Amarone. Unfortunately, the Recioto is sold out! As we savor each type, and discuss which we prefer – the light, fresh Valpolicella on a warm day with a light snack, the Ripasso with a pasta topped with a meat ragu. An Amarone is best, Lucia says, with hearty winter foods like roasted or braised beef, or even after dinner with some aged cheese. In fact, Lucia would only serve an Amarone when it is 'cold enough to use the fireplace'. Amarone must be served at 20°C or less, otherwise it becomes too alcoholic in taste. On a warm summer day, it will just heat up too quickly in the glass. We enjoy the intense fruitiness of all of these wines, with deeper flavors of tobacco and leather emerging in the Ripasso, and more so in the Amarone. This fruitiness in a full-bodied, robust wine is unique; Lucia used the words of her late husband to say it best. He describes these wines as 'feminine', with their strong fruit flavors, but, as a woman, they can "pack a punch in a silk glove".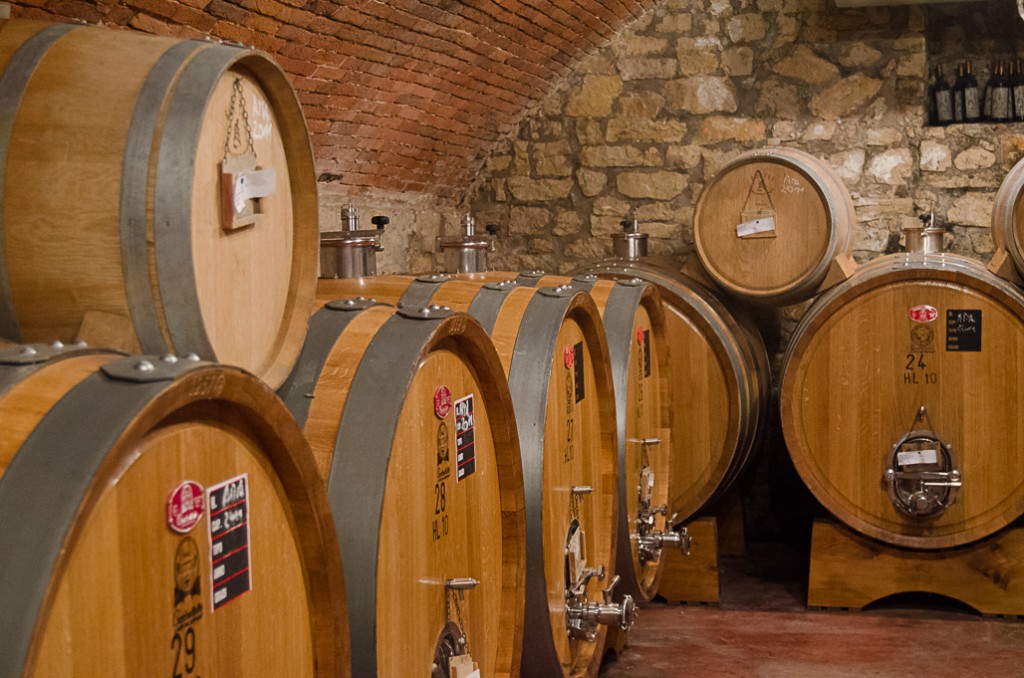 Lucia takes us on a tour of her small production facility in the old root cellar and cold storage area under the house. The amount of investment in equipment involved with these small producers continues to amaze me; this is definitely a long term labor of love, and not a quick way to make money. Large stainless steel tanks, rows of aging barrels, pumps and a myriad of other equipment to move the wine through the long production process.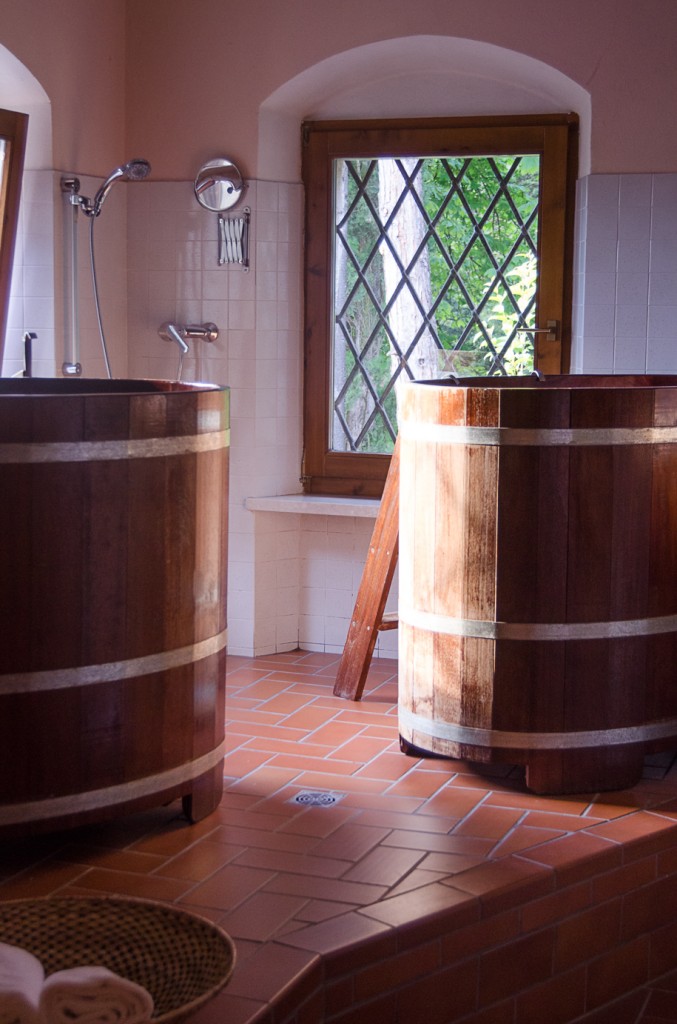 We also got a quick peek into the rooms for her B&B. Each unique in style, one with access to the lovely terrace where I enjoyed my visit with Lucia on my first stay here; another on the ground floor with a sauna and soaking tubs – very cool! The separate house, available for rental by the week, would be perfect for a small family, with a full kitchen which I love to have access to when I travel! And, of course, all visitors are warmly welcomed by lovely Lucia, and can see her production facilities and taste her wonderful wines! Thank you Lucia, and we hope to return soon.