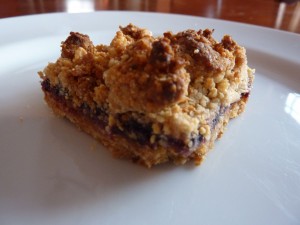 A momentary deviation from my stated focus on Italian food. But hopefully one you will enjoy! In my opinion, food should be passionate and fun and not be about following the rules all of the time, so I'm going to ignore my "Italian food rule" for this post.
"You know, Kathy, you haven't brought any treats for us recently" was my greeting from a coworker the other morning as I arrived. "If you really want to spread the word on your cooking skills and classes, you should step it up" was the implication, if not the actual words. Not one to back down from a challenge, the next day treats were supplied. Now I am greeted with requests.
Birch wants granola bars.
Rocky wants whoopee pies. Must be made with real butter (how else would you make them, I think?)
Gary wants a chocolate cake with a really good icing
Liam wants cake. Any cake. As he is my son, his request moves to the front of the line.
Liam also wants a recipe he can make at any time, without adult assistance.
So look for these in future posts.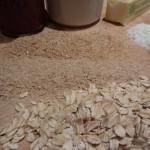 Today, granola bars. During the week, when I am teaching skiing, I am outside in the cold weather for most of the day. I find a little sugar at lunch gives me just enough energy to get back out there for the afternoon. But I prefer to do something as healthy as possible at the same time. This granola bar recipe gets me the sugar fix, with some healthy ingredients – almonds and cashews, ground flaxseed, wheat germ, sunflower seeds, whole rolled oats.
This recipe is adapted from a recipe from Joanne Chang's "Flour" cookbook. I have made several changes, including incorporating my own homemade jams (or a great store-bought jam) rather than making a jam just for these. I would use whatever nuts you prefer; I had almonds and cashews, so that's what I used. There is also a slight mistake in the original recipe, as you are not instructed where to use the toasted walnuts. I assumed they just go in the food processor with everything else, and that seemed to work just fine.
I replaced some of the flour with ground flaxseed. Flaxseed has a myriad of health benefits; high in Omega-3s, dietary fiber, and lignans, flaxseed lowers cholesterol, lowers blood sugar, fights heart disease and certain cancers, even decreases the symptoms of menopause. But whole flaxseed is hard to digest, so here I included it in its ground form. You can purchase it both ground and whole; the ground seed should be kept in the refrigerator to keep it from going rancid.
Other changes include the topping (more nuts, and wheat germ) and cooking times (much shorter). The cooking times in general in this book are significantly off – at least in 3 out of the 3 recipes I have tried. But the flavors are great.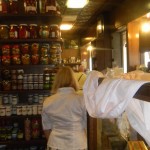 The last thing I did to make these more 'healthy' was to change the yield. I can get 24 bars out of a 13×9 pan. The original recipe has a yield of 12. While they are great, I'd have to do a few more mogul runs after lunch to burn off a large bar. I'll take my time and enjoy a smaller one. A large part of healthy eating and cooking is an awareness of portion sizes, one we loose when we are constantly bombarded by the "Supersize".
I am looking forward to making these with some amazing fruit jams and some artisanal honey (maybe chestnut…) that I can pick up on our next tour in Italy. See, I can make anything Italian food.
Some pictures of our post-lunch activity one day this week. See, this is why I need the energy boost! We're enjoying some great new terrain here at Sugarloaf now that the snow is deep enough, but you have to be ready for some bumps and trees. A few more pictures of a visit to Brackett Basin is on our facebook page.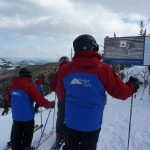 Brackett Basin Granola Bars
Serves 24
1 cup almonds or other nut
1 3/4 cups unbleached all-purpose flour 1 1/2 cups old fashioned rolled oats (not quick cook or instant) 1/2 cup ground flaxseed
2/3 cup packed light brown sugar
2/3 cup unsweetened shredded coconut
1/ teaspoon kosher salt
1/4 teaspoon ground cinnamon
1 cup unsalted butter, softened, cut into 8 to 10 pieces
6 tablespoons honey
1 8 ounce jar fruit jam
3 tablespoons ground cashews or other nut
3 tablespoons sunflowers seeds
3 tablespoons wheat germ
Preheat the oven to 350°. Spread the nuts on a baking sheet and toast for about 10 minutes, or until lightly toasted and fragrant. Remove from oven, and let cool.
Line a 13×9 inch pan with parchment paper.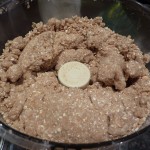 In a food processor, combine the 1 cup toasted nuts, flour, flaxseed, oats, brown sugar, coconut, salt, cinnamon and butter and pulse about 30 times, or until the mixture is evenly combined. You may need to take off the lid and move things around a bit with a spatula during the pulses, as this pretty much fills up a standard larger Cusinart food processor, and you want to make sure everything is evenly distributed.
Dump the mixture into a large bowl and drizzle the honey on top. Work in the honey with your hands until the mixture comes together.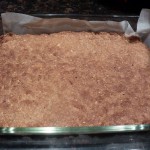 Press about three-quarters of the mixture into the bottom of the prepared pan. Place the remaining quarter of the mixture in the refrigerator.
Bake for 20 to 25 minutes, or until light golden brown throughout. Remove the pan from the oven, spoon the jam on top and spread in an even layer across the top of the bars.
Place the remaining 3 tablespoons of nuts in the food processor and pulse until coarsely chopped. Remove the reserved granola from the refrigerator and break it up with your fingers. Add the chopped nuts, sunflower seeds and wheat germ and work together with your fingers to combine. Sprinkle the mixture like a crumb topping over the jam.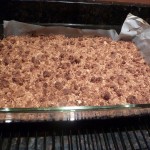 Return the pan to the oven and bake for 30 minutes, or until the top is golden brown. Let cool in the pan on a wire rack for 2 to 3 hours. Cut into 24 bars. I find the cutting easiest if I first remove them from the pan, and lay it flat on a cutting board.
The bars can be stored in an airtight container at room temperature for up to 1 week.