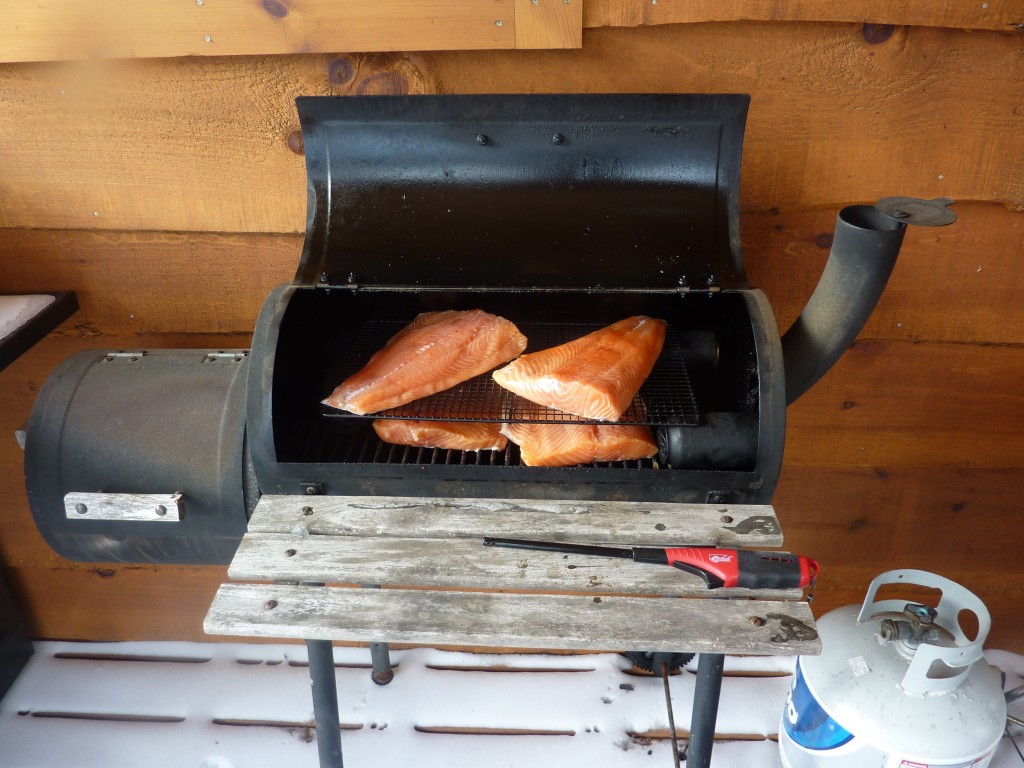 I've been smoking salmon for years, ever since we purchased our first smoker around 15 years ago. We now have two, one which I found in my neighbors' trash heap and dragged home after a 6am run. Both have a cylinder with a grill and a lid, a firebox that hangs off of one side, and a chimney that rises from the other side. We fire up some coals, place them in the firebox, put the item to be smoked in the cylinder, and smoke away! We've done salmon, ribs, scallops, tomatoes, even our Thanksgiving turkey. The turkey can take a while – start early, especially on a cold day! But I have lost count of the number of people who have told me this is the best smoked salmon they have ever had.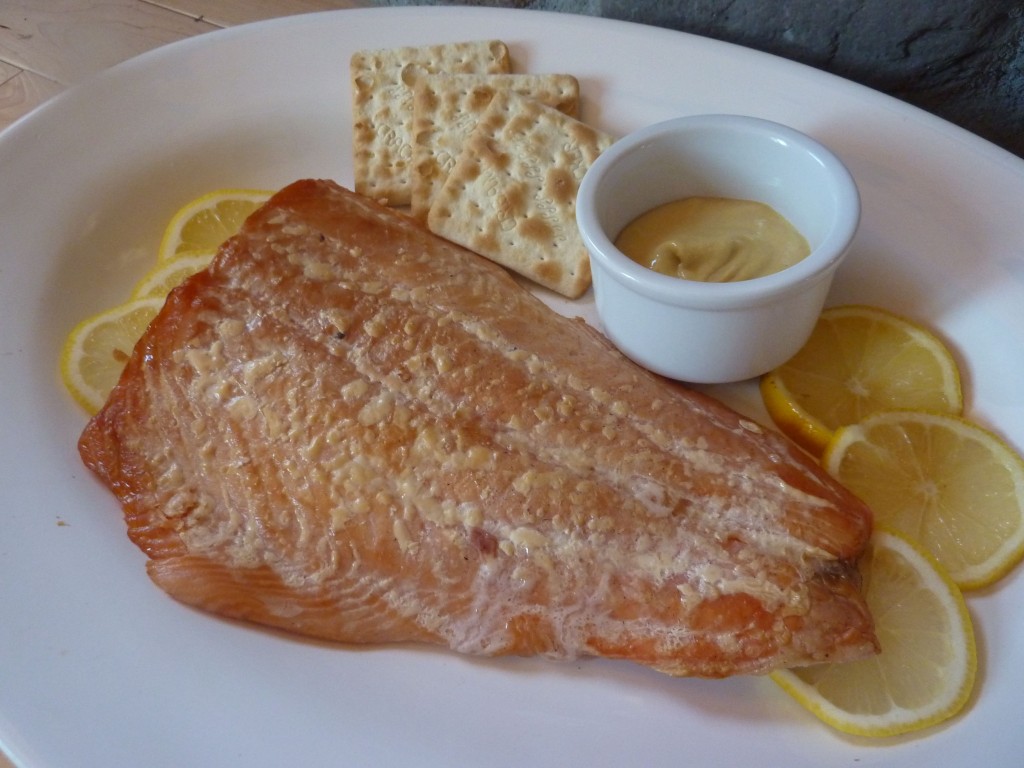 In Italy, trout, salmon and herring have been smoked for centuries in order to preserve them. Today, the area around San Daniele in Friuli-Venezia Giulia has become known for its high quality smoked fish products, primarily trout, which are now being exported. These producers use the extremely fresh fish available from their local lakes in conjunction with traditional smoking techniques to obtain the highest quality products.
I've been reading a bit about the methods these producers use, in an effort to understand what makes a great smoked salmon or trout, and how I can perhaps make mine even better.
Small fish are usually smoked whole, while larger fish are filleted. Prior to smoking, the fish are dry salted with a combination of coarse salt and sometimes herbs. This both flavors the fish, as well as dehydrates it, which preserves it. In more industrial methods the dry salting is replaced by salt injection.
Current larger producers have adopted time newer time-saving smoking techniques. Some use a liquid smoke, which is injected or rubbed on the fish to deliver a smoky flavor. Others use an electrostatic method, in which static liquid particles of smoke are attracted to the food, adhering to it. Both methods can result in excessive amounts of hydrocarbons being deposited on the fish, resulting in an unpleasant smell or taste. As is often the case, these efforts to save time result in a poorer quality product.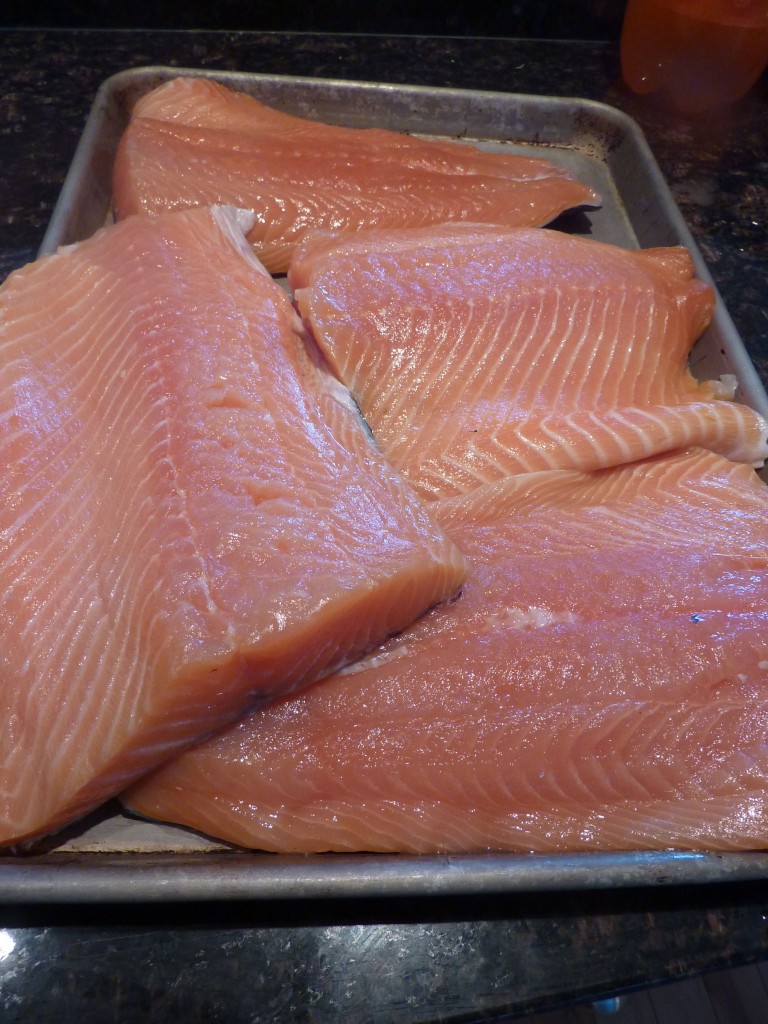 In the traditional method used by the artisenal producers in Friuli-Venezia Giulia, the fish can be either hot or cold smoked. This is performed in a smoke house, or room, and the smoke is produced by the flameless combustion of wood chips, or sometimes white flour. In the hot smoking method the fish is smoked at 70°/80°C, so it is cooked as well as smoked. For cold smoking, the smoke is under 27°, so the fish is not cooked. Due to the lower temperatures, the cold smoking takes much longer. In both cases, a precise combination of wood types, herbs and berries are used to create the smoke which delivers a unique flavor profile to the final product, a secret each producer holds close.
My method for smoked salmon uses the traditional hot smoking method. I don't dry salt, but rather brine my fish. We usually smoke salmon, and it is the one time that I prefer farm raised salmon over wild caught. We have found that the higher fat content in the farm raised salmon produces a moister smoked salmon. The leaner, wild caught can dry out a bit.
I do not salt nor smoke to dehydrate and preserve the fish, so I make no claims that this will keep any longer than salmon that has just been baked. The end product is flaky, just like a cooked salmon. It is still moist, but with a wonderful smoky flavor. I will try the dry salt technique next time we smoke, but I think I'll have to be careful not to oversalt – we only brine the fish for two hours or so, as we find much more than that makes the salmon too salty.
I keep the flavors simple, just a salt brine. I use a high quality hardwood charcoal, and a bit of apple or maple or whatever wood scraps we may have lying around. Don't use Kingsford, or any of those charcoal briquettes that have all sorts of additives to make them burn better/longer – you don't want your salmon to taste of that!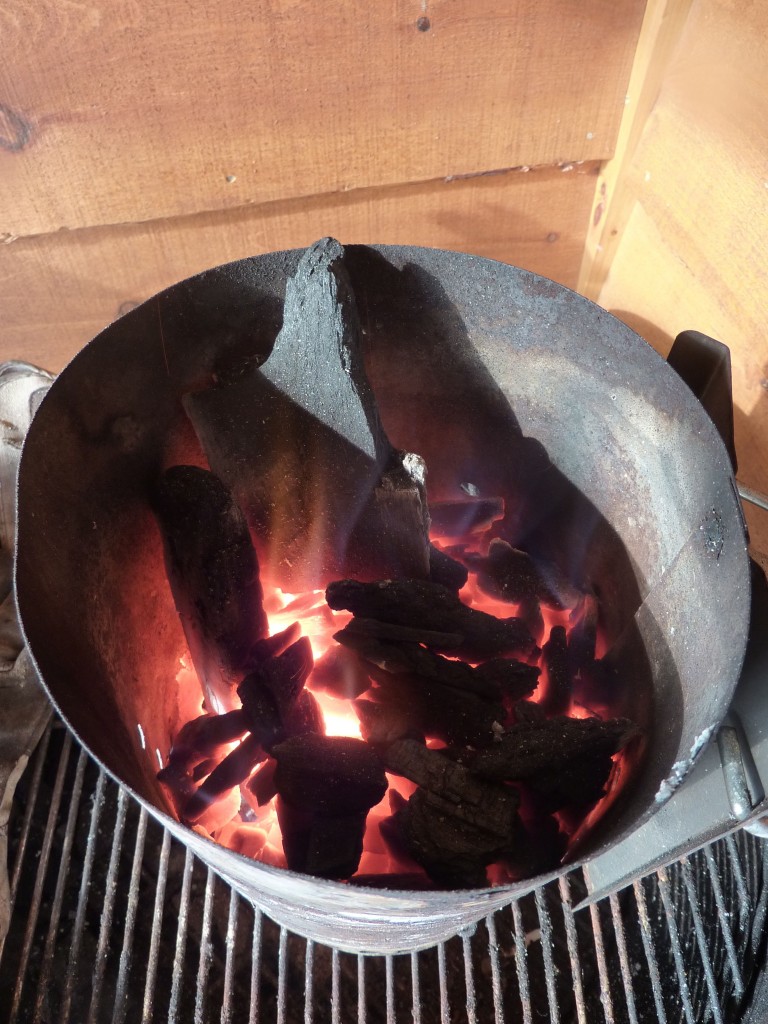 This is fantastic as an appetizer, on your breakfast bagel, on pasta, in risotto, even on pizza with some arugula and creme fraiche
Hot Smoked Salmon
1 heaping cup kosher salt
1 large salmon filet, about 3 pounds
Fill a large container with about 14-16 cups of water. There should be room enough remaining in the container to hold the fish as well. Stir in the heaping cup of salt until dissolved. Add the salmon filet and refrigerate for 2 hours.
About 30 minutes before smoking (about 1 1/2 hours after adding the filet to the brine), start a charcoal fire, either in a charcoal chimney or in the firebox. Allow the coals to burn and turn gray. If using the chimney, pour the coals out into the firebox. Add a piece or two of wood or flavored wood chips, or anything else you can think of to add some great flavor.
Remove the filet from the brine, lay it on a sheet pan and dry with paper towels.
Place the filet on the grill in the smoking cylinder. Check the vents on the firebox and the smoker chimney to make sure air is flowing through the unit from the firebox, across the filet, and up through the chimney. Smoke for 4-6 hours, until the salmon is a deep brown. This time will vary a bit with outside temperature. Keep checking the smoker, adding more charcoal or wood as necessary.
Serve with crackers and dijon mustard.