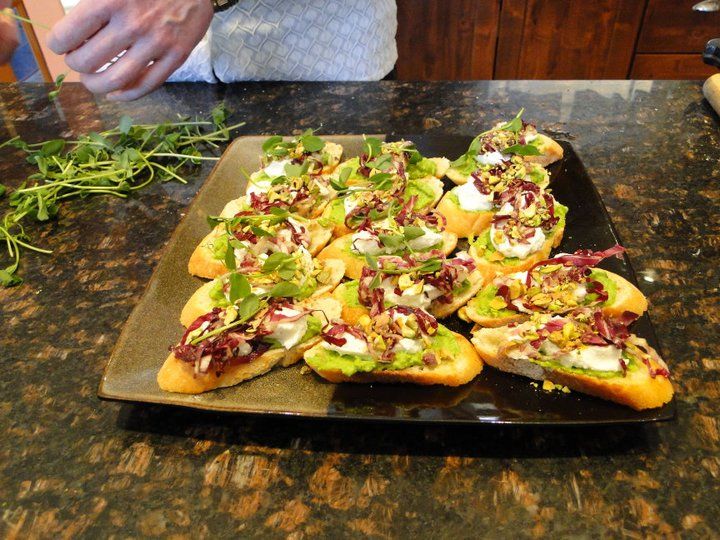 Trying to maintain a food blog while you are on the road is a challenge! I am writing this from Colorado, where I am skiing with my two sons for a couple of days. So my quick post from here will be another using peas – the subject of my last post earlier in the week. I'll refer the readers to that post for the background and history of peas in Northern Italy, the site of our Italiaoutdoors bike tours – the season for the fresh new peas is just about upon that region now. We've got a few more weeks here in the Northern US, still under feet of snow in ski country. But the crocuses and daffodils are up in Massachusetts, and the arrival of seasonal produce is not far behind!
I am often asked where I get ideas for antipasti. It's pretty simple – whatever food combinations you enjoy as an entree can be redesigned into an appetizer. I figure out some sort of 'platform' for it; a toasted slice of bread (crostini or bruschetta), a pastry envelope (dumplings or empanadas), a skewer, a frico shell, a vegetable (an endive leaf, a cucumber slice), a mini sandwich, a mini pie shell, the list goes on. I look through my selection of cookbooks dedicated to appetizers for inspiration.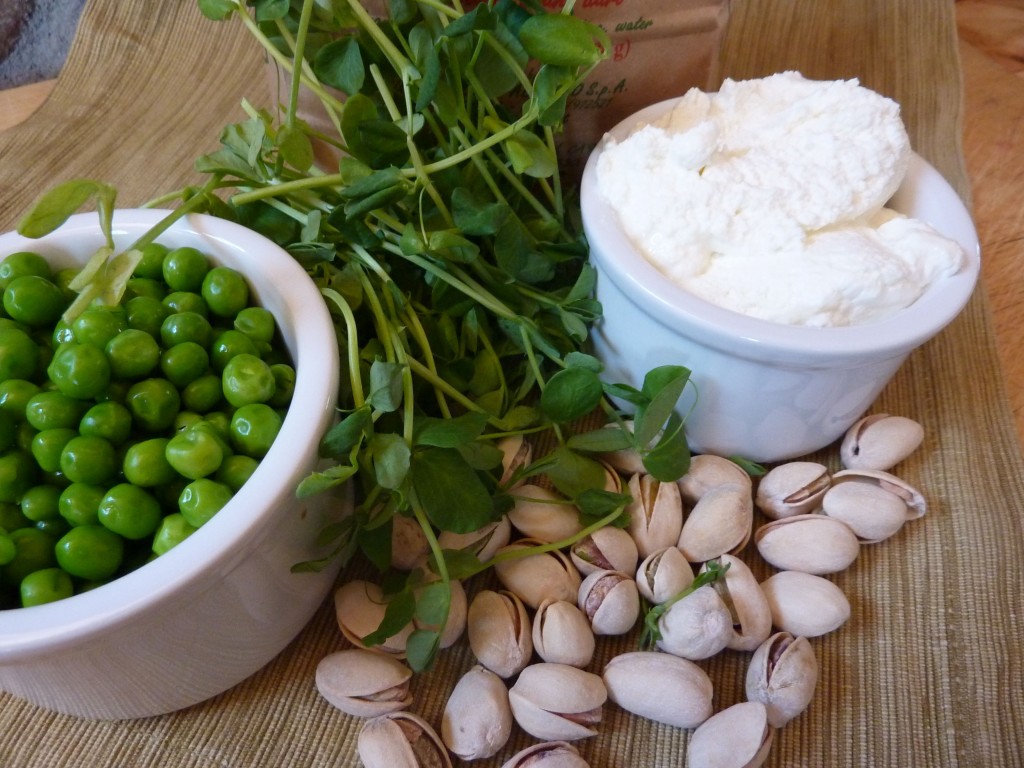 Then I take 3-4 ingredients that I think go together well, and create a 'topping' for the platform. It should be small enough so people are comfortable picking it up and eating it – people will avoid those they can't figure out how to eat gracefully! It should hold together well, so I usually have some sort of paste or something spreadable to hold everything together. It needs to look pretty, so it should have an attractive garnish on top.
In this recipe, I took the same ingredients I used for my last post – peas, mint pesto, homemade ricotta, radicchio, pea tendrils and pistachios – and created a beautiful spring vegetable antipasti.
Thanks to my good friend Nancy Marshall for the great pictures!
Crostini with Pea Pesto, Radicchio, Pea Tendrils and Pistachios
Makes 16 crostini
1 baguette, 1/4 inch slices on the diagonal
1/4 cup extra virgin olive oil
5 ounces frozen peas, thawed or 1 pound fresh peas, unshelled
1 tablespoon mint pesto, or 1/4 cup mint leaves
1/4 – 1/2 cup extra virgin olive oil
1/4 cup ricotta
kosher salt and freshly ground black pepper
1/2 cup thinly sliced radicchio
1/2 cup pea tendrils
2 tablespoons pistachios, chopped
Preheat oven to 350°.
Place baguette slices on a sheet pan, and toast in the oven until just starting to brown. Don't allow them to get too brown and hard, as they will fall apart easily when constructing the crostini, or when eaten. Remove from the oven, and brush each slice with the olive oil.
If working with fresh peas, shell them. Set a large pot of water over high heat and  to a boil. Salt the water. Cook the peas in the boiling water until just tender. Scoop them out with a slotted spoon or spider. If using frozen peas, skip this step, as they have already been blanched.
If using fresh mint, blanch the mint leaves in boiling water. You can use the same water you used for the fresh peas. I blanch small amounts of fresh herbs by placing them in a strainer, lowering it and holding it in the boiling water. They blanch quite quickly (1 minute or less), and then I can just lift the strainer out of the water and place it directly under cold running water. This way I don't have to frantically fish around in the boiling water for each and every loose mint leaf. Press on the leaves to remove as much water as possible.
Place the peas, mint pesto or mint leaves into a blender. Add 1/4 cup olive oil, and puree. Add more olive oil as needed to make a nice paste.
Remove the pea pesto from the blender and place in a small bowl. Place the ricotta in another small bowl, and season with salt and pepper.
To assemble, spread each crostini with the pea pesto, and then top with a small spoonful of the ricotta mixture. Top with a bit of the sliced radicchio, then a nice pea tendril, and finish with a sprinkle of pistachios. Any leftovers can make the pasta dish from my last post!
Serve with a wonderful Prosecco di Congeliano Valdobbiadene, the perfect antipasti pairing.